Blackmagic Design Smart Videohub 12G 40x40
Advanced 12G-SDI video router supports any SD, HD or Ultra HD SDI format on the same router at the same time. Smart Videohub 12G 40x40 features 40 inputs and 40 outputs and includes video reference, redundant power connections and an elegant machined metal front panel with large full HD LCD for monitoring and routing label display. Routing can be performed by direct button selection and the spin knob controller. 12G-SDI technology supports all SDI video standards up to 2160p60.
Connections
SDI Video Input
40 x 10-bit SD-SDI, HD-SDI and 12G-SDI.
SDI Video Output
40 x 10-bit SD-SDI, HD-SDI and 12G-SDI.
Reference Input
Black burst and Tri-level sync for SD, HD and 4K.
Reference Output
Reference terminating loop output.
Multi Rate Support
Auto detection of SD, HD or 12G-SDI. Simultaneous routing of 4K, HD and SD video.
Updates
USB or Ethernet.
Front Panel Router Control
40 buttons for local control of Videohub. 6 buttons and scroll wheel for control of LCD display or RJ45 Ethernet. RS-422.
Router Configuration
Via front panel LCD or RJ45 Ethernet.
RS-422 Router Control
1 x input for controlling router crosspoint switching.
Reclocking
On all SDI outputs, auto switching between standard definition, high definition or 12G-SDI video.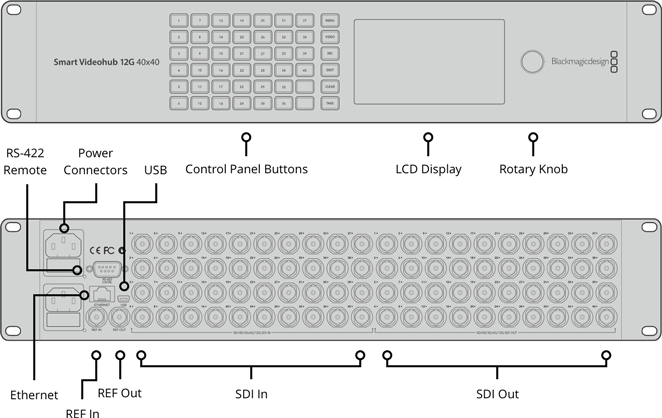 Standards
SD Format Support
625/25 PAL, 525/29.97 NTSC and525/23.98 NTSC.
HD Format Support
1280 x 720p50, 1280 x 720p59.94, 1280 x 720p60, 1920 x 1080i50, 1920 x 1080i59.94, 1920 x 1080i60, 1920 x 1080PsF23.98, 1920 x 1080PsF24, 1920 x 1080PsF25, 1920 x 1080PsF29.97, 1920 x 1080PsF30, 1920 x 1080p23.98, 1920 x 1080p24, 1920 x 1080p25, 1920 x 1080p29.97, 1920 x 1080p30, 1920 x 1080p50, 1920 x 1080p59.94, 1920 x 1080p60.
2K Format Support
2048 x 1080p23.98, 2048 x 1080p24, 2048 x 1080p25, 2048 x 1080PsF23.98, 2048 x 1080PsF24, 2048 x 1080PsF25
4K Format Support
3840 x 2160p23.98, 3840 x 2160p24, 3840 x 2160p25, 3840 x 2160p29.97, 3840 x 2160p30, 3840 x 2160p50, 3840 x 2160p60, 4096 x 2160p23.98, 4096 x 2160p24, 4096 x 2160p25, 4096 x 2160p29.97, 4096 x 2160p30, 4096 x 2160p50, 4096 x 2160p60.
SDI Compliance
SMPTE 259M, SMPTE 292M,SMPTE 296M, SMPTE 310M,SMPTE 425M Level B,SMPTE 425M Level A, ITU-R BT.656 andITU-R BT.601
SDI Video Rates
SDI video inputs are switchable between standard definition, high definition and 4K. SDI switches between 270 Mb/s standard definition SDI, 1.5 Gb/s HD-SDI, 3G-SDI, 6G-SDI and 12G-SDI.
SDI Video Sampling
4:2:2 and 4:4:4
SDI Audio Sampling
Television standard sample rate of 48kHz and 24-bit.
SDI Color Precision
10-bit 4:2:2 and 4:4:4
SDI Color Space
YUV or RGB
SDI Auto Switching
Automatically selects between SD-SDI, HD-SDI, 12G-SDI and DVB-ASI on each input so that each input can be running a different television standard.
SDI Metadata Support
Video payload identification ancillary data as per SMPTE 352M.
Software
Software Control
Router control included free for Windows? and Mac OS X?.
Internal Software Upgrade
Via included updater application.
Operating Systems

Mac OS X 10.9 Mavericks,
Mac OS X 10.10 Yosemite or later.

Windows 7 or Windows 8.
 
Display
Displays
Built-in 5" LCD for video and menu settings.
Physical Installation
2 rack unit size. Less than 6 inches deep.
Power Requirements
Power Fail Protection
Crosspoint connections preserved and restored instantly at power on.
Power Supply
IEC power cables required. 2 x 90 - 240V AC inputs for full redundancy.
Power Consumption
27 Watts
Physical Specifications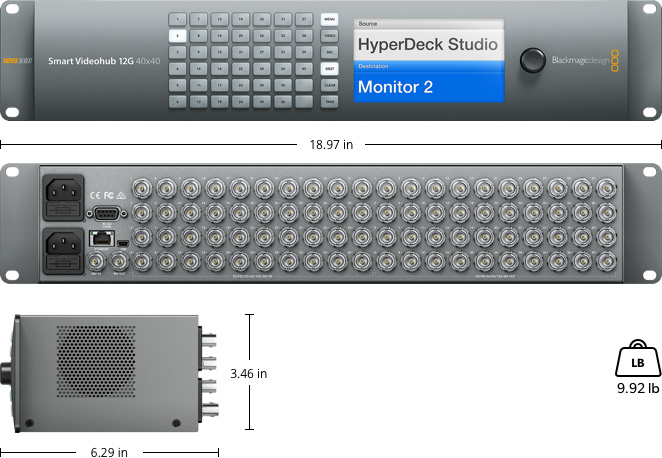 Environmental Specifications
Operating Temperature:
0° to 40° C (32° to 104° F)
Storage Temperature:
-20° to 45° C (-4° to 113° F)
Relative Humidity:
0% to 90% non-condensing
What's Included
Smart Videohub 12G 40x40
Software SD card
Warranty
12 Month Limited Manufacturer's Warranty.
Related Product
{"id":4637201956900,"title":"ATEM Television Studio HD","handle":"atem-television-studio-hd","description":"\u003cdiv class=\"productDescription_3d-uhdpIFfxbuhG5B7_INl\" data-selenium=\"overviewLongDescription\"\u003e\n\u003cdiv class=\"js-injected-html\"\u003e\n\u003cp\u003e\u003cspan style=\"color: #000000;\"\u003eDesigned for broadcasters and A\/V professionals, \u003cstrong\u003eBlackmagic Design's ATEM Television Studio HD\u003c\/strong\u003e is a compact yet powerful and easy-to-operate solution. Four of each HDMI and SDI inputs are available on the rear of the chassis, and both sets of inputs support SD and HD resolution signals. The relatively small chassis can fit on a standard equipment rack with the separately available Teranex Mini Rack Shelf, so it can be brought on location for streaming video, or installed semi-permanently for recording or broadcasting from a studio.\u003c\/span\u003e\u003c\/p\u003e\n\u003cp\u003e\u003cspan style=\"color: #000000;\"\u003eThe front panel keeps essential controls at arm's reach, while more advanced controls and settings, such as upstream and downstream keyers, graphics, media, and precise mixing for the 10 channels of available audio can be accessed through the USB interface or with an ATEM control surface. Move to the rear to reveal the BNC and HDMI connections for input and output. Multiview can be transmitted over SDI or HDMI to align with your equipment setup, and an AUX output lets you send video to an external display, which is great for live events with a projection setup. Four of the SDI outputs have embedded talkback audio for studio setups. Blackmagic Design Studio Cameras can also be controlled from the switcher for consistent looks across the board.\u003c\/span\u003e\u003c\/p\u003e\n\u003cp\u003e\u003cspan style=\"color: #000000;\"\u003e\u003cstrong\u003eTransitions\u003cbr\u003e\u003c\/strong\u003eChoose from a wide range of transitions including cut, mix, dip, and wipe patterns. ATEM Television Studio HD makes every transition instantly available and gives you full control over type, pattern, length, and more.\u003c\/span\u003e\u003c\/p\u003e\n\u003cp\u003e\u003cspan style=\"color: #000000;\"\u003e\u003cstrong\u003eAvailable transitions include:\u003c\/strong\u003e \u003c\/span\u003e\u003c\/p\u003e\n\u003cul\u003e\n\u003cli\u003e\n\u003cspan style=\"color: #000000;\"\u003e Cut: When you press the cut button, ATEM instantly changes from your current program source to the preview source. Cuts can be performed by directly selecting sources or by pressing the cut button to switch to the next source on the preview bus.\u003c\/span\u003e\u003cbr\u003e\u003cbr\u003e\n\u003c\/li\u003e\n\u003cli\u003e\n\u003cspan style=\"color: #000000;\"\u003e Mix: The mix, or dissolve transition, gradually transitions from one source to the next by creating a smooth blend. You can set custom timings to manually blend the transition.\u003c\/span\u003e\u003cbr\u003e\u003cbr\u003e\n\u003c\/li\u003e\n\u003cli\u003e\n\u003cspan style=\"color: #000000;\"\u003e Dip: Just like mix transitions, a dip transition is a gradual blend that includes either a solid color, graphic, or another clip between the two video sources. Dips to black or white between sources are the most popular, or you can use logos or sponsor graphics.\u003c\/span\u003e\u003cbr\u003e\u003cbr\u003e\n\u003c\/li\u003e\n\u003cli\u003e\n\u003cspan style=\"color: #000000;\"\u003e Wipe: ATEM Television Studio HD has 18 built-in wipe patterns. Choose from circles, diamonds, squares, and more. Shapes and patterns can be inverted, softened, or even have customized colored borders. You can even insert live video into the borders for further customization.\u003c\/span\u003e\u003cbr\u003e\u003cbr\u003e\n\u003c\/li\u003e\n\u003cli\u003e\u003cspan style=\"color: #000000;\"\u003eDVE: The ATEM Television Studio HD has a powerful built-in Digital Video Effects processor, or DVE. You can push, spin, squeeze and swoosh your live video from one camera to the next with incredible built-in DVE transitions. DVE transitions can be flip-flopped and reversed, giving you even more transition options. With 35 built-in pre-programmed moves, you can get started with advanced transitions. Graphic wipes can also be created by combining a DVE transition with a logo created in Photoshop.\u003c\/span\u003e\u003c\/li\u003e\n\u003c\/ul\u003e\n\u003cp\u003e\u003cspan style=\"color: #000000;\"\u003e \u003c\/span\u003e\u003cbr\u003e\u003cspan style=\"color: #000000;\"\u003e\u003cstrong\u003eUpstream Keyer\u003cbr\u003e\u003c\/strong\u003eLayer live video over other video sources or graphics with the Upstream Keyer. You can use luma key, linear key, pattern key, or shoot against a green screen and use chroma key to instantly composite the video over virtual sets. \u003c\/span\u003e\u003c\/p\u003e\n\u003cul\u003e\n\u003cli\u003e\n\u003cspan style=\"color: #000000;\"\u003e Luma key: Luma keys are sometimes known as a self key because the same video source is used for cutting the key and overlaying the video image. Luma keys work best with high contrast images, like white elements on a black background, so you can use the contrast to cut the black background and replace it with live video or graphics.\u003c\/span\u003e\u003cbr\u003e\u003cbr\u003e\n\u003c\/li\u003e\n\u003cli\u003e\n\u003cspan style=\"color: #000000;\"\u003e Linear key: Get clean, high-quality results with linear keying by using two separate sources for the fill and the key to create one video image. The fill signal contains the video to be stacked over the background, while the key signal contains a grayscale mask to cut out, or mask, the area to be filled.\u003c\/span\u003e\u003cbr\u003e\u003cbr\u003e\n\u003c\/li\u003e\n\u003cli\u003e\n\u003cspan style=\"color: #000000;\"\u003e Chroma key: Used every day for TV weather forecasts, chroma keys are a powerful way of combining live images together in real time. The presenter typically stands in front of a green or blue background and the chroma keyer will remove only that color and combine it with another image, such as a video or graphic.\u003c\/span\u003e\u003cbr\u003e\u003cbr\u003e\n\u003c\/li\u003e\n\u003cli\u003e\u003cspan style=\"color: #000000;\"\u003ePattern key: Combine live images with any of the 18 built-in wipe patterns to combine live images or graphics with geometric shapes. You get full control over softness, symmetry, size, and position to create unique picture-in-picture effects that can be transitioned to as easily as any live source.\u003c\/span\u003e\u003c\/li\u003e\n\u003c\/ul\u003e\n\u003cp\u003e\u003cspan style=\"color: #000000;\"\u003e\u003cstrong\u003e\u003cbr\u003eDownstream Keyers\u003cbr\u003e\u003c\/strong\u003eThe ATEM Television Studio HD includes two downstream keyers so you can add high-quality graphics like logos, bugs, and titles from the built-in media players over the live 'on air' program output. Downstream keyers are the last layers of keying, so they overlay all video switched to the main program output.\u003c\/span\u003e\u003c\/p\u003e\n\u003cp\u003e\u003cspan style=\"color: #000000;\"\u003e\u003cstrong\u003ePower Macros\u003cbr\u003e\u003c\/strong\u003eTo automate complex sequences of precisely timed actions on your ATEM switcher, you can now create powerful shortcuts called macros. Record a sequence of transitions between video sources, including key effects, audio mixer adjustments, camera control settings, and more using the ATEM software or hardware control panel. Macros are saved as XML files that can be edited with a standard text editor, so you can combine them together to build sophisticated sequences that would be impossible to execute manually during a live production. That means you can create unique looks or your programs that can be recalled instantly, copied between switchers, and used repeatedly when you require them.\u003c\/span\u003e\u003c\/p\u003e\n\u003cp\u003e\u003cspan style=\"color: #000000;\"\u003e\u003cstrong\u003eMix Minus\u003cbr\u003e\u003c\/strong\u003eThe four SDI talkback outputs on the ATEM Television Studio HD support mix minus, which is important when you are working with remote interviewees. For example, you could remove input 5 from the program audio on output 5, so the remote interviewee hears everything in the program except themselves talking and won't be distracted by any audio delay.\u003c\/span\u003e\u003c\/p\u003e\n\u003cp\u003e\u003cspan style=\"color: #000000;\"\u003e\u003cstrong\u003eAudio Mixer\u003cbr\u003e\u003c\/strong\u003eThe built-in audio mixer lets you control camera and external audio with precision level and balance adjustments on all 10 available channels. You can enable or disable channels, or activate audio-follow-video (AFV) mode instantly. Adjust the mixer via the ATEM Control Software or plug in an external Mackie standard USB fader panel.\u003c\/span\u003e\u003c\/p\u003e\n\u003cp\u003e\u003cspan style=\"color: #000000;\"\u003e\u003cstrong\u003eMultiview\u003cbr\u003e\u003c\/strong\u003eMultiview allows you to see your sources, graphics, preview, and program outputs on a single screen so you don't need separate monitors for your individual cameras. You get HDMI and SDI multiview outputs so you can connect professional broadcast SDI monitors, computer monitors, or even consumer HDTV sets.\u003c\/span\u003e\u003c\/p\u003e\n\u003cp\u003e\u003cspan style=\"color: #000000;\"\u003e\u003cstrong\u003eMedia Players\u003cbr\u003e\u003c\/strong\u003eEliminate external character generators by storing up to 20 broadcast quality RGBA graphic files in the media pool. The two media players appear as input sources to your switcher. You can transition to graphics as full frame video or feed them to the keyers for overlaying video. Popular image formats such as PNG, TGA, BMP, GIF, JPEG, and TIFF are supported.\u003c\/span\u003e\u003c\/p\u003e\n\u003cp\u003e\u003cspan style=\"color: #000000;\"\u003e\u003cstrong\u003eATEM Photoshop Plugin\u003c\/strong\u003eUse the included Photoshop plugin to create still broadcast graphics and instantly add them to the ATEM Television Studio HD's media pool. Add professional looking logos, lower thirds, scorecards, or other real-time graphics and get them on air in no time.\u003c\/span\u003e\u003c\/p\u003e\n\u003cp\u003e\u003cspan style=\"color: #000000;\"\u003eBuy the \u003cstrong\u003eBlackmagic Design \u003c\/strong\u003e\u003cstrong\u003eATEM Television Studio HD \u003c\/strong\u003efrom Audiosaurus. The Online Audio Specialists in South Africa.\u003c\/span\u003e\u003c\/p\u003e\n\u003c\/div\u003e\n\u003c\/div\u003e","published_at":"2020-05-13T11:41:14+02:00","created_at":"2020-05-13T11:52:49+02:00","vendor":"Blackmagic Design","type":"Television Studio","tags":["Brand_Blackmagic Design","DistSAW","dropdown","PHILIP"],"price":2139500,"price_min":2139500,"price_max":2139500,"available":false,"price_varies":false,"compare_at_price":null,"compare_at_price_min":0,"compare_at_price_max":0,"compare_at_price_varies":false,"variants":[{"id":31975593738276,"title":"Default Title","option1":"Default Title","option2":null,"option3":null,"sku":"BLA-SWATEMTVSTU\/HD","requires_shipping":true,"taxable":true,"featured_image":null,"available":false,"name":"ATEM Television Studio HD","public_title":null,"options":["Default Title"],"price":2139500,"weight":0,"compare_at_price":null,"inventory_quantity":0,"inventory_management":"shopify","inventory_policy":"deny","barcode":""}],"images":["\/\/cdn.shopify.com\/s\/files\/1\/0984\/8294\/products\/1487074859_1318041.jpg?v=1589363571","\/\/cdn.shopify.com\/s\/files\/1\/0984\/8294\/products\/1487074531_IMG_752806.jpg?v=1589363571","\/\/cdn.shopify.com\/s\/files\/1\/0984\/8294\/products\/1487074531_IMG_752807.jpg?v=1589363571","\/\/cdn.shopify.com\/s\/files\/1\/0984\/8294\/products\/1487074531_IMG_752808.jpg?v=1589363571"],"featured_image":"\/\/cdn.shopify.com\/s\/files\/1\/0984\/8294\/products\/1487074859_1318041.jpg?v=1589363571","options":["Title"],"media":[{"alt":null,"id":6759637286948,"position":1,"preview_image":{"aspect_ratio":1.0,"height":1000,"width":1000,"src":"https:\/\/cdn.shopify.com\/s\/files\/1\/0984\/8294\/products\/1487074859_1318041.jpg?v=1589363571"},"aspect_ratio":1.0,"height":1000,"media_type":"image","src":"https:\/\/cdn.shopify.com\/s\/files\/1\/0984\/8294\/products\/1487074859_1318041.jpg?v=1589363571","width":1000},{"alt":null,"id":6759637319716,"position":2,"preview_image":{"aspect_ratio":1.0,"height":1000,"width":1000,"src":"https:\/\/cdn.shopify.com\/s\/files\/1\/0984\/8294\/products\/1487074531_IMG_752806.jpg?v=1589363571"},"aspect_ratio":1.0,"height":1000,"media_type":"image","src":"https:\/\/cdn.shopify.com\/s\/files\/1\/0984\/8294\/products\/1487074531_IMG_752806.jpg?v=1589363571","width":1000},{"alt":null,"id":6759637352484,"position":3,"preview_image":{"aspect_ratio":1.0,"height":1000,"width":1000,"src":"https:\/\/cdn.shopify.com\/s\/files\/1\/0984\/8294\/products\/1487074531_IMG_752807.jpg?v=1589363571"},"aspect_ratio":1.0,"height":1000,"media_type":"image","src":"https:\/\/cdn.shopify.com\/s\/files\/1\/0984\/8294\/products\/1487074531_IMG_752807.jpg?v=1589363571","width":1000},{"alt":null,"id":6759637385252,"position":4,"preview_image":{"aspect_ratio":1.0,"height":1000,"width":1000,"src":"https:\/\/cdn.shopify.com\/s\/files\/1\/0984\/8294\/products\/1487074531_IMG_752808.jpg?v=1589363571"},"aspect_ratio":1.0,"height":1000,"media_type":"image","src":"https:\/\/cdn.shopify.com\/s\/files\/1\/0984\/8294\/products\/1487074531_IMG_752808.jpg?v=1589363571","width":1000}],"content":"\u003cdiv class=\"productDescription_3d-uhdpIFfxbuhG5B7_INl\" data-selenium=\"overviewLongDescription\"\u003e\n\u003cdiv class=\"js-injected-html\"\u003e\n\u003cp\u003e\u003cspan style=\"color: #000000;\"\u003eDesigned for broadcasters and A\/V professionals, \u003cstrong\u003eBlackmagic Design's ATEM Television Studio HD\u003c\/strong\u003e is a compact yet powerful and easy-to-operate solution. Four of each HDMI and SDI inputs are available on the rear of the chassis, and both sets of inputs support SD and HD resolution signals. The relatively small chassis can fit on a standard equipment rack with the separately available Teranex Mini Rack Shelf, so it can be brought on location for streaming video, or installed semi-permanently for recording or broadcasting from a studio.\u003c\/span\u003e\u003c\/p\u003e\n\u003cp\u003e\u003cspan style=\"color: #000000;\"\u003eThe front panel keeps essential controls at arm's reach, while more advanced controls and settings, such as upstream and downstream keyers, graphics, media, and precise mixing for the 10 channels of available audio can be accessed through the USB interface or with an ATEM control surface. Move to the rear to reveal the BNC and HDMI connections for input and output. Multiview can be transmitted over SDI or HDMI to align with your equipment setup, and an AUX output lets you send video to an external display, which is great for live events with a projection setup. Four of the SDI outputs have embedded talkback audio for studio setups. Blackmagic Design Studio Cameras can also be controlled from the switcher for consistent looks across the board.\u003c\/span\u003e\u003c\/p\u003e\n\u003cp\u003e\u003cspan style=\"color: #000000;\"\u003e\u003cstrong\u003eTransitions\u003cbr\u003e\u003c\/strong\u003eChoose from a wide range of transitions including cut, mix, dip, and wipe patterns. ATEM Television Studio HD makes every transition instantly available and gives you full control over type, pattern, length, and more.\u003c\/span\u003e\u003c\/p\u003e\n\u003cp\u003e\u003cspan style=\"color: #000000;\"\u003e\u003cstrong\u003eAvailable transitions include:\u003c\/strong\u003e \u003c\/span\u003e\u003c\/p\u003e\n\u003cul\u003e\n\u003cli\u003e\n\u003cspan style=\"color: #000000;\"\u003e Cut: When you press the cut button, ATEM instantly changes from your current program source to the preview source. Cuts can be performed by directly selecting sources or by pressing the cut button to switch to the next source on the preview bus.\u003c\/span\u003e\u003cbr\u003e\u003cbr\u003e\n\u003c\/li\u003e\n\u003cli\u003e\n\u003cspan style=\"color: #000000;\"\u003e Mix: The mix, or dissolve transition, gradually transitions from one source to the next by creating a smooth blend. You can set custom timings to manually blend the transition.\u003c\/span\u003e\u003cbr\u003e\u003cbr\u003e\n\u003c\/li\u003e\n\u003cli\u003e\n\u003cspan style=\"color: #000000;\"\u003e Dip: Just like mix transitions, a dip transition is a gradual blend that includes either a solid color, graphic, or another clip between the two video sources. Dips to black or white between sources are the most popular, or you can use logos or sponsor graphics.\u003c\/span\u003e\u003cbr\u003e\u003cbr\u003e\n\u003c\/li\u003e\n\u003cli\u003e\n\u003cspan style=\"color: #000000;\"\u003e Wipe: ATEM Television Studio HD has 18 built-in wipe patterns. Choose from circles, diamonds, squares, and more. Shapes and patterns can be inverted, softened, or even have customized colored borders. You can even insert live video into the borders for further customization.\u003c\/span\u003e\u003cbr\u003e\u003cbr\u003e\n\u003c\/li\u003e\n\u003cli\u003e\u003cspan style=\"color: #000000;\"\u003eDVE: The ATEM Television Studio HD has a powerful built-in Digital Video Effects processor, or DVE. You can push, spin, squeeze and swoosh your live video from one camera to the next with incredible built-in DVE transitions. DVE transitions can be flip-flopped and reversed, giving you even more transition options. With 35 built-in pre-programmed moves, you can get started with advanced transitions. Graphic wipes can also be created by combining a DVE transition with a logo created in Photoshop.\u003c\/span\u003e\u003c\/li\u003e\n\u003c\/ul\u003e\n\u003cp\u003e\u003cspan style=\"color: #000000;\"\u003e \u003c\/span\u003e\u003cbr\u003e\u003cspan style=\"color: #000000;\"\u003e\u003cstrong\u003eUpstream Keyer\u003cbr\u003e\u003c\/strong\u003eLayer live video over other video sources or graphics with the Upstream Keyer. You can use luma key, linear key, pattern key, or shoot against a green screen and use chroma key to instantly composite the video over virtual sets. \u003c\/span\u003e\u003c\/p\u003e\n\u003cul\u003e\n\u003cli\u003e\n\u003cspan style=\"color: #000000;\"\u003e Luma key: Luma keys are sometimes known as a self key because the same video source is used for cutting the key and overlaying the video image. Luma keys work best with high contrast images, like white elements on a black background, so you can use the contrast to cut the black background and replace it with live video or graphics.\u003c\/span\u003e\u003cbr\u003e\u003cbr\u003e\n\u003c\/li\u003e\n\u003cli\u003e\n\u003cspan style=\"color: #000000;\"\u003e Linear key: Get clean, high-quality results with linear keying by using two separate sources for the fill and the key to create one video image. The fill signal contains the video to be stacked over the background, while the key signal contains a grayscale mask to cut out, or mask, the area to be filled.\u003c\/span\u003e\u003cbr\u003e\u003cbr\u003e\n\u003c\/li\u003e\n\u003cli\u003e\n\u003cspan style=\"color: #000000;\"\u003e Chroma key: Used every day for TV weather forecasts, chroma keys are a powerful way of combining live images together in real time. The presenter typically stands in front of a green or blue background and the chroma keyer will remove only that color and combine it with another image, such as a video or graphic.\u003c\/span\u003e\u003cbr\u003e\u003cbr\u003e\n\u003c\/li\u003e\n\u003cli\u003e\u003cspan style=\"color: #000000;\"\u003ePattern key: Combine live images with any of the 18 built-in wipe patterns to combine live images or graphics with geometric shapes. You get full control over softness, symmetry, size, and position to create unique picture-in-picture effects that can be transitioned to as easily as any live source.\u003c\/span\u003e\u003c\/li\u003e\n\u003c\/ul\u003e\n\u003cp\u003e\u003cspan style=\"color: #000000;\"\u003e\u003cstrong\u003e\u003cbr\u003eDownstream Keyers\u003cbr\u003e\u003c\/strong\u003eThe ATEM Television Studio HD includes two downstream keyers so you can add high-quality graphics like logos, bugs, and titles from the built-in media players over the live 'on air' program output. Downstream keyers are the last layers of keying, so they overlay all video switched to the main program output.\u003c\/span\u003e\u003c\/p\u003e\n\u003cp\u003e\u003cspan style=\"color: #000000;\"\u003e\u003cstrong\u003ePower Macros\u003cbr\u003e\u003c\/strong\u003eTo automate complex sequences of precisely timed actions on your ATEM switcher, you can now create powerful shortcuts called macros. Record a sequence of transitions between video sources, including key effects, audio mixer adjustments, camera control settings, and more using the ATEM software or hardware control panel. Macros are saved as XML files that can be edited with a standard text editor, so you can combine them together to build sophisticated sequences that would be impossible to execute manually during a live production. That means you can create unique looks or your programs that can be recalled instantly, copied between switchers, and used repeatedly when you require them.\u003c\/span\u003e\u003c\/p\u003e\n\u003cp\u003e\u003cspan style=\"color: #000000;\"\u003e\u003cstrong\u003eMix Minus\u003cbr\u003e\u003c\/strong\u003eThe four SDI talkback outputs on the ATEM Television Studio HD support mix minus, which is important when you are working with remote interviewees. For example, you could remove input 5 from the program audio on output 5, so the remote interviewee hears everything in the program except themselves talking and won't be distracted by any audio delay.\u003c\/span\u003e\u003c\/p\u003e\n\u003cp\u003e\u003cspan style=\"color: #000000;\"\u003e\u003cstrong\u003eAudio Mixer\u003cbr\u003e\u003c\/strong\u003eThe built-in audio mixer lets you control camera and external audio with precision level and balance adjustments on all 10 available channels. You can enable or disable channels, or activate audio-follow-video (AFV) mode instantly. Adjust the mixer via the ATEM Control Software or plug in an external Mackie standard USB fader panel.\u003c\/span\u003e\u003c\/p\u003e\n\u003cp\u003e\u003cspan style=\"color: #000000;\"\u003e\u003cstrong\u003eMultiview\u003cbr\u003e\u003c\/strong\u003eMultiview allows you to see your sources, graphics, preview, and program outputs on a single screen so you don't need separate monitors for your individual cameras. You get HDMI and SDI multiview outputs so you can connect professional broadcast SDI monitors, computer monitors, or even consumer HDTV sets.\u003c\/span\u003e\u003c\/p\u003e\n\u003cp\u003e\u003cspan style=\"color: #000000;\"\u003e\u003cstrong\u003eMedia Players\u003cbr\u003e\u003c\/strong\u003eEliminate external character generators by storing up to 20 broadcast quality RGBA graphic files in the media pool. The two media players appear as input sources to your switcher. You can transition to graphics as full frame video or feed them to the keyers for overlaying video. Popular image formats such as PNG, TGA, BMP, GIF, JPEG, and TIFF are supported.\u003c\/span\u003e\u003c\/p\u003e\n\u003cp\u003e\u003cspan style=\"color: #000000;\"\u003e\u003cstrong\u003eATEM Photoshop Plugin\u003c\/strong\u003eUse the included Photoshop plugin to create still broadcast graphics and instantly add them to the ATEM Television Studio HD's media pool. Add professional looking logos, lower thirds, scorecards, or other real-time graphics and get them on air in no time.\u003c\/span\u003e\u003c\/p\u003e\n\u003cp\u003e\u003cspan style=\"color: #000000;\"\u003eBuy the \u003cstrong\u003eBlackmagic Design \u003c\/strong\u003e\u003cstrong\u003eATEM Television Studio HD \u003c\/strong\u003efrom Audiosaurus. The Online Audio Specialists in South Africa.\u003c\/span\u003e\u003c\/p\u003e\n\u003c\/div\u003e\n\u003c\/div\u003e"}
{"id":4675544547364,"title":"Blackmagic - ATEM Television Studio Pro 4K","handle":"blackmagic-atem-television-studio-pro-4k","description":"\u003cdiv\u003e\n\u003cdiv class=\"\" data-selenium=\"overviewLongDescription\"\u003e\n\u003cdiv class=\"js-injected-html\"\u003e\n\u003cp\u003e\u003cspan style=\"color: #000000;\"\u003eThe \u003cb\u003eBlackmagic Design ATEM Television Studio Pro 4K\u003c\/b\u003e is a UHD 4K-compatible, 8-input live production switcher with an integrated control panel, suitable for broadcast, sports, web, and A\/V productions. This versatile switcher's eight independent 12G-SDI inputs accept all popular HD and UHD signals up to 2160p60. A re-syncing feature on each input enables you to seamlessly use an amalgam of pro and consumer cameras, game consoles, and computer feeds.\u003c\/span\u003e\u003cbr\u003e\u003cbr\u003e\u003cspan style=\"color: #000000;\"\u003eSwitch, add effects, color grade, and key in real time using the control surface's buttons, knobs, and slider. CCU functions are available for controlling Blackmagic Studio and URSA Mini\/Broadcast\/Micro Studio cameras from the switcher. A software-based control panel is included and may be used independently, or on multiple laptops for delegating multicamera control. The ATEM Advanced Chroma Keyer, with one upstream and two downstream keys, offers live graphics and virtual set creation with improved image control and spill correction. Create PiP effects, resize and scale live video, and choose from 17 powered transitions with the ATEM Television Studio Pro 4K'S DVE processor.\u003c\/span\u003e\u003c\/p\u003e\n\u003cp\u003e\u003cspan style=\"color: #000000;\"\u003eMultiview output is available for all eight channels, via HDMI or SDI, complete with tally, labeling, audio metering, and safe-area marking. A talkback function is available for director\/operator communication with compatible cameras. The integrated Fairlight audio mixer features six-band parametric EQ, compression, limiting, and stereo simulation on analog and mic inputs. Mix solely from the panel, or use the multitrack interface on your Mac or Windows PC. Use the auxiliary output port to send your switched program or clean feed to a large-scale screen or other display.\u003c\/span\u003e\u003c\/p\u003e\n\u003cp\u003e\u003cspan style=\"color: #000000;\"\u003e\u003cstrong\u003eFeatures\u003c\/strong\u003e\u003c\/span\u003e\u003c\/p\u003e\n\u003c\/div\u003e\n\u003c\/div\u003e\n\u003c\/div\u003e\n\u003cdiv class=\"\"\u003e\n\u003cdiv class=\"\"\u003e\n\u003cdiv class=\"\"\u003e\n\u003cdiv class=\"description_dROY_Wl-Y_I8SrM9_Ji7q\"\u003e\n\u003cdiv class=\"js-injected-html\"\u003e\n\u003cul\u003e\n\u003cli\u003e\u003cspan style=\"color: #000000;\"\u003eEight 12G-SDI inputs, each with re-sync and low-latency conversion\u003c\/span\u003e\u003c\/li\u003e\n\u003cli\u003e\u003cspan style=\"color: #000000;\"\u003eSupports HD video signals up to UHD 4K 2160p60\u003c\/span\u003e\u003c\/li\u003e\n\u003cli\u003e\u003cspan style=\"color: #000000;\"\u003e12-input, 2-channel Fairlight audio mixer\u003c\/span\u003e\u003c\/li\u003e\n\u003cli\u003e\u003cspan style=\"color: #000000;\"\u003eUHD 4K multiviewer with up to 10 windows\u003c\/span\u003e\u003c\/li\u003e\n\u003cli\u003e\u003cspan style=\"color: #000000;\"\u003eCCU functions for compatible cameras\u003c\/span\u003e\u003c\/li\u003e\n\u003cli\u003e\u003cspan style=\"color: #000000;\"\u003eATEM advanced chroma keyer\u003c\/span\u003e\u003c\/li\u003e\n\u003cli\u003e\u003cspan style=\"color: #000000;\"\u003eIntegrated talkback feature for compatible cameras\u003c\/span\u003e\u003c\/li\u003e\n\u003cli\u003e\u003cspan style=\"color: #000000;\"\u003ePowerful DVE processor, 2-clip media pool with fill and key\u003c\/span\u003e\u003c\/li\u003e\n\u003cli\u003e\u003cspan style=\"color: #000000;\"\u003eMac and PC compatible\u003c\/span\u003e\u003c\/li\u003e\n\u003c\/ul\u003e\n\u003cp\u003e\u003cspan style=\"color: #000000;\"\u003e\u003cstrong\u003e\u003cbr\u003e\u003c\/strong\u003eBuy the \u003cb\u003eBlackmagic Design ATEM Television Studio Pro 4K \u003c\/b\u003efrom Audiosaurus. The Online Specialists in South Africa.\u003c\/span\u003e\u003c\/p\u003e\n\u003c\/div\u003e\n\u003c\/div\u003e\n\u003c\/div\u003e\n\u003c\/div\u003e\n\u003c\/div\u003e","published_at":"2020-06-03T12:05:16+02:00","created_at":"2020-06-03T12:19:25+02:00","vendor":"Blackmagic Design","type":"Production Switcher","tags":["Brand_Blackmagic Design","DistSAW","dropdown","PHILIP"],"price":6299500,"price_min":6299500,"price_max":6299500,"available":false,"price_varies":false,"compare_at_price":null,"compare_at_price_min":0,"compare_at_price_max":0,"compare_at_price_varies":false,"variants":[{"id":32073441345572,"title":"Default Title","option1":"Default Title","option2":null,"option3":null,"sku":"BLA-SWATEMTVSTU\/PRO4K","requires_shipping":true,"taxable":true,"featured_image":null,"available":false,"name":"Blackmagic - ATEM Television Studio Pro 4K","public_title":null,"options":["Default Title"],"price":6299500,"weight":0,"compare_at_price":null,"inventory_quantity":0,"inventory_management":"shopify","inventory_policy":"deny","barcode":""}],"images":["\/\/cdn.shopify.com\/s\/files\/1\/0984\/8294\/products\/1523370168_1401680.jpg?v=1591179567","\/\/cdn.shopify.com\/s\/files\/1\/0984\/8294\/products\/1523369723_IMG_967333.jpg?v=1591179567","\/\/cdn.shopify.com\/s\/files\/1\/0984\/8294\/products\/1523369723_IMG_967334.jpg?v=1591179567","\/\/cdn.shopify.com\/s\/files\/1\/0984\/8294\/products\/1523369723_IMG_967335.jpg?v=1591179568","\/\/cdn.shopify.com\/s\/files\/1\/0984\/8294\/products\/1523369723_IMG_967336.jpg?v=1591179568","\/\/cdn.shopify.com\/s\/files\/1\/0984\/8294\/products\/1523369723_IMG_967337.jpg?v=1591179568"],"featured_image":"\/\/cdn.shopify.com\/s\/files\/1\/0984\/8294\/products\/1523370168_1401680.jpg?v=1591179567","options":["Title"],"media":[{"alt":null,"id":6872544378916,"position":1,"preview_image":{"aspect_ratio":1.0,"height":1000,"width":1000,"src":"https:\/\/cdn.shopify.com\/s\/files\/1\/0984\/8294\/products\/1523370168_1401680.jpg?v=1591179567"},"aspect_ratio":1.0,"height":1000,"media_type":"image","src":"https:\/\/cdn.shopify.com\/s\/files\/1\/0984\/8294\/products\/1523370168_1401680.jpg?v=1591179567","width":1000},{"alt":null,"id":6872544411684,"position":2,"preview_image":{"aspect_ratio":1.0,"height":1000,"width":1000,"src":"https:\/\/cdn.shopify.com\/s\/files\/1\/0984\/8294\/products\/1523369723_IMG_967333.jpg?v=1591179567"},"aspect_ratio":1.0,"height":1000,"media_type":"image","src":"https:\/\/cdn.shopify.com\/s\/files\/1\/0984\/8294\/products\/1523369723_IMG_967333.jpg?v=1591179567","width":1000},{"alt":null,"id":6872544444452,"position":3,"preview_image":{"aspect_ratio":1.0,"height":1000,"width":1000,"src":"https:\/\/cdn.shopify.com\/s\/files\/1\/0984\/8294\/products\/1523369723_IMG_967334.jpg?v=1591179567"},"aspect_ratio":1.0,"height":1000,"media_type":"image","src":"https:\/\/cdn.shopify.com\/s\/files\/1\/0984\/8294\/products\/1523369723_IMG_967334.jpg?v=1591179567","width":1000},{"alt":null,"id":6872544477220,"position":4,"preview_image":{"aspect_ratio":1.0,"height":1000,"width":1000,"src":"https:\/\/cdn.shopify.com\/s\/files\/1\/0984\/8294\/products\/1523369723_IMG_967335.jpg?v=1591179567"},"aspect_ratio":1.0,"height":1000,"media_type":"image","src":"https:\/\/cdn.shopify.com\/s\/files\/1\/0984\/8294\/products\/1523369723_IMG_967335.jpg?v=1591179567","width":1000},{"alt":null,"id":6872544509988,"position":5,"preview_image":{"aspect_ratio":1.0,"height":500,"width":500,"src":"https:\/\/cdn.shopify.com\/s\/files\/1\/0984\/8294\/products\/1523369723_IMG_967336.jpg?v=1591179568"},"aspect_ratio":1.0,"height":500,"media_type":"image","src":"https:\/\/cdn.shopify.com\/s\/files\/1\/0984\/8294\/products\/1523369723_IMG_967336.jpg?v=1591179568","width":500},{"alt":null,"id":6872544542756,"position":6,"preview_image":{"aspect_ratio":1.0,"height":500,"width":500,"src":"https:\/\/cdn.shopify.com\/s\/files\/1\/0984\/8294\/products\/1523369723_IMG_967337.jpg?v=1591179568"},"aspect_ratio":1.0,"height":500,"media_type":"image","src":"https:\/\/cdn.shopify.com\/s\/files\/1\/0984\/8294\/products\/1523369723_IMG_967337.jpg?v=1591179568","width":500}],"content":"\u003cdiv\u003e\n\u003cdiv class=\"\" data-selenium=\"overviewLongDescription\"\u003e\n\u003cdiv class=\"js-injected-html\"\u003e\n\u003cp\u003e\u003cspan style=\"color: #000000;\"\u003eThe \u003cb\u003eBlackmagic Design ATEM Television Studio Pro 4K\u003c\/b\u003e is a UHD 4K-compatible, 8-input live production switcher with an integrated control panel, suitable for broadcast, sports, web, and A\/V productions. This versatile switcher's eight independent 12G-SDI inputs accept all popular HD and UHD signals up to 2160p60. A re-syncing feature on each input enables you to seamlessly use an amalgam of pro and consumer cameras, game consoles, and computer feeds.\u003c\/span\u003e\u003cbr\u003e\u003cbr\u003e\u003cspan style=\"color: #000000;\"\u003eSwitch, add effects, color grade, and key in real time using the control surface's buttons, knobs, and slider. CCU functions are available for controlling Blackmagic Studio and URSA Mini\/Broadcast\/Micro Studio cameras from the switcher. A software-based control panel is included and may be used independently, or on multiple laptops for delegating multicamera control. The ATEM Advanced Chroma Keyer, with one upstream and two downstream keys, offers live graphics and virtual set creation with improved image control and spill correction. Create PiP effects, resize and scale live video, and choose from 17 powered transitions with the ATEM Television Studio Pro 4K'S DVE processor.\u003c\/span\u003e\u003c\/p\u003e\n\u003cp\u003e\u003cspan style=\"color: #000000;\"\u003eMultiview output is available for all eight channels, via HDMI or SDI, complete with tally, labeling, audio metering, and safe-area marking. A talkback function is available for director\/operator communication with compatible cameras. The integrated Fairlight audio mixer features six-band parametric EQ, compression, limiting, and stereo simulation on analog and mic inputs. Mix solely from the panel, or use the multitrack interface on your Mac or Windows PC. Use the auxiliary output port to send your switched program or clean feed to a large-scale screen or other display.\u003c\/span\u003e\u003c\/p\u003e\n\u003cp\u003e\u003cspan style=\"color: #000000;\"\u003e\u003cstrong\u003eFeatures\u003c\/strong\u003e\u003c\/span\u003e\u003c\/p\u003e\n\u003c\/div\u003e\n\u003c\/div\u003e\n\u003c\/div\u003e\n\u003cdiv class=\"\"\u003e\n\u003cdiv class=\"\"\u003e\n\u003cdiv class=\"\"\u003e\n\u003cdiv class=\"description_dROY_Wl-Y_I8SrM9_Ji7q\"\u003e\n\u003cdiv class=\"js-injected-html\"\u003e\n\u003cul\u003e\n\u003cli\u003e\u003cspan style=\"color: #000000;\"\u003eEight 12G-SDI inputs, each with re-sync and low-latency conversion\u003c\/span\u003e\u003c\/li\u003e\n\u003cli\u003e\u003cspan style=\"color: #000000;\"\u003eSupports HD video signals up to UHD 4K 2160p60\u003c\/span\u003e\u003c\/li\u003e\n\u003cli\u003e\u003cspan style=\"color: #000000;\"\u003e12-input, 2-channel Fairlight audio mixer\u003c\/span\u003e\u003c\/li\u003e\n\u003cli\u003e\u003cspan style=\"color: #000000;\"\u003eUHD 4K multiviewer with up to 10 windows\u003c\/span\u003e\u003c\/li\u003e\n\u003cli\u003e\u003cspan style=\"color: #000000;\"\u003eCCU functions for compatible cameras\u003c\/span\u003e\u003c\/li\u003e\n\u003cli\u003e\u003cspan style=\"color: #000000;\"\u003eATEM advanced chroma keyer\u003c\/span\u003e\u003c\/li\u003e\n\u003cli\u003e\u003cspan style=\"color: #000000;\"\u003eIntegrated talkback feature for compatible cameras\u003c\/span\u003e\u003c\/li\u003e\n\u003cli\u003e\u003cspan style=\"color: #000000;\"\u003ePowerful DVE processor, 2-clip media pool with fill and key\u003c\/span\u003e\u003c\/li\u003e\n\u003cli\u003e\u003cspan style=\"color: #000000;\"\u003eMac and PC compatible\u003c\/span\u003e\u003c\/li\u003e\n\u003c\/ul\u003e\n\u003cp\u003e\u003cspan style=\"color: #000000;\"\u003e\u003cstrong\u003e\u003cbr\u003e\u003c\/strong\u003eBuy the \u003cb\u003eBlackmagic Design ATEM Television Studio Pro 4K \u003c\/b\u003efrom Audiosaurus. The Online Specialists in South Africa.\u003c\/span\u003e\u003c\/p\u003e\n\u003c\/div\u003e\n\u003c\/div\u003e\n\u003c\/div\u003e\n\u003c\/div\u003e\n\u003c\/div\u003e"}
{"id":4862510366756,"title":"Blackmagic - UltraStudio Monitor 3G Playback Device","handle":"blackmagic-ultrastudio-monitor-3g-playback-device","description":"\u003cp\u003eThe \u003cstrong\u003eBlackmagic UltraStudio Monitor 3G Playback Device\u003c\/strong\u003e from \u003cstrong\u003eBlackmagic Design\u003c\/strong\u003e enables you to monitor your HDMI or 3G-SDI video directly via your computer's Thunderbolt 3 output port. Supporting resolutions up to 1080p60, this compact device enables you to edit without a delay using a large-screen TV, projector, or monitor with an SDI (BNC) or HDMI input.\u003c\/p\u003e\n\u003cp\u003eBuy the \u003cstrong\u003eBlackmagic UltraStudio Monitor 3G Playback Device \u003c\/strong\u003efrom Audiosaurus. The Online Audio Specialists in South Africa.\u003c\/p\u003e","published_at":"2020-08-25T15:52:21+02:00","created_at":"2020-08-25T15:52:15+02:00","vendor":"Blackmagic Design","type":"Capture Device","tags":["Brand_Blackmagic Design","DistSAW","dropdown","New product","PHILIP"],"price":259500,"price_min":259500,"price_max":259500,"available":false,"price_varies":false,"compare_at_price":null,"compare_at_price_min":0,"compare_at_price_max":0,"compare_at_price_varies":false,"variants":[{"id":32324831313956,"title":"Default Title","option1":"Default Title","option2":null,"option3":null,"sku":"BLA-BDLKULSDMBREC3G","requires_shipping":true,"taxable":true,"featured_image":null,"available":false,"name":"Blackmagic - UltraStudio Monitor 3G Playback Device","public_title":null,"options":["Default Title"],"price":259500,"weight":0,"compare_at_price":null,"inventory_quantity":0,"inventory_management":"shopify","inventory_policy":"deny","barcode":""}],"images":["\/\/cdn.shopify.com\/s\/files\/1\/0984\/8294\/products\/1594908697_1578062.jpg?v=1598363537","\/\/cdn.shopify.com\/s\/files\/1\/0984\/8294\/products\/1594908057_IMG_1389496.jpg?v=1598363537","\/\/cdn.shopify.com\/s\/files\/1\/0984\/8294\/products\/1594908057_IMG_1389497.jpg?v=1598363537"],"featured_image":"\/\/cdn.shopify.com\/s\/files\/1\/0984\/8294\/products\/1594908697_1578062.jpg?v=1598363537","options":["Title"],"media":[{"alt":null,"id":7304908308516,"position":1,"preview_image":{"aspect_ratio":1.0,"height":1500,"width":1500,"src":"https:\/\/cdn.shopify.com\/s\/files\/1\/0984\/8294\/products\/1594908697_1578062.jpg?v=1598363537"},"aspect_ratio":1.0,"height":1500,"media_type":"image","src":"https:\/\/cdn.shopify.com\/s\/files\/1\/0984\/8294\/products\/1594908697_1578062.jpg?v=1598363537","width":1500},{"alt":null,"id":7304908341284,"position":2,"preview_image":{"aspect_ratio":1.0,"height":1500,"width":1500,"src":"https:\/\/cdn.shopify.com\/s\/files\/1\/0984\/8294\/products\/1594908057_IMG_1389496.jpg?v=1598363537"},"aspect_ratio":1.0,"height":1500,"media_type":"image","src":"https:\/\/cdn.shopify.com\/s\/files\/1\/0984\/8294\/products\/1594908057_IMG_1389496.jpg?v=1598363537","width":1500},{"alt":null,"id":7304908374052,"position":3,"preview_image":{"aspect_ratio":1.0,"height":1500,"width":1500,"src":"https:\/\/cdn.shopify.com\/s\/files\/1\/0984\/8294\/products\/1594908057_IMG_1389497.jpg?v=1598363537"},"aspect_ratio":1.0,"height":1500,"media_type":"image","src":"https:\/\/cdn.shopify.com\/s\/files\/1\/0984\/8294\/products\/1594908057_IMG_1389497.jpg?v=1598363537","width":1500}],"content":"\u003cp\u003eThe \u003cstrong\u003eBlackmagic UltraStudio Monitor 3G Playback Device\u003c\/strong\u003e from \u003cstrong\u003eBlackmagic Design\u003c\/strong\u003e enables you to monitor your HDMI or 3G-SDI video directly via your computer's Thunderbolt 3 output port. Supporting resolutions up to 1080p60, this compact device enables you to edit without a delay using a large-screen TV, projector, or monitor with an SDI (BNC) or HDMI input.\u003c\/p\u003e\n\u003cp\u003eBuy the \u003cstrong\u003eBlackmagic UltraStudio Monitor 3G Playback Device \u003c\/strong\u003efrom Audiosaurus. The Online Audio Specialists in South Africa.\u003c\/p\u003e"}