Metric Halo LIO-8 3D - Call to confirm stock
Metric Halo LIO-8 3D - Call to confirm stock
Line Level Conversion... Perfected The best of everything you need, without the stuff you don't! When we introduced the ULN-8, people raved about the sonic...
Vendor :Metric Halo
Type :Audio Interfaces
Line Level Conversion... Perfected
The best of everything you need, without the stuff you don't!
When we introduced the ULN-8, people raved about the sonic quality, the features, and the power of our architecture. We also heard from the people that have their own "go to" mic pres, people that use analog consoles, and those that edit but don't record. They love the ULN-8 too, but didn't need the mic pres.
We heard you. For you, we have the LIO-8.
USB-C Audio Interface
192 kHz Converter

MH link

DSP license

EdgeBus slot

ANoC Multicore audio network

Analogue send/return paths

2 Extremely high-impedance DI inputs for instruments

High quality AD and DA converters - 44.1 - 192 kHz

8 AES-EBU inputs/outputs

Flexible control panel with calibrated level indicators

Word clock I/O

SMPTE & MIDI interfaces

Includes power supply and rack bracket
The LIO-8 incorporates the same Metric Halo Audio technologies in the ULN-8 including:
192k sample rate support for both Analog and AES Inputs and Outputs
New DC-coupled, zero phase distortion, servo balanced Line Inputs and Outputs
Fully clickless remote controlled Monitor outputs
All LIO-8 analog outputs incorporate Metric Halo clickless remote technology allowing for flexible monitoring applications from stereo to 7.1 surround.
Expandability
As with all Metric Halo products, the LIO-8 features an upgrade path. Or two.
While the base configuration of the LIO-8 doesn't include mic pres, you can opt to have 4 or 8 channels of the same ULN-R mic pres as the ULN-8 included in your unit. The LIO can be ordered this way from the factory, or the pres can be installed later.
You can also choose to upgrade your processing by adding the +DSP license, which adds over 100 plug-ins to your LIO and gives you the ability to create and save complex processing "graphs" as well as access to factory supplied "macros" including processors, amp simulators and more. You can find out more about +DSP here. Adding +DSP to your LIO is easy, just put the software license code into MIO Console and your box is unlocked.
LIO-8 Key Benefits at a Glance
Exceptional, Best-In-World, Archival Grade Converter Quality
Flexible, Integrated Analog-Domain Monitor Controller
Universal Sample Rate SupportAnalog, AES and Firewire Interfacing
Rock Solid Stability: Mature, Real-World-Tested Firmware, Software and Drivers
Instant Access to Tactile ControlsFully digital control for total recall, remote control and control surface support
Comprehensive Precision Metering - so you always know what is going on
Works with or without a Computer
Metric Halo's Exclusive Per-channel selectable Character - from ultra clean to nice and gooeyIntegrated ultra-low-latency instantiable processing with plenty of DSP power to run it
Most Compact, Lowest Weight, Lowest Power and Lowest Price in its Class
Suite Solution
With everything you need to record, mix, process, and master audio (just add your DAW of choice, analog front end and transducers), the LIO-8 is your one-stop solution for recording, edit, mix and mastering suites. Even if you are using a DAW or recording system that does not support the LIO-8 Firewire interface, the unit's standalone operation and standard AES and analog interface allow you to use it as the Audio Front End and Monitor Controller for Pro Tools, standalone and PC based recording systems.
The Ultimate Digital Upgrade
The LIO-8 is a great way to upgrade your audio system. Put it between your existing gear and your DAW to get all of the benefits of our analog design, conversion technology and DSP without ripping your room apart. Adding a LIO to an analog console is like buying new converters and getting a digital mixer with total recall for free. Using our ConsoleConnect technology you can insert EQs, compressors, gates, reverbs and more into our v.5 Mixer and have all your routing and settings recalled with your DAW session.
At Home in Any Situation
LIO-8 is the perfect tool for capturing audio wherever inspiration hits, in the studio or on the road. Well suited to any recording situation, you can record and edit on the road, in the hotel, on the airplane, or wherever inspiration hits. Use 3 LIO-8s chained together for 24 tracks of live concert recording with processing on all channels in 3 rack spaces. Location sound engineers can now capture the moment - anywhere, anytime.
When you're done recording, use the LIO-8 in the studio as an extremely high quality audio interface to transfer your tracks into a DAW. You'll be amazed at the sound of this box! And weighing only 6 pounds, and a little larger than a laptop, you can be the first one out of the gig, with no hassle.
The LIO-8's archival grade inputs and outputs, coupled with Metric Halo's exclusive Character processing, provide flexibility and sound quality unavailable on any other interface. You can transition from a wire-with-gain to a gooey tube pre with one click of the mouse, and every input can have the right character for the material you are recording.
The LIO-8 is the only unit in its class with an on-board processing engine that supports fully instantiable processing, allowing you to use Metric Halo's world-renowned signal processing effects without sacrificing your computer's processing power or introducing any additional latency in your monitor path. From MIOStrip to HaloVerb, the LIO-8 comes with the 2d plug-in package that provides basic production processing. If you need more, you can add our +DSP package. And remember, this one rack space audio interface has the ability to run entirely from any DC power source (16V-30V), making it truly and completely mobile.


Organically Scalable
A unique feature of the Mobile I/O system is that MIO's work well individually or as a group. Mix and match LIO-8 with ULN-8, 2882 and ULN-2units to create a system that meets your needs for track counts and number of preamps. Adding a unit to the system organically increases the DSP power of the system, so that your DSP always scales with your I/O. Break your system up for small gigs when playing out or add the units of your mates to build a huge system when required. By standardizing on the Mobile I/O platform, each member of the band can have ultimate quality while working alone, and the band can have huge track counts when playing together. You can't lose!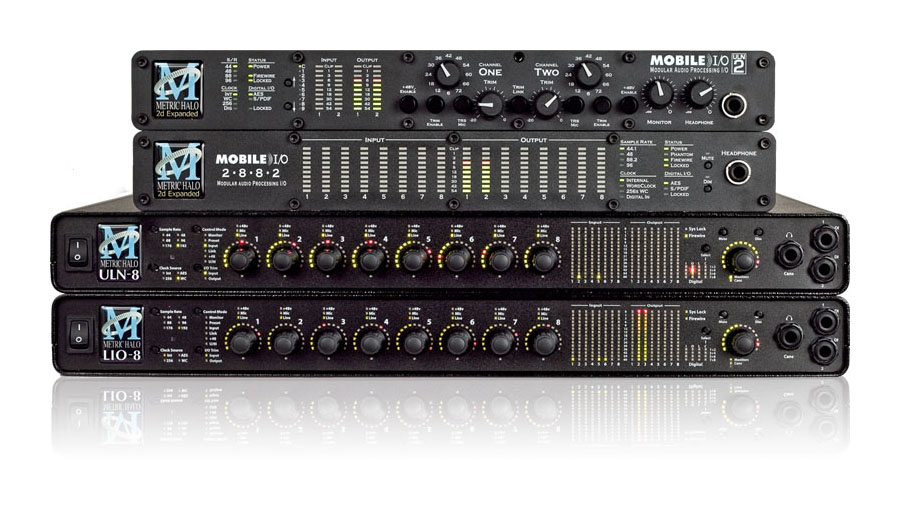 Stand-alone Operation
Flexible signal routing and sophisticated patch and preset management systems as well as a comprehensive set of front panel controls are also featured in the LIO-8. The LIO-8's front-panel controls allow the unit to function equally as well as a stand-alone Converter system. In standalone mode, the LIO-8 operates with the converters directly routed to and from the AES I/O, and the analog domain sends allow splitting or "multing" your analog inputs to other devices.
As a standalone converter, the LIO-8 provides a 24bit/192kHz eight channel front-end. It also functions seamlessly as an analog monitor controller, making it ideal as a digital headphone amp and studio monitor controller.
Applications
The LIO-8 supports a variety of applications. For studio recording, it provides a very high quality interface to a DAW, offering sound processing or simple file transfer between workstations. Its exceptional sound quality makes it perfect as any studio's primary analog to digital conversion and monitoring chain.
The LIO-8 is suitable for broadcast applications, too. It offers instant playback of 8 individual stereo sends for music cues or sound effects, or smaller numbers of surround stems. The compact package and portable power features mean that the unit can go anywhere users
Related Product
{"id":4652638724,"title":"Antelope Orion 32 Multi-Channel AD\/DA Converter - Sold Out","handle":"antelope-orion-32-multi-channel-ad-da-converter","description":"\u003cdiv id=\"orion-intro\"\u003e\n\u003cdiv id=\"intro-text\"\u003e\n\u003ch2\u003eComprehensive Pro-quality I\/O in a Single Rack Space!\u003c\/h2\u003e\n\u003cp\u003eThe Antelope Audio Orion 32 AD\/DA converter and audio interface brings extreme quality and flexibility to your recording rig. Outfitted with Antelope's acclaimed Acoustically Focused Clocking and special high-speed USB connection, the Orion 32 delivers 32 channels of pristine digital audio to and from your computer. There are 32 channels of analog I\/O plus comprehensive digital I\/O for total setup flexibility, and you can control it all via a powerful onboard routing and mixing engine. You'll be amazed at what you can do with your Antelope Audio Orion 32.\u003c\/p\u003e\n\u003cp\u003e\u003ciframe width=\"854\" height=\"480\" src=\"https:\/\/www.youtube.com\/embed\/a-ZD16EshHw\" frameborder=\"0\" allowfullscreen=\"\"\u003e\u003c\/iframe\u003e\u003c\/p\u003e\n\u003c\/div\u003e\n\u003c\/div\u003e\n\u003cdiv id=\"versatile-audio-interface\" class=\"orion-section\"\u003e\n\u003cdiv class=\"left-col\"\u003e\n\u003cdiv class=\"shadowed\"\u003e\u003c\/div\u003e\n\u003c\/div\u003e\n\u003cdiv class=\"right-col\"\u003e\n\u003ch4\u003eVersatile Audio Interface for Any Recording Studio\u003c\/h4\u003e\n\u003cul\u003e\n\u003cli\u003eConnects to your computer via custom USB or MADI\u003c\/li\u003e\n\u003cli\u003eUp to 32 channels of 192kHz digital audio over USB\u003c\/li\u003e\n\u003cli\u003e32 channels of analog plus ADAT optical and S\/PDIF digital I\/O\u003c\/li\u003e\n\u003c\/ul\u003e\n\u003cp\u003eWhether it's a bare-bones location recording rig or a complex multimedia production house, an Antelope Audio Orion 32 is the perfect centerpiece for your recording rig. In addition to MADI I\/O, the Orion 32 offers a very special kind of USB connectivity. Dissatisfied with off-the-shelf options, Antelope built their own high-speed USB chip that's capable of delivering 32 channels of pristine 192kHz I\/O. And with 32 channels of analog I\/O plus 16 channels of ADAT optical I\/O and two channels of S\/PDIF, the Orion 32 is one fully equipped audio interface.\u003c\/p\u003e\n\u003cp\u003e\u003cem\u003eMitch Gallagher sits down with Marcel James from Antelope Audio to check out an amazing mixing rig, based around an Antelope Orion converter and Pro Tools software.\u003c\/em\u003e\u003c\/p\u003e\n\u003c\/div\u003e\n\u003c\/div\u003e\n\u003cdiv id=\"flexible-control-software\" class=\"orion-section\"\u003e\n\u003ch4\u003eFlexible Control Software for Total Routing Freedom\u003c\/h4\u003e\n\u003cdiv class=\"left-col\"\u003e\n\u003cul\u003e\n\u003cli\u003eEasily create complex routing schemes\u003c\/li\u003e\n\u003cli\u003eZero-latency mixing onboard\u003c\/li\u003e\n\u003cli\u003eSave and recall up to five custom configurations\u003c\/li\u003e\n\u003c\/ul\u003e\n\u003cp\u003eYou'll find routing signals in the Antelope Audio Orion 32 to be incredibly easy, thanks to its brilliant desktop control software. Compatible with both Mac and Windows PCs, this ingenious software lets you quickly establish even the most complex routing schemes with ease. On top of that, this software also gives you onboard mixing control, allowing you to set up zero-latency monitoring feeds and headphone mixes. Antelope also outfitted the Orion 32 with five preset buttons, which let you instantly store and recall your favorite settings.\u003c\/p\u003e\n\u003c\/div\u003e\n\u003cdiv class=\"right-col\"\u003e\u003cimg src=\"http:\/\/www.sweetwater.com\/store\/manufacturer\/antelope\/images\/control-software.jpg\" alt=\"\" width=\"469\" height=\"292\"\u003e\u003c\/div\u003e\n\u003c\/div\u003e\n\u003cdiv id=\"rock-solid-clocking\" class=\"orion-section\"\u003e\n\u003ch4\u003eRock-solid Clocking for Your Whole Recording Studio\u003c\/h4\u003e\n\u003cdiv class=\"left-col shadowed\"\u003e\u003cimg src=\"http:\/\/www.sweetwater.com\/store\/manufacturer\/antelope\/images\/wc-out.jpg\" alt=\"\" width=\"443\" height=\"231\"\u003e\u003c\/div\u003e\n\u003cdiv class=\"right-col\"\u003e\n\u003cul\u003e\n\u003cli\u003eAcoustically Focused Clocking with oven-controlled crystal oscillator\u003c\/li\u003e\n\u003cli\u003eInput for Antelope Audio's high-precision M10 clocking\u003c\/li\u003e\n\u003cli\u003eFour discrete word clock outputs for the rest of your digital gear\u003c\/li\u003e\n\u003c\/ul\u003e\n\u003cp\u003eSporting Antelope's amazing fourth-generation 64-bit Acoustically Focused Clocking (AFC) technology and an oven-controlled crystal oscillator, the Orion 32 easily competes with any studio-standard clock on the market. This is the same technology that's made Antelope a household name in top recording, post-production, and mastering facilities around the world. What's more, the Orion 32 includes four separate word clock outputs, making it an excellent master clock for your entire system.\u003c\/p\u003e\n\u003c\/div\u003e\n\u003c\/div\u003e\n\u003cdiv id=\"ideal-interface\" class=\"orion-section\"\u003e\n\u003ch4\u003eThe Ideal Interface for Your Mobile Production Rig\u003c\/h4\u003e\n\u003cdiv class=\"left-col\"\u003e\n\u003cul\u003e\n\u003cli\u003eUltra-compact 1U chassis fits in any rack\u003c\/li\u003e\n\u003cli\u003eLow heat means no need for venting\u003c\/li\u003e\n\u003cli\u003eRecord up to 24 tracks at once on your iPad\u003c\/li\u003e\n\u003c\/ul\u003e\n\u003cp\u003eAt just one rackspace tall, the Antelope Audio Orion 32 packs a ton of functionality into a small amount of space. It also runs cooly enough to not require venting, which means it really won't take up more than a single rack space. That makes the Orion 32 ideal for mobile recording rigs and cramped setups. But it gets even better. Antelope also built the Orion 32 to be totally Core Audio compliant, allowing you to record the maximum 24 tracks at once on your iPad. Talk about portable recording power!\u003c\/p\u003e\n\u003c\/div\u003e\n\u003cdiv class=\"right-col shadowed\"\u003e\u003cimg src=\"http:\/\/www.sweetwater.com\/store\/manufacturer\/antelope\/images\/studio.jpg\" alt=\"\" width=\"435\" height=\"247\"\u003e\u003c\/div\u003e\n\u003c\/div\u003e\n\u003cdiv id=\"daisy-chaining\" class=\"orion-section\"\u003e\n\u003ch4\u003eMADI Daisy Chaining for High-channel-count Setups\u003c\/h4\u003e\n\u003cdiv class=\"left-col\"\u003e\n\u003cul\u003e\n\u003cli\u003eDaisy-chain two Orion 32s together via MADI\u003c\/li\u003e\n\u003cli\u003eProvides up to 64 channels of 192kHz digital audio\u003c\/li\u003e\n\u003cli\u003eSetup is easy, thanks to the included configuration software\u003c\/li\u003e\n\u003c\/ul\u003e\n\u003cp\u003eNeed more high-quality I\/O? No problem. You can easily link two Orion 32 converters together via MADI for a complete 64-channel system that will knock your socks off. You just need two Antelope Audio Orion 32s, a couple of MADI cables, and a MADI interface. Setting the whole system up is super easy, thanks to the included configuration software, and the results are absolutely astonishing.\u003c\/p\u003e\n\u003cdiv class=\"shadowed\"\u003e\u003cimg src=\"http:\/\/www.sweetwater.com\/store\/manufacturer\/antelope\/images\/daisy-chain.jpg\" alt=\"\" width=\"445\" height=\"326\"\u003e\u003c\/div\u003e\n\u003cbr\u003e\n\u003ch4\u003eFrom small studios to sprawling media houses, the Antelope Audio Orion 32 gives you the I\/O you need!\u003c\/h4\u003e\n\u003c\/div\u003e\n\u003cdiv class=\"right-col features-col\"\u003e\n\u003ch4\u003eConverter Features:\u003c\/h4\u003e\n\u003cul\u003e\n\u003cli\u003eA compact 32-channel AD\/DA converter and audio interface that's perfect for your studio, mobile rig, or full-scale media production house\u003c\/li\u003e\n\u003cli\u003eClocking controlled by Antelope's renowned 64-bit Acoustically Focused Clocking (AFC) with M10 Atomic input and oven-controlled crystal oscillator\u003c\/li\u003e\n\u003cli\u003eUser-friendly onboard routing and zero-latency mixing control application available for both Windows and Mac OS X\u003c\/li\u003e\n\u003cli\u003eConveys up to 32 channels of 192kHz digital audio to and from your computer via a custom USB chip\u003c\/li\u003e\n\u003cli\u003eDelivers up to 32 channels of up to 96kHz digital audio via fiber-optic MADI I\/O connections\u003c\/li\u003e\n\u003cli\u003eCore Audio compliance provides up to 24 channels of recording to your iPad (requires Apple Camera Connection Kit)\u003c\/li\u003e\n\u003cli\u003eMADI daisy chaining lets you combine two Orion 32s for 64-channel systems\u003c\/li\u003e\n\u003cli\u003eAll analog connections are simplified thanks to 8 x standard 25-pin D-sub connectors\u003c\/li\u003e\n\u003cli\u003e4 x ADAT optical connections provide you with an additional 16 channels of digital I\/O\u003c\/li\u003e\n\u003cli\u003e2 x channels of S\/PDIF digital I\/O for additional outboard gear\u003c\/li\u003e\n\u003cli\u003e4 x word clock outputs and 1 x word clock input give you handy master clock distribution\u003c\/li\u003e\n\u003cli\u003e5 x presets add fast and easy recall of your favorite setups\u003c\/li\u003e\n\u003cli\u003e1U chassis takes up minimal space in your equipment rack\u003c\/li\u003e\n\u003cli\u003e15W power consumption generates virtually no heat\u003c\/li\u003e\n\u003c\/ul\u003e\n\u003c\/div\u003e\n\u003c\/div\u003e","published_at":"2020-06-23T13:28:11+02:00","created_at":"2016-03-26T13:28:36+02:00","vendor":"Antelope Audio","type":"Audio Interfaces","tags":["converters"],"price":4999500,"price_min":4999500,"price_max":4999500,"available":false,"price_varies":false,"compare_at_price":null,"compare_at_price_min":0,"compare_at_price_max":0,"compare_at_price_varies":false,"variants":[{"id":17053274884,"title":"Default Title","option1":"Default Title","option2":null,"option3":null,"sku":"","requires_shipping":true,"taxable":true,"featured_image":null,"available":false,"name":"Antelope Orion 32 Multi-Channel AD\/DA Converter - Sold Out","public_title":null,"options":["Default Title"],"price":4999500,"weight":0,"compare_at_price":null,"inventory_quantity":0,"inventory_management":"shopify","inventory_policy":"deny","barcode":""}],"images":["\/\/cdn.shopify.com\/s\/files\/1\/0984\/8294\/products\/04ca12e8890fc968d5b2b34c45868b55c9ab3583.jpeg?v=1458991745","\/\/cdn.shopify.com\/s\/files\/1\/0984\/8294\/products\/antelope_orion_32_rear.jpeg?v=1458991762","\/\/cdn.shopify.com\/s\/files\/1\/0984\/8294\/products\/Orion32_Connectivity_chart_1920x1365.jpeg?v=1458991850","\/\/cdn.shopify.com\/s\/files\/1\/0984\/8294\/products\/5c4bd7c468fab3bae1fca2483bd76aeebe0c1f6c.jpeg?v=1458991888"],"featured_image":"\/\/cdn.shopify.com\/s\/files\/1\/0984\/8294\/products\/04ca12e8890fc968d5b2b34c45868b55c9ab3583.jpeg?v=1458991745","options":["Title"],"media":[{"alt":null,"id":56400609316,"position":1,"preview_image":{"aspect_ratio":2.595,"height":600,"width":1557,"src":"https:\/\/cdn.shopify.com\/s\/files\/1\/0984\/8294\/products\/04ca12e8890fc968d5b2b34c45868b55c9ab3583.jpeg?v=1568789645"},"aspect_ratio":2.595,"height":600,"media_type":"image","src":"https:\/\/cdn.shopify.com\/s\/files\/1\/0984\/8294\/products\/04ca12e8890fc968d5b2b34c45868b55c9ab3583.jpeg?v=1568789645","width":1557},{"alt":null,"id":56400642084,"position":2,"preview_image":{"aspect_ratio":6.667,"height":168,"width":1120,"src":"https:\/\/cdn.shopify.com\/s\/files\/1\/0984\/8294\/products\/antelope_orion_32_rear.jpeg?v=1568789645"},"aspect_ratio":6.667,"height":168,"media_type":"image","src":"https:\/\/cdn.shopify.com\/s\/files\/1\/0984\/8294\/products\/antelope_orion_32_rear.jpeg?v=1568789645","width":1120},{"alt":null,"id":56400674852,"position":3,"preview_image":{"aspect_ratio":1.407,"height":1365,"width":1920,"src":"https:\/\/cdn.shopify.com\/s\/files\/1\/0984\/8294\/products\/Orion32_Connectivity_chart_1920x1365.jpeg?v=1568789645"},"aspect_ratio":1.407,"height":1365,"media_type":"image","src":"https:\/\/cdn.shopify.com\/s\/files\/1\/0984\/8294\/products\/Orion32_Connectivity_chart_1920x1365.jpeg?v=1568789645","width":1920},{"alt":null,"id":56400707620,"position":4,"preview_image":{"aspect_ratio":1.585,"height":869,"width":1377,"src":"https:\/\/cdn.shopify.com\/s\/files\/1\/0984\/8294\/products\/5c4bd7c468fab3bae1fca2483bd76aeebe0c1f6c.jpeg?v=1568789645"},"aspect_ratio":1.585,"height":869,"media_type":"image","src":"https:\/\/cdn.shopify.com\/s\/files\/1\/0984\/8294\/products\/5c4bd7c468fab3bae1fca2483bd76aeebe0c1f6c.jpeg?v=1568789645","width":1377}],"content":"\u003cdiv id=\"orion-intro\"\u003e\n\u003cdiv id=\"intro-text\"\u003e\n\u003ch2\u003eComprehensive Pro-quality I\/O in a Single Rack Space!\u003c\/h2\u003e\n\u003cp\u003eThe Antelope Audio Orion 32 AD\/DA converter and audio interface brings extreme quality and flexibility to your recording rig. Outfitted with Antelope's acclaimed Acoustically Focused Clocking and special high-speed USB connection, the Orion 32 delivers 32 channels of pristine digital audio to and from your computer. There are 32 channels of analog I\/O plus comprehensive digital I\/O for total setup flexibility, and you can control it all via a powerful onboard routing and mixing engine. You'll be amazed at what you can do with your Antelope Audio Orion 32.\u003c\/p\u003e\n\u003cp\u003e\u003ciframe width=\"854\" height=\"480\" src=\"https:\/\/www.youtube.com\/embed\/a-ZD16EshHw\" frameborder=\"0\" allowfullscreen=\"\"\u003e\u003c\/iframe\u003e\u003c\/p\u003e\n\u003c\/div\u003e\n\u003c\/div\u003e\n\u003cdiv id=\"versatile-audio-interface\" class=\"orion-section\"\u003e\n\u003cdiv class=\"left-col\"\u003e\n\u003cdiv class=\"shadowed\"\u003e\u003c\/div\u003e\n\u003c\/div\u003e\n\u003cdiv class=\"right-col\"\u003e\n\u003ch4\u003eVersatile Audio Interface for Any Recording Studio\u003c\/h4\u003e\n\u003cul\u003e\n\u003cli\u003eConnects to your computer via custom USB or MADI\u003c\/li\u003e\n\u003cli\u003eUp to 32 channels of 192kHz digital audio over USB\u003c\/li\u003e\n\u003cli\u003e32 channels of analog plus ADAT optical and S\/PDIF digital I\/O\u003c\/li\u003e\n\u003c\/ul\u003e\n\u003cp\u003eWhether it's a bare-bones location recording rig or a complex multimedia production house, an Antelope Audio Orion 32 is the perfect centerpiece for your recording rig. In addition to MADI I\/O, the Orion 32 offers a very special kind of USB connectivity. Dissatisfied with off-the-shelf options, Antelope built their own high-speed USB chip that's capable of delivering 32 channels of pristine 192kHz I\/O. And with 32 channels of analog I\/O plus 16 channels of ADAT optical I\/O and two channels of S\/PDIF, the Orion 32 is one fully equipped audio interface.\u003c\/p\u003e\n\u003cp\u003e\u003cem\u003eMitch Gallagher sits down with Marcel James from Antelope Audio to check out an amazing mixing rig, based around an Antelope Orion converter and Pro Tools software.\u003c\/em\u003e\u003c\/p\u003e\n\u003c\/div\u003e\n\u003c\/div\u003e\n\u003cdiv id=\"flexible-control-software\" class=\"orion-section\"\u003e\n\u003ch4\u003eFlexible Control Software for Total Routing Freedom\u003c\/h4\u003e\n\u003cdiv class=\"left-col\"\u003e\n\u003cul\u003e\n\u003cli\u003eEasily create complex routing schemes\u003c\/li\u003e\n\u003cli\u003eZero-latency mixing onboard\u003c\/li\u003e\n\u003cli\u003eSave and recall up to five custom configurations\u003c\/li\u003e\n\u003c\/ul\u003e\n\u003cp\u003eYou'll find routing signals in the Antelope Audio Orion 32 to be incredibly easy, thanks to its brilliant desktop control software. Compatible with both Mac and Windows PCs, this ingenious software lets you quickly establish even the most complex routing schemes with ease. On top of that, this software also gives you onboard mixing control, allowing you to set up zero-latency monitoring feeds and headphone mixes. Antelope also outfitted the Orion 32 with five preset buttons, which let you instantly store and recall your favorite settings.\u003c\/p\u003e\n\u003c\/div\u003e\n\u003cdiv class=\"right-col\"\u003e\u003cimg src=\"http:\/\/www.sweetwater.com\/store\/manufacturer\/antelope\/images\/control-software.jpg\" alt=\"\" width=\"469\" height=\"292\"\u003e\u003c\/div\u003e\n\u003c\/div\u003e\n\u003cdiv id=\"rock-solid-clocking\" class=\"orion-section\"\u003e\n\u003ch4\u003eRock-solid Clocking for Your Whole Recording Studio\u003c\/h4\u003e\n\u003cdiv class=\"left-col shadowed\"\u003e\u003cimg src=\"http:\/\/www.sweetwater.com\/store\/manufacturer\/antelope\/images\/wc-out.jpg\" alt=\"\" width=\"443\" height=\"231\"\u003e\u003c\/div\u003e\n\u003cdiv class=\"right-col\"\u003e\n\u003cul\u003e\n\u003cli\u003eAcoustically Focused Clocking with oven-controlled crystal oscillator\u003c\/li\u003e\n\u003cli\u003eInput for Antelope Audio's high-precision M10 clocking\u003c\/li\u003e\n\u003cli\u003eFour discrete word clock outputs for the rest of your digital gear\u003c\/li\u003e\n\u003c\/ul\u003e\n\u003cp\u003eSporting Antelope's amazing fourth-generation 64-bit Acoustically Focused Clocking (AFC) technology and an oven-controlled crystal oscillator, the Orion 32 easily competes with any studio-standard clock on the market. This is the same technology that's made Antelope a household name in top recording, post-production, and mastering facilities around the world. What's more, the Orion 32 includes four separate word clock outputs, making it an excellent master clock for your entire system.\u003c\/p\u003e\n\u003c\/div\u003e\n\u003c\/div\u003e\n\u003cdiv id=\"ideal-interface\" class=\"orion-section\"\u003e\n\u003ch4\u003eThe Ideal Interface for Your Mobile Production Rig\u003c\/h4\u003e\n\u003cdiv class=\"left-col\"\u003e\n\u003cul\u003e\n\u003cli\u003eUltra-compact 1U chassis fits in any rack\u003c\/li\u003e\n\u003cli\u003eLow heat means no need for venting\u003c\/li\u003e\n\u003cli\u003eRecord up to 24 tracks at once on your iPad\u003c\/li\u003e\n\u003c\/ul\u003e\n\u003cp\u003eAt just one rackspace tall, the Antelope Audio Orion 32 packs a ton of functionality into a small amount of space. It also runs cooly enough to not require venting, which means it really won't take up more than a single rack space. That makes the Orion 32 ideal for mobile recording rigs and cramped setups. But it gets even better. Antelope also built the Orion 32 to be totally Core Audio compliant, allowing you to record the maximum 24 tracks at once on your iPad. Talk about portable recording power!\u003c\/p\u003e\n\u003c\/div\u003e\n\u003cdiv class=\"right-col shadowed\"\u003e\u003cimg src=\"http:\/\/www.sweetwater.com\/store\/manufacturer\/antelope\/images\/studio.jpg\" alt=\"\" width=\"435\" height=\"247\"\u003e\u003c\/div\u003e\n\u003c\/div\u003e\n\u003cdiv id=\"daisy-chaining\" class=\"orion-section\"\u003e\n\u003ch4\u003eMADI Daisy Chaining for High-channel-count Setups\u003c\/h4\u003e\n\u003cdiv class=\"left-col\"\u003e\n\u003cul\u003e\n\u003cli\u003eDaisy-chain two Orion 32s together via MADI\u003c\/li\u003e\n\u003cli\u003eProvides up to 64 channels of 192kHz digital audio\u003c\/li\u003e\n\u003cli\u003eSetup is easy, thanks to the included configuration software\u003c\/li\u003e\n\u003c\/ul\u003e\n\u003cp\u003eNeed more high-quality I\/O? No problem. You can easily link two Orion 32 converters together via MADI for a complete 64-channel system that will knock your socks off. You just need two Antelope Audio Orion 32s, a couple of MADI cables, and a MADI interface. Setting the whole system up is super easy, thanks to the included configuration software, and the results are absolutely astonishing.\u003c\/p\u003e\n\u003cdiv class=\"shadowed\"\u003e\u003cimg src=\"http:\/\/www.sweetwater.com\/store\/manufacturer\/antelope\/images\/daisy-chain.jpg\" alt=\"\" width=\"445\" height=\"326\"\u003e\u003c\/div\u003e\n\u003cbr\u003e\n\u003ch4\u003eFrom small studios to sprawling media houses, the Antelope Audio Orion 32 gives you the I\/O you need!\u003c\/h4\u003e\n\u003c\/div\u003e\n\u003cdiv class=\"right-col features-col\"\u003e\n\u003ch4\u003eConverter Features:\u003c\/h4\u003e\n\u003cul\u003e\n\u003cli\u003eA compact 32-channel AD\/DA converter and audio interface that's perfect for your studio, mobile rig, or full-scale media production house\u003c\/li\u003e\n\u003cli\u003eClocking controlled by Antelope's renowned 64-bit Acoustically Focused Clocking (AFC) with M10 Atomic input and oven-controlled crystal oscillator\u003c\/li\u003e\n\u003cli\u003eUser-friendly onboard routing and zero-latency mixing control application available for both Windows and Mac OS X\u003c\/li\u003e\n\u003cli\u003eConveys up to 32 channels of 192kHz digital audio to and from your computer via a custom USB chip\u003c\/li\u003e\n\u003cli\u003eDelivers up to 32 channels of up to 96kHz digital audio via fiber-optic MADI I\/O connections\u003c\/li\u003e\n\u003cli\u003eCore Audio compliance provides up to 24 channels of recording to your iPad (requires Apple Camera Connection Kit)\u003c\/li\u003e\n\u003cli\u003eMADI daisy chaining lets you combine two Orion 32s for 64-channel systems\u003c\/li\u003e\n\u003cli\u003eAll analog connections are simplified thanks to 8 x standard 25-pin D-sub connectors\u003c\/li\u003e\n\u003cli\u003e4 x ADAT optical connections provide you with an additional 16 channels of digital I\/O\u003c\/li\u003e\n\u003cli\u003e2 x channels of S\/PDIF digital I\/O for additional outboard gear\u003c\/li\u003e\n\u003cli\u003e4 x word clock outputs and 1 x word clock input give you handy master clock distribution\u003c\/li\u003e\n\u003cli\u003e5 x presets add fast and easy recall of your favorite setups\u003c\/li\u003e\n\u003cli\u003e1U chassis takes up minimal space in your equipment rack\u003c\/li\u003e\n\u003cli\u003e15W power consumption generates virtually no heat\u003c\/li\u003e\n\u003c\/ul\u003e\n\u003c\/div\u003e\n\u003c\/div\u003e"}
{"id":1478634405924,"title":"Focusrite Clarett 2Pre USB Audio Interface","handle":"focusrite-clarett-2pre-usb-audio-interface","description":"\u003ch3\u003e\u003cspan style=\"color: #000000;\"\u003eClarett USB lays down the challenge to interfaces twice the price. \u003c\/span\u003e\u003c\/h3\u003e\n\u003cp\u003e\u003cspan style=\"color: #000000;\"\u003e\u003ciframe width=\"854\" height=\"480\" src=\"https:\/\/www.youtube.com\/embed\/JcM7iQBoGSo\" frameborder=\"0\" allow=\"accelerometer; autoplay; encrypted-media; gyroscope; picture-in-picture\" allowfullscreen=\"\"\u003e\u003c\/iframe\u003e\u003c\/span\u003e\u003c\/p\u003e\n\u003cp\u003e\u003ciframe width=\"854\" height=\"480\" src=\"https:\/\/www.youtube.com\/embed\/apSn5knMAMM\" frameborder=\"0\" allow=\"accelerometer; autoplay; encrypted-media; gyroscope; picture-in-picture\" allowfullscreen=\"\"\u003e\u003c\/iframe\u003e\u003c\/p\u003e\n\u003cp\u003e\u003cspan style=\"color: #000000;\"\u003eThe Clarett USB range features specially designed high performance, low-noise (-128dB EIN) mic pres with a low distortion, ultra-linear design that guarantees a clean, open and transparent sound, giving accurate representation of the original performance. Boasting 119dB dynamic range, Clarett can now be experienced with any Mac® or PC supporting USB 2.0 and above. Capture every detail with Clarett 2Pre USB. \u003c\/span\u003e\u003c\/p\u003e\n\u003cp\u003e\u003cspan style=\"color: #000000;\"\u003e-\u003c\/span\u003e\u003c\/p\u003e\n\u003cp\u003e\u003cstrong\u003e\u003cspan style=\"color: #000000;\"\u003eIncluded software bundle:\u003c\/span\u003e\u003c\/strong\u003e\u003c\/p\u003e\n\u003cul class=\"vertical\"\u003e\n\u003cli\u003eXLN Audio – Addictive Keys: one of four inspiring and interesting keyboard instruments\u003c\/li\u003e\n\u003cli\u003eFocusrite – Red Plug-in Suite: accurately models Focusrite's classic Red 2 equalizer and Red 3 compressor\u003c\/li\u003e\n\u003cli\u003eSoftube – Time and Tone Bundle: four of Softube's world-class reverb, delay, mastering and distortion plug-ins\u003c\/li\u003e\n\u003cli\u003eFocusrite – Plug-in Collective: exclusive offers, tutorial content, and more from some of the most innovative and prestigious plug-in companies\u003c\/li\u003e\n\u003cli\u003eAbleton – Live Lite: a customized version of Ableton Live software\u003c\/li\u003e\n\u003cli\u003eLoopmasters: 2GB of royalty-free sample libraries\u003c\/li\u003e\n\u003cli\u003eFocusrite Control\u003c\/li\u003e\n\u003c\/ul\u003e\n\u003cp\u003e-\u003c\/p\u003e\n\u003cp\u003e\u003cstrong\u003e\u003cspan style=\"color: #000000;\"\u003eFocusrite Clarett 2Pre USB Preamp\/Audio Interface Features:\u003c\/span\u003e\u003c\/strong\u003e\u003c\/p\u003e\n\u003cul class=\"webtext-block--colcount\"\u003e\n\u003cli\u003e2 ultra-low noise (-128dB EIN) Clarett mic preamps\u003c\/li\u003e\n\u003cli\u003eAir circuit engages an analog model of classic transformer-based ISA mic pre\u003c\/li\u003e\n\u003cli\u003eSuper-low-latency recording with amp simulators and effects plug-ins\u003c\/li\u003e\n\u003cli\u003eUltra-low distortion\u003c\/li\u003e\n\u003cli\u003eUp to 119dB dynamic range\u003c\/li\u003e\n\u003cli\u003eMac\/PC-compatible, USB 2.0 and above\u003c\/li\u003e\n\u003cli\u003eConnects to Mac or PC using included standard USB and USB Type-C cables\u003c\/li\u003e\n\u003cli\u003ePrecision 24-bit\/192kHz AD\/DA conversion\u003c\/li\u003e\n\u003cli\u003e2 mic\/line\/instrument inputs\u003c\/li\u003e\n\u003cli\u003eADAT optical, for expansion of up to 8 additional input channels\u003c\/li\u003e\n\u003cli\u003eGain Halo meters make for easy input level settings\u003c\/li\u003e\n\u003cli\u003e2 monitor outputs with anti-thump technology\u003c\/li\u003e\n\u003cli\u003eHigh-power headphone output with level control\u003c\/li\u003e\n\u003cli\u003e2 additional line outputs\u003c\/li\u003e\n\u003cli\u003eMIDI I\/O\u003c\/li\u003e\n\u003cli\u003eIncluded software from XLN Audio, Focusrite, Softube, Ableton, and Loopmasters\u003c\/li\u003e\n\u003cli\u003eUser-friendly Focusrite Control software lets you configure routing and monitor mixes from Mac, PC, iPad, iPhone, and iPod touch\u003c\/li\u003e\n\u003c\/ul\u003e\n\u003cp\u003e-\u003c\/p\u003e\n\u003cp\u003e\u003cspan style=\"color: #000000;\"\u003e\u003cstrong\u003eTech Specs:\u003c\/strong\u003e\u003c\/span\u003e\u003c\/p\u003e\n\u003cul class=\"table\"\u003e\n\u003cli class=\"table__row\"\u003e\n\u003cstrong class=\"table__header\"\u003eComputer Connectivity:\u003c\/strong\u003e\u003cspan class=\"table__cell\"\u003eUSB 2.0\u003c\/span\u003e\n\u003c\/li\u003e\n\u003cli class=\"table__row\"\u003e\n\u003cstrong class=\"table__header\"\u003eForm Factor:\u003c\/strong\u003e\u003cspan class=\"table__cell\"\u003eDesktop\u003c\/span\u003e\n\u003c\/li\u003e\n\u003cli class=\"table__row\"\u003e\n\u003cstrong class=\"table__header\"\u003eSimultaneous I\/O:\u003c\/strong\u003e\u003cspan class=\"table__cell\"\u003e10 x 4\u003c\/span\u003e\n\u003c\/li\u003e\n\u003cli class=\"table__row\"\u003e\n\u003cstrong class=\"table__header\"\u003eNumber of Preamps:\u003c\/strong\u003e\u003cspan class=\"table__cell\"\u003e2\u003c\/span\u003e\n\u003c\/li\u003e\n\u003cli class=\"table__row\"\u003e\n\u003cstrong class=\"table__header\"\u003ePhantom Power:\u003c\/strong\u003e\u003cspan class=\"table__cell\"\u003eYes\u003c\/span\u003e\n\u003c\/li\u003e\n\u003cli class=\"table__row\"\u003e\n\u003cstrong class=\"table__header\"\u003eA\/D Resolution:\u003c\/strong\u003e\u003cspan class=\"table__cell\"\u003eUp to 24-bit\/192kHz\u003c\/span\u003e\n\u003c\/li\u003e\n\u003cli class=\"table__row\"\u003e\n\u003cstrong class=\"table__header\"\u003eAnalog Inputs:\u003c\/strong\u003e\u003cspan class=\"table__cell\"\u003e2 x XLR-1\/4\" combo (mic\/line\/Hi-Z)\u003c\/span\u003e\n\u003c\/li\u003e\n\u003cli class=\"table__row\"\u003e\n\u003cstrong class=\"table__header\"\u003eAnalog Outputs:\u003c\/strong\u003e\u003cspan class=\"table__cell\"\u003e4 x 1\/4\" (line out)\u003c\/span\u003e\n\u003c\/li\u003e\n\u003cli class=\"table__row\"\u003e\n\u003cstrong class=\"table__header\"\u003eDigital Inputs:\u003c\/strong\u003e\u003cspan class=\"table__cell\"\u003e1 x Optical (ADAT)\u003c\/span\u003e\n\u003c\/li\u003e\n\u003cli class=\"table__row\"\u003e\n\u003cstrong class=\"table__header\"\u003eHeadphones:\u003c\/strong\u003e\u003cspan class=\"table__cell\"\u003e1 x 1\/4\"\u003c\/span\u003e\n\u003c\/li\u003e\n\u003cli class=\"table__row\"\u003e\n\u003cstrong class=\"table__header\"\u003eMIDI I\/O:\u003c\/strong\u003e\u003cspan class=\"table__cell\"\u003eIn\/Out\u003c\/span\u003e\n\u003c\/li\u003e\n\u003cli class=\"table__row\"\u003e\n\u003cstrong class=\"table__header\"\u003eUSB:\u003c\/strong\u003e\u003cspan class=\"table__cell\"\u003e1 x USB-C\u003c\/span\u003e\n\u003c\/li\u003e\n\u003cli class=\"table__row\"\u003e\n\u003cstrong class=\"table__header\"\u003eSoftware:\u003c\/strong\u003e\u003cspan class=\"table__cell\"\u003eFocusrite Control iOS app, Softube Time and Tone, XLN Audio Addictive Keys, Red Plug-in Suite, Focusrite Plug-in Collective\u003c\/span\u003e\n\u003c\/li\u003e\n\u003cli class=\"table__row\"\u003e\n\u003cstrong class=\"table__header\"\u003eOS Requirements - Mac:\u003c\/strong\u003e\u003cspan class=\"table__cell\"\u003eOS X 10.11 or later\u003c\/span\u003e\n\u003c\/li\u003e\n\u003cli class=\"table__row\"\u003e\n\u003cstrong class=\"table__header\"\u003eOS Requirements - PC:\u003c\/strong\u003e\u003cspan class=\"table__cell\"\u003eWindows 7 SP1 or later\u003c\/span\u003e\n\u003c\/li\u003e\n\u003cli class=\"table__row\"\u003e\n\u003cstrong class=\"table__header\"\u003ePower Supply:\u003c\/strong\u003e\u003cspan class=\"table__cell\"\u003e12V DC power supply (included)\u003c\/span\u003e\n\u003c\/li\u003e\n\u003c\/ul\u003e\n\u003cp\u003e \u003c\/p\u003e\n\u003cp\u003e\u003cspan class=\"table__cell\"\u003eBuy the \u003cstrong\u003eFocusrite Clarett 2Pre USB Audio Interface\u003c\/strong\u003e from Audiosaurus. The online Pro Audio experts. \u003c\/span\u003e\u003c\/p\u003e\n\u003cp\u003e \u003c\/p\u003e","published_at":"2020-06-23T12:37:01+02:00","created_at":"2019-07-17T13:58:32+02:00","vendor":"Focusrite","type":"Audio Interfaces","tags":["Brand_Focusrite","Clarett 2020","DistRockit","dropdown","FF PRO","GShop","Hot Deals","pro audio","studio"],"price":999500,"price_min":999500,"price_max":999500,"available":false,"price_varies":false,"compare_at_price":1202500,"compare_at_price_min":1202500,"compare_at_price_max":1202500,"compare_at_price_varies":false,"variants":[{"id":11772240822308,"title":"Default Title","option1":"Default Title","option2":null,"option3":null,"sku":"FOC-CLARETT2PREUSB","requires_shipping":true,"taxable":true,"featured_image":null,"available":false,"name":"Focusrite Clarett 2Pre USB Audio Interface","public_title":null,"options":["Default Title"],"price":999500,"weight":0,"compare_at_price":1202500,"inventory_quantity":0,"inventory_management":"shopify","inventory_policy":"deny","barcode":""}],"images":["\/\/cdn.shopify.com\/s\/files\/1\/0984\/8294\/products\/AS_Clarett-2PRE.png?v=1563364857","\/\/cdn.shopify.com\/s\/files\/1\/0984\/8294\/products\/AS_Clarett-2PRE-side.png?v=1563364977","\/\/cdn.shopify.com\/s\/files\/1\/0984\/8294\/products\/AS_Clarett-2PRE-rear.png?v=1563365023"],"featured_image":"\/\/cdn.shopify.com\/s\/files\/1\/0984\/8294\/products\/AS_Clarett-2PRE.png?v=1563364857","options":["Title"],"media":[{"alt":null,"id":2531570122788,"position":1,"preview_image":{"aspect_ratio":1.0,"height":900,"width":900,"src":"https:\/\/cdn.shopify.com\/s\/files\/1\/0984\/8294\/products\/AS_Clarett-2PRE.png?v=1570058290"},"aspect_ratio":1.0,"height":900,"media_type":"image","src":"https:\/\/cdn.shopify.com\/s\/files\/1\/0984\/8294\/products\/AS_Clarett-2PRE.png?v=1570058290","width":900},{"alt":null,"id":2531574841380,"position":2,"preview_image":{"aspect_ratio":1.0,"height":800,"width":800,"src":"https:\/\/cdn.shopify.com\/s\/files\/1\/0984\/8294\/products\/AS_Clarett-2PRE-side.png?v=1570058291"},"aspect_ratio":1.0,"height":800,"media_type":"image","src":"https:\/\/cdn.shopify.com\/s\/files\/1\/0984\/8294\/products\/AS_Clarett-2PRE-side.png?v=1570058291","width":800},{"alt":null,"id":2531576447012,"position":3,"preview_image":{"aspect_ratio":1.0,"height":1000,"width":1000,"src":"https:\/\/cdn.shopify.com\/s\/files\/1\/0984\/8294\/products\/AS_Clarett-2PRE-rear.png?v=1570058291"},"aspect_ratio":1.0,"height":1000,"media_type":"image","src":"https:\/\/cdn.shopify.com\/s\/files\/1\/0984\/8294\/products\/AS_Clarett-2PRE-rear.png?v=1570058291","width":1000}],"content":"\u003ch3\u003e\u003cspan style=\"color: #000000;\"\u003eClarett USB lays down the challenge to interfaces twice the price. \u003c\/span\u003e\u003c\/h3\u003e\n\u003cp\u003e\u003cspan style=\"color: #000000;\"\u003e\u003ciframe width=\"854\" height=\"480\" src=\"https:\/\/www.youtube.com\/embed\/JcM7iQBoGSo\" frameborder=\"0\" allow=\"accelerometer; autoplay; encrypted-media; gyroscope; picture-in-picture\" allowfullscreen=\"\"\u003e\u003c\/iframe\u003e\u003c\/span\u003e\u003c\/p\u003e\n\u003cp\u003e\u003ciframe width=\"854\" height=\"480\" src=\"https:\/\/www.youtube.com\/embed\/apSn5knMAMM\" frameborder=\"0\" allow=\"accelerometer; autoplay; encrypted-media; gyroscope; picture-in-picture\" allowfullscreen=\"\"\u003e\u003c\/iframe\u003e\u003c\/p\u003e\n\u003cp\u003e\u003cspan style=\"color: #000000;\"\u003eThe Clarett USB range features specially designed high performance, low-noise (-128dB EIN) mic pres with a low distortion, ultra-linear design that guarantees a clean, open and transparent sound, giving accurate representation of the original performance. Boasting 119dB dynamic range, Clarett can now be experienced with any Mac® or PC supporting USB 2.0 and above. Capture every detail with Clarett 2Pre USB. \u003c\/span\u003e\u003c\/p\u003e\n\u003cp\u003e\u003cspan style=\"color: #000000;\"\u003e-\u003c\/span\u003e\u003c\/p\u003e\n\u003cp\u003e\u003cstrong\u003e\u003cspan style=\"color: #000000;\"\u003eIncluded software bundle:\u003c\/span\u003e\u003c\/strong\u003e\u003c\/p\u003e\n\u003cul class=\"vertical\"\u003e\n\u003cli\u003eXLN Audio – Addictive Keys: one of four inspiring and interesting keyboard instruments\u003c\/li\u003e\n\u003cli\u003eFocusrite – Red Plug-in Suite: accurately models Focusrite's classic Red 2 equalizer and Red 3 compressor\u003c\/li\u003e\n\u003cli\u003eSoftube – Time and Tone Bundle: four of Softube's world-class reverb, delay, mastering and distortion plug-ins\u003c\/li\u003e\n\u003cli\u003eFocusrite – Plug-in Collective: exclusive offers, tutorial content, and more from some of the most innovative and prestigious plug-in companies\u003c\/li\u003e\n\u003cli\u003eAbleton – Live Lite: a customized version of Ableton Live software\u003c\/li\u003e\n\u003cli\u003eLoopmasters: 2GB of royalty-free sample libraries\u003c\/li\u003e\n\u003cli\u003eFocusrite Control\u003c\/li\u003e\n\u003c\/ul\u003e\n\u003cp\u003e-\u003c\/p\u003e\n\u003cp\u003e\u003cstrong\u003e\u003cspan style=\"color: #000000;\"\u003eFocusrite Clarett 2Pre USB Preamp\/Audio Interface Features:\u003c\/span\u003e\u003c\/strong\u003e\u003c\/p\u003e\n\u003cul class=\"webtext-block--colcount\"\u003e\n\u003cli\u003e2 ultra-low noise (-128dB EIN) Clarett mic preamps\u003c\/li\u003e\n\u003cli\u003eAir circuit engages an analog model of classic transformer-based ISA mic pre\u003c\/li\u003e\n\u003cli\u003eSuper-low-latency recording with amp simulators and effects plug-ins\u003c\/li\u003e\n\u003cli\u003eUltra-low distortion\u003c\/li\u003e\n\u003cli\u003eUp to 119dB dynamic range\u003c\/li\u003e\n\u003cli\u003eMac\/PC-compatible, USB 2.0 and above\u003c\/li\u003e\n\u003cli\u003eConnects to Mac or PC using included standard USB and USB Type-C cables\u003c\/li\u003e\n\u003cli\u003ePrecision 24-bit\/192kHz AD\/DA conversion\u003c\/li\u003e\n\u003cli\u003e2 mic\/line\/instrument inputs\u003c\/li\u003e\n\u003cli\u003eADAT optical, for expansion of up to 8 additional input channels\u003c\/li\u003e\n\u003cli\u003eGain Halo meters make for easy input level settings\u003c\/li\u003e\n\u003cli\u003e2 monitor outputs with anti-thump technology\u003c\/li\u003e\n\u003cli\u003eHigh-power headphone output with level control\u003c\/li\u003e\n\u003cli\u003e2 additional line outputs\u003c\/li\u003e\n\u003cli\u003eMIDI I\/O\u003c\/li\u003e\n\u003cli\u003eIncluded software from XLN Audio, Focusrite, Softube, Ableton, and Loopmasters\u003c\/li\u003e\n\u003cli\u003eUser-friendly Focusrite Control software lets you configure routing and monitor mixes from Mac, PC, iPad, iPhone, and iPod touch\u003c\/li\u003e\n\u003c\/ul\u003e\n\u003cp\u003e-\u003c\/p\u003e\n\u003cp\u003e\u003cspan style=\"color: #000000;\"\u003e\u003cstrong\u003eTech Specs:\u003c\/strong\u003e\u003c\/span\u003e\u003c\/p\u003e\n\u003cul class=\"table\"\u003e\n\u003cli class=\"table__row\"\u003e\n\u003cstrong class=\"table__header\"\u003eComputer Connectivity:\u003c\/strong\u003e\u003cspan class=\"table__cell\"\u003eUSB 2.0\u003c\/span\u003e\n\u003c\/li\u003e\n\u003cli class=\"table__row\"\u003e\n\u003cstrong class=\"table__header\"\u003eForm Factor:\u003c\/strong\u003e\u003cspan class=\"table__cell\"\u003eDesktop\u003c\/span\u003e\n\u003c\/li\u003e\n\u003cli class=\"table__row\"\u003e\n\u003cstrong class=\"table__header\"\u003eSimultaneous I\/O:\u003c\/strong\u003e\u003cspan class=\"table__cell\"\u003e10 x 4\u003c\/span\u003e\n\u003c\/li\u003e\n\u003cli class=\"table__row\"\u003e\n\u003cstrong class=\"table__header\"\u003eNumber of Preamps:\u003c\/strong\u003e\u003cspan class=\"table__cell\"\u003e2\u003c\/span\u003e\n\u003c\/li\u003e\n\u003cli class=\"table__row\"\u003e\n\u003cstrong class=\"table__header\"\u003ePhantom Power:\u003c\/strong\u003e\u003cspan class=\"table__cell\"\u003eYes\u003c\/span\u003e\n\u003c\/li\u003e\n\u003cli class=\"table__row\"\u003e\n\u003cstrong class=\"table__header\"\u003eA\/D Resolution:\u003c\/strong\u003e\u003cspan class=\"table__cell\"\u003eUp to 24-bit\/192kHz\u003c\/span\u003e\n\u003c\/li\u003e\n\u003cli class=\"table__row\"\u003e\n\u003cstrong class=\"table__header\"\u003eAnalog Inputs:\u003c\/strong\u003e\u003cspan class=\"table__cell\"\u003e2 x XLR-1\/4\" combo (mic\/line\/Hi-Z)\u003c\/span\u003e\n\u003c\/li\u003e\n\u003cli class=\"table__row\"\u003e\n\u003cstrong class=\"table__header\"\u003eAnalog Outputs:\u003c\/strong\u003e\u003cspan class=\"table__cell\"\u003e4 x 1\/4\" (line out)\u003c\/span\u003e\n\u003c\/li\u003e\n\u003cli class=\"table__row\"\u003e\n\u003cstrong class=\"table__header\"\u003eDigital Inputs:\u003c\/strong\u003e\u003cspan class=\"table__cell\"\u003e1 x Optical (ADAT)\u003c\/span\u003e\n\u003c\/li\u003e\n\u003cli class=\"table__row\"\u003e\n\u003cstrong class=\"table__header\"\u003eHeadphones:\u003c\/strong\u003e\u003cspan class=\"table__cell\"\u003e1 x 1\/4\"\u003c\/span\u003e\n\u003c\/li\u003e\n\u003cli class=\"table__row\"\u003e\n\u003cstrong class=\"table__header\"\u003eMIDI I\/O:\u003c\/strong\u003e\u003cspan class=\"table__cell\"\u003eIn\/Out\u003c\/span\u003e\n\u003c\/li\u003e\n\u003cli class=\"table__row\"\u003e\n\u003cstrong class=\"table__header\"\u003eUSB:\u003c\/strong\u003e\u003cspan class=\"table__cell\"\u003e1 x USB-C\u003c\/span\u003e\n\u003c\/li\u003e\n\u003cli class=\"table__row\"\u003e\n\u003cstrong class=\"table__header\"\u003eSoftware:\u003c\/strong\u003e\u003cspan class=\"table__cell\"\u003eFocusrite Control iOS app, Softube Time and Tone, XLN Audio Addictive Keys, Red Plug-in Suite, Focusrite Plug-in Collective\u003c\/span\u003e\n\u003c\/li\u003e\n\u003cli class=\"table__row\"\u003e\n\u003cstrong class=\"table__header\"\u003eOS Requirements - Mac:\u003c\/strong\u003e\u003cspan class=\"table__cell\"\u003eOS X 10.11 or later\u003c\/span\u003e\n\u003c\/li\u003e\n\u003cli class=\"table__row\"\u003e\n\u003cstrong class=\"table__header\"\u003eOS Requirements - PC:\u003c\/strong\u003e\u003cspan class=\"table__cell\"\u003eWindows 7 SP1 or later\u003c\/span\u003e\n\u003c\/li\u003e\n\u003cli class=\"table__row\"\u003e\n\u003cstrong class=\"table__header\"\u003ePower Supply:\u003c\/strong\u003e\u003cspan class=\"table__cell\"\u003e12V DC power supply (included)\u003c\/span\u003e\n\u003c\/li\u003e\n\u003c\/ul\u003e\n\u003cp\u003e \u003c\/p\u003e\n\u003cp\u003e\u003cspan class=\"table__cell\"\u003eBuy the \u003cstrong\u003eFocusrite Clarett 2Pre USB Audio Interface\u003c\/strong\u003e from Audiosaurus. The online Pro Audio experts. \u003c\/span\u003e\u003c\/p\u003e\n\u003cp\u003e \u003c\/p\u003e"}
{"id":580616552484,"title":"Focusrite Clarett 4Pre USB Audio Interface","handle":"focusrite-clarett-4pre-usb","description":"\u003ch3\u003e\u003cspan style=\"color: #000000;\"\u003eClarett USB lays down the challenge to interfaces twice the price. \u003c\/span\u003e\u003c\/h3\u003e\n\u003cp\u003e\u003cspan style=\"color: #000000;\"\u003e\u003ciframe width=\"854\" height=\"480\" src=\"https:\/\/www.youtube.com\/embed\/2Vb4A1fVQBM\" frameborder=\"0\" allow=\"accelerometer; autoplay; encrypted-media; gyroscope; picture-in-picture\" allowfullscreen=\"\"\u003e\u003c\/iframe\u003e\u003c\/span\u003e\u003c\/p\u003e\n\u003cp\u003e\u003cspan style=\"color: #000000;\"\u003eThe Clarett USB range features specially designed high performance, low-noise (-128dB EIN) mic pres with a low distortion, ultra-linear design that guarantees a clean, open and transparent sound, giving accurate representation of the original performance. Boasting 119dB dynamic range, Clarett can now be experienced with any Mac® or PC supporting USB 2.0 and above. Capture every detail with Clarett 4Pre USB. \u003c\/span\u003e\u003c\/p\u003e\n\u003cp\u003e\u003cspan style=\"color: #000000;\"\u003e-\u003c\/span\u003e\u003c\/p\u003e\n\u003cp\u003e\u003cstrong\u003e\u003cspan style=\"color: #000000;\"\u003eIncluded software bundle:\u003c\/span\u003e\u003c\/strong\u003e\u003c\/p\u003e\n\u003cul class=\"vertical\"\u003e\n\u003cli\u003eXLN Audio – Addictive Keys: one of four inspiring and interesting keyboard instruments\u003c\/li\u003e\n\u003cli\u003eFocusrite – Red Plug-in Suite: accurately models Focusrite's classic Red 2 equalizer and Red 3 compressor\u003c\/li\u003e\n\u003cli\u003eSoftube – Time and Tone Bundle: four of Softube's world-class reverb, delay, mastering and distortion plug-ins\u003c\/li\u003e\n\u003cli\u003eFocusrite – Plug-in Collective: exclusive offers, tutorial content, and more from some of the most innovative and prestigious plug-in companies\u003c\/li\u003e\n\u003cli\u003eAbleton – Live Lite: a customized version of Ableton Live software\u003c\/li\u003e\n\u003cli\u003eLoopmasters: 2GB of royalty-free sample libraries\u003c\/li\u003e\n\u003cli\u003eFocusrite Control\u003c\/li\u003e\n\u003c\/ul\u003e\n\u003cp\u003e-\u003c\/p\u003e\n\u003cp\u003e\u003cstrong\u003e\u003cspan style=\"color: #000000;\"\u003eFocusrite Clarett 4Pre USB Preamp\/Audio Interface Features:\u003c\/span\u003e\u003c\/strong\u003e\u003c\/p\u003e\n\u003cul class=\"webtext-block--colcount\"\u003e\n\u003cli\u003e4 ultra-low noise (-128dB EIN) Clarett mic preamps\u003c\/li\u003e\n\u003cli\u003eAir circuit engages an analog model of classic transformer-based ISA mic pre\u003c\/li\u003e\n\u003cli\u003eSuper-low-latency recording with amp simulators and effects plug-ins\u003c\/li\u003e\n\u003cli\u003eUltra-low distortion\u003c\/li\u003e\n\u003cli\u003eUp to 118dB dynamic range\u003c\/li\u003e\n\u003cli\u003eMac\/PC-compatible, USB 2.0 and above\u003c\/li\u003e\n\u003cli\u003eConnects to Mac or PC using included standard USB and USB Type-C cables\u003c\/li\u003e\n\u003cli\u003ePrecision 24-bit\/192kHz AD\/DA conversion\u003c\/li\u003e\n\u003cli\u003e2 mic\/line\/instrument inputs\u003c\/li\u003e\n\u003cli\u003e2 mic\/line inputs\u003c\/li\u003e\n\u003cli\u003e4 additional fixed line inputs on rear panel\u003c\/li\u003e\n\u003cli\u003eADAT optical, for expansion of up to 8 additional input channels\u003c\/li\u003e\n\u003cli\u003eGain Halo meters make for easy input level settings\u003c\/li\u003e\n\u003cli\u003e2 monitor outputs with anti-thump technology\u003c\/li\u003e\n\u003cli\u003eHigh-power headphone output with level control\u003c\/li\u003e\n\u003cli\u003e2 additional line outputs\u003c\/li\u003e\n\u003cli\u003eMIDI I\/O\u003c\/li\u003e\n\u003cli\u003eS\/PDIF I\/O\u003c\/li\u003e\n\u003cli\u003eIncluded software from XLN Audio, Focusrite, Softube, Ableton, and Loopmasters\u003c\/li\u003e\n\u003cli\u003eUser-friendly Focusrite Control software lets you configure routing and monitor mixes from Mac, PC, iPad, iPhone, and iPod touch.\u003c\/li\u003e\n\u003c\/ul\u003e\n\u003cp\u003e-\u003c\/p\u003e\n\u003cp\u003e\u003cstrong\u003eTech Specs:\u003c\/strong\u003e\u003c\/p\u003e\n\u003cul class=\"table\"\u003e\n\u003cli class=\"table__row\"\u003e\n\u003cstrong class=\"table__header\"\u003eComputer Connectivity:\u003c\/strong\u003e\u003cspan class=\"table__cell\"\u003eUSB 2.0\u003c\/span\u003e\n\u003c\/li\u003e\n\u003cli class=\"table__row\"\u003e\n\u003cstrong class=\"table__header\"\u003eForm Factor:\u003c\/strong\u003e\u003cspan class=\"table__cell\"\u003eDesktop\u003c\/span\u003e\n\u003c\/li\u003e\n\u003cli class=\"table__row\"\u003e\n\u003cstrong class=\"table__header\"\u003eSimultaneous I\/O:\u003c\/strong\u003e\u003cspan class=\"table__cell\"\u003e18 x 8\u003c\/span\u003e\n\u003c\/li\u003e\n\u003cli class=\"table__row\"\u003e\n\u003cstrong class=\"table__header\"\u003eNumber of Preamps:\u003c\/strong\u003e\u003cspan class=\"table__cell\"\u003e4\u003c\/span\u003e\n\u003c\/li\u003e\n\u003cli class=\"table__row\"\u003e\n\u003cstrong class=\"table__header\"\u003ePhantom Power:\u003c\/strong\u003e\u003cspan class=\"table__cell\"\u003eYes\u003c\/span\u003e\n\u003c\/li\u003e\n\u003cli class=\"table__row\"\u003e\n\u003cstrong class=\"table__header\"\u003eA\/D Resolution:\u003c\/strong\u003e\u003cspan class=\"table__cell\"\u003eUp to 24-bit\/192kHz\u003c\/span\u003e\n\u003c\/li\u003e\n\u003cli class=\"table__row\"\u003e\n\u003cstrong class=\"table__header\"\u003eAnalog Inputs:\u003c\/strong\u003e\u003cspan class=\"table__cell\"\u003e4 x XLR-1\/4\" combo (mic\/line\/Hi-Z), 4 x 1\/4\" (line)\u003c\/span\u003e\n\u003c\/li\u003e\n\u003cli class=\"table__row\"\u003e\n\u003cstrong class=\"table__header\"\u003eAnalog Outputs:\u003c\/strong\u003e\u003cspan class=\"table__cell\"\u003e4 x 1\/4\" (line out)\u003c\/span\u003e\n\u003c\/li\u003e\n\u003cli class=\"table__row\"\u003e\n\u003cstrong class=\"table__header\"\u003eDigital Inputs:\u003c\/strong\u003e\u003cspan class=\"table__cell\"\u003e1 x Optical (ADAT), 1 x Coax (S\/PDIF)\u003c\/span\u003e\n\u003c\/li\u003e\n\u003cli class=\"table__row\"\u003e\n\u003cstrong class=\"table__header\"\u003eDigital Outputs:\u003c\/strong\u003e\u003cspan class=\"table__cell\"\u003e1 x Coax (S\/PDIF)\u003c\/span\u003e\n\u003c\/li\u003e\n\u003cli class=\"table__row\"\u003e\n\u003cstrong class=\"table__header\"\u003eHeadphones:\u003c\/strong\u003e\u003cspan class=\"table__cell\"\u003e2 x 1\/4\"\u003c\/span\u003e\n\u003c\/li\u003e\n\u003cli class=\"table__row\"\u003e\n\u003cstrong class=\"table__header\"\u003eMIDI I\/O:\u003c\/strong\u003e\u003cspan class=\"table__cell\"\u003eIn\/Out\u003c\/span\u003e\n\u003c\/li\u003e\n\u003cli class=\"table__row\"\u003e\n\u003cstrong class=\"table__header\"\u003eUSB:\u003c\/strong\u003e\u003cspan class=\"table__cell\"\u003e1 x USB-C\u003c\/span\u003e\n\u003c\/li\u003e\n\u003cli class=\"table__row\"\u003e\n\u003cstrong class=\"table__header\"\u003eSoftware:\u003c\/strong\u003e\u003cspan class=\"table__cell\"\u003eFocusrite Control iOS app, Softube Time and Tone, XLN Audio Addictive Keys, Red Plug-in Suite, Focusrite Plug-in Collective\u003c\/span\u003e\n\u003c\/li\u003e\n\u003cli class=\"table__row\"\u003e\n\u003cstrong class=\"table__header\"\u003eOS Requirements - Mac:\u003c\/strong\u003e\u003cspan class=\"table__cell\"\u003eOS X 10.11 or later\u003c\/span\u003e\n\u003c\/li\u003e\n\u003cli class=\"table__row\"\u003e\n\u003cstrong class=\"table__header\"\u003eOS Requirements - PC:\u003c\/strong\u003e\u003cspan class=\"table__cell\"\u003eWindows 7 SP1 or later\u003c\/span\u003e\n\u003c\/li\u003e\n\u003cli class=\"table__row\"\u003e\n\u003cstrong class=\"table__header\"\u003ePower Supply:\u003c\/strong\u003e\u003cspan class=\"table__cell\"\u003e12V DC power supply (included)\u003c\/span\u003e\n\u003c\/li\u003e\n\u003c\/ul\u003e\n\u003cp\u003e \u003c\/p\u003e\n\u003cp\u003e\u003cspan class=\"table__cell\"\u003eBuy the Focusrite Clarett 4Pre USB Audio Interface from Audiosaurus. The online Pro Audio experts. \u003c\/span\u003e\u003c\/p\u003e\n\u003cp\u003e \u003c\/p\u003e","published_at":"2020-06-23T12:52:51+02:00","created_at":"2018-03-26T11:53:39+02:00","vendor":"Focusrite","type":"Audio Interfaces","tags":["blackfriday","Brand_Focusrite","CLARETT 2019","DistRockit","dropdown","Feature","FF PRO","GShop","Hot Deals","pro audio","studio"],"price":1775000,"price_min":1775000,"price_max":1775000,"available":false,"price_varies":false,"compare_at_price":null,"compare_at_price_min":0,"compare_at_price_max":0,"compare_at_price_varies":false,"variants":[{"id":7236159799332,"title":"Default Title","option1":"Default Title","option2":null,"option3":null,"sku":"FOCCLARETT4PREUSB","requires_shipping":true,"taxable":true,"featured_image":null,"available":false,"name":"Focusrite Clarett 4Pre USB Audio Interface","public_title":null,"options":["Default Title"],"price":1775000,"weight":0,"compare_at_price":null,"inventory_quantity":0,"inventory_management":"shopify","inventory_policy":"deny","barcode":""}],"images":["\/\/cdn.shopify.com\/s\/files\/1\/0984\/8294\/products\/AS_FOC-CL4PREUSB.jpg?v=1522058093","\/\/cdn.shopify.com\/s\/files\/1\/0984\/8294\/products\/AS_FOC-CL4PREUSB_2.jpg?v=1522058096","\/\/cdn.shopify.com\/s\/files\/1\/0984\/8294\/products\/AS_FOC-CL4PREUSB_3.jpg?v=1522058098","\/\/cdn.shopify.com\/s\/files\/1\/0984\/8294\/products\/AS_FOC-CL4PREUSB_4.jpg?v=1522058101"],"featured_image":"\/\/cdn.shopify.com\/s\/files\/1\/0984\/8294\/products\/AS_FOC-CL4PREUSB.jpg?v=1522058093","options":["Title"],"media":[{"alt":null,"id":853155184676,"position":1,"preview_image":{"aspect_ratio":1.0,"height":1000,"width":1000,"src":"https:\/\/cdn.shopify.com\/s\/files\/1\/0984\/8294\/products\/AS_FOC-CL4PREUSB.jpg?v=1569144187"},"aspect_ratio":1.0,"height":1000,"media_type":"image","src":"https:\/\/cdn.shopify.com\/s\/files\/1\/0984\/8294\/products\/AS_FOC-CL4PREUSB.jpg?v=1569144187","width":1000},{"alt":null,"id":853155315748,"position":2,"preview_image":{"aspect_ratio":1.0,"height":1000,"width":1000,"src":"https:\/\/cdn.shopify.com\/s\/files\/1\/0984\/8294\/products\/AS_FOC-CL4PREUSB_2.jpg?v=1569144187"},"aspect_ratio":1.0,"height":1000,"media_type":"image","src":"https:\/\/cdn.shopify.com\/s\/files\/1\/0984\/8294\/products\/AS_FOC-CL4PREUSB_2.jpg?v=1569144187","width":1000},{"alt":null,"id":853155348516,"position":3,"preview_image":{"aspect_ratio":1.0,"height":1000,"width":1000,"src":"https:\/\/cdn.shopify.com\/s\/files\/1\/0984\/8294\/products\/AS_FOC-CL4PREUSB_3.jpg?v=1569144187"},"aspect_ratio":1.0,"height":1000,"media_type":"image","src":"https:\/\/cdn.shopify.com\/s\/files\/1\/0984\/8294\/products\/AS_FOC-CL4PREUSB_3.jpg?v=1569144187","width":1000},{"alt":null,"id":853155545124,"position":4,"preview_image":{"aspect_ratio":1.0,"height":1000,"width":1000,"src":"https:\/\/cdn.shopify.com\/s\/files\/1\/0984\/8294\/products\/AS_FOC-CL4PREUSB_4.jpg?v=1569144187"},"aspect_ratio":1.0,"height":1000,"media_type":"image","src":"https:\/\/cdn.shopify.com\/s\/files\/1\/0984\/8294\/products\/AS_FOC-CL4PREUSB_4.jpg?v=1569144187","width":1000}],"content":"\u003ch3\u003e\u003cspan style=\"color: #000000;\"\u003eClarett USB lays down the challenge to interfaces twice the price. \u003c\/span\u003e\u003c\/h3\u003e\n\u003cp\u003e\u003cspan style=\"color: #000000;\"\u003e\u003ciframe width=\"854\" height=\"480\" src=\"https:\/\/www.youtube.com\/embed\/2Vb4A1fVQBM\" frameborder=\"0\" allow=\"accelerometer; autoplay; encrypted-media; gyroscope; picture-in-picture\" allowfullscreen=\"\"\u003e\u003c\/iframe\u003e\u003c\/span\u003e\u003c\/p\u003e\n\u003cp\u003e\u003cspan style=\"color: #000000;\"\u003eThe Clarett USB range features specially designed high performance, low-noise (-128dB EIN) mic pres with a low distortion, ultra-linear design that guarantees a clean, open and transparent sound, giving accurate representation of the original performance. Boasting 119dB dynamic range, Clarett can now be experienced with any Mac® or PC supporting USB 2.0 and above. Capture every detail with Clarett 4Pre USB. \u003c\/span\u003e\u003c\/p\u003e\n\u003cp\u003e\u003cspan style=\"color: #000000;\"\u003e-\u003c\/span\u003e\u003c\/p\u003e\n\u003cp\u003e\u003cstrong\u003e\u003cspan style=\"color: #000000;\"\u003eIncluded software bundle:\u003c\/span\u003e\u003c\/strong\u003e\u003c\/p\u003e\n\u003cul class=\"vertical\"\u003e\n\u003cli\u003eXLN Audio – Addictive Keys: one of four inspiring and interesting keyboard instruments\u003c\/li\u003e\n\u003cli\u003eFocusrite – Red Plug-in Suite: accurately models Focusrite's classic Red 2 equalizer and Red 3 compressor\u003c\/li\u003e\n\u003cli\u003eSoftube – Time and Tone Bundle: four of Softube's world-class reverb, delay, mastering and distortion plug-ins\u003c\/li\u003e\n\u003cli\u003eFocusrite – Plug-in Collective: exclusive offers, tutorial content, and more from some of the most innovative and prestigious plug-in companies\u003c\/li\u003e\n\u003cli\u003eAbleton – Live Lite: a customized version of Ableton Live software\u003c\/li\u003e\n\u003cli\u003eLoopmasters: 2GB of royalty-free sample libraries\u003c\/li\u003e\n\u003cli\u003eFocusrite Control\u003c\/li\u003e\n\u003c\/ul\u003e\n\u003cp\u003e-\u003c\/p\u003e\n\u003cp\u003e\u003cstrong\u003e\u003cspan style=\"color: #000000;\"\u003eFocusrite Clarett 4Pre USB Preamp\/Audio Interface Features:\u003c\/span\u003e\u003c\/strong\u003e\u003c\/p\u003e\n\u003cul class=\"webtext-block--colcount\"\u003e\n\u003cli\u003e4 ultra-low noise (-128dB EIN) Clarett mic preamps\u003c\/li\u003e\n\u003cli\u003eAir circuit engages an analog model of classic transformer-based ISA mic pre\u003c\/li\u003e\n\u003cli\u003eSuper-low-latency recording with amp simulators and effects plug-ins\u003c\/li\u003e\n\u003cli\u003eUltra-low distortion\u003c\/li\u003e\n\u003cli\u003eUp to 118dB dynamic range\u003c\/li\u003e\n\u003cli\u003eMac\/PC-compatible, USB 2.0 and above\u003c\/li\u003e\n\u003cli\u003eConnects to Mac or PC using included standard USB and USB Type-C cables\u003c\/li\u003e\n\u003cli\u003ePrecision 24-bit\/192kHz AD\/DA conversion\u003c\/li\u003e\n\u003cli\u003e2 mic\/line\/instrument inputs\u003c\/li\u003e\n\u003cli\u003e2 mic\/line inputs\u003c\/li\u003e\n\u003cli\u003e4 additional fixed line inputs on rear panel\u003c\/li\u003e\n\u003cli\u003eADAT optical, for expansion of up to 8 additional input channels\u003c\/li\u003e\n\u003cli\u003eGain Halo meters make for easy input level settings\u003c\/li\u003e\n\u003cli\u003e2 monitor outputs with anti-thump technology\u003c\/li\u003e\n\u003cli\u003eHigh-power headphone output with level control\u003c\/li\u003e\n\u003cli\u003e2 additional line outputs\u003c\/li\u003e\n\u003cli\u003eMIDI I\/O\u003c\/li\u003e\n\u003cli\u003eS\/PDIF I\/O\u003c\/li\u003e\n\u003cli\u003eIncluded software from XLN Audio, Focusrite, Softube, Ableton, and Loopmasters\u003c\/li\u003e\n\u003cli\u003eUser-friendly Focusrite Control software lets you configure routing and monitor mixes from Mac, PC, iPad, iPhone, and iPod touch.\u003c\/li\u003e\n\u003c\/ul\u003e\n\u003cp\u003e-\u003c\/p\u003e\n\u003cp\u003e\u003cstrong\u003eTech Specs:\u003c\/strong\u003e\u003c\/p\u003e\n\u003cul class=\"table\"\u003e\n\u003cli class=\"table__row\"\u003e\n\u003cstrong class=\"table__header\"\u003eComputer Connectivity:\u003c\/strong\u003e\u003cspan class=\"table__cell\"\u003eUSB 2.0\u003c\/span\u003e\n\u003c\/li\u003e\n\u003cli class=\"table__row\"\u003e\n\u003cstrong class=\"table__header\"\u003eForm Factor:\u003c\/strong\u003e\u003cspan class=\"table__cell\"\u003eDesktop\u003c\/span\u003e\n\u003c\/li\u003e\n\u003cli class=\"table__row\"\u003e\n\u003cstrong class=\"table__header\"\u003eSimultaneous I\/O:\u003c\/strong\u003e\u003cspan class=\"table__cell\"\u003e18 x 8\u003c\/span\u003e\n\u003c\/li\u003e\n\u003cli class=\"table__row\"\u003e\n\u003cstrong class=\"table__header\"\u003eNumber of Preamps:\u003c\/strong\u003e\u003cspan class=\"table__cell\"\u003e4\u003c\/span\u003e\n\u003c\/li\u003e\n\u003cli class=\"table__row\"\u003e\n\u003cstrong class=\"table__header\"\u003ePhantom Power:\u003c\/strong\u003e\u003cspan class=\"table__cell\"\u003eYes\u003c\/span\u003e\n\u003c\/li\u003e\n\u003cli class=\"table__row\"\u003e\n\u003cstrong class=\"table__header\"\u003eA\/D Resolution:\u003c\/strong\u003e\u003cspan class=\"table__cell\"\u003eUp to 24-bit\/192kHz\u003c\/span\u003e\n\u003c\/li\u003e\n\u003cli class=\"table__row\"\u003e\n\u003cstrong class=\"table__header\"\u003eAnalog Inputs:\u003c\/strong\u003e\u003cspan class=\"table__cell\"\u003e4 x XLR-1\/4\" combo (mic\/line\/Hi-Z), 4 x 1\/4\" (line)\u003c\/span\u003e\n\u003c\/li\u003e\n\u003cli class=\"table__row\"\u003e\n\u003cstrong class=\"table__header\"\u003eAnalog Outputs:\u003c\/strong\u003e\u003cspan class=\"table__cell\"\u003e4 x 1\/4\" (line out)\u003c\/span\u003e\n\u003c\/li\u003e\n\u003cli class=\"table__row\"\u003e\n\u003cstrong class=\"table__header\"\u003eDigital Inputs:\u003c\/strong\u003e\u003cspan class=\"table__cell\"\u003e1 x Optical (ADAT), 1 x Coax (S\/PDIF)\u003c\/span\u003e\n\u003c\/li\u003e\n\u003cli class=\"table__row\"\u003e\n\u003cstrong class=\"table__header\"\u003eDigital Outputs:\u003c\/strong\u003e\u003cspan class=\"table__cell\"\u003e1 x Coax (S\/PDIF)\u003c\/span\u003e\n\u003c\/li\u003e\n\u003cli class=\"table__row\"\u003e\n\u003cstrong class=\"table__header\"\u003eHeadphones:\u003c\/strong\u003e\u003cspan class=\"table__cell\"\u003e2 x 1\/4\"\u003c\/span\u003e\n\u003c\/li\u003e\n\u003cli class=\"table__row\"\u003e\n\u003cstrong class=\"table__header\"\u003eMIDI I\/O:\u003c\/strong\u003e\u003cspan class=\"table__cell\"\u003eIn\/Out\u003c\/span\u003e\n\u003c\/li\u003e\n\u003cli class=\"table__row\"\u003e\n\u003cstrong class=\"table__header\"\u003eUSB:\u003c\/strong\u003e\u003cspan class=\"table__cell\"\u003e1 x USB-C\u003c\/span\u003e\n\u003c\/li\u003e\n\u003cli class=\"table__row\"\u003e\n\u003cstrong class=\"table__header\"\u003eSoftware:\u003c\/strong\u003e\u003cspan class=\"table__cell\"\u003eFocusrite Control iOS app, Softube Time and Tone, XLN Audio Addictive Keys, Red Plug-in Suite, Focusrite Plug-in Collective\u003c\/span\u003e\n\u003c\/li\u003e\n\u003cli class=\"table__row\"\u003e\n\u003cstrong class=\"table__header\"\u003eOS Requirements - Mac:\u003c\/strong\u003e\u003cspan class=\"table__cell\"\u003eOS X 10.11 or later\u003c\/span\u003e\n\u003c\/li\u003e\n\u003cli class=\"table__row\"\u003e\n\u003cstrong class=\"table__header\"\u003eOS Requirements - PC:\u003c\/strong\u003e\u003cspan class=\"table__cell\"\u003eWindows 7 SP1 or later\u003c\/span\u003e\n\u003c\/li\u003e\n\u003cli class=\"table__row\"\u003e\n\u003cstrong class=\"table__header\"\u003ePower Supply:\u003c\/strong\u003e\u003cspan class=\"table__cell\"\u003e12V DC power supply (included)\u003c\/span\u003e\n\u003c\/li\u003e\n\u003c\/ul\u003e\n\u003cp\u003e \u003c\/p\u003e\n\u003cp\u003e\u003cspan class=\"table__cell\"\u003eBuy the Focusrite Clarett 4Pre USB Audio Interface from Audiosaurus. The online Pro Audio experts. \u003c\/span\u003e\u003c\/p\u003e\n\u003cp\u003e \u003c\/p\u003e"}