Roland FA-06 Music Workstation
Roland FA-06 Music Workstation
TAKING THE "WORK" OUT OF THE MUSIC WORKSTATION Roland's new FA series completely reimagines the music workstation, streamlining it for effortless real-time power, ultra-fast workflow,...
Vendor :Roland
Type :Keys
TAKING THE "WORK" OUT OF THE MUSIC WORKSTATION
Roland's new FA series completely reimagines the music workstation, streamlining it for effortless real-time power, ultra-fast workflow, and maximum versatility. Ready to support any type of music you play, the FA-06 is packed with a massive sound collection inherited from the flagship INTEGRA-7, a ton of studio-quality effects, and expressive real-time controls, plus onboard sampling with zero load time for instant audio playback from the 16 backlit pads. The sequencer features simple operation and non-stop loop recording, letting you capture songs and ideas as they come and export them as multitrack data to use with your DAW. Flowing seamlessly into every part of your creative world, the FA-06 morphs instantly from a standalone keyboard to become the command center of your computer music studio, with USB audio/MIDI interfacing, powerful real-time controllers, DAW transport controls, and much more.
Reimagined music workstation designed to maximize your creative flow
Light, mobile body with 61-note velocity-sensitive keyboard
Over 2000 sounds from the flagship INTEGRA-7 sound module, including SuperNATURAL synth and acoustic tones and drums; add even more tones via internal wave sound expansion slots
SuperNATURAL synth engine is fully compatible with the expansive collection of free INTEGRA-7 synth tones available from Roland's Axial sound library site
16-track sequencer with non-stop loop recording makes it easy to build songs quickly; export your sequencer tracks to an SDHC card as a complete stereo mix, or as multitrack audio or MIDI data for use in your DAW
Onboard sampler based on the SP-404SX features 16 pads x 4 banks and direct recording/playback via SDHC cards
Polish your sounds with a multitude of studio-quality effects, including 16 independent MFX engines, six COMP+EQ processors for drums, unique TFX (total effects), and global EQ, chorus, and reverb
Tweak tones, effects, and external MIDI devices in real time with six user-assignable Sound Modify knobs
Intuitive, streamlined interface with large color LCD
Press one button to instantly configure the FA-06 for use with your DAW via USB
D-Beam, Rhythm Pattern, Arpeggiator, and Chord Memory functions to expand your creative palette
Guitar/Mic and Line input jacks for performing, sampling, and DAW audio recording; dedicated input reverb provides ambience for performing/recording
USB ports for sound expansion data, updates, and audio/MIDI interfacing with a computer; MIDI communication with the iPad is possible when using Apple's iPad Camera Connection Kit
NO WORK, ALL PLAY

Music workstations play an important role for keyboardists in a wide range of creative activities, from live
performance to song development to production in the studio. However, they can often be complicated and difficult
to use to their full potential, bogging down the creative process and inhibiting the flow of ideas. In developing the
FA series, Roland has completely reimagined the music workstation to provide musicians an inspiring platform that's
extremely powerful and versatile, yet simple and intuitive at the same time. With a streamlined interface and
focused, practical features that maximize your creative flow, the FA series allows you to experience newfound
freedom to deeply explore and develop your musical ideas with less effort than ever before.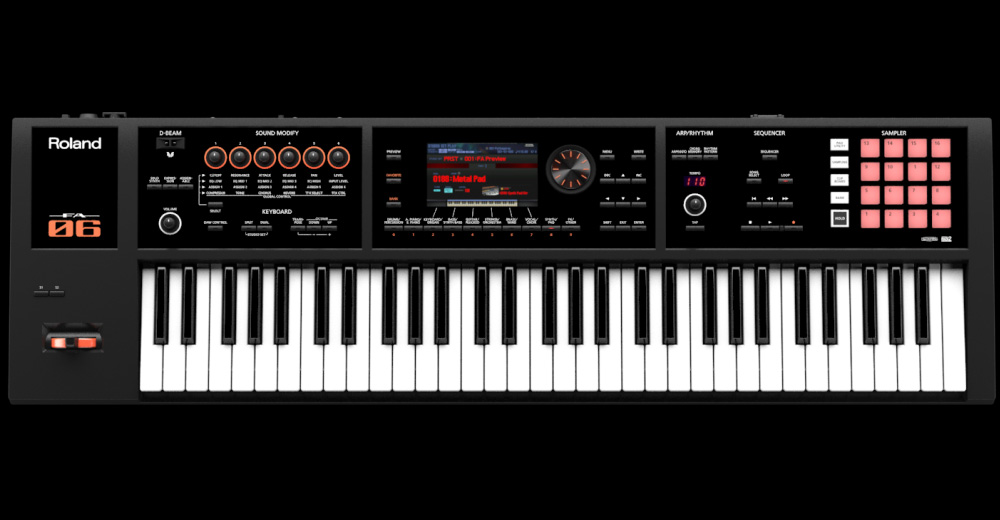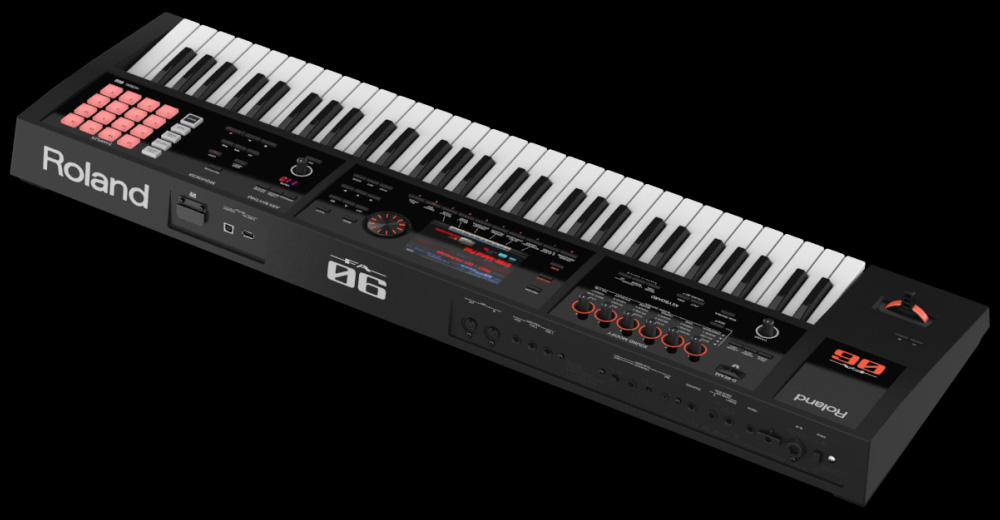 PERFORM AND RECORD WITH A MASSIVE

SELECTION OF ROLAND'S VERY BEST SOUNDS
The true measure of any music workstation lies with the quality and diversity of its sounds. Filled with over 2000 tones directly inherited from the INTEGRA-7, Roland's flagship pro sound module, the FA series truly delivers in this area and then some. All of the INTEGRA-7's SuperNATURAL synth and XV-5080 PCM tones are onboard, plus an essential collection of ultra-expressive SuperNATURAL acoustic tones that includes pianos, organs, drums, bass, strings, and more. The FA-06's sound engine is fully compatible with the large, growing collection of INTEGRA-7 synth tones available as free downloads from Roland's Axial sound library site, and it's also possible to expand the onboard sound set with FA-series wave sound expansion collections.
CAPTURE IDEAS AND CREATE SONGS
WITHOUT INTERRUPTION
Simple yet powerful, the FA-06's intuitive 16-track sequencer has been designed to let you capture your inspiration as it happens-recording is always just a simple button press away, ensuring that you'll never lose an idea. In a flash, you can build a full arrangement with the FA-06's huge array of sounds, and with continuous recording in loop mode, you're able to fill up all 16 tracks without ever stopping! In addition to real-time capture, step recording is also possible, and you have complete control to edit and mix your tracks as you go and save your song to an SDHC card as a stereo audio file. It's also possible to export your tracks as individual WAV audio files and/or MIDI data for further development in your DAW, making the FA-06 a powerful sketchpad for capturing initial sparks that will form the basis for your full-scale computer music productions.
FAST WORKFLOW AND INTUITIVE REAL-TIME CONTROL

You can feel the speed of this new breed of instrument the moment you hit the power switch-unlike many workstations that can take a minute or more to boot, the FA-06 is ready to play in seconds. The panel is logically organized into dedicated sections, and the large color LCD presents a gorgeous look with inviting hi-res graphics for selecting tones, working with the sequencer, and adjusting various settings. It's easy to navigate through the FA-06's large sound selection by category and assign favorites for fast recall, while dedicated buttons deliver instant access to often-used functions such as transpose, octave range, and many others. With six knobs and a powerful yet easy-to-use assignment matrix, the Sound Modify section lets you control a wide range of parameters in real time for maximum expression while performing live and working in the studio.
INSTANT-ACCESS PERFORMANCE SAMPLER ONBOARD
Based on Roland's mega-popular SP-404SX, the sampler in the FA series features fun, fast, hands-on operation and sampling/playback via convenient SDHC cards. You can play audio samples directly from the 16 pads on the FA-06 panel, making it easy to expand your performances with loops, backing tracks, one-shots, vocal phrases, sound FX,
Related Product
{"id":4425990788,"title":"Alesis VORTEX WIRELESS","handle":"ales-vortex-wireless","description":"\u003ch4\u003eUSB\/MIDI Wireless Keytar Controller with Accelerometer\u003c\/h4\u003e\n\u003cdiv class=\"row full-width-row\"\u003e\n\u003cdiv class=\"product-overview-block-1-wrapper\"\u003e\n\u003cdiv class=\"small-12 large-6 columns\"\u003e\n\u003cdiv class=\"product-overview-block-1-left\"\u003e\n\u003ch2\u003eWireless Freedom\u003c\/h2\u003e\n\u003cp\u003eTake back the stage and experience untethered, wireless keytar performance with the Alesis Vortex Wireless. This dynamic keytar controller connects wirelessly to your computer and integrates with popular virtual instruments, plugins, and DAWs. For maximum stage and studio mobility, the PC- and Mac-compatible USB dongle uses a single USB port to create a reliable, wireless connection. Fastened with a piano black finish and intuitive ergonomic layout, Vortex Wireless offers comprehensive controller functionality in a stylish and stage-ready design. Create dynamic, expressive performances that the audience will both see and hear.\u003c\/p\u003e\n\u003c\/div\u003e\n\u003c\/div\u003e\n\u003cdiv class=\"small-12 large-6 columns\"\u003e\n\u003cdiv class=\"product-overview-block-1-right\"\u003e\n\u003cdiv class=\"block-1-right-img\"\u003e\u003cimg src=\"http:\/\/www.alesis.com\/images\/uploads\/product-overview-images\/VortexWireless_Overview_1.png\"\u003e\u003c\/div\u003e\n\u003c\/div\u003e\n\u003c\/div\u003e\n\u003c\/div\u003e\n\u003c\/div\u003e\n\u003cdiv class=\"row full-width-row\"\u003e\n\u003cdiv class=\"product-overview-block-2-wrapper\"\u003e\n\u003cdiv class=\"small-12 large-6 large-push-6 columns\"\u003e\n\u003cdiv class=\"product-overview-block-2-right\"\u003e\n\u003ch2\u003eOnboard Control and Connectivity\u003c\/h2\u003e\n\u003cp\u003eCommand the stage with 37 velocity-sensitive keys with aftertouch, 8 velocity-sensitive drum pads, and a row of physical knobs all laid out in an accessible, hands-on design. A series of neck controls provides further performance options: tweak sounds using the MIDI-assignable touch strip and MIDI-assignable accelerometer, expand melodic ideas with the octave range buttons, and activate sustain all while your right hand remains free to play. Vortex Wireless offers multiple connectivity options and comes equipped with USB-MIDI and MIDI Out.\u003c\/p\u003e\n\u003c\/div\u003e\n\u003c\/div\u003e\n\u003cdiv class=\"small-12 large-6 large-pull-6 columns\"\u003e\n\u003cdiv class=\"product-overview-block-2-left\"\u003e\n\u003cdiv class=\"block-2-left-img\"\u003e\u003cimg src=\"http:\/\/www.alesis.com\/images\/uploads\/product-overview-images\/VortexWireless_Overview_2.png\"\u003e\u003c\/div\u003e\n\u003c\/div\u003e\n\u003c\/div\u003e\n\u003c\/div\u003e\n\u003c\/div\u003e\n\u003cdiv class=\"row full-width-row\"\u003e\n\u003cdiv class=\"product-overview-block-3-wrapper\"\u003e\n\u003cdiv class=\"small-12 large-6 columns\"\u003e\n\u003cdiv class=\"product-overview-block-3-left\"\u003e\n\u003ch2\u003eSynth, DAWS, and Patch Editor Included\u003c\/h2\u003e\n\u003cp\u003eVortex Wireless comes bundled with a versatile, high-definition virtual synthesizer. Xpand!2, by AIR Music Tech, expands the sonic pallet of your Vortex Wireless with ambient pads, edgy leads, wobbly basses, and more. For performing, producing, recording, and improvising, Ableton Live Lite is also included. Finally, a clear, concise, and easy to use, point-and-click patch editor, Vyzex Vortex is also included, so you can quickly configure any parameter of any patch on your Alesis Vortex. You can also use Vyzex Vortex to save and load all of your Vortex patches to and from your hard drive for easy backup.\u003c\/p\u003e\n\u003c\/div\u003e\n\u003c\/div\u003e\n\u003cdiv class=\"small-12 large-6 columns\"\u003e\n\u003cdiv class=\"product-overview-block-3-right\"\u003e\n\u003cdiv class=\"block-3-right-img\"\u003e\u003cimg src=\"http:\/\/www.alesis.com\/images\/uploads\/product-overview-images\/VortexWireless_Overview_3_00.png\"\u003e\u003c\/div\u003e\n\u003cdiv class=\"block-3-right-img\"\u003e\u003c\/div\u003e\n\u003cdiv class=\"block-3-right-img\"\u003e\n\u003cdiv class=\"product-features-header\"\u003e\n\u003ch2\u003eFEATURES\u003c\/h2\u003e\n\u003c\/div\u003e\n\u003cdiv class=\"product-features-content\"\u003e\n\u003cul\u003e\n\u003cli\u003eUSB dongle creates a wireless connection to any Mac or PC\u003c\/li\u003e\n\u003cli\u003e37 velocity-sensitive keys with aftertouch for compact, yet complete melodic range\u003c\/li\u003e\n\u003cli\u003eUSB and traditional MIDI jacks for use with virtually any synth, sound module, or other MIDI hardware or software\u003c\/li\u003e\n\u003cli\u003eEmbedded, programmable, MIDI-assignable accelerometer for performance parameter control by tilting the neck\u003c\/li\u003e\n\u003cli\u003eThumb-controlled volume slider and pitch-bend wheel on neck\u003c\/li\u003e\n\u003cli\u003eFinger-controlled MIDI-assignable touchstrip, sustain, and octave-control buttons on neck\u003c\/li\u003e\n\u003cli\u003eEight velocity-sensitive drum pads\/sample triggers enable you to create beats or trigger clips\u003c\/li\u003e\n\u003cli\u003eBattery-powered for use with MIDI modules and hardware synths (batteries included)\u003c\/li\u003e\n\u003cli\u003eBus-powered when connected to Mac or PC via USB (cable included)\u003c\/li\u003e\n\u003cli\u003eLarge transport (Start\/Stop) and patch-select controls for instant access\u003c\/li\u003e\n\u003cli\u003eStandard guitar strap pegs on neck and body (strap included)\u003c\/li\u003e\n\u003cli\u003eThis product is class compliant; it does not require drivers\u003c\/li\u003e\n\u003cli\u003eProduction package included: Xpand!2 by AIR Music Tech, and Ableton Live Lite Software\u003c\/li\u003e\n\u003cli\u003eMake the most of your Alesis Vortex with the free Vyzex Vortex patch editor software \u003ca href=\"http:\/\/www.alesis.com\/download-vyzex-vortex\" target=\"_blank\"\u003ehere\u003c\/a\u003e\n\u003c\/li\u003e\n\u003c\/ul\u003e\n\u003cdiv class=\"packaging-contents-header\"\u003e\n\u003ch2\u003eCONTENTS\u003c\/h2\u003e\n\u003c\/div\u003e\n\u003cdiv class=\"packaging-contents-content\"\u003e\n\u003cul\u003e\n\u003cli\u003eVortex Wireless Keytar\u003c\/li\u003e\n\u003cli\u003eUSB Wireless Receiver\u003c\/li\u003e\n\u003cli\u003eUSB Extension Cable\u003c\/li\u003e\n\u003cli\u003eUSB Cable\u003c\/li\u003e\n\u003cli\u003e4 AA Batteries\u003c\/li\u003e\n\u003cli\u003eStrap\u003c\/li\u003e\n\u003cli\u003eCable Harness\u003c\/li\u003e\n\u003cli\u003eAIR Music Tech's Xpand!2 (download)\u003c\/li\u003e\n\u003cli\u003eAbleton Live Lite (download)\u003c\/li\u003e\n\u003cli\u003eQuickstart Guide\u003c\/li\u003e\n\u003cli\u003eSafety \u0026amp; Warranty Manual\u003c\/li\u003e\n\u003c\/ul\u003e\n\u003cdiv class=\"product-specs-header\"\u003e\n\u003ch2\u003eSPECS\u003c\/h2\u003e\n\u003c\/div\u003e\n\u003cdiv class=\"product-specs-content\"\u003e\n\u003cul\u003e\n\u003cli\u003eClass Compliant USB MIDI I\/O\u003c\/li\u003e\n\u003cli\u003e5-pin DIN MIDI output\u003c\/li\u003e\n\u003cli\u003ePowered via USB, four AA Batteries, or DC power adapter\u003c\/li\u003e\n\u003c\/ul\u003e\n\u003ch4 class=\"video-gallery visible\" id=\"video-gallery\" data-video-gallery-params=\"{\u0026quot;thumbs\u0026quot;:[{\u0026quot;title\u0026quot;:\u0026quot;Watch \u0026amp;quot;Don't Take Our Word for It\u0026amp;quot;\u0026quot;,\u0026quot;thumbnail\u0026quot;:\u0026quot;https:\\\/\\\/i.ytimg.com\\\/vi\\\/SXwLhZ4L6_I\\\/hqdefault.jpg\u0026quot;,\u0026quot;url\u0026quot;:\u0026quot;http:\\\/\\\/www.youtube.com\\\/embed\\\/SXwLhZ4L6_I?autoplay=1\u0026amp;hd=1\u0026amp;rel=0\u0026amp;wmode=transparent\u0026quot;,\u0026quot;iframe\u0026quot;:\u0026quot;\u0026amp;lt;iframe name=\u0026amp;quot;youtube_iframe\u0026amp;quot; width=\u0026amp;quot;580\u0026amp;quot; height=\u0026amp;quot;326\u0026amp;quot; src=\u0026amp;quot;https:\\\/\\\/www.youtube.com\\\/embed\\\/SXwLhZ4L6_I?feature=oembed\u0026amp;amp;hd=1\u0026amp;amp;rel=0\u0026amp;amp;wmode=transparent\u0026amp;quot; frameborder=\u0026amp;quot;0\u0026amp;quot; allowfullscreen\u0026amp;gt;\u0026amp;lt;\\\/iframe\u0026amp;gt;\u0026quot;}]}\"\u003eBuy the Alesis Vortex Wireless from Audiosaurus today - the online pro audio experts in South Africa\u003cbr\u003e\u003cbr\u003e\n\u003c\/h4\u003e\n\u003cp class=\"video-gallery visible\" data-video-gallery-params=\"{\u0026quot;thumbs\u0026quot;:[{\u0026quot;title\u0026quot;:\u0026quot;Watch \u0026amp;quot;Don't Take Our Word for It\u0026amp;quot;\u0026quot;,\u0026quot;thumbnail\u0026quot;:\u0026quot;https:\\\/\\\/i.ytimg.com\\\/vi\\\/SXwLhZ4L6_I\\\/hqdefault.jpg\u0026quot;,\u0026quot;url\u0026quot;:\u0026quot;http:\\\/\\\/www.youtube.com\\\/embed\\\/SXwLhZ4L6_I?autoplay=1\u0026amp;hd=1\u0026amp;rel=0\u0026amp;wmode=transparent\u0026quot;,\u0026quot;iframe\u0026quot;:\u0026quot;\u0026amp;lt;iframe name=\u0026amp;quot;youtube_iframe\u0026amp;quot; width=\u0026amp;quot;580\u0026amp;quot; height=\u0026amp;quot;326\u0026amp;quot; src=\u0026amp;quot;https:\\\/\\\/www.youtube.com\\\/embed\\\/SXwLhZ4L6_I?feature=oembed\u0026amp;amp;hd=1\u0026amp;amp;rel=0\u0026amp;amp;wmode=transparent\u0026amp;quot; frameborder=\u0026amp;quot;0\u0026amp;quot; allowfullscreen\u0026amp;gt;\u0026amp;lt;\\\/iframe\u0026amp;gt;\u0026quot;}]}\"\u003eIf you have any further questions about this product, get in touch with us via our website \u003cstrong\u003e- \u003c\/strong\u003e\u003ca href=\"https:\/\/www.audiosaurus.co.za\/pages\/contact\" target=\"_blank\" title=\"Website\"\u003e\u003cstrong\u003ehttps:\/\/www.audiosaurus.co.za\/pages\/contact\u003c\/strong\u003e\u003cbr\u003e\u003cbr\u003e\u003c\/a\u003e \u003cem\u003e\u003cstrong\u003eOR\u003c\/strong\u003e \u003c\/em\u003e\u003cbr\u003e\u003cbr\u003eFacebook - \u003cstrong\u003e\u003ca href=\"https:\/\/www.facebook.com\/audiosaurusZA\/\" target=\"_blank\" title=\"Facebook\"\u003ehttps:\/\/www.facebook.com\/audiosaurusZA\/\u003c\/a\u003e\u003c\/strong\u003e\u003c\/p\u003e\n\u003c\/div\u003e\n\u003c\/div\u003e\n\u003c\/div\u003e\n\u003c\/div\u003e\n\u003c\/div\u003e\n\u003c\/div\u003e\n\u003c\/div\u003e\n\u003c\/div\u003e","published_at":"2016-05-30T13:27:00+02:00","created_at":"2016-02-19T08:41:39+02:00","vendor":"Alesis","type":"Keys","tags":["Brand_Alesis","DistAudiosure","keytar","midi controller"],"price":719600,"price_min":719600,"price_max":719600,"available":true,"price_varies":false,"compare_at_price":null,"compare_at_price_min":0,"compare_at_price_max":0,"compare_at_price_varies":false,"variants":[{"id":14974523140,"title":"Default Title","option1":"Default Title","option2":null,"option3":null,"sku":"ALES - VORTEX WIRELESS","requires_shipping":true,"taxable":true,"featured_image":null,"available":true,"name":"Alesis VORTEX WIRELESS","public_title":null,"options":["Default Title"],"price":719600,"weight":0,"compare_at_price":null,"inventory_quantity":1,"inventory_management":null,"inventory_policy":"deny","barcode":null}],"images":["\/\/cdn.shopify.com\/s\/files\/1\/0984\/8294\/products\/VortexWireless_Overview_2.png?v=1464607608"],"featured_image":"\/\/cdn.shopify.com\/s\/files\/1\/0984\/8294\/products\/VortexWireless_Overview_2.png?v=1464607608","options":["Title"],"content":"\u003ch4\u003eUSB\/MIDI Wireless Keytar Controller with Accelerometer\u003c\/h4\u003e\n\u003cdiv class=\"row full-width-row\"\u003e\n\u003cdiv class=\"product-overview-block-1-wrapper\"\u003e\n\u003cdiv class=\"small-12 large-6 columns\"\u003e\n\u003cdiv class=\"product-overview-block-1-left\"\u003e\n\u003ch2\u003eWireless Freedom\u003c\/h2\u003e\n\u003cp\u003eTake back the stage and experience untethered, wireless keytar performance with the Alesis Vortex Wireless. This dynamic keytar controller connects wirelessly to your computer and integrates with popular virtual instruments, plugins, and DAWs. For maximum stage and studio mobility, the PC- and Mac-compatible USB dongle uses a single USB port to create a reliable, wireless connection. Fastened with a piano black finish and intuitive ergonomic layout, Vortex Wireless offers comprehensive controller functionality in a stylish and stage-ready design. Create dynamic, expressive performances that the audience will both see and hear.\u003c\/p\u003e\n\u003c\/div\u003e\n\u003c\/div\u003e\n\u003cdiv class=\"small-12 large-6 columns\"\u003e\n\u003cdiv class=\"product-overview-block-1-right\"\u003e\n\u003cdiv class=\"block-1-right-img\"\u003e\u003cimg src=\"http:\/\/www.alesis.com\/images\/uploads\/product-overview-images\/VortexWireless_Overview_1.png\"\u003e\u003c\/div\u003e\n\u003c\/div\u003e\n\u003c\/div\u003e\n\u003c\/div\u003e\n\u003c\/div\u003e\n\u003cdiv class=\"row full-width-row\"\u003e\n\u003cdiv class=\"product-overview-block-2-wrapper\"\u003e\n\u003cdiv class=\"small-12 large-6 large-push-6 columns\"\u003e\n\u003cdiv class=\"product-overview-block-2-right\"\u003e\n\u003ch2\u003eOnboard Control and Connectivity\u003c\/h2\u003e\n\u003cp\u003eCommand the stage with 37 velocity-sensitive keys with aftertouch, 8 velocity-sensitive drum pads, and a row of physical knobs all laid out in an accessible, hands-on design. A series of neck controls provides further performance options: tweak sounds using the MIDI-assignable touch strip and MIDI-assignable accelerometer, expand melodic ideas with the octave range buttons, and activate sustain all while your right hand remains free to play. Vortex Wireless offers multiple connectivity options and comes equipped with USB-MIDI and MIDI Out.\u003c\/p\u003e\n\u003c\/div\u003e\n\u003c\/div\u003e\n\u003cdiv class=\"small-12 large-6 large-pull-6 columns\"\u003e\n\u003cdiv class=\"product-overview-block-2-left\"\u003e\n\u003cdiv class=\"block-2-left-img\"\u003e\u003cimg src=\"http:\/\/www.alesis.com\/images\/uploads\/product-overview-images\/VortexWireless_Overview_2.png\"\u003e\u003c\/div\u003e\n\u003c\/div\u003e\n\u003c\/div\u003e\n\u003c\/div\u003e\n\u003c\/div\u003e\n\u003cdiv class=\"row full-width-row\"\u003e\n\u003cdiv class=\"product-overview-block-3-wrapper\"\u003e\n\u003cdiv class=\"small-12 large-6 columns\"\u003e\n\u003cdiv class=\"product-overview-block-3-left\"\u003e\n\u003ch2\u003eSynth, DAWS, and Patch Editor Included\u003c\/h2\u003e\n\u003cp\u003eVortex Wireless comes bundled with a versatile, high-definition virtual synthesizer. Xpand!2, by AIR Music Tech, expands the sonic pallet of your Vortex Wireless with ambient pads, edgy leads, wobbly basses, and more. For performing, producing, recording, and improvising, Ableton Live Lite is also included. Finally, a clear, concise, and easy to use, point-and-click patch editor, Vyzex Vortex is also included, so you can quickly configure any parameter of any patch on your Alesis Vortex. You can also use Vyzex Vortex to save and load all of your Vortex patches to and from your hard drive for easy backup.\u003c\/p\u003e\n\u003c\/div\u003e\n\u003c\/div\u003e\n\u003cdiv class=\"small-12 large-6 columns\"\u003e\n\u003cdiv class=\"product-overview-block-3-right\"\u003e\n\u003cdiv class=\"block-3-right-img\"\u003e\u003cimg src=\"http:\/\/www.alesis.com\/images\/uploads\/product-overview-images\/VortexWireless_Overview_3_00.png\"\u003e\u003c\/div\u003e\n\u003cdiv class=\"block-3-right-img\"\u003e\u003c\/div\u003e\n\u003cdiv class=\"block-3-right-img\"\u003e\n\u003cdiv class=\"product-features-header\"\u003e\n\u003ch2\u003eFEATURES\u003c\/h2\u003e\n\u003c\/div\u003e\n\u003cdiv class=\"product-features-content\"\u003e\n\u003cul\u003e\n\u003cli\u003eUSB dongle creates a wireless connection to any Mac or PC\u003c\/li\u003e\n\u003cli\u003e37 velocity-sensitive keys with aftertouch for compact, yet complete melodic range\u003c\/li\u003e\n\u003cli\u003eUSB and traditional MIDI jacks for use with virtually any synth, sound module, or other MIDI hardware or software\u003c\/li\u003e\n\u003cli\u003eEmbedded, programmable, MIDI-assignable accelerometer for performance parameter control by tilting the neck\u003c\/li\u003e\n\u003cli\u003eThumb-controlled volume slider and pitch-bend wheel on neck\u003c\/li\u003e\n\u003cli\u003eFinger-controlled MIDI-assignable touchstrip, sustain, and octave-control buttons on neck\u003c\/li\u003e\n\u003cli\u003eEight velocity-sensitive drum pads\/sample triggers enable you to create beats or trigger clips\u003c\/li\u003e\n\u003cli\u003eBattery-powered for use with MIDI modules and hardware synths (batteries included)\u003c\/li\u003e\n\u003cli\u003eBus-powered when connected to Mac or PC via USB (cable included)\u003c\/li\u003e\n\u003cli\u003eLarge transport (Start\/Stop) and patch-select controls for instant access\u003c\/li\u003e\n\u003cli\u003eStandard guitar strap pegs on neck and body (strap included)\u003c\/li\u003e\n\u003cli\u003eThis product is class compliant; it does not require drivers\u003c\/li\u003e\n\u003cli\u003eProduction package included: Xpand!2 by AIR Music Tech, and Ableton Live Lite Software\u003c\/li\u003e\n\u003cli\u003eMake the most of your Alesis Vortex with the free Vyzex Vortex patch editor software \u003ca href=\"http:\/\/www.alesis.com\/download-vyzex-vortex\" target=\"_blank\"\u003ehere\u003c\/a\u003e\n\u003c\/li\u003e\n\u003c\/ul\u003e\n\u003cdiv class=\"packaging-contents-header\"\u003e\n\u003ch2\u003eCONTENTS\u003c\/h2\u003e\n\u003c\/div\u003e\n\u003cdiv class=\"packaging-contents-content\"\u003e\n\u003cul\u003e\n\u003cli\u003eVortex Wireless Keytar\u003c\/li\u003e\n\u003cli\u003eUSB Wireless Receiver\u003c\/li\u003e\n\u003cli\u003eUSB Extension Cable\u003c\/li\u003e\n\u003cli\u003eUSB Cable\u003c\/li\u003e\n\u003cli\u003e4 AA Batteries\u003c\/li\u003e\n\u003cli\u003eStrap\u003c\/li\u003e\n\u003cli\u003eCable Harness\u003c\/li\u003e\n\u003cli\u003eAIR Music Tech's Xpand!2 (download)\u003c\/li\u003e\n\u003cli\u003eAbleton Live Lite (download)\u003c\/li\u003e\n\u003cli\u003eQuickstart Guide\u003c\/li\u003e\n\u003cli\u003eSafety \u0026amp; Warranty Manual\u003c\/li\u003e\n\u003c\/ul\u003e\n\u003cdiv class=\"product-specs-header\"\u003e\n\u003ch2\u003eSPECS\u003c\/h2\u003e\n\u003c\/div\u003e\n\u003cdiv class=\"product-specs-content\"\u003e\n\u003cul\u003e\n\u003cli\u003eClass Compliant USB MIDI I\/O\u003c\/li\u003e\n\u003cli\u003e5-pin DIN MIDI output\u003c\/li\u003e\n\u003cli\u003ePowered via USB, four AA Batteries, or DC power adapter\u003c\/li\u003e\n\u003c\/ul\u003e\n\u003ch4 class=\"video-gallery visible\" id=\"video-gallery\" data-video-gallery-params=\"{\u0026quot;thumbs\u0026quot;:[{\u0026quot;title\u0026quot;:\u0026quot;Watch \u0026amp;quot;Don't Take Our Word for It\u0026amp;quot;\u0026quot;,\u0026quot;thumbnail\u0026quot;:\u0026quot;https:\\\/\\\/i.ytimg.com\\\/vi\\\/SXwLhZ4L6_I\\\/hqdefault.jpg\u0026quot;,\u0026quot;url\u0026quot;:\u0026quot;http:\\\/\\\/www.youtube.com\\\/embed\\\/SXwLhZ4L6_I?autoplay=1\u0026amp;hd=1\u0026amp;rel=0\u0026amp;wmode=transparent\u0026quot;,\u0026quot;iframe\u0026quot;:\u0026quot;\u0026amp;lt;iframe name=\u0026amp;quot;youtube_iframe\u0026amp;quot; width=\u0026amp;quot;580\u0026amp;quot; height=\u0026amp;quot;326\u0026amp;quot; src=\u0026amp;quot;https:\\\/\\\/www.youtube.com\\\/embed\\\/SXwLhZ4L6_I?feature=oembed\u0026amp;amp;hd=1\u0026amp;amp;rel=0\u0026amp;amp;wmode=transparent\u0026amp;quot; frameborder=\u0026amp;quot;0\u0026amp;quot; allowfullscreen\u0026amp;gt;\u0026amp;lt;\\\/iframe\u0026amp;gt;\u0026quot;}]}\"\u003eBuy the Alesis Vortex Wireless from Audiosaurus today - the online pro audio experts in South Africa\u003cbr\u003e\u003cbr\u003e\n\u003c\/h4\u003e\n\u003cp class=\"video-gallery visible\" data-video-gallery-params=\"{\u0026quot;thumbs\u0026quot;:[{\u0026quot;title\u0026quot;:\u0026quot;Watch \u0026amp;quot;Don't Take Our Word for It\u0026amp;quot;\u0026quot;,\u0026quot;thumbnail\u0026quot;:\u0026quot;https:\\\/\\\/i.ytimg.com\\\/vi\\\/SXwLhZ4L6_I\\\/hqdefault.jpg\u0026quot;,\u0026quot;url\u0026quot;:\u0026quot;http:\\\/\\\/www.youtube.com\\\/embed\\\/SXwLhZ4L6_I?autoplay=1\u0026amp;hd=1\u0026amp;rel=0\u0026amp;wmode=transparent\u0026quot;,\u0026quot;iframe\u0026quot;:\u0026quot;\u0026amp;lt;iframe name=\u0026amp;quot;youtube_iframe\u0026amp;quot; width=\u0026amp;quot;580\u0026amp;quot; height=\u0026amp;quot;326\u0026amp;quot; src=\u0026amp;quot;https:\\\/\\\/www.youtube.com\\\/embed\\\/SXwLhZ4L6_I?feature=oembed\u0026amp;amp;hd=1\u0026amp;amp;rel=0\u0026amp;amp;wmode=transparent\u0026amp;quot; frameborder=\u0026amp;quot;0\u0026amp;quot; allowfullscreen\u0026amp;gt;\u0026amp;lt;\\\/iframe\u0026amp;gt;\u0026quot;}]}\"\u003eIf you have any further questions about this product, get in touch with us via our website \u003cstrong\u003e- \u003c\/strong\u003e\u003ca href=\"https:\/\/www.audiosaurus.co.za\/pages\/contact\" target=\"_blank\" title=\"Website\"\u003e\u003cstrong\u003ehttps:\/\/www.audiosaurus.co.za\/pages\/contact\u003c\/strong\u003e\u003cbr\u003e\u003cbr\u003e\u003c\/a\u003e \u003cem\u003e\u003cstrong\u003eOR\u003c\/strong\u003e \u003c\/em\u003e\u003cbr\u003e\u003cbr\u003eFacebook - \u003cstrong\u003e\u003ca href=\"https:\/\/www.facebook.com\/audiosaurusZA\/\" target=\"_blank\" title=\"Facebook\"\u003ehttps:\/\/www.facebook.com\/audiosaurusZA\/\u003c\/a\u003e\u003c\/strong\u003e\u003c\/p\u003e\n\u003c\/div\u003e\n\u003c\/div\u003e\n\u003c\/div\u003e\n\u003c\/div\u003e\n\u003c\/div\u003e\n\u003c\/div\u003e\n\u003c\/div\u003e\n\u003c\/div\u003e"}
{"id":4901248068,"title":"Korg KRONOS 2 61","handle":"ka-204","description":"\u003cp\u003eMusic Workstation\u003c\/p\u003e\n\u003ch1 class=\"header1\"\u003eEvolve.\u003c\/h1\u003e\n\u003cp\u003eWhen ambition, imagination, and technology converge—the results are spectacular. Witness KRONOS. Created by KORG to satisfy today's most demanding, accomplished performers and producers—as well as tomorrow's visionary leaders—KRONOS embodies over 50 years of artistic vision and production expertise. With nine distinct synthesis engines and a complete suite of performance and productions tools, KRONOS is simply the most versatile synthesizer ever made.\u003c\/p\u003e\n\u003cdiv align=\"left\"\u003e\n\u003cbr\u003eKRONOS restores the magic, the thrill, and the promise that only a visionary new instrument can provide. And KRONOS delivers on that promise. Every resources and technology of service to the modern musician has been refined, perfected, and integrated into a single instrument, and is available on demand. Multiple state-of-the-art sound generation techniques represent the pinnacle of software realization. Onboard effects open the door to processing any internal or external audio source with dazzling results. Multitrack audio and MIDI recording deliver efficient studio operations in a mobile platform. Hands-on hardware includes an assignable control surface, dual joysticks, ribbon controller, top-of-the line keyboard action, and KORG's revolutionary tap-and-drag color TouchView™ display. Best of all, KRONOS integrates all of these music-making resources into a single instrument in ways that no software setup or hardware platform can rival.\u003cbr\u003e\u003cbr\u003eKRONOS easily delivers everything you'd expect, plus many things you've only dreamed of. Set List mode keeps all of your custom settings and performance notes organized in the display for on-the-fly selection. Smooth Sound Transitions eliminate note and effect dropouts when switching sounds or modes. Connect virtual patch cables, select sounds, plus edit envelopes and sequences—all using the eight-inch color TouchView display. Add to that advanced sequencing, KARMA, and Drum Track composition tools. Enjoy exclusive KORG wavesequencing, MS-20 filtering and the impossibly-rich Polysix chorus. And only KORG boasts the finest sound-design team on the planet, so you can always sound your very best.\u003cbr\u003e\u003cbr\u003e\n\u003c\/div\u003e\n\u003cdiv align=\"left\"\u003e\u003ciframe width=\"897\" height=\"502\" src=\"https:\/\/www.youtube.com\/embed\/jshQWP0gQ-k\" frameborder=\"0\" allowfullscreen=\"\"\u003e\u003c\/iframe\u003e\u003c\/div\u003e\n\u003cdiv align=\"left\"\u003e\n\u003cbr\u003e\n\u003cdiv class=\"text_type_p\"\u003e\n\u003ch3 class=\"header3\"\u003e\u003cb\u003eNine Distinct Sound Engines\u003c\/b\u003e\u003c\/h3\u003e\n\u003cp\u003eEach of the individual KRONOS sound engines is eminently qualified to operate as a stand-alone synthesizer. And each one represents the cutting-edge technology available for that type of sound creation. Exacting programming parameters, real-time controllers, integrated effects, and assignable modulation routings provide incredible control for the creating custom edits or for the ambitious sound designer\u003c\/p\u003e\n\u003c\/div\u003e\n\u003cdiv class=\"text_type_p\"\u003e\n\u003ch3 class=\"header3\"\u003e\u003cb\u003eEnhanced SGX-2 Grand Piano Sound Engine\u003c\/b\u003e\u003c\/h3\u003e\n\u003cp\u003eThe KRONOS piano engine has always offered huge collections of non-looped\/natural decay stereo samples, recorded for every key, with additional unique tools to customize the piano to your needs. Inheriting all of this SGX-1 functionality, the new enhanced SGX-2 Grand Piano engine introduces the new Berlin Grand piano to the existing deep German Grand and lively Japanese Grand. The Berlin Grand offers resonant piano sound with a striking sense of depth.\u003cbr\u003e\u003cbr\u003eOther enhancements to the SGX-2 engine included Sympathetic String Resonance and newly-recorded Una Corda (soft pedal – literally "one-string") samples. \u003c\/p\u003e\n\u003c\/div\u003e\n\u003cdiv class=\"text_type_p\"\u003e\n\u003ch3 class=\"header3\"\u003e\u003cb\u003eMassive Sound Selection\u003c\/b\u003e\u003c\/h3\u003e\n\u003cp\u003eKRONOS comes equipped with thousands of sounds, created using various synthesis modes and calling upon over approximately 21 GB of preset waveform data covering a variety of genres. Each one has been carefully crafted by the KORG Sound Design team. The internal SSD offers a generous 62*GB capacity, providing enormous space for user sampling or downloading KRONOS Sound Libraries. These optional expansion KRONOS Sound Libraries add new professionally programmed sounds—without the need to add any new hardware.\u003cbr\u003e\u003cbr\u003eArtist Signature Programs provide the priceless sounds actually used by top-ranking musicians. Additional Song Programs are named for the classic rock and pop songs whose signature keyboard sounds these programs recreate. Use these universally well-known sounds to pay homage to the originals, or as the basis for personal sonic explorations.\u003cbr\u003e\u003cbr\u003e* SSD capacity is subject to change without notice.\u003cbr\u003e\u003cbr\u003e\u003c\/p\u003e\n\u003csection class=\"block type-h cv_charcoal pad_t80\"\u003e\n\u003cdiv class=\"side-margin\"\u003e\n\u003cdiv class=\"content_box_type_h\"\u003e\n\u003cdiv class=\"box_type_h\"\u003e\n\u003ch3 class=\"header3\"\u003eInnovative Set List Mode\u003c\/h3\u003e\n\u003cp\u003eKRONOS can organize all of the resources you need to get through a song—or a set—using the Set List mode. Using the Set List mode, the TouchView display can host 16 color-coded touch-screen buttons; each one can instantly call up the appropriate Preset, Combination, or Sequence—regardless of mode!\u003cbr\u003e\u003cbr\u003eYou can even add handy performance notes ("Sing on Chorus;" "Transpose Down;" "Wait for Sax Solo;" etc.) to each one.\u003cbr\u003e\u003cbr\u003eThe Set List mode even adds a nine-band graphic EQ, allowing the overall tone to be tweaked to match the venue. New in OS version 3.0, Set List mode now allows for deeper customization with many slot color options, text size variations, and a full-screen text editor. Connecting a USB computer keyboard makes it simple to enter text and numeric values.\u003c\/p\u003e\n\u003cp\u003e\u003cimg src=\"http:\/\/cdn.korg.com\/za\/products\/upload\/00d24c3e76d730daa31507aa4a4d2710_pc.jpg?Expires=1470477537\u0026amp;Signature=IUMORFFAvejWg1KpmAmDEViV3t9B5GMT08~FlbZuWee16phpblb2Iqr7~2~3eJU0YYkIYptP4B--jeN8rleuKndo-qmBezeR6emCYDXGCI46xhBgxmMmVf1cE~ZrBgSogZJrU9QmuIpOqVJqxWHeYa534CBQCzOasBHGf1Z5kQW2lXsScfYABMlscLhHUxFBrW3-QPcOJAGy-EPeUiobNEWH7b4F4LqJAM5B3OLJInugz50GQJxvnl13wCejzb4uJnPLMM1D78i~u4pV8CqgWr0N816RNxyR8Wg-VSJcagCF3QPB378lpMv0Hx5NQl2pyrmz1FKMQITad0Xl-jOp8Q__\u0026amp;Key-Pair-Id=APKAIQGL3XAA7HGZGU6Q\" alt=\"\"\u003e\u003c\/p\u003e\n\u003c\/div\u003e\n\u003cdiv class=\"box_type_h\"\u003e\n\u003ch3 class=\"header3\"\u003eColor TouchView Display—Now with Touch-Drag Capability\u003c\/h3\u003e\n\u003cp\u003eThe nerve center of the KRONOS is KORG's enormous eight-inch (800 x 600 pixel) SVGA color TouchView display.\u003cbr\u003e\u003cbr\u003eIn addition to simply selecting a sound or choosing a parameter with the touch of a finger, the enhanced Touch-Drag ability allows more detailed control of parameter values. Interactive instruments and panel graphics provide the ability to do everything from adjusting the lid of a grand piano to connecting patch cable on a semi-modular synthesizer model.\u003cbr\u003e\u003cbr\u003eThe TouchView display also hosts a convenient new Search Function, allowing you to search for (and preview) sounds based on their titles.\u003c\/p\u003e\n\u003c\/div\u003e\n\u003c\/div\u003e\n\u003c\/div\u003e\n\u003c\/section\u003e\n\u003csection class=\"block type-j cv_charcoal\"\u003e\n\u003cdiv class=\"side-margin\"\u003e\n\u003cdiv class=\"images_type_j\"\u003e\n\u003cul class=\"list_images_type_j\"\u003e\n\u003cli\u003e\u003ca href=\"http:\/\/www.korg.com\/za\/products\/synthesizers\/kronos2\/index.php#\" class=\"image_type_j\" onclick=\"javascript:popupImgView('http%3A%2F%2Fcdn.korg.com%2Fza%2Fproducts%2Fupload%2Fff0a9f8f3cbbed331ced3654ff3f65f6.jpg%3FExpires%3D1470477537%26Signature%3DcMYJ53%7Ef02-lUUSAQ7z9o%7ExbhOvdZgDHH0jHL1CrYlxD2PJO7Y3XvKJdEKpcM26uabwDzwYtyoVPcKH6LLOkn5RQ04J3B9-soumKJcARHiidAdCK9Sq4hPZrDSU86CgAjIJq8d1z6i66UpgTcRGwfB6ofdQkG7tTvrZbFFdV5hinGQr6jruiywJVoZ38egLL64QAg7cMa0mf-C8occLyn6G03zsT2-9FOxseMA0%7E6-UV4S3q4avVTX2bzSGByak4J4lSTZbqtYcv7PITwYyjHf6o%7EZFlKrZi-P8rqdawQebrvuoDoGKv2mn6EfxZ42B48EdAMleDwFH8Gri2Z-l6zw__%26Key-Pair-Id%3DAPKAIQGL3XAA7HGZGU6Q'); return false;\"\u003e\u003cimg src=\"http:\/\/cdn.korg.com\/za\/products\/upload\/ff0a9f8f3cbbed331ced3654ff3f65f6_pc.jpg?Expires=1470477537\u0026amp;Signature=rw~eIXykDLH1pKphI5VHR6AKoKrk8WXnKjiECX9puHEVuS018LwLBRco5RAgLNPLv1Yhu~n8JdPgVUL2PPBmz4IwDyQEIGm1Qzbp4MCkhZMWj~WnLIzXEOAkaTiMVRV-372MICEUuzvzqnXTeeLjkvO7c6CsRLR0eCXGSybrGkWVka9NVAemZr1DmLV7rwaOv1V77VgItbHJzYGmuxeNhuxrr6qD6ks2AIxjBK8xYyoRd7ryZXION1wamdJE1kOhGTnETj13vfHIcas-3jwz6-hglxJZ7fpmxX-RtlbhFPIqri0rsLFO7AZ0sp6J5IH33RYYwIcV1hbruPYNknZ7tw__\u0026amp;Key-Pair-Id=APKAIQGL3XAA7HGZGU6Q\" alt=\"\"\u003e\u003cbr\u003e\u003cbr\u003e\u003c\/a\u003e\u003c\/li\u003e\n\u003c\/ul\u003e\n\u003ch2 class=\"header2\"\u003eNine Synthesizer Engines, United in One Instrument\u003c\/h2\u003e\n\u003cp\u003e \u003c\/p\u003e\n\u003cdiv align=\"left\"\u003eKRONOS harnesses nine distinct synthesizer\/sound engines into a single, integrated musical instrument. Dynamic voice allocation and new technologies allow all sound engines to smoothly share a stable, enhanced hardware platform. The results are nothing less than spectacular.\u003cbr\u003e\u003cbr\u003e\n\u003c\/div\u003e\n\u003cdiv align=\"left\"\u003e\n\u003csection class=\"block type-u cv_black pad_t80 pad_b80\"\u003e\n\u003cdiv class=\"side-margin\"\u003e\n\u003ch2 class=\"header2\"\u003eSystem\u003c\/h2\u003e\n\u003cdiv class=\"box_type_u\"\u003e\n\u003cdl\u003e\n\u003cdt class=\"header3\"\u003eSystem\u003c\/dt\u003e\n\u003cdd\u003eKRONOS System Version 3.0\u003c\/dd\u003e\n\u003c\/dl\u003e\n\u003cdl\u003e\n\u003cdt class=\"header3\"\u003eKeyboard\u003c\/dt\u003e\n\u003cdd\u003e88 key: RH3 (Real Weighted Hammer Action 3)\u003cbr\u003e73 key: RH3 (Real Weighted Hammer Action 3)\u003cbr\u003e61 key: Natural Touch Semi Weighted\u003c\/dd\u003e\n\u003c\/dl\u003e\n\u003c\/div\u003e\n\u003c\/div\u003e\n\u003c\/section\u003e\n\u003csection class=\"block type-u cv_black pad_b80\"\u003e\n\u003cdiv class=\"side-margin\"\u003e\n\u003ch2 class=\"header2\"\u003eTone Generator\u003c\/h2\u003e\n\u003cdiv class=\"box_type_u\"\u003e\n\u003cdl\u003e\n\u003cdt class=\"header3\"\u003eSynthesis Types\u003c\/dt\u003e\n\u003cdd\u003e9\u003cbr\u003eSGX-2: Premium Piano (Acoustic Piano)\u003cbr\u003eEP-1: MDS Electric Piano (Electric Piano)\u003cbr\u003eHD-1: High Definition Synthesizer (PCM)\u003cbr\u003eAL-1: Analog Synthesizer (Analog Modeling)\u003cbr\u003eCX-3: Tonewheel Organ (Tonewheel Organ Modeling)\u003cbr\u003eSTR-1: Plucked Strings (Physical Modeling)\u003cbr\u003eMOD-7: Waveshaping VPM Synthesizer (VPM Synthesis)\u003cbr\u003eMS-20EX: Component Modeling Technology (Analog Modeling)\u003cbr\u003ePolysixEX: Component Modeling Technology (CMT Analog Modeling)\u003c\/dd\u003e\n\u003c\/dl\u003e\n\u003cdl\u003e\n\u003cdt class=\"header3\"\u003eMaximum Polyphony*1*2\u003c\/dt\u003e\n\u003cdd\u003eSGX-2: 100 voices*3\u003cbr\u003eEP-1: 104 voices\u003cbr\u003eHD-1: 140 voices\u003cbr\u003eAL-1: 80 voices\u003cbr\u003eCX-3: 200 voices\u003cbr\u003eSTR-1: 40 voices\u003cbr\u003eMOD-7: 52 voices\u003cbr\u003eMS-20EX: 40 voices\u003cbr\u003ePolysixEX: 180 voices\u003cbr\u003e\u003cbr\u003e*1: In rare cases, when a large number of processor-intensive effects are active simultaneously (for instance, more than 14 O-Verbs), polyphony may be slightly reduced.\u003cbr\u003e*2: A portion of the multicore processor in KRONOS is devoted to generating voices, and a separate portion is devoted to generating effects. KRONOS dynamically allocates the voice processing power between the engines as necessary. The quoted maximum numbers of voices apply when 100% of the voice processing power is devoted to a single engine.\u003cbr\u003e*3: 100 dual-stereo notes (equivalent to 400 mono voices)\u003c\/dd\u003e\n\u003c\/dl\u003e\n\u003cdl\u003e\n\u003cdt class=\"header3\"\u003ePreset PCM\u003c\/dt\u003e\n\u003cdd\u003e314 MB (ROM 1,505 Multisamples, 1,388 Drumsamples)\u003c\/dd\u003e\n\u003c\/dl\u003e\n\u003cdl\u003e\n\u003cdt class=\"header3\"\u003eBuild-in Expansion PCM Libraries\u003c\/dt\u003e\n\u003cdd\u003eEXs1 - ROM Expansion\u003cbr\u003eEXs2 - Concert Grand Piano\u003cbr\u003eEXs3 - Brass \u0026amp; Woodwinds\u003cbr\u003eEXs4 - Vintage Keyboards\u003cbr\u003eEXs5 - ROM Expansion 2\u003cbr\u003eEXs6 - SGX-1 German D Piano\u003cbr\u003eEXs7 - SGX-1 Japanese C Piano\u003cbr\u003eEXs8 - Rock Ambience Drums\u003cbr\u003eEXs9 - Jazz Ambience Drums\u003cbr\u003eEXs17 – SGX-2 Berlin D Piano\u003cbr\u003eEXs18 – KORG EXs Collections\u003c\/dd\u003e\n\u003c\/dl\u003e\n\u003cdl\u003e\n\u003cdt class=\"header3\"\u003ePCM RAM Capacity\u003c\/dt\u003e\n\u003cdd\u003eApprox. 2GB *4\u003cbr\u003e*4: The memory available for Sampling Mode will change based on the use of Expansion PCM libraries and User Sample Banks. Approx. 760 MB is available when shipped from the factory (When loading the file named "PRELOAD.KSC").\u003c\/dd\u003e\n\u003c\/dl\u003e\n\u003cdl\u003e\n\u003cdt class=\"header3\"\u003eWave Sequences\u003c\/dt\u003e\n\u003cdd\u003e598 User memory, 187 Preload\u003cbr\u003eSupport for stereo multisamples, synchronization of individual notes, and tempo-based settings.\u003c\/dd\u003e\n\u003c\/dl\u003e\n\u003c\/div\u003e\n\u003c\/div\u003e\n\u003c\/section\u003e\n\u003csection class=\"block type-u cv_black pad_b80\"\u003e\n\u003cdiv class=\"side-margin\"\u003e\n\u003ch2 class=\"header2\"\u003eSGX-2 Program\u003c\/h2\u003e\n\u003cdiv class=\"box_type_u\"\u003e\n\u003cdl\u003e\n\u003cdt class=\"header3\"\u003ePremium Piano\u003c\/dt\u003e\n\u003cdd\u003eVirtual Memory Technology (VMT) plays large samples directly from the internal SSD\u003cbr\u003eFull key stereo sampling, Chromatically sampled at up to 12 velocity levels, no looping.\u003cbr\u003eDamper resonance and mechanical noise are reproduced.\u003cbr\u003eModeled String Resonance.\u003cbr\u003eUna Corda sample support\u003c\/dd\u003e\n\u003c\/dl\u003e\n\u003cdl\u003e\n\u003cdt class=\"header3\"\u003ePCM\u003c\/dt\u003e\n\u003cdd\u003eEXs6:SGX-1 German D Piano\u003cbr\u003eEXs7:SGX-1 Japanese C Piano\u003cbr\u003eEXs12:SGX-1 Austrian D Piano (Option Sound libraries)\u003cbr\u003e8 velocity levels, no Una Corda samples\u003cbr\u003eEXs17:Berlin D Piano\u003cbr\u003e12 velocity levels, includes Una Corda samples\u003c\/dd\u003e\n\u003c\/dl\u003e\n\u003cdl\u003e\n\u003cdt class=\"header3\"\u003ePiano Type\u003c\/dt\u003e\n\u003cdd\u003e64 (With the factory settings, the 16 varieties of EXs12 SGX-1 Austrian D Piano do not produce sound. The EXs12 option must be downloaded.)\u003c\/dd\u003e\n\u003c\/dl\u003e\n\u003cdl\u003e\n\u003cdt class=\"header3\"\u003eOscillator Control\u003c\/dt\u003e\n\u003cdd\u003eDamper Resonance\u003cbr\u003eDamper Noise\u003cbr\u003eMechanical Noise\u003cbr\u003eNote Release\u003cbr\u003eString Resonance\u003cbr\u003eUna Corda\u003c\/dd\u003e\n\u003c\/dl\u003e\n\u003c\/div\u003e\n\u003c\/div\u003e\n\u003c\/section\u003e\n\u003csection class=\"block type-u cv_black pad_b80\"\u003e\n\u003cdiv class=\"side-margin\"\u003e\n\u003ch2 class=\"header2\"\u003eEP-1 Program\u003c\/h2\u003e\n\u003cdiv class=\"box_type_u\"\u003e\n\u003cdl\u003e\n\u003cdt class=\"header3\"\u003eMDS Electric Piano\u003c\/dt\u003e\n\u003cdd\u003eTine and reed-type electric pianos powered by Multi-Dimensional Synthesis (MDS), and vintage effects.\u003c\/dd\u003e\n\u003c\/dl\u003e\n\u003cdl\u003e\n\u003cdt class=\"header3\"\u003eElectric Piano Model Types\u003c\/dt\u003e\n\u003cdd\u003e6\u003cbr\u003eTine EP I, Tine EP II, Tine EP V, Tine EP DMP, Reed EP200, Reed EP200A\u003c\/dd\u003e\n\u003c\/dl\u003e\n\u003cdl\u003e\n\u003cdt class=\"header3\"\u003eOscillator Control\u003c\/dt\u003e\n\u003cdd\u003eHarmonic Sound Level, Attack Noise, Level, Release Noise Level, Attack Brightness, Hammer Width\u003c\/dd\u003e\n\u003c\/dl\u003e\n\u003cdl\u003e\n\u003cdt class=\"header3\"\u003ePanel Control\u003c\/dt\u003e\n\u003cdd\u003eTine Type\u003cbr\u003ePreamp Volume, Tone (Treble, Bass), Vibrate (On\/Off, Intensity, Speed), Amp\/Cabinet (On\/Off, Drive)*5\u003cbr\u003eReed Type\u003cbr\u003ePreamp Volume, Tone (Treble, Bass), Vibrate (Intensity, Speed), Amp\/Cabinet (On\/Off, Drive)*5\u003c\/dd\u003e\n\u003c\/dl\u003e\n\u003cdl\u003e\n\u003cdt class=\"header3\"\u003eEffect Types\u003c\/dt\u003e\n\u003cdd\u003e9\u003cbr\u003eSmall Phase, Orange Phase, Black Phase, Vintage Chorus, Black Chorus, EP Chorus, Vintage Flanger, Red Comp, VOX Wah\u003c\/dd\u003e\n\u003c\/dl\u003e\n\u003c\/div\u003e\n\u003c\/div\u003e\n\u003c\/section\u003e\n\u003csection class=\"block type-u cv_black pad_b80\"\u003e\n\u003cdiv class=\"side-margin\"\u003e\n\u003ch2 class=\"header2\"\u003eHD-1 Program\u003c\/h2\u003e\n\u003cdiv class=\"box_type_u\"\u003e\n\u003cdl\u003e\n\u003cdt class=\"header3\"\u003eAdvanced Vector Synthesis\u003c\/dt\u003e\n\u003cdd\u003eControl oscillator volumes and synthesis \u0026amp; effects parameters via the Vector Joystick and the tempo-synchronized Vector Envelope.\u003c\/dd\u003e\n\u003c\/dl\u003e\n\u003cdl\u003e\n\u003cdt class=\"header3\"\u003eStructure\u003c\/dt\u003e\n\u003cdd\u003eSingle: only OSC1, Double: OSC1 and OSC2.\u003cbr\u003eDouble mode lets you layer two completely separate synth voices, each with their own velocity-switched oscillator, dual filter, EGs, LFOs, etc.\u003cbr\u003eDrums: One drum kit, Double Drums: Two drum kits.\u003c\/dd\u003e\n\u003c\/dl\u003e\n\u003cdl\u003e\n\u003cdt class=\"header3\"\u003eOscillators\u003c\/dt\u003e\n\u003cdd\u003eVirtual Memory Technology (VMT) plays large samples directly from the internal SSD.\u003cbr\u003e8 velocity zones per oscillator, with switching, crossfades and layering \u003cbr\u003eEach zone can play mono or stereo Multisamples or Wave Sequences\u003c\/dd\u003e\n\u003c\/dl\u003e\n\u003cdl\u003e\n\u003cdt class=\"header3\"\u003eFilters\u003c\/dt\u003e\n\u003cdd\u003eTwo multi-mode filters per voices (low-pass, high-pass, band-pass and band-reject),\u003cbr\u003eFour-mode filter routings (single, serial, parallel and 24dB mode)\u003c\/dd\u003e\n\u003c\/dl\u003e\n\u003cdl\u003e\n\u003cdt class=\"header3\"\u003eDriver\u003c\/dt\u003e\n\u003cdd\u003ePer voice non-linear driver and low boost circuit\u003c\/dd\u003e\n\u003c\/dl\u003e\n\u003cdl\u003e\n\u003cdt class=\"header3\"\u003eEQ\u003c\/dt\u003e\n\u003cdd\u003eThree bands, with sweep-able mid\u003c\/dd\u003e\n\u003c\/dl\u003e\n\u003cdl\u003e\n\u003cdt class=\"header3\"\u003eModulation\u003c\/dt\u003e\n\u003cdd\u003eThree envelope generators, two LFOs per voice, common LFO, four key tracking generators, AMS (Alternate Modulation Source), two AMS mixers\u003c\/dd\u003e\n\u003c\/dl\u003e\n\u003c\/div\u003e\n\u003c\/div\u003e\n\u003c\/section\u003e\n\u003csection class=\"block type-u cv_black pad_b80\"\u003e\n\u003cdiv class=\"side-margin\"\u003e\n\u003ch2 class=\"header2\"\u003eEXi Program Common\u003c\/h2\u003e\n\u003cdiv class=\"box_type_u\"\u003e\n\u003cdl\u003e\n\u003cdt class=\"header3\"\u003eAdvanced Vector Synthesis\u003c\/dt\u003e\n\u003cdd\u003eControl oscillator volumes and synthesis \u0026amp; effects parameters via the Vector Joystick and the tempo-synchronized Vector Envelope.\u003c\/dd\u003e\n\u003c\/dl\u003e\n\u003cdl\u003e\n\u003cdt class=\"header3\"\u003eModulation\u003c\/dt\u003e\n\u003cdd\u003eCommon Step Sequencer, AMS (Alternate Modulation Source), Common LFO, 2 Key Tracking Generators\u003c\/dd\u003e\n\u003c\/dl\u003e\n\u003cdl\u003e\n\u003cdt class=\"header3\"\u003eEQ\u003c\/dt\u003e\n\u003cdd\u003eThree bands, with sweep-able mid\u003c\/dd\u003e\n\u003c\/dl\u003e\n\u003c\/div\u003e\n\u003c\/div\u003e\n\u003c\/section\u003e\n\u003csection class=\"block type-u cv_black pad_b80\"\u003e\n\u003cdiv class=\"side-margin\"\u003e\n\u003ch2 class=\"header2\"\u003eAL-1 Program\u003c\/h2\u003e\n\u003cdiv class=\"box_type_u\"\u003e\n\u003cdl\u003e\n\u003cdt class=\"header3\"\u003eOscillators\u003c\/dt\u003e\n\u003cdd\u003eUltra-low-aliasing oscillators\u003cbr\u003eOSC1, OSC2, Sub-oscillator and noise generator; ring modulation, FM and Sync\u003c\/dd\u003e\n\u003c\/dl\u003e\n\u003cdl\u003e\n\u003cdt class=\"header3\"\u003eAudio Input\u003c\/dt\u003e\n\u003cdd\u003eExternal audio can be processed through the ring modulator, filter, driver, amp, and EQ\u003c\/dd\u003e\n\u003c\/dl\u003e\n\u003cdl\u003e\n\u003cdt class=\"header3\"\u003eFilters\u003c\/dt\u003e\n\u003cdd\u003eTwo multi-mode filters (low-pass, high-pass, band-pass and band-reject) with four types of filter routings (single, serial, parallel and 24dB mode),\u003cbr\u003eMulti Filter mode (only Filter-A; modulatable mix of Low Pass, High Pass, Band Pass, and dry input, for creating a wide variety of unique filter types and effects)\u003c\/dd\u003e\n\u003c\/dl\u003e\n\u003cdl\u003e\n\u003cdt class=\"header3\"\u003eDriver\u003c\/dt\u003e\n\u003cdd\u003ePer-voice non-linear driver and low boost circuit\u003c\/dd\u003e\n\u003c\/dl\u003e\n\u003cdl\u003e\n\u003cdt class=\"header3\"\u003eModulation\u003c\/dt\u003e\n\u003cdd\u003eFive Envelope generators, four per-voice LFOs, two AMS Mixers; Per-voice Step Sequencer.\u003c\/dd\u003e\n\u003c\/dl\u003e\n\u003c\/div\u003e\n\u003c\/div\u003e\n\u003c\/section\u003e\n\u003csection class=\"block type-u cv_black pad_b80\"\u003e\n\u003cdiv class=\"side-margin\"\u003e\n\u003ch2 class=\"header2\"\u003eCX-3 Program\u003c\/h2\u003e\n\u003cdiv class=\"box_type_u\"\u003e\n\u003cdl\u003e\n\u003cdt class=\"header3\"\u003eTonewheel Organ Modeling\u003c\/dt\u003e\n\u003cdd\u003ePhase-synchronous tonewheels (clean and vintage modes), percussion, key click, wheel brake\u003c\/dd\u003e\n\u003c\/dl\u003e\n\u003cdl\u003e\n\u003cdt class=\"header3\"\u003eEX Mode\u003c\/dt\u003e\n\u003cdd\u003eFour additional, user-specified drawbars, and expanded percussion.\u003c\/dd\u003e\n\u003c\/dl\u003e\n\u003cdl\u003e\n\u003cdt class=\"header3\"\u003eInternal Effects\u003c\/dt\u003e\n\u003cdd\u003eRotary speaker, vibrato\/chorus, amp modeling with overdrive, 3-band EQ\u003c\/dd\u003e\n\u003c\/dl\u003e\n\u003cdl\u003e\n\u003cdt class=\"header3\"\u003eDrawbar Control\u003c\/dt\u003e\n\u003cdd\u003eControlled via nine front-panel sliders (via Tone Adjust)\u003c\/dd\u003e\n\u003c\/dl\u003e\n\u003cdl\u003e\n\u003cdt class=\"header3\"\u003eSplit\u003c\/dt\u003e\n\u003cdd\u003eUpper, Lower (even in EX mode)\u003c\/dd\u003e\n\u003c\/dl\u003e\n\u003cdl\u003e\n\u003cdt class=\"header3\"\u003eModulation\u003c\/dt\u003e\n\u003cdd\u003eTwo AMS mixers\u003c\/dd\u003e\n\u003c\/dl\u003e\n\u003c\/div\u003e\n\u003c\/div\u003e\n\u003c\/section\u003e\n\u003csection class=\"block type-u cv_black pad_b80\"\u003e\n\u003cdiv class=\"side-margin\"\u003e\n\u003ch2 class=\"header2\"\u003eSTR-1 Program\u003c\/h2\u003e\n\u003cdiv class=\"box_type_u\"\u003e\n\u003cdl\u003e\n\u003cdt class=\"header3\"\u003ePhysically Modeled String\u003c\/dt\u003e\n\u003cdd\u003eIncludes physically modeled damping, decay, dispersion, nonlinearity, harmonics, dual pickups, and more.\u003cbr\u003eMost string parameters can be controlled in realtime.\u003c\/dd\u003e\n\u003c\/dl\u003e\n\u003cdl\u003e\n\u003cdt class=\"header3\"\u003eString Excitation\u003c\/dt\u003e\n\u003cdd\u003eThree independent excitation sources can be used simultaneously: Pluck, Noise, and PCM.\u003cbr\u003e16 preset "pluck" types, with modulatable width and randomization. Noise generator with saturation and dedicated low pass filter\u003cbr\u003e\u003cstrong\u003ePCM Oscillator: \u003c\/strong\u003e\u003cbr\u003eKORG's ultra-low-aliasing technology, as introduced in the HD-1;\u003cbr\u003e4 velocity zones per oscillator;\u003cbr\u003eUses any mono Multisamples, including ROM, EXs, User Sample Bank, or Sampling Mode.\u003cbr\u003eSupports Virtual Memory.\u003cbr\u003e\u003cstrong\u003eExcitation Filter: \u003c\/strong\u003e\u003cbr\u003eDedicated 2-pole multimode filter for shaping the string excitation.\u003cbr\u003eFilter can be enabled\/disabled separately for each excitation source.\u003cbr\u003eLow Pass, High Pass, Band Pass, and Band Reject modes\u003c\/dd\u003e\n\u003c\/dl\u003e\n\u003cdl\u003e\n\u003cdt class=\"header3\"\u003eAudio Input and Feedback\u003c\/dt\u003e\n\u003cdd\u003eRun real-time audio through the string, including feedback through effects.\u003cbr\u003eModeled feedback includes modulate-able instrument-to-amp distance and orientation.\u003c\/dd\u003e\n\u003c\/dl\u003e\n\u003cdl\u003e\n\u003cdt class=\"header3\"\u003eFilters\u003c\/dt\u003e\n\u003cdd\u003eDual multi-mode filters per voice; Single, Serial, Parallel (with split stereo output), and 24dB (4-pole) configurations. Low Pass, High Pass, Band Pass, and Band Reject modes\u003cbr\u003e\u003cstrong\u003eMulti Filter Mode (Filter A only).\u003c\/strong\u003e\u003cbr\u003eModulatable mix of Low Pass, High Pass, Band Pass, and dry input, for creating a wide variety of unique filter types and effects\u003c\/dd\u003e\n\u003c\/dl\u003e\n\u003cdl\u003e\n\u003cdt class=\"header3\"\u003eModulation\u003c\/dt\u003e\n\u003cdd\u003e5 Envelopes, 4 per-voice LFOs, 2 Key Track generators, String Tracking generators, 4 AMS Mixers.\u003c\/dd\u003e\n\u003c\/dl\u003e\n\u003c\/div\u003e\n\u003c\/div\u003e\n\u003c\/section\u003e\n\u003csection class=\"block type-u cv_black pad_b80\"\u003e\n\u003cdiv class=\"side-margin\"\u003e\n\u003ch2 class=\"header2\"\u003eMOD-7 Program\u003c\/h2\u003e\n\u003cdiv class=\"box_type_u\"\u003e\n\u003cdl\u003e\n\u003cdt class=\"header3\"\u003eWaveshaping VPM Synthesizer\u003c\/dt\u003e\n\u003cdd\u003eCombines Variable Phase Modulation (VPM), Waveshaping ring modulation, PCM sample playback, and subtractive synthesis; Able to convert-load SYX files.\u003c\/dd\u003e\n\u003c\/dl\u003e\n\u003cdl\u003e\n\u003cdt class=\"header3\"\u003eOscillators\u003c\/dt\u003e\n\u003cdd\u003e\n\u003cstrong\u003e6 VPM\/Waveshaper\/Ring Modulation Oscillators: \u003c\/strong\u003e\u003cbr\u003ePhase and modulatable pitch per oscillator.\u003cbr\u003e101 Waveshaper tables plus modulatable Drive and Offset.\u003cbr\u003eUse as oscillators, or as Waveshapers or Ring Modulators for other signals.\u003cbr\u003e\u003cstrong\u003ePCM Oscillator: \u003c\/strong\u003e\u003cbr\u003eKORG's ultra-low-aliasing technology, as introduced in the HD-1.\u003cbr\u003e4 velocity zones per oscillator.\u003cbr\u003eUses any mono Multisamples, including ROM, EXs, User Sample Bank, or Sampling Mode. Supports Virtual Memory.\u003c\/dd\u003e\n\u003c\/dl\u003e\n\u003cdl\u003e\n\u003cdt class=\"header3\"\u003eAudio input\u003c\/dt\u003e\n\u003cdd\u003eRun real-time audio through the VPM Oscillators and filters.\u003c\/dd\u003e\n\u003c\/dl\u003e\n\u003cdl\u003e\n\u003cdt class=\"header3\"\u003eFilters\u003c\/dt\u003e\n\u003cdd\u003eDual multi-mode filters per voice. (Low Pass, High Pass, Band Pass, and Band Reject modes)\u003cbr\u003eTwo types of filter looping (Parallel and 24 dB "4-Pole")\u003cbr\u003e\u003cstrong\u003eMulti Filter mode (Filter A only): \u003c\/strong\u003e\u003cbr\u003eModulatable mix of Low Pass, High Pass, Band Pass, and dry input, for creating a wide variety of unique filter types and effects\u003c\/dd\u003e\n\u003c\/dl\u003e\n\u003cdl\u003e\n\u003cdt class=\"header3\"\u003ePatch Panel\u003c\/dt\u003e\n\u003cdd\u003eSupports both preset algorithm (78 types) selection and free patching.\u003cbr\u003eThree 2-in, 1-out mixers for scaling and merging audio, fully modulatable, with phase inversion.\u003cbr\u003eMain 6-input stereo mixer, with modulatable pan and volume, plus phase inversion\u003c\/dd\u003e\n\u003c\/dl\u003e\n\u003cdl\u003e\n\u003cdt class=\"header3\"\u003eModulation\u003c\/dt\u003e\n\u003cdd\u003e10 Envelopes, 4 per-voice LFOs, 9 Key Tracking generators, Per-voice Step Sequencer, 4 standard AMS Mixers plus 4 simple AMS Mixers.\u003c\/dd\u003e\n\u003c\/dl\u003e\n\u003c\/div\u003e\n\u003c\/div\u003e\n\u003c\/section\u003e\n\u003csection class=\"block type-u cv_black pad_b80\"\u003e\n\u003cdiv class=\"side-margin\"\u003e\n\u003ch2 class=\"header2\"\u003eMS-20EX Program\u003c\/h2\u003e\n\u003cdiv class=\"box_type_u\"\u003e\n\u003cdl\u003e\n\u003cdt class=\"header3\"\u003eOscillators\u003c\/dt\u003e\n\u003cdd\u003eUltra-low-aliasing oscillators; VCO1, VCO2, Ring Mod, Pink and White Noise Generator\u003c\/dd\u003e\n\u003c\/dl\u003e\n\u003cdl\u003e\n\u003cdt class=\"header3\"\u003eAudio Input\u003c\/dt\u003e\n\u003cdd\u003eRun real-time audio through the synthesis engine and ESP (External Signal Processor)\u003c\/dd\u003e\n\u003c\/dl\u003e\n\u003cdl\u003e\n\u003cdt class=\"header3\"\u003eFilters\u003c\/dt\u003e\n\u003cdd\u003e12dB\/octave High Pass and Low Pass self-resonant filters\u003cbr\u003e\u003cstrong\u003eESP section: \u003c\/strong\u003e\u003cbr\u003e24dB\/octave Low Cut and High Cut filters, available per voice.\u003c\/dd\u003e\n\u003c\/dl\u003e\n\u003cdl\u003e\n\u003cdt class=\"header3\"\u003ePatch Panel\u003c\/dt\u003e\n\u003cdd\u003ePatchable audio and modulation, at audio rates\u003c\/dd\u003e\n\u003c\/dl\u003e\n\u003cdl\u003e\n\u003cdt class=\"header3\"\u003ePatch Points\u003c\/dt\u003e\n\u003cdd\u003e\n\u003cstrong\u003eKeyboard: \u003c\/strong\u003e\u003cbr\u003eKeyboard CV Out, Keyboard Trigger Out, VCO1+VCO2 CV In, VCO2 CV In\u003cbr\u003e\u003cstrong\u003eVCO: \u003c\/strong\u003e\u003cbr\u003eVCO1+VCO2 External Frequency Control In, VCO1 Out, VCO2 Out\u003cbr\u003e\u003cstrong\u003eVCF: \u003c\/strong\u003e\u003cbr\u003eExternal Signal In, External HP Filter Cutoff Frequency Control In, External LP Filter Cutoff Frequency Control In, HPF Out, LPF In, LPF Out\u003cbr\u003e\u003cstrong\u003eVCO+VCF: \u003c\/strong\u003e\u003cbr\u003eTotal External Modulation In\u003cbr\u003e\u003cstrong\u003eVCA: \u003c\/strong\u003e\u003cbr\u003eExternal Initial Gain Control In, VCA In\u003cbr\u003e\u003cstrong\u003eEG: \u003c\/strong\u003e\u003cbr\u003eEG1 Envelope Signal Normal Out, EG1 Envelope Signal Reverse Out, EG1+EG2 Trigger In, EG1 Trigger In, EG2 Envelope Signal Reverse Out\u003cbr\u003e\u003cstrong\u003eMG: \u003c\/strong\u003e\u003cbr\u003eTriangle Out, Rectangle Out\u003cbr\u003e\u003cstrong\u003eNoise Generator: \u003c\/strong\u003e\u003cbr\u003ePink Noise Out, White Noise Out\u003cbr\u003e\u003cstrong\u003eSample and Hold: \u003c\/strong\u003e\u003cbr\u003eClock Trigger In, Sample Signal In, S\/H Out\u003cbr\u003e\u003cstrong\u003eModulation VCA: \u003c\/strong\u003e\u003cbr\u003eControl Voltage In, Signal In, Signal Out\u003cbr\u003e\u003cstrong\u003eManual Controller: \u003c\/strong\u003e\u003cbr\u003eControl Wheel Out, Momentary Switch\u003cbr\u003e\u003cstrong\u003eESP: \u003c\/strong\u003e\u003cbr\u003eSignal In, AMP Out, BPF In, BPF Out, F-V CV Out, Envelope Out, Trigger Out\u003cbr\u003e\u003cstrong\u003eOthers: \u003c\/strong\u003e\u003cbr\u003eEXi Audio In, Mixer 1 In, Mixer 1 Out, Mixer 2 In, Mixer 2 Out\u003c\/dd\u003e\n\u003c\/dl\u003e\n\u003cdl\u003e\n\u003cdt class=\"header3\"\u003eESP (External Signal Processor)\u003c\/dt\u003e\n\u003cdd\u003eUse incoming audio as a trigger and\/or CV source.\u003c\/dd\u003e\n\u003c\/dl\u003e\n\u003cdl\u003e\n\u003cdt class=\"header3\"\u003eModulation\u003c\/dt\u003e\n\u003cdd\u003eOriginal DAR (Delay, Attack, Release) and HADSR (Hold, Attack, Decay, Sustain, Release) EGs 1 \u0026amp;2,\u003cbr\u003eOriginal MG (with MIDI sync), Sample-and- Hold, MVCA,\u003cbr\u003eKRONOS: 4 additional multi-stage Envelopes, 4 additional per-voice LFOs, and 4 AMS Mixers.\u003c\/dd\u003e\n\u003c\/dl\u003e\n\u003c\/div\u003e\n\u003c\/div\u003e\n\u003c\/section\u003e\n\u003csection class=\"block type-u cv_black pad_b80\"\u003e\n\u003cdiv class=\"side-margin\"\u003e\n\u003ch2 class=\"header2\"\u003ePolysixEX Program\u003c\/h2\u003e\n\u003cdiv class=\"box_type_u\"\u003e\n\u003cdl\u003e\n\u003cdt class=\"header3\"\u003eOscillators\u003c\/dt\u003e\n\u003cdd\u003e\n\u003cstrong\u003eVCO: \u003c\/strong\u003e\u003cbr\u003eSaw, Pulse, PWM\u003cbr\u003e\u003cstrong\u003eSub Oscillator: \u003c\/strong\u003e\u003cbr\u003eOff, 1 octave below, 2 octaves below\u003c\/dd\u003e\n\u003c\/dl\u003e\n\u003cdl\u003e\n\u003cdt class=\"header3\"\u003eFilter\u003c\/dt\u003e\n\u003cdd\u003e24dB (4-Pole) Octave Low Pass self-resonant filter\u003c\/dd\u003e\n\u003c\/dl\u003e\n\u003cdl\u003e\n\u003cdt class=\"header3\"\u003eEffects\u003c\/dt\u003e\n\u003cdd\u003eIntegrated Polysix Chorus, Phaser, and Ensemble\u003c\/dd\u003e\n\u003c\/dl\u003e\n\u003cdl\u003e\n\u003cdt class=\"header3\"\u003eArpeggiator\u003c\/dt\u003e\n\u003cdd\u003eIntegrated MIDI-synced arpeggiator, with adjustable Range, Mode, and Latch\u003c\/dd\u003e\n\u003c\/dl\u003e\n\u003cdl\u003e\n\u003cdt class=\"header3\"\u003eModulation\u003c\/dt\u003e\n\u003cdd\u003ePolysix: Original ADSR EG and MG (with MIDI sync).\u003cbr\u003eKRONOS: 2 additional multi-stage Envelopes, 2 additional per-voice LFOs, and 4 AMS Mixers.\u003c\/dd\u003e\n\u003c\/dl\u003e\n\u003c\/div\u003e\n\u003c\/div\u003e\n\u003c\/section\u003e\n\u003csection class=\"block type-u cv_black pad_b80\"\u003e\n\u003cdiv class=\"side-margin\"\u003e\n\u003ch2 class=\"header2\"\u003eCombination\u003c\/h2\u003e\n\u003cdiv class=\"box_type_u\"\u003e\n\u003cdl\u003e\n\u003cdt class=\"header3\"\u003eNumber of Timbres, Master Keyboard Functionality\u003c\/dt\u003e\n\u003cdd\u003e16 Maximum\u003cbr\u003eKeyboard and velocity splits, layers, and crossfades of up to 16 Programs and\/or external MIDI Devices\u003cbr\u003eThe tone adjust parameter function lets you modify program settings, and the master keyboard function lets you control external MIDI devices\u003c\/dd\u003e\n\u003c\/dl\u003e\n\u003cdl\u003e\n\u003cdt class=\"header3\"\u003eAdvanced Vector Synthesis\u003c\/dt\u003e\n\u003cdd\u003eControl oscillator volumes and synthesis \u0026amp; effects parameters via the Vector Joystick and the tempo-synchronized Vector Envelope.\u003c\/dd\u003e\n\u003c\/dl\u003e\n\u003c\/div\u003e\n\u003c\/div\u003e\n\u003c\/section\u003e\n\u003csection class=\"block type-u cv_black pad_b80\"\u003e\n\u003cdiv class=\"side-margin\"\u003e\n\u003ch2 class=\"header2\"\u003eDrumkit\u003c\/h2\u003e\n\u003cdiv class=\"box_type_u\"\u003e\n\u003cdl\u003e\n\u003cdt class=\"header3\"\u003eSystem\u003c\/dt\u003e\n\u003cdd\u003eAssignable stereo\/mono samples with 8 velocity zones per oscillator (with crossfade functions)\u003c\/dd\u003e\n\u003c\/dl\u003e\n\u003c\/div\u003e\n\u003c\/div\u003e\n\u003c\/section\u003e\n\u003csection class=\"block type-u cv_black pad_b80\"\u003e\n\u003cdiv class=\"side-margin\"\u003e\n\u003ch2 class=\"header2\"\u003eNumber of Programs\/Combinations\/Drum kits\u003c\/h2\u003e\n\u003cdiv class=\"box_type_u\"\u003e\n\u003cdl\u003e\n\u003cdt class=\"header3\"\u003eUser Memory Programs\u003c\/dt\u003e\n\u003cdd\u003e2,560 (1,792 [896 HD-1+896 EXi] come preloaded)\u003c\/dd\u003e\n\u003c\/dl\u003e\n\u003cdl\u003e\n\u003cdt class=\"header3\"\u003eUser Memory Combinations\u003c\/dt\u003e\n\u003cdd\u003e1,792 (512 come preloaded)\u003c\/dd\u003e\n\u003c\/dl\u003e\n\u003cdl\u003e\n\u003cdt class=\"header3\"\u003eUser Memory Drum Kits\u003c\/dt\u003e\n\u003cdd\u003e264 (78 come preloaded)\u003c\/dd\u003e\n\u003c\/dl\u003e\n\u003cdl\u003e\n\u003cdd\u003e256 GM Level2 preset programs + 9 GM Level 2 drum preset programs\u003c\/dd\u003e\n\u003c\/dl\u003e\n\u003c\/div\u003e\n\u003c\/div\u003e\n\u003c\/section\u003e\n\u003csection class=\"block type-u cv_black pad_b80\"\u003e\n\u003cdiv class=\"side-margin\"\u003e\n\u003ch2 class=\"header2\"\u003eSet List\u003c\/h2\u003e\n\u003cdiv class=\"box_type_u\"\u003e\n\u003cdl\u003e\n\u003cdt class=\"header3\"\u003eNumber of Set Lists\/Slots\u003c\/dt\u003e\n\u003cdd\u003e128 set lists, 128 slots per set list\u003cbr\u003eEach set list provides a 9-band graphic EQ, and a Tone Adjust function that allows program settings to be adjusted.\u003cbr\u003eTranspose setting.\u003cbr\u003eHold Time setting of Smooth Sound Transition (SST) supported for each slot.\u003c\/dd\u003e\n\u003c\/dl\u003e\n\u003c\/div\u003e\n\u003c\/div\u003e\n\u003c\/section\u003e\n\u003csection class=\"block type-u cv_black pad_b80\"\u003e\n\u003cdiv class=\"side-margin\"\u003e\n\u003ch2 class=\"header2\"\u003eSampling\u003c\/h2\u003e\n\u003cdiv class=\"box_type_u\"\u003e\n\u003cdl\u003e\n\u003cdt class=\"header3\"\u003eSystem\u003c\/dt\u003e\n\u003cdd\u003eOpen Sampling System (resampling, In-Track sampling)\u003c\/dd\u003e\n\u003c\/dl\u003e\n\u003cdl\u003e\n\u003cdt class=\"header3\"\u003eBit Depth\/Sampling Frequency\u003c\/dt\u003e\n\u003cdd\u003eRAM: 16-bit\/48 kHz stereo\/mono sampling\u003cbr\u003eDISK: 16 or 24-bit\/48 kHz\u003c\/dd\u003e\n\u003c\/dl\u003e\n\u003cdl\u003e\n\u003cdt class=\"header3\"\u003eSampling Time\u003c\/dt\u003e\n\u003cdd\u003eRAM: Depends on the amount of available PCM RAM\u003cbr\u003eDISK: Maximum 80 minutes stereo (879MB: 16bit)\u003c\/dd\u003e\n\u003c\/dl\u003e\n\u003cdl\u003e\n\u003cdt class=\"header3\"\u003eSample Locations\u003c\/dt\u003e\n\u003cdd\u003e16,000 samples\/4,000 multisamples (128 indexes per multisample)\u003c\/dd\u003e\n\u003c\/dl\u003e\n\u003cdl\u003e\n\u003cdt class=\"header3\"\u003eRipping\u003c\/dt\u003e\n\u003cdd\u003eDirect sampling (ripping) from audio CD (CD-DA)\u003c\/dd\u003e\n\u003c\/dl\u003e\n\u003cdl\u003e\n\u003cdt class=\"header3\"\u003eFormats\u003c\/dt\u003e\n\u003cdd\u003eKORG format, AKAI S1000\/S3000 data (with advanced Program parameter conversion); SoundFont 2.0, AIFF, and WAVE formats\u003c\/dd\u003e\n\u003c\/dl\u003e\n\u003cdl\u003e\n\u003cdt class=\"header3\"\u003eEditing\u003c\/dt\u003e\n\u003cdd\u003eTime Stretch, Time Slice, Crossfade Loop, and other standard editing features.\u003c\/dd\u003e\n\u003c\/dl\u003e\n\u003c\/div\u003e\n\u003c\/div\u003e\n\u003c\/section\u003e\n\u003csection class=\"block type-u cv_black pad_b80\"\u003e\n\u003cdiv class=\"side-margin\"\u003e\n\u003ch2 class=\"header2\"\u003eEffects\u003c\/h2\u003e\n\u003cdiv class=\"box_type_u\"\u003e\n\u003cdl\u003e\n\u003cdt class=\"header3\"\u003eInsert Effects\u003c\/dt\u003e\n\u003cdd\u003e12\u003cbr\u003eStereo in \/ stereo out\u003c\/dd\u003e\n\u003c\/dl\u003e\n\u003cdl\u003e\n\u003cdt class=\"header3\"\u003eMaster Effects\u003c\/dt\u003e\n\u003cdd\u003e2\u003cbr\u003eStereo in \/ stereo out\u003c\/dd\u003e\n\u003c\/dl\u003e\n\u003cdl\u003e\n\u003cdt class=\"header3\"\u003eTotal Effects\u003c\/dt\u003e\n\u003cdd\u003e2\u003cbr\u003eStereo in \/ stereo out\u003c\/dd\u003e\n\u003c\/dl\u003e\n\u003cdl\u003e\n\u003cdt class=\"header3\"\u003eTimbre EQ\u003c\/dt\u003e\n\u003cdd\u003eOne 3-band EQ for each timbre\/track\u003c\/dd\u003e\n\u003c\/dl\u003e\n\u003cdl\u003e\n\u003cdt class=\"header3\"\u003eEffect Types\u003c\/dt\u003e\n\u003cdd\u003e197\u003c\/dd\u003e\n\u003c\/dl\u003e\n\u003cdl\u003e\n\u003cdt class=\"header3\"\u003eModulation\u003c\/dt\u003e\n\u003cdd\u003eDynamic Modulation and Common LFO\u003c\/dd\u003e\n\u003c\/dl\u003e\n\u003cdl\u003e\n\u003cdt class=\"header3\"\u003eEffects Control Busses\u003c\/dt\u003e\n\u003cdd\u003eStereo side-chaining for compressors, gates, vocoders, etc.\u003c\/dd\u003e\n\u003c\/dl\u003e\n\u003cdl\u003e\n\u003cdt class=\"header3\"\u003eEffect Presets\u003c\/dt\u003e\n\u003cdd\u003eTotal 783 preset, Maximum 32 per 1 effect (Preset User)\u003c\/dd\u003e\n\u003c\/dl\u003e\n\u003c\/div\u003e\n\u003c\/div\u003e\n\u003c\/section\u003e\n\u003csection class=\"block type-u cv_black pad_b80\"\u003e\n\u003cdiv class=\"side-margin\"\u003e\n\u003ch2 class=\"header2\"\u003eKARMA\u003c\/h2\u003e\n\u003cdiv class=\"box_type_u\"\u003e\n\u003cdl\u003e\n\u003cdt class=\"header3\"\u003eKARMA Modules\u003c\/dt\u003e\n\u003cdd\u003eOne module in Program mode, four modules in Combination and Sequencer modes\u003c\/dd\u003e\n\u003c\/dl\u003e\n\u003cdl\u003e\n\u003cdt class=\"header3\"\u003eGenerated Effects (GE)\u003c\/dt\u003e\n\u003cdd\u003e2,048 presets, 1,536 Users (96 come Preload)\u003c\/dd\u003e\n\u003c\/dl\u003e\n\u003cdl\u003e\n\u003cdt class=\"header3\"\u003eControllers\u003c\/dt\u003e\n\u003cdd\u003eOn\/Off, Latch, Chord, Assign, Module, Control, KARMA Realtime Control Sliders [1] – [8], KARMA Scene [1] – [8], KARMA Switches [1] – [8], KARMA Wave-Sequencing, GE Sub Category, Freeze Randomize, Time Signature Control, Tempo Synchronize, Auto RTC (Real Time Control) setup\u003c\/dd\u003e\n\u003c\/dl\u003e\n\u003cdl\u003e\n\u003cdt class=\"header3\"\u003eDrum Track Patterns\u003c\/dt\u003e\n\u003cdd\u003e718 preset (common with the preset patterns of the MIDI sequencer)\u003cbr\u003e1,000 user patterns\u003cbr\u003ePatterns created in Sequencer mode can be converted to drum track user patterns.\u003cbr\u003eTrigger Mode\/Sync\/Zone settings can be specified.\u003c\/dd\u003e\n\u003c\/dl\u003e\n\u003c\/div\u003e\n\u003c\/div\u003e\n\u003c\/section\u003e\n\u003csection class=\"block type-u cv_black pad_b80\"\u003e\n\u003cdiv class=\"side-margin\"\u003e\n\u003ch2 class=\"header2\"\u003eSequencer\/HDR\u003c\/h2\u003e\n\u003cdiv class=\"box_type_u\"\u003e\n\u003cdl\u003e\n\u003cdt class=\"header3\"\u003eTracks\u003c\/dt\u003e\n\u003cdd\u003e16-track MIDI sequencer + 16-track hard disk recorder + 1 master track.\u003c\/dd\u003e\n\u003c\/dl\u003e\n\u003cdl\u003e\n\u003cdt class=\"header3\"\u003eNumber of Songs\u003c\/dt\u003e\n\u003cdd\u003e200 songs\u003c\/dd\u003e\n\u003c\/dl\u003e\n\u003cdl\u003e\n\u003cdt class=\"header3\"\u003eResolution\u003c\/dt\u003e\n\u003cdd\u003e1\/480\u003c\/dd\u003e\n\u003c\/dl\u003e\n\u003cdl\u003e\n\u003cdt class=\"header3\"\u003eTempo\u003c\/dt\u003e\n\u003cdd\u003e40.00 – 300.00 (1\/100 BPM resolution)\u003c\/dd\u003e\n\u003c\/dl\u003e\n\u003cdl\u003e\n\u003cdt class=\"header3\"\u003eMaximum Memory\u003c\/dt\u003e\n\u003cdd\u003e400,000 MIDI events or 300,000 audio events\u003c\/dd\u003e\n\u003c\/dl\u003e\n\u003cdl\u003e\n\u003cdt class=\"header3\"\u003eMIDI Tracks\u003c\/dt\u003e\n\u003cdd\u003e16 tracks plus the master track\u003cbr\u003e718 preset\/100 user patterns (per song)\u003cbr\u003e18 preset\/16 user template songs,\u003c\/dd\u003e\n\u003c\/dl\u003e\n\u003cdl\u003e\n\u003cdt class=\"header3\"\u003eAudio Tracks\u003c\/dt\u003e\n\u003cdd\u003e16-track playback, 4-track simultaneous recording, WAV file format 16bit\/24bit.\u003c\/dd\u003e\n\u003c\/dl\u003e\n\u003cdl\u003e\n\u003cdt class=\"header3\"\u003eOther Functions\u003c\/dt\u003e\n\u003cdd\u003eRPPR (Realtime Pattern Play and Record) (1 Pattern set per song), Auto Song Setup function\u003c\/dd\u003e\n\u003c\/dl\u003e\n\u003c\/div\u003e\n\u003c\/div\u003e\n\u003c\/section\u003e\n\u003csection class=\"block type-u cv_black pad_b80\"\u003e\n\u003cdiv class=\"side-margin\"\u003e\n\u003ch2 class=\"header2\"\u003eGeneral\u003c\/h2\u003e\n\u003cdiv class=\"box_type_u\"\u003e\n\u003cdl\u003e\n\u003cdt class=\"header3\"\u003eDisk Mode\u003c\/dt\u003e\n\u003cdd\u003eLoad, save, utility, audio CD burning, audio CD playback, data filer function (save\/load MIDI System Exclusive data), CD-R\/RW (UDF format read\/write), ISO9660 Level 1.\u003c\/dd\u003e\n\u003c\/dl\u003e\n\u003cdl\u003e\n\u003cdt class=\"header3\"\u003eControllers\u003c\/dt\u003e\n\u003cdd\u003eVector joystick, joystick, ribbon controller, switches 1 \u0026amp; 2\u003cbr\u003e\u003cstrong\u003eControl Surface: \u003c\/strong\u003e\u003cbr\u003e\u003cstrong\u003eControl Assign Switches: \u003c\/strong\u003e\u003cbr\u003eAssigns the Control Surface to Timber\/Track, Audio, External, Realtime Knobs\/KARMA,\u003cbr\u003eTone Adjust\/EQ\u003cbr\u003e\u003cstrong\u003eMixer Knobs Switch: \u003c\/strong\u003e\u003cbr\u003eAssigns the Mixer Knobs to either Channel Strip or Individual Pan, Reset Control Switch, Solo Switch, Knobs 1-8, Switches 1-8(Upper Row), Switches 1-8 (Lower Row), Sliders 1-8, Master Slider\u003cbr\u003e\u003cstrong\u003eKARMA Control: \u003c\/strong\u003e\u003cbr\u003eOn\/Off, Latch, Module Control\u003cbr\u003e\u003cstrong\u003eRUM TRACK: \u003c\/strong\u003e\u003cbr\u003eOn\/Off\u003c\/dd\u003e\n\u003c\/dl\u003e\n\u003cdl\u003e\n\u003cdt class=\"header3\"\u003eDisplay\u003c\/dt\u003e\n\u003cdd\u003eTouchView graphical user interface, 8 inch color TFT, SVGA (800x600 dots), adjustable brightness\u003c\/dd\u003e\n\u003c\/dl\u003e\n\u003cdl\u003e\n\u003cdt class=\"header3\"\u003eOutputs\u003c\/dt\u003e\n\u003cdd\u003e\n\u003cstrong\u003e== Analog == \u003c\/strong\u003e\u003cbr\u003e\u003cstrong\u003e(MAIN) L\/MONO, R: \u003c\/strong\u003e\u003cbr\u003e1\/4" TRS Balanced\u003cbr\u003eOutput Impedance: 350 Ω Stereo; 175 Ω Mono (L\/MONO Only),\u003cbr\u003eNominal Level: +4.0 dBu,\u003cbr\u003eMaximum Level: +16.0 dBu (when load impedance is 600 Ω or greater)\u003cbr\u003eMAIN VOLUME knob controls only AUDIO OUTPUT (MAIN) L\/MONO and R\u003cbr\u003e\u003cstrong\u003eIndividual 1-4: \u003c\/strong\u003e\u003cbr\u003e1\/4" TRS Balanced\u003cbr\u003eOutput Impedance: 350 Ω Stereo; 175 Ω Mono,\u003cbr\u003eNominal Level: +4.0 dBu,\u003cbr\u003eMaximum Level: +16.0 dBu (when load impedance is 600 Ω or greater)\u003cbr\u003e\u003cstrong\u003eHeadphones: \u003c\/strong\u003e\u003cbr\u003e1\/4" stereo phone jack, Output impedance: 33 Ω, Maximum Level: 60+60 mW (when load impedance is 33 Ω),\u003cbr\u003eMAIN VOLUME knob (link with AUDIO OUTPUT (MAIN))\u003cbr\u003e\u003cstrong\u003e== Digital == \u003c\/strong\u003e\u003cbr\u003e\u003cstrong\u003eS\/P DIF: \u003c\/strong\u003e\u003cbr\u003eOptical, 24-bit, IEC60958, EIAJCP-1201, Sample Rate: 48 kHz, (the same signals as L\/MONO, R)\u003cbr\u003eDigital output of the same signals as AUDIO OUTPUT (MAIN) L\/MONO and R\u003cbr\u003e\u003cstrong\u003eUSB-B: \u003c\/strong\u003e\u003cbr\u003e24-bit, Sample Rate: 48 kHz, 2 channels\u003cbr\u003e(Digital output of the same signals as AUDIO OUTPUT (MAIN) L\/MONO and R)\u003c\/dd\u003e\n\u003c\/dl\u003e\n\u003cdl\u003e\n\u003cdt class=\"header3\"\u003eInputs\u003c\/dt\u003e\n\u003cdd\u003e\n\u003cstrong\u003e== Analog == \u003c\/strong\u003e\u003cbr\u003e\u003cstrong\u003eAudio Inputs 1 and 2: \u003c\/strong\u003e\u003cbr\u003e1\/4" TRS Balanced\u003cbr\u003eMIC\/LINE input level switches, LEVEL knobs\u003cbr\u003eInput Impedance: 10 kΩ\u003cbr\u003eNominal Level: LINE\u003cbr\u003e+4 dBu (LEVEL knob = min), –36 dBu (LEVEL knob = max)\u003cbr\u003eNominal Level: MIC\u003cbr\u003e–22 dBu (LEVEL knob = min), –62 dBu (LEVEL knob = max)\u003cbr\u003eMaximum Level: LINE\u003cbr\u003e+16 dBu (LEVEL knob = min), –24 dBu (LEVEL knob = max)\u003cbr\u003eMaximum Level: MIC\u003cbr\u003e-10 dBu (LEVEL knob = min), –50 dBu (LEVEL knob = max)\u003cbr\u003eSource Impedance: 600 Ω\u003cbr\u003eSignal to noise ratio: 95 dB (typical)\u003cbr\u003eDynamic range: 95 dB (typical)\u003cbr\u003eCrosstalk: 95 dB, at 1 kHz (typical)\u003cbr\u003e\u003cstrong\u003e== Digital == \u003c\/strong\u003e\u003cbr\u003e\u003cstrong\u003eS\/P DIF: \u003c\/strong\u003e\u003cbr\u003eOptical, 24-bit, IEC60958, EIAJCP-1201, Sample Rate: 48 kHz\u003cbr\u003e\u003cstrong\u003eUSB-B: \u003c\/strong\u003e\u003cbr\u003e24-bit, Sample Rate: 48 kHz, 2 channels\u003c\/dd\u003e\n\u003c\/dl\u003e\n\u003cdl\u003e\n\u003cdt class=\"header3\"\u003eControl Inputs\u003c\/dt\u003e\n\u003cdd\u003eDamper pedal (half damper supported), assignable switch, assignable pedal\u003c\/dd\u003e\n\u003c\/dl\u003e\n\u003cdl\u003e\n\u003cdt class=\"header3\"\u003eMIDI\u003c\/dt\u003e\n\u003cdd\u003eIn, Out, Thru\u003c\/dd\u003e\n\u003c\/dl\u003e\n\u003cdl\u003e\n\u003cdt class=\"header3\"\u003eUSB*5\u003c\/dt\u003e\n\u003cdd\u003eUSB A (TYPE A) x 2, For connection to external USB devices (QWERTY keyboards, MIDI controllers, ethernet adaptors, and storage)\u003cbr\u003eUSB B (TYPE B) x 1, MIDI\/audio interface\u003cbr\u003eMIDI: 1 (16 channel) input \/ 1 (16 channel) output\u003cbr\u003eAudio: 2 channel input \/ 2 channel output\u003cbr\u003e*5 USB high-speed ports (supports 480Mbps)\u003c\/dd\u003e\n\u003c\/dl\u003e\n\u003cdl\u003e\n\u003cdt class=\"header3\"\u003eDisk Drives\u003c\/dt\u003e\n\u003cdd\u003e60 GB SSD (2.5")\u003cbr\u003eOptional installation of second internal SSD\u003c\/dd\u003e\n\u003c\/dl\u003e\n\u003cdl\u003e\n\u003cdt class=\"header3\"\u003ePower Consumption\u003c\/dt\u003e\n\u003cdd\u003e60W\u003c\/dd\u003e\n\u003c\/dl\u003e\n\u003cdl\u003e\n\u003cdt class=\"header3\"\u003eDimensions\u003cbr\u003e(W x D x H)\u003c\/dt\u003e\n\u003cdd\u003e61 key: 1,040 x 364 x 134 mm \/ 40.94" x 14.33" x 5.28"\u003cbr\u003e73 key: 1,221 x 371 x 148 mm \/ 48.07" x 14.61" x 5.83"\u003cbr\u003e88 key: 1,443 x 371 x 148 mm \/ 56.42" x 14.61" x 5.83"\u003c\/dd\u003e\n\u003c\/dl\u003e\n\u003cdl\u003e\n\u003cdt class=\"header3\"\u003eWeight\u003c\/dt\u003e\n\u003cdd\u003e61 key: 14.3 kg \/ 31.53 lbs.\u003cbr\u003e73 key: 21.1 kg \/ 46.52 lbs.\u003cbr\u003e88 key: 24.1 kg \/ 53.13 lbs.\u003c\/dd\u003e\n\u003c\/dl\u003e\n\u003cdl\u003e\n\u003cdt class=\"header3\"\u003eAccessories\u003c\/dt\u003e\n\u003cdd\u003eAC cord, Quick Start Guide, Accessory DVD Discs 1-3 (DVDs include KRONOS Operation Guide, Parameter Guide, and Voice Name List PDF files; Video Manual; KORG USB-MIDI Driver; System Restore Data, etc.)\u003c\/dd\u003e\n\u003c\/dl\u003e\n\u003c\/div\u003e\n\u003c\/div\u003e\n\u003c\/section\u003e\n\u003csection class=\"block type-u cv_black pad_b80\"\u003e\n\u003cdiv class=\"side-margin\"\u003e\n\u003ch2 class=\"header2\"\u003ePrincipal Specifications\u003c\/h2\u003e\n\u003cdiv class=\"box_type_u\"\u003e\n\u003cdl\u003e\n\u003cdt class=\"header3\"\u003eFrequency Response\u003c\/dt\u003e\n\u003cdd\u003e20Hz-22kHz, +\/-1.0dB, 10k Ω load\u003c\/dd\u003e\n\u003c\/dl\u003e\n\u003cdl\u003e\n\u003cdt class=\"header3\"\u003eTHD+N\u003c\/dt\u003e\n\u003cdd\u003e20Hz-22kHz, 0.01%, 10k Ω load (typical)\u003c\/dd\u003e\n\u003c\/dl\u003e\n\u003cdl\u003e\n\u003cdt class=\"header3\"\u003eS\/N\u003c\/dt\u003e\n\u003cdd\u003e95dB (typical)\u003c\/dd\u003e\n\u003c\/dl\u003e\n\u003cdl\u003e\n\u003cdt class=\"header3\"\u003eDynamic Range\u003c\/dt\u003e\n\u003cdd\u003e95dB (typical)\u003c\/dd\u003e\n\u003c\/dl\u003e\n\u003cdl\u003e\n\u003cdt class=\"header3\"\u003eCrosstalk\u003c\/dt\u003e\n\u003cdd\u003e95dB, at 1kHz (typical)\u003c\/dd\u003e\n\u003c\/dl\u003e\n\u003c\/div\u003e\n\u003cdiv class=\"box_kome_type_u\"\u003e\n\u003ctable\u003e\n\u003ctbody\u003e\n\u003ctr\u003e\n\u003ctd colspan=\"2\"\u003e* All product, company, and standard names are trademarks or registered trademarks of their respective holders.\u003c\/td\u003e\n\u003c\/tr\u003e\n\u003ctr\u003e\n\u003ctd colspan=\"2\"\u003e* Appearance and specifications of products are subject to change without notice.\u003c\/td\u003e\n\u003c\/tr\u003e\n\u003ctr\u003e\n\u003ctd colspan=\"2\"\u003e* The color of the actual instrument may differ slightly from the image shown here.\u003c\/td\u003e\n\u003c\/tr\u003e\n\u003ctr\u003e\n\u003ctd colspan=\"2\"\u003e* Since natural wood is used in the side panels of this instrument, there will be individual differences in the grain and figuration of the wood.\u003c\/td\u003e\n\u003c\/tr\u003e\n\u003c\/tbody\u003e\n\u003c\/table\u003e\n\u003c\/div\u003e\n\u003cdiv class=\"box_kome_type_u\"\u003eBuy the Korg Kronos from Audiosaurus today! - Your online pro audio experts in South Africa.\u003c\/div\u003e\n\u003c\/div\u003e\n\u003c\/section\u003e\n\u003c\/div\u003e\n\u003c\/div\u003e\n\u003c\/div\u003e\n\u003c\/section\u003e\n\u003c\/div\u003e\n\u003c\/div\u003e","published_at":"2016-07-07T12:14:00+02:00","created_at":"2016-05-09T16:22:16+02:00","vendor":"Korg","type":"Keys","tags":["Brand_Korg","DistTuerk","dropdown"],"price":4300000,"price_min":4300000,"price_max":4300000,"available":true,"price_varies":false,"compare_at_price":null,"compare_at_price_min":0,"compare_at_price_max":0,"compare_at_price_varies":false,"variants":[{"id":18709218436,"title":"Default Title","option1":"Default Title","option2":null,"option3":null,"sku":"KA 204","requires_shipping":true,"taxable":true,"featured_image":null,"available":true,"name":"Korg KRONOS 2 61","public_title":null,"options":["Default Title"],"price":4300000,"weight":0,"compare_at_price":null,"inventory_quantity":1,"inventory_management":null,"inventory_policy":"deny","barcode":""}],"images":["\/\/cdn.shopify.com\/s\/files\/1\/0984\/8294\/products\/10110937_800.jpg?v=1467886432"],"featured_image":"\/\/cdn.shopify.com\/s\/files\/1\/0984\/8294\/products\/10110937_800.jpg?v=1467886432","options":["Title"],"content":"\u003cp\u003eMusic Workstation\u003c\/p\u003e\n\u003ch1 class=\"header1\"\u003eEvolve.\u003c\/h1\u003e\n\u003cp\u003eWhen ambition, imagination, and technology converge—the results are spectacular. Witness KRONOS. Created by KORG to satisfy today's most demanding, accomplished performers and producers—as well as tomorrow's visionary leaders—KRONOS embodies over 50 years of artistic vision and production expertise. With nine distinct synthesis engines and a complete suite of performance and productions tools, KRONOS is simply the most versatile synthesizer ever made.\u003c\/p\u003e\n\u003cdiv align=\"left\"\u003e\n\u003cbr\u003eKRONOS restores the magic, the thrill, and the promise that only a visionary new instrument can provide. And KRONOS delivers on that promise. Every resources and technology of service to the modern musician has been refined, perfected, and integrated into a single instrument, and is available on demand. Multiple state-of-the-art sound generation techniques represent the pinnacle of software realization. Onboard effects open the door to processing any internal or external audio source with dazzling results. Multitrack audio and MIDI recording deliver efficient studio operations in a mobile platform. Hands-on hardware includes an assignable control surface, dual joysticks, ribbon controller, top-of-the line keyboard action, and KORG's revolutionary tap-and-drag color TouchView™ display. Best of all, KRONOS integrates all of these music-making resources into a single instrument in ways that no software setup or hardware platform can rival.\u003cbr\u003e\u003cbr\u003eKRONOS easily delivers everything you'd expect, plus many things you've only dreamed of. Set List mode keeps all of your custom settings and performance notes organized in the display for on-the-fly selection. Smooth Sound Transitions eliminate note and effect dropouts when switching sounds or modes. Connect virtual patch cables, select sounds, plus edit envelopes and sequences—all using the eight-inch color TouchView display. Add to that advanced sequencing, KARMA, and Drum Track composition tools. Enjoy exclusive KORG wavesequencing, MS-20 filtering and the impossibly-rich Polysix chorus. And only KORG boasts the finest sound-design team on the planet, so you can always sound your very best.\u003cbr\u003e\u003cbr\u003e\n\u003c\/div\u003e\n\u003cdiv align=\"left\"\u003e\u003ciframe width=\"897\" height=\"502\" src=\"https:\/\/www.youtube.com\/embed\/jshQWP0gQ-k\" frameborder=\"0\" allowfullscreen=\"\"\u003e\u003c\/iframe\u003e\u003c\/div\u003e\n\u003cdiv align=\"left\"\u003e\n\u003cbr\u003e\n\u003cdiv class=\"text_type_p\"\u003e\n\u003ch3 class=\"header3\"\u003e\u003cb\u003eNine Distinct Sound Engines\u003c\/b\u003e\u003c\/h3\u003e\n\u003cp\u003eEach of the individual KRONOS sound engines is eminently qualified to operate as a stand-alone synthesizer. And each one represents the cutting-edge technology available for that type of sound creation. Exacting programming parameters, real-time controllers, integrated effects, and assignable modulation routings provide incredible control for the creating custom edits or for the ambitious sound designer\u003c\/p\u003e\n\u003c\/div\u003e\n\u003cdiv class=\"text_type_p\"\u003e\n\u003ch3 class=\"header3\"\u003e\u003cb\u003eEnhanced SGX-2 Grand Piano Sound Engine\u003c\/b\u003e\u003c\/h3\u003e\n\u003cp\u003eThe KRONOS piano engine has always offered huge collections of non-looped\/natural decay stereo samples, recorded for every key, with additional unique tools to customize the piano to your needs. Inheriting all of this SGX-1 functionality, the new enhanced SGX-2 Grand Piano engine introduces the new Berlin Grand piano to the existing deep German Grand and lively Japanese Grand. The Berlin Grand offers resonant piano sound with a striking sense of depth.\u003cbr\u003e\u003cbr\u003eOther enhancements to the SGX-2 engine included Sympathetic String Resonance and newly-recorded Una Corda (soft pedal – literally "one-string") samples. \u003c\/p\u003e\n\u003c\/div\u003e\n\u003cdiv class=\"text_type_p\"\u003e\n\u003ch3 class=\"header3\"\u003e\u003cb\u003eMassive Sound Selection\u003c\/b\u003e\u003c\/h3\u003e\n\u003cp\u003eKRONOS comes equipped with thousands of sounds, created using various synthesis modes and calling upon over approximately 21 GB of preset waveform data covering a variety of genres. Each one has been carefully crafted by the KORG Sound Design team. The internal SSD offers a generous 62*GB capacity, providing enormous space for user sampling or downloading KRONOS Sound Libraries. These optional expansion KRONOS Sound Libraries add new professionally programmed sounds—without the need to add any new hardware.\u003cbr\u003e\u003cbr\u003eArtist Signature Programs provide the priceless sounds actually used by top-ranking musicians. Additional Song Programs are named for the classic rock and pop songs whose signature keyboard sounds these programs recreate. Use these universally well-known sounds to pay homage to the originals, or as the basis for personal sonic explorations.\u003cbr\u003e\u003cbr\u003e* SSD capacity is subject to change without notice.\u003cbr\u003e\u003cbr\u003e\u003c\/p\u003e\n\u003csection class=\"block type-h cv_charcoal pad_t80\"\u003e\n\u003cdiv class=\"side-margin\"\u003e\n\u003cdiv class=\"content_box_type_h\"\u003e\n\u003cdiv class=\"box_type_h\"\u003e\n\u003ch3 class=\"header3\"\u003eInnovative Set List Mode\u003c\/h3\u003e\n\u003cp\u003eKRONOS can organize all of the resources you need to get through a song—or a set—using the Set List mode. Using the Set List mode, the TouchView display can host 16 color-coded touch-screen buttons; each one can instantly call up the appropriate Preset, Combination, or Sequence—regardless of mode!\u003cbr\u003e\u003cbr\u003eYou can even add handy performance notes ("Sing on Chorus;" "Transpose Down;" "Wait for Sax Solo;" etc.) to each one.\u003cbr\u003e\u003cbr\u003eThe Set List mode even adds a nine-band graphic EQ, allowing the overall tone to be tweaked to match the venue. New in OS version 3.0, Set List mode now allows for deeper customization with many slot color options, text size variations, and a full-screen text editor. Connecting a USB computer keyboard makes it simple to enter text and numeric values.\u003c\/p\u003e\n\u003cp\u003e\u003cimg src=\"http:\/\/cdn.korg.com\/za\/products\/upload\/00d24c3e76d730daa31507aa4a4d2710_pc.jpg?Expires=1470477537\u0026amp;Signature=IUMORFFAvejWg1KpmAmDEViV3t9B5GMT08~FlbZuWee16phpblb2Iqr7~2~3eJU0YYkIYptP4B--jeN8rleuKndo-qmBezeR6emCYDXGCI46xhBgxmMmVf1cE~ZrBgSogZJrU9QmuIpOqVJqxWHeYa534CBQCzOasBHGf1Z5kQW2lXsScfYABMlscLhHUxFBrW3-QPcOJAGy-EPeUiobNEWH7b4F4LqJAM5B3OLJInugz50GQJxvnl13wCejzb4uJnPLMM1D78i~u4pV8CqgWr0N816RNxyR8Wg-VSJcagCF3QPB378lpMv0Hx5NQl2pyrmz1FKMQITad0Xl-jOp8Q__\u0026amp;Key-Pair-Id=APKAIQGL3XAA7HGZGU6Q\" alt=\"\"\u003e\u003c\/p\u003e\n\u003c\/div\u003e\n\u003cdiv class=\"box_type_h\"\u003e\n\u003ch3 class=\"header3\"\u003eColor TouchView Display—Now with Touch-Drag Capability\u003c\/h3\u003e\n\u003cp\u003eThe nerve center of the KRONOS is KORG's enormous eight-inch (800 x 600 pixel) SVGA color TouchView display.\u003cbr\u003e\u003cbr\u003eIn addition to simply selecting a sound or choosing a parameter with the touch of a finger, the enhanced Touch-Drag ability allows more detailed control of parameter values. Interactive instruments and panel graphics provide the ability to do everything from adjusting the lid of a grand piano to connecting patch cable on a semi-modular synthesizer model.\u003cbr\u003e\u003cbr\u003eThe TouchView display also hosts a convenient new Search Function, allowing you to search for (and preview) sounds based on their titles.\u003c\/p\u003e\n\u003c\/div\u003e\n\u003c\/div\u003e\n\u003c\/div\u003e\n\u003c\/section\u003e\n\u003csection class=\"block type-j cv_charcoal\"\u003e\n\u003cdiv class=\"side-margin\"\u003e\n\u003cdiv class=\"images_type_j\"\u003e\n\u003cul class=\"list_images_type_j\"\u003e\n\u003cli\u003e\u003ca href=\"http:\/\/www.korg.com\/za\/products\/synthesizers\/kronos2\/index.php#\" class=\"image_type_j\" onclick=\"javascript:popupImgView('http%3A%2F%2Fcdn.korg.com%2Fza%2Fproducts%2Fupload%2Fff0a9f8f3cbbed331ced3654ff3f65f6.jpg%3FExpires%3D1470477537%26Signature%3DcMYJ53%7Ef02-lUUSAQ7z9o%7ExbhOvdZgDHH0jHL1CrYlxD2PJO7Y3XvKJdEKpcM26uabwDzwYtyoVPcKH6LLOkn5RQ04J3B9-soumKJcARHiidAdCK9Sq4hPZrDSU86CgAjIJq8d1z6i66UpgTcRGwfB6ofdQkG7tTvrZbFFdV5hinGQr6jruiywJVoZ38egLL64QAg7cMa0mf-C8occLyn6G03zsT2-9FOxseMA0%7E6-UV4S3q4avVTX2bzSGByak4J4lSTZbqtYcv7PITwYyjHf6o%7EZFlKrZi-P8rqdawQebrvuoDoGKv2mn6EfxZ42B48EdAMleDwFH8Gri2Z-l6zw__%26Key-Pair-Id%3DAPKAIQGL3XAA7HGZGU6Q'); return false;\"\u003e\u003cimg src=\"http:\/\/cdn.korg.com\/za\/products\/upload\/ff0a9f8f3cbbed331ced3654ff3f65f6_pc.jpg?Expires=1470477537\u0026amp;Signature=rw~eIXykDLH1pKphI5VHR6AKoKrk8WXnKjiECX9puHEVuS018LwLBRco5RAgLNPLv1Yhu~n8JdPgVUL2PPBmz4IwDyQEIGm1Qzbp4MCkhZMWj~WnLIzXEOAkaTiMVRV-372MICEUuzvzqnXTeeLjkvO7c6CsRLR0eCXGSybrGkWVka9NVAemZr1DmLV7rwaOv1V77VgItbHJzYGmuxeNhuxrr6qD6ks2AIxjBK8xYyoRd7ryZXION1wamdJE1kOhGTnETj13vfHIcas-3jwz6-hglxJZ7fpmxX-RtlbhFPIqri0rsLFO7AZ0sp6J5IH33RYYwIcV1hbruPYNknZ7tw__\u0026amp;Key-Pair-Id=APKAIQGL3XAA7HGZGU6Q\" alt=\"\"\u003e\u003cbr\u003e\u003cbr\u003e\u003c\/a\u003e\u003c\/li\u003e\n\u003c\/ul\u003e\n\u003ch2 class=\"header2\"\u003eNine Synthesizer Engines, United in One Instrument\u003c\/h2\u003e\n\u003cp\u003e \u003c\/p\u003e\n\u003cdiv align=\"left\"\u003eKRONOS harnesses nine distinct synthesizer\/sound engines into a single, integrated musical instrument. Dynamic voice allocation and new technologies allow all sound engines to smoothly share a stable, enhanced hardware platform. The results are nothing less than spectacular.\u003cbr\u003e\u003cbr\u003e\n\u003c\/div\u003e\n\u003cdiv align=\"left\"\u003e\n\u003csection class=\"block type-u cv_black pad_t80 pad_b80\"\u003e\n\u003cdiv class=\"side-margin\"\u003e\n\u003ch2 class=\"header2\"\u003eSystem\u003c\/h2\u003e\n\u003cdiv class=\"box_type_u\"\u003e\n\u003cdl\u003e\n\u003cdt class=\"header3\"\u003eSystem\u003c\/dt\u003e\n\u003cdd\u003eKRONOS System Version 3.0\u003c\/dd\u003e\n\u003c\/dl\u003e\n\u003cdl\u003e\n\u003cdt class=\"header3\"\u003eKeyboard\u003c\/dt\u003e\n\u003cdd\u003e88 key: RH3 (Real Weighted Hammer Action 3)\u003cbr\u003e73 key: RH3 (Real Weighted Hammer Action 3)\u003cbr\u003e61 key: Natural Touch Semi Weighted\u003c\/dd\u003e\n\u003c\/dl\u003e\n\u003c\/div\u003e\n\u003c\/div\u003e\n\u003c\/section\u003e\n\u003csection class=\"block type-u cv_black pad_b80\"\u003e\n\u003cdiv class=\"side-margin\"\u003e\n\u003ch2 class=\"header2\"\u003eTone Generator\u003c\/h2\u003e\n\u003cdiv class=\"box_type_u\"\u003e\n\u003cdl\u003e\n\u003cdt class=\"header3\"\u003eSynthesis Types\u003c\/dt\u003e\n\u003cdd\u003e9\u003cbr\u003eSGX-2: Premium Piano (Acoustic Piano)\u003cbr\u003eEP-1: MDS Electric Piano (Electric Piano)\u003cbr\u003eHD-1: High Definition Synthesizer (PCM)\u003cbr\u003eAL-1: Analog Synthesizer (Analog Modeling)\u003cbr\u003eCX-3: Tonewheel Organ (Tonewheel Organ Modeling)\u003cbr\u003eSTR-1: Plucked Strings (Physical Modeling)\u003cbr\u003eMOD-7: Waveshaping VPM Synthesizer (VPM Synthesis)\u003cbr\u003eMS-20EX: Component Modeling Technology (Analog Modeling)\u003cbr\u003ePolysixEX: Component Modeling Technology (CMT Analog Modeling)\u003c\/dd\u003e\n\u003c\/dl\u003e\n\u003cdl\u003e\n\u003cdt class=\"header3\"\u003eMaximum Polyphony*1*2\u003c\/dt\u003e\n\u003cdd\u003eSGX-2: 100 voices*3\u003cbr\u003eEP-1: 104 voices\u003cbr\u003eHD-1: 140 voices\u003cbr\u003eAL-1: 80 voices\u003cbr\u003eCX-3: 200 voices\u003cbr\u003eSTR-1: 40 voices\u003cbr\u003eMOD-7: 52 voices\u003cbr\u003eMS-20EX: 40 voices\u003cbr\u003ePolysixEX: 180 voices\u003cbr\u003e\u003cbr\u003e*1: In rare cases, when a large number of processor-intensive effects are active simultaneously (for instance, more than 14 O-Verbs), polyphony may be slightly reduced.\u003cbr\u003e*2: A portion of the multicore processor in KRONOS is devoted to generating voices, and a separate portion is devoted to generating effects. KRONOS dynamically allocates the voice processing power between the engines as necessary. The quoted maximum numbers of voices apply when 100% of the voice processing power is devoted to a single engine.\u003cbr\u003e*3: 100 dual-stereo notes (equivalent to 400 mono voices)\u003c\/dd\u003e\n\u003c\/dl\u003e\n\u003cdl\u003e\n\u003cdt class=\"header3\"\u003ePreset PCM\u003c\/dt\u003e\n\u003cdd\u003e314 MB (ROM 1,505 Multisamples, 1,388 Drumsamples)\u003c\/dd\u003e\n\u003c\/dl\u003e\n\u003cdl\u003e\n\u003cdt class=\"header3\"\u003eBuild-in Expansion PCM Libraries\u003c\/dt\u003e\n\u003cdd\u003eEXs1 - ROM Expansion\u003cbr\u003eEXs2 - Concert Grand Piano\u003cbr\u003eEXs3 - Brass \u0026amp; Woodwinds\u003cbr\u003eEXs4 - Vintage Keyboards\u003cbr\u003eEXs5 - ROM Expansion 2\u003cbr\u003eEXs6 - SGX-1 German D Piano\u003cbr\u003eEXs7 - SGX-1 Japanese C Piano\u003cbr\u003eEXs8 - Rock Ambience Drums\u003cbr\u003eEXs9 - Jazz Ambience Drums\u003cbr\u003eEXs17 – SGX-2 Berlin D Piano\u003cbr\u003eEXs18 – KORG EXs Collections\u003c\/dd\u003e\n\u003c\/dl\u003e\n\u003cdl\u003e\n\u003cdt class=\"header3\"\u003ePCM RAM Capacity\u003c\/dt\u003e\n\u003cdd\u003eApprox. 2GB *4\u003cbr\u003e*4: The memory available for Sampling Mode will change based on the use of Expansion PCM libraries and User Sample Banks. Approx. 760 MB is available when shipped from the factory (When loading the file named "PRELOAD.KSC").\u003c\/dd\u003e\n\u003c\/dl\u003e\n\u003cdl\u003e\n\u003cdt class=\"header3\"\u003eWave Sequences\u003c\/dt\u003e\n\u003cdd\u003e598 User memory, 187 Preload\u003cbr\u003eSupport for stereo multisamples, synchronization of individual notes, and tempo-based settings.\u003c\/dd\u003e\n\u003c\/dl\u003e\n\u003c\/div\u003e\n\u003c\/div\u003e\n\u003c\/section\u003e\n\u003csection class=\"block type-u cv_black pad_b80\"\u003e\n\u003cdiv class=\"side-margin\"\u003e\n\u003ch2 class=\"header2\"\u003eSGX-2 Program\u003c\/h2\u003e\n\u003cdiv class=\"box_type_u\"\u003e\n\u003cdl\u003e\n\u003cdt class=\"header3\"\u003ePremium Piano\u003c\/dt\u003e\n\u003cdd\u003eVirtual Memory Technology (VMT) plays large samples directly from the internal SSD\u003cbr\u003eFull key stereo sampling, Chromatically sampled at up to 12 velocity levels, no looping.\u003cbr\u003eDamper resonance and mechanical noise are reproduced.\u003cbr\u003eModeled String Resonance.\u003cbr\u003eUna Corda sample support\u003c\/dd\u003e\n\u003c\/dl\u003e\n\u003cdl\u003e\n\u003cdt class=\"header3\"\u003ePCM\u003c\/dt\u003e\n\u003cdd\u003eEXs6:SGX-1 German D Piano\u003cbr\u003eEXs7:SGX-1 Japanese C Piano\u003cbr\u003eEXs12:SGX-1 Austrian D Piano (Option Sound libraries)\u003cbr\u003e8 velocity levels, no Una Corda samples\u003cbr\u003eEXs17:Berlin D Piano\u003cbr\u003e12 velocity levels, includes Una Corda samples\u003c\/dd\u003e\n\u003c\/dl\u003e\n\u003cdl\u003e\n\u003cdt class=\"header3\"\u003ePiano Type\u003c\/dt\u003e\n\u003cdd\u003e64 (With the factory settings, the 16 varieties of EXs12 SGX-1 Austrian D Piano do not produce sound. The EXs12 option must be downloaded.)\u003c\/dd\u003e\n\u003c\/dl\u003e\n\u003cdl\u003e\n\u003cdt class=\"header3\"\u003eOscillator Control\u003c\/dt\u003e\n\u003cdd\u003eDamper Resonance\u003cbr\u003eDamper Noise\u003cbr\u003eMechanical Noise\u003cbr\u003eNote Release\u003cbr\u003eString Resonance\u003cbr\u003eUna Corda\u003c\/dd\u003e\n\u003c\/dl\u003e\n\u003c\/div\u003e\n\u003c\/div\u003e\n\u003c\/section\u003e\n\u003csection class=\"block type-u cv_black pad_b80\"\u003e\n\u003cdiv class=\"side-margin\"\u003e\n\u003ch2 class=\"header2\"\u003eEP-1 Program\u003c\/h2\u003e\n\u003cdiv class=\"box_type_u\"\u003e\n\u003cdl\u003e\n\u003cdt class=\"header3\"\u003eMDS Electric Piano\u003c\/dt\u003e\n\u003cdd\u003eTine and reed-type electric pianos powered by Multi-Dimensional Synthesis (MDS), and vintage effects.\u003c\/dd\u003e\n\u003c\/dl\u003e\n\u003cdl\u003e\n\u003cdt class=\"header3\"\u003eElectric Piano Model Types\u003c\/dt\u003e\n\u003cdd\u003e6\u003cbr\u003eTine EP I, Tine EP II, Tine EP V, Tine EP DMP, Reed EP200, Reed EP200A\u003c\/dd\u003e\n\u003c\/dl\u003e\n\u003cdl\u003e\n\u003cdt class=\"header3\"\u003eOscillator Control\u003c\/dt\u003e\n\u003cdd\u003eHarmonic Sound Level, Attack Noise, Level, Release Noise Level, Attack Brightness, Hammer Width\u003c\/dd\u003e\n\u003c\/dl\u003e\n\u003cdl\u003e\n\u003cdt class=\"header3\"\u003ePanel Control\u003c\/dt\u003e\n\u003cdd\u003eTine Type\u003cbr\u003ePreamp Volume, Tone (Treble, Bass), Vibrate (On\/Off, Intensity, Speed), Amp\/Cabinet (On\/Off, Drive)*5\u003cbr\u003eReed Type\u003cbr\u003ePreamp Volume, Tone (Treble, Bass), Vibrate (Intensity, Speed), Amp\/Cabinet (On\/Off, Drive)*5\u003c\/dd\u003e\n\u003c\/dl\u003e\n\u003cdl\u003e\n\u003cdt class=\"header3\"\u003eEffect Types\u003c\/dt\u003e\n\u003cdd\u003e9\u003cbr\u003eSmall Phase, Orange Phase, Black Phase, Vintage Chorus, Black Chorus, EP Chorus, Vintage Flanger, Red Comp, VOX Wah\u003c\/dd\u003e\n\u003c\/dl\u003e\n\u003c\/div\u003e\n\u003c\/div\u003e\n\u003c\/section\u003e\n\u003csection class=\"block type-u cv_black pad_b80\"\u003e\n\u003cdiv class=\"side-margin\"\u003e\n\u003ch2 class=\"header2\"\u003eHD-1 Program\u003c\/h2\u003e\n\u003cdiv class=\"box_type_u\"\u003e\n\u003cdl\u003e\n\u003cdt class=\"header3\"\u003eAdvanced Vector Synthesis\u003c\/dt\u003e\n\u003cdd\u003eControl oscillator volumes and synthesis \u0026amp; effects parameters via the Vector Joystick and the tempo-synchronized Vector Envelope.\u003c\/dd\u003e\n\u003c\/dl\u003e\n\u003cdl\u003e\n\u003cdt class=\"header3\"\u003eStructure\u003c\/dt\u003e\n\u003cdd\u003eSingle: only OSC1, Double: OSC1 and OSC2.\u003cbr\u003eDouble mode lets you layer two completely separate synth voices, each with their own velocity-switched oscillator, dual filter, EGs, LFOs, etc.\u003cbr\u003eDrums: One drum kit, Double Drums: Two drum kits.\u003c\/dd\u003e\n\u003c\/dl\u003e\n\u003cdl\u003e\n\u003cdt class=\"header3\"\u003eOscillators\u003c\/dt\u003e\n\u003cdd\u003eVirtual Memory Technology (VMT) plays large samples directly from the internal SSD.\u003cbr\u003e8 velocity zones per oscillator, with switching, crossfades and layering \u003cbr\u003eEach zone can play mono or stereo Multisamples or Wave Sequences\u003c\/dd\u003e\n\u003c\/dl\u003e\n\u003cdl\u003e\n\u003cdt class=\"header3\"\u003eFilters\u003c\/dt\u003e\n\u003cdd\u003eTwo multi-mode filters per voices (low-pass, high-pass, band-pass and band-reject),\u003cbr\u003eFour-mode filter routings (single, serial, parallel and 24dB mode)\u003c\/dd\u003e\n\u003c\/dl\u003e\n\u003cdl\u003e\n\u003cdt class=\"header3\"\u003eDriver\u003c\/dt\u003e\n\u003cdd\u003ePer voice non-linear driver and low boost circuit\u003c\/dd\u003e\n\u003c\/dl\u003e\n\u003cdl\u003e\n\u003cdt class=\"header3\"\u003eEQ\u003c\/dt\u003e\n\u003cdd\u003eThree bands, with sweep-able mid\u003c\/dd\u003e\n\u003c\/dl\u003e\n\u003cdl\u003e\n\u003cdt class=\"header3\"\u003eModulation\u003c\/dt\u003e\n\u003cdd\u003eThree envelope generators, two LFOs per voice, common LFO, four key tracking generators, AMS (Alternate Modulation Source), two AMS mixers\u003c\/dd\u003e\n\u003c\/dl\u003e\n\u003c\/div\u003e\n\u003c\/div\u003e\n\u003c\/section\u003e\n\u003csection class=\"block type-u cv_black pad_b80\"\u003e\n\u003cdiv class=\"side-margin\"\u003e\n\u003ch2 class=\"header2\"\u003eEXi Program Common\u003c\/h2\u003e\n\u003cdiv class=\"box_type_u\"\u003e\n\u003cdl\u003e\n\u003cdt class=\"header3\"\u003eAdvanced Vector Synthesis\u003c\/dt\u003e\n\u003cdd\u003eControl oscillator volumes and synthesis \u0026amp; effects parameters via the Vector Joystick and the tempo-synchronized Vector Envelope.\u003c\/dd\u003e\n\u003c\/dl\u003e\n\u003cdl\u003e\n\u003cdt class=\"header3\"\u003eModulation\u003c\/dt\u003e\n\u003cdd\u003eCommon Step Sequencer, AMS (Alternate Modulation Source), Common LFO, 2 Key Tracking Generators\u003c\/dd\u003e\n\u003c\/dl\u003e\n\u003cdl\u003e\n\u003cdt class=\"header3\"\u003eEQ\u003c\/dt\u003e\n\u003cdd\u003eThree bands, with sweep-able mid\u003c\/dd\u003e\n\u003c\/dl\u003e\n\u003c\/div\u003e\n\u003c\/div\u003e\n\u003c\/section\u003e\n\u003csection class=\"block type-u cv_black pad_b80\"\u003e\n\u003cdiv class=\"side-margin\"\u003e\n\u003ch2 class=\"header2\"\u003eAL-1 Program\u003c\/h2\u003e\n\u003cdiv class=\"box_type_u\"\u003e\n\u003cdl\u003e\n\u003cdt class=\"header3\"\u003eOscillators\u003c\/dt\u003e\n\u003cdd\u003eUltra-low-aliasing oscillators\u003cbr\u003eOSC1, OSC2, Sub-oscillator and noise generator; ring modulation, FM and Sync\u003c\/dd\u003e\n\u003c\/dl\u003e\n\u003cdl\u003e\n\u003cdt class=\"header3\"\u003eAudio Input\u003c\/dt\u003e\n\u003cdd\u003eExternal audio can be processed through the ring modulator, filter, driver, amp, and EQ\u003c\/dd\u003e\n\u003c\/dl\u003e\n\u003cdl\u003e\n\u003cdt class=\"header3\"\u003eFilters\u003c\/dt\u003e\n\u003cdd\u003eTwo multi-mode filters (low-pass, high-pass, band-pass and band-reject) with four types of filter routings (single, serial, parallel and 24dB mode),\u003cbr\u003eMulti Filter mode (only Filter-A; modulatable mix of Low Pass, High Pass, Band Pass, and dry input, for creating a wide variety of unique filter types and effects)\u003c\/dd\u003e\n\u003c\/dl\u003e\n\u003cdl\u003e\n\u003cdt class=\"header3\"\u003eDriver\u003c\/dt\u003e\n\u003cdd\u003ePer-voice non-linear driver and low boost circuit\u003c\/dd\u003e\n\u003c\/dl\u003e\n\u003cdl\u003e\n\u003cdt class=\"header3\"\u003eModulation\u003c\/dt\u003e\n\u003cdd\u003eFive Envelope generators, four per-voice LFOs, two AMS Mixers; Per-voice Step Sequencer.\u003c\/dd\u003e\n\u003c\/dl\u003e\n\u003c\/div\u003e\n\u003c\/div\u003e\n\u003c\/section\u003e\n\u003csection class=\"block type-u cv_black pad_b80\"\u003e\n\u003cdiv class=\"side-margin\"\u003e\n\u003ch2 class=\"header2\"\u003eCX-3 Program\u003c\/h2\u003e\n\u003cdiv class=\"box_type_u\"\u003e\n\u003cdl\u003e\n\u003cdt class=\"header3\"\u003eTonewheel Organ Modeling\u003c\/dt\u003e\n\u003cdd\u003ePhase-synchronous tonewheels (clean and vintage modes), percussion, key click, wheel brake\u003c\/dd\u003e\n\u003c\/dl\u003e\n\u003cdl\u003e\n\u003cdt class=\"header3\"\u003eEX Mode\u003c\/dt\u003e\n\u003cdd\u003eFour additional, user-specified drawbars, and expanded percussion.\u003c\/dd\u003e\n\u003c\/dl\u003e\n\u003cdl\u003e\n\u003cdt class=\"header3\"\u003eInternal Effects\u003c\/dt\u003e\n\u003cdd\u003eRotary speaker, vibrato\/chorus, amp modeling with overdrive, 3-band EQ\u003c\/dd\u003e\n\u003c\/dl\u003e\n\u003cdl\u003e\n\u003cdt class=\"header3\"\u003eDrawbar Control\u003c\/dt\u003e\n\u003cdd\u003eControlled via nine front-panel sliders (via Tone Adjust)\u003c\/dd\u003e\n\u003c\/dl\u003e\n\u003cdl\u003e\n\u003cdt class=\"header3\"\u003eSplit\u003c\/dt\u003e\n\u003cdd\u003eUpper, Lower (even in EX mode)\u003c\/dd\u003e\n\u003c\/dl\u003e\n\u003cdl\u003e\n\u003cdt class=\"header3\"\u003eModulation\u003c\/dt\u003e\n\u003cdd\u003eTwo AMS mixers\u003c\/dd\u003e\n\u003c\/dl\u003e\n\u003c\/div\u003e\n\u003c\/div\u003e\n\u003c\/section\u003e\n\u003csection class=\"block type-u cv_black pad_b80\"\u003e\n\u003cdiv class=\"side-margin\"\u003e\n\u003ch2 class=\"header2\"\u003eSTR-1 Program\u003c\/h2\u003e\n\u003cdiv class=\"box_type_u\"\u003e\n\u003cdl\u003e\n\u003cdt class=\"header3\"\u003ePhysically Modeled String\u003c\/dt\u003e\n\u003cdd\u003eIncludes physically modeled damping, decay, dispersion, nonlinearity, harmonics, dual pickups, and more.\u003cbr\u003eMost string parameters can be controlled in realtime.\u003c\/dd\u003e\n\u003c\/dl\u003e\n\u003cdl\u003e\n\u003cdt class=\"header3\"\u003eString Excitation\u003c\/dt\u003e\n\u003cdd\u003eThree independent excitation sources can be used simultaneously: Pluck, Noise, and PCM.\u003cbr\u003e16 preset "pluck" types, with modulatable width and randomization. Noise generator with saturation and dedicated low pass filter\u003cbr\u003e\u003cstrong\u003ePCM Oscillator: \u003c\/strong\u003e\u003cbr\u003eKORG's ultra-low-aliasing technology, as introduced in the HD-1;\u003cbr\u003e4 velocity zones per oscillator;\u003cbr\u003eUses any mono Multisamples, including ROM, EXs, User Sample Bank, or Sampling Mode.\u003cbr\u003eSupports Virtual Memory.\u003cbr\u003e\u003cstrong\u003eExcitation Filter: \u003c\/strong\u003e\u003cbr\u003eDedicated 2-pole multimode filter for shaping the string excitation.\u003cbr\u003eFilter can be enabled\/disabled separately for each excitation source.\u003cbr\u003eLow Pass, High Pass, Band Pass, and Band Reject modes\u003c\/dd\u003e\n\u003c\/dl\u003e\n\u003cdl\u003e\n\u003cdt class=\"header3\"\u003eAudio Input and Feedback\u003c\/dt\u003e\n\u003cdd\u003eRun real-time audio through the string, including feedback through effects.\u003cbr\u003eModeled feedback includes modulate-able instrument-to-amp distance and orientation.\u003c\/dd\u003e\n\u003c\/dl\u003e\n\u003cdl\u003e\n\u003cdt class=\"header3\"\u003eFilters\u003c\/dt\u003e\n\u003cdd\u003eDual multi-mode filters per voice; Single, Serial, Parallel (with split stereo output), and 24dB (4-pole) configurations. Low Pass, High Pass, Band Pass, and Band Reject modes\u003cbr\u003e\u003cstrong\u003eMulti Filter Mode (Filter A only).\u003c\/strong\u003e\u003cbr\u003eModulatable mix of Low Pass, High Pass, Band Pass, and dry input, for creating a wide variety of unique filter types and effects\u003c\/dd\u003e\n\u003c\/dl\u003e\n\u003cdl\u003e\n\u003cdt class=\"header3\"\u003eModulation\u003c\/dt\u003e\n\u003cdd\u003e5 Envelopes, 4 per-voice LFOs, 2 Key Track generators, String Tracking generators, 4 AMS Mixers.\u003c\/dd\u003e\n\u003c\/dl\u003e\n\u003c\/div\u003e\n\u003c\/div\u003e\n\u003c\/section\u003e\n\u003csection class=\"block type-u cv_black pad_b80\"\u003e\n\u003cdiv class=\"side-margin\"\u003e\n\u003ch2 class=\"header2\"\u003eMOD-7 Program\u003c\/h2\u003e\n\u003cdiv class=\"box_type_u\"\u003e\n\u003cdl\u003e\n\u003cdt class=\"header3\"\u003eWaveshaping VPM Synthesizer\u003c\/dt\u003e\n\u003cdd\u003eCombines Variable Phase Modulation (VPM), Waveshaping ring modulation, PCM sample playback, and subtractive synthesis; Able to convert-load SYX files.\u003c\/dd\u003e\n\u003c\/dl\u003e\n\u003cdl\u003e\n\u003cdt class=\"header3\"\u003eOscillators\u003c\/dt\u003e\n\u003cdd\u003e\n\u003cstrong\u003e6 VPM\/Waveshaper\/Ring Modulation Oscillators: \u003c\/strong\u003e\u003cbr\u003ePhase and modulatable pitch per oscillator.\u003cbr\u003e101 Waveshaper tables plus modulatable Drive and Offset.\u003cbr\u003eUse as oscillators, or as Waveshapers or Ring Modulators for other signals.\u003cbr\u003e\u003cstrong\u003ePCM Oscillator: \u003c\/strong\u003e\u003cbr\u003eKORG's ultra-low-aliasing technology, as introduced in the HD-1.\u003cbr\u003e4 velocity zones per oscillator.\u003cbr\u003eUses any mono Multisamples, including ROM, EXs, User Sample Bank, or Sampling Mode. Supports Virtual Memory.\u003c\/dd\u003e\n\u003c\/dl\u003e\n\u003cdl\u003e\n\u003cdt class=\"header3\"\u003eAudio input\u003c\/dt\u003e\n\u003cdd\u003eRun real-time audio through the VPM Oscillators and filters.\u003c\/dd\u003e\n\u003c\/dl\u003e\n\u003cdl\u003e\n\u003cdt class=\"header3\"\u003eFilters\u003c\/dt\u003e\n\u003cdd\u003eDual multi-mode filters per voice. (Low Pass, High Pass, Band Pass, and Band Reject modes)\u003cbr\u003eTwo types of filter looping (Parallel and 24 dB "4-Pole")\u003cbr\u003e\u003cstrong\u003eMulti Filter mode (Filter A only): \u003c\/strong\u003e\u003cbr\u003eModulatable mix of Low Pass, High Pass, Band Pass, and dry input, for creating a wide variety of unique filter types and effects\u003c\/dd\u003e\n\u003c\/dl\u003e\n\u003cdl\u003e\n\u003cdt class=\"header3\"\u003ePatch Panel\u003c\/dt\u003e\n\u003cdd\u003eSupports both preset algorithm (78 types) selection and free patching.\u003cbr\u003eThree 2-in, 1-out mixers for scaling and merging audio, fully modulatable, with phase inversion.\u003cbr\u003eMain 6-input stereo mixer, with modulatable pan and volume, plus phase inversion\u003c\/dd\u003e\n\u003c\/dl\u003e\n\u003cdl\u003e\n\u003cdt class=\"header3\"\u003eModulation\u003c\/dt\u003e\n\u003cdd\u003e10 Envelopes, 4 per-voice LFOs, 9 Key Tracking generators, Per-voice Step Sequencer, 4 standard AMS Mixers plus 4 simple AMS Mixers.\u003c\/dd\u003e\n\u003c\/dl\u003e\n\u003c\/div\u003e\n\u003c\/div\u003e\n\u003c\/section\u003e\n\u003csection class=\"block type-u cv_black pad_b80\"\u003e\n\u003cdiv class=\"side-margin\"\u003e\n\u003ch2 class=\"header2\"\u003eMS-20EX Program\u003c\/h2\u003e\n\u003cdiv class=\"box_type_u\"\u003e\n\u003cdl\u003e\n\u003cdt class=\"header3\"\u003eOscillators\u003c\/dt\u003e\n\u003cdd\u003eUltra-low-aliasing oscillators; VCO1, VCO2, Ring Mod, Pink and White Noise Generator\u003c\/dd\u003e\n\u003c\/dl\u003e\n\u003cdl\u003e\n\u003cdt class=\"header3\"\u003eAudio Input\u003c\/dt\u003e\n\u003cdd\u003eRun real-time audio through the synthesis engine and ESP (External Signal Processor)\u003c\/dd\u003e\n\u003c\/dl\u003e\n\u003cdl\u003e\n\u003cdt class=\"header3\"\u003eFilters\u003c\/dt\u003e\n\u003cdd\u003e12dB\/octave High Pass and Low Pass self-resonant filters\u003cbr\u003e\u003cstrong\u003eESP section: \u003c\/strong\u003e\u003cbr\u003e24dB\/octave Low Cut and High Cut filters, available per voice.\u003c\/dd\u003e\n\u003c\/dl\u003e\n\u003cdl\u003e\n\u003cdt class=\"header3\"\u003ePatch Panel\u003c\/dt\u003e\n\u003cdd\u003ePatchable audio and modulation, at audio rates\u003c\/dd\u003e\n\u003c\/dl\u003e\n\u003cdl\u003e\n\u003cdt class=\"header3\"\u003ePatch Points\u003c\/dt\u003e\n\u003cdd\u003e\n\u003cstrong\u003eKeyboard: \u003c\/strong\u003e\u003cbr\u003eKeyboard CV Out, Keyboard Trigger Out, VCO1+VCO2 CV In, VCO2 CV In\u003cbr\u003e\u003cstrong\u003eVCO: \u003c\/strong\u003e\u003cbr\u003eVCO1+VCO2 External Frequency Control In, VCO1 Out, VCO2 Out\u003cbr\u003e\u003cstrong\u003eVCF: \u003c\/strong\u003e\u003cbr\u003eExternal Signal In, External HP Filter Cutoff Frequency Control In, External LP Filter Cutoff Frequency Control In, HPF Out, LPF In, LPF Out\u003cbr\u003e\u003cstrong\u003eVCO+VCF: \u003c\/strong\u003e\u003cbr\u003eTotal External Modulation In\u003cbr\u003e\u003cstrong\u003eVCA: \u003c\/strong\u003e\u003cbr\u003eExternal Initial Gain Control In, VCA In\u003cbr\u003e\u003cstrong\u003eEG: \u003c\/strong\u003e\u003cbr\u003eEG1 Envelope Signal Normal Out, EG1 Envelope Signal Reverse Out, EG1+EG2 Trigger In, EG1 Trigger In, EG2 Envelope Signal Reverse Out\u003cbr\u003e\u003cstrong\u003eMG: \u003c\/strong\u003e\u003cbr\u003eTriangle Out, Rectangle Out\u003cbr\u003e\u003cstrong\u003eNoise Generator: \u003c\/strong\u003e\u003cbr\u003ePink Noise Out, White Noise Out\u003cbr\u003e\u003cstrong\u003eSample and Hold: \u003c\/strong\u003e\u003cbr\u003eClock Trigger In, Sample Signal In, S\/H Out\u003cbr\u003e\u003cstrong\u003eModulation VCA: \u003c\/strong\u003e\u003cbr\u003eControl Voltage In, Signal In, Signal Out\u003cbr\u003e\u003cstrong\u003eManual Controller: \u003c\/strong\u003e\u003cbr\u003eControl Wheel Out, Momentary Switch\u003cbr\u003e\u003cstrong\u003eESP: \u003c\/strong\u003e\u003cbr\u003eSignal In, AMP Out, BPF In, BPF Out, F-V CV Out, Envelope Out, Trigger Out\u003cbr\u003e\u003cstrong\u003eOthers: \u003c\/strong\u003e\u003cbr\u003eEXi Audio In, Mixer 1 In, Mixer 1 Out, Mixer 2 In, Mixer 2 Out\u003c\/dd\u003e\n\u003c\/dl\u003e\n\u003cdl\u003e\n\u003cdt class=\"header3\"\u003eESP (External Signal Processor)\u003c\/dt\u003e\n\u003cdd\u003eUse incoming audio as a trigger and\/or CV source.\u003c\/dd\u003e\n\u003c\/dl\u003e\n\u003cdl\u003e\n\u003cdt class=\"header3\"\u003eModulation\u003c\/dt\u003e\n\u003cdd\u003eOriginal DAR (Delay, Attack, Release) and HADSR (Hold, Attack, Decay, Sustain, Release) EGs 1 \u0026amp;2,\u003cbr\u003eOriginal MG (with MIDI sync), Sample-and- Hold, MVCA,\u003cbr\u003eKRONOS: 4 additional multi-stage Envelopes, 4 additional per-voice LFOs, and 4 AMS Mixers.\u003c\/dd\u003e\n\u003c\/dl\u003e\n\u003c\/div\u003e\n\u003c\/div\u003e\n\u003c\/section\u003e\n\u003csection class=\"block type-u cv_black pad_b80\"\u003e\n\u003cdiv class=\"side-margin\"\u003e\n\u003ch2 class=\"header2\"\u003ePolysixEX Program\u003c\/h2\u003e\n\u003cdiv class=\"box_type_u\"\u003e\n\u003cdl\u003e\n\u003cdt class=\"header3\"\u003eOscillators\u003c\/dt\u003e\n\u003cdd\u003e\n\u003cstrong\u003eVCO: \u003c\/strong\u003e\u003cbr\u003eSaw, Pulse, PWM\u003cbr\u003e\u003cstrong\u003eSub Oscillator: \u003c\/strong\u003e\u003cbr\u003eOff, 1 octave below, 2 octaves below\u003c\/dd\u003e\n\u003c\/dl\u003e\n\u003cdl\u003e\n\u003cdt class=\"header3\"\u003eFilter\u003c\/dt\u003e\n\u003cdd\u003e24dB (4-Pole) Octave Low Pass self-resonant filter\u003c\/dd\u003e\n\u003c\/dl\u003e\n\u003cdl\u003e\n\u003cdt class=\"header3\"\u003eEffects\u003c\/dt\u003e\n\u003cdd\u003eIntegrated Polysix Chorus, Phaser, and Ensemble\u003c\/dd\u003e\n\u003c\/dl\u003e\n\u003cdl\u003e\n\u003cdt class=\"header3\"\u003eArpeggiator\u003c\/dt\u003e\n\u003cdd\u003eIntegrated MIDI-synced arpeggiator, with adjustable Range, Mode, and Latch\u003c\/dd\u003e\n\u003c\/dl\u003e\n\u003cdl\u003e\n\u003cdt class=\"header3\"\u003eModulation\u003c\/dt\u003e\n\u003cdd\u003ePolysix: Original ADSR EG and MG (with MIDI sync).\u003cbr\u003eKRONOS: 2 additional multi-stage Envelopes, 2 additional per-voice LFOs, and 4 AMS Mixers.\u003c\/dd\u003e\n\u003c\/dl\u003e\n\u003c\/div\u003e\n\u003c\/div\u003e\n\u003c\/section\u003e\n\u003csection class=\"block type-u cv_black pad_b80\"\u003e\n\u003cdiv class=\"side-margin\"\u003e\n\u003ch2 class=\"header2\"\u003eCombination\u003c\/h2\u003e\n\u003cdiv class=\"box_type_u\"\u003e\n\u003cdl\u003e\n\u003cdt class=\"header3\"\u003eNumber of Timbres, Master Keyboard Functionality\u003c\/dt\u003e\n\u003cdd\u003e16 Maximum\u003cbr\u003eKeyboard and velocity splits, layers, and crossfades of up to 16 Programs and\/or external MIDI Devices\u003cbr\u003eThe tone adjust parameter function lets you modify program settings, and the master keyboard function lets you control external MIDI devices\u003c\/dd\u003e\n\u003c\/dl\u003e\n\u003cdl\u003e\n\u003cdt class=\"header3\"\u003eAdvanced Vector Synthesis\u003c\/dt\u003e\n\u003cdd\u003eControl oscillator volumes and synthesis \u0026amp; effects parameters via the Vector Joystick and the tempo-synchronized Vector Envelope.\u003c\/dd\u003e\n\u003c\/dl\u003e\n\u003c\/div\u003e\n\u003c\/div\u003e\n\u003c\/section\u003e\n\u003csection class=\"block type-u cv_black pad_b80\"\u003e\n\u003cdiv class=\"side-margin\"\u003e\n\u003ch2 class=\"header2\"\u003eDrumkit\u003c\/h2\u003e\n\u003cdiv class=\"box_type_u\"\u003e\n\u003cdl\u003e\n\u003cdt class=\"header3\"\u003eSystem\u003c\/dt\u003e\n\u003cdd\u003eAssignable stereo\/mono samples with 8 velocity zones per oscillator (with crossfade functions)\u003c\/dd\u003e\n\u003c\/dl\u003e\n\u003c\/div\u003e\n\u003c\/div\u003e\n\u003c\/section\u003e\n\u003csection class=\"block type-u cv_black pad_b80\"\u003e\n\u003cdiv class=\"side-margin\"\u003e\n\u003ch2 class=\"header2\"\u003eNumber of Programs\/Combinations\/Drum kits\u003c\/h2\u003e\n\u003cdiv class=\"box_type_u\"\u003e\n\u003cdl\u003e\n\u003cdt class=\"header3\"\u003eUser Memory Programs\u003c\/dt\u003e\n\u003cdd\u003e2,560 (1,792 [896 HD-1+896 EXi] come preloaded)\u003c\/dd\u003e\n\u003c\/dl\u003e\n\u003cdl\u003e\n\u003cdt class=\"header3\"\u003eUser Memory Combinations\u003c\/dt\u003e\n\u003cdd\u003e1,792 (512 come preloaded)\u003c\/dd\u003e\n\u003c\/dl\u003e\n\u003cdl\u003e\n\u003cdt class=\"header3\"\u003eUser Memory Drum Kits\u003c\/dt\u003e\n\u003cdd\u003e264 (78 come preloaded)\u003c\/dd\u003e\n\u003c\/dl\u003e\n\u003cdl\u003e\n\u003cdd\u003e256 GM Level2 preset programs + 9 GM Level 2 drum preset programs\u003c\/dd\u003e\n\u003c\/dl\u003e\n\u003c\/div\u003e\n\u003c\/div\u003e\n\u003c\/section\u003e\n\u003csection class=\"block type-u cv_black pad_b80\"\u003e\n\u003cdiv class=\"side-margin\"\u003e\n\u003ch2 class=\"header2\"\u003eSet List\u003c\/h2\u003e\n\u003cdiv class=\"box_type_u\"\u003e\n\u003cdl\u003e\n\u003cdt class=\"header3\"\u003eNumber of Set Lists\/Slots\u003c\/dt\u003e\n\u003cdd\u003e128 set lists, 128 slots per set list\u003cbr\u003eEach set list provides a 9-band graphic EQ, and a Tone Adjust function that allows program settings to be adjusted.\u003cbr\u003eTranspose setting.\u003cbr\u003eHold Time setting of Smooth Sound Transition (SST) supported for each slot.\u003c\/dd\u003e\n\u003c\/dl\u003e\n\u003c\/div\u003e\n\u003c\/div\u003e\n\u003c\/section\u003e\n\u003csection class=\"block type-u cv_black pad_b80\"\u003e\n\u003cdiv class=\"side-margin\"\u003e\n\u003ch2 class=\"header2\"\u003eSampling\u003c\/h2\u003e\n\u003cdiv class=\"box_type_u\"\u003e\n\u003cdl\u003e\n\u003cdt class=\"header3\"\u003eSystem\u003c\/dt\u003e\n\u003cdd\u003eOpen Sampling System (resampling, In-Track sampling)\u003c\/dd\u003e\n\u003c\/dl\u003e\n\u003cdl\u003e\n\u003cdt class=\"header3\"\u003eBit Depth\/Sampling Frequency\u003c\/dt\u003e\n\u003cdd\u003eRAM: 16-bit\/48 kHz stereo\/mono sampling\u003cbr\u003eDISK: 16 or 24-bit\/48 kHz\u003c\/dd\u003e\n\u003c\/dl\u003e\n\u003cdl\u003e\n\u003cdt class=\"header3\"\u003eSampling Time\u003c\/dt\u003e\n\u003cdd\u003eRAM: Depends on the amount of available PCM RAM\u003cbr\u003eDISK: Maximum 80 minutes stereo (879MB: 16bit)\u003c\/dd\u003e\n\u003c\/dl\u003e\n\u003cdl\u003e\n\u003cdt class=\"header3\"\u003eSample Locations\u003c\/dt\u003e\n\u003cdd\u003e16,000 samples\/4,000 multisamples (128 indexes per multisample)\u003c\/dd\u003e\n\u003c\/dl\u003e\n\u003cdl\u003e\n\u003cdt class=\"header3\"\u003eRipping\u003c\/dt\u003e\n\u003cdd\u003eDirect sampling (ripping) from audio CD (CD-DA)\u003c\/dd\u003e\n\u003c\/dl\u003e\n\u003cdl\u003e\n\u003cdt class=\"header3\"\u003eFormats\u003c\/dt\u003e\n\u003cdd\u003eKORG format, AKAI S1000\/S3000 data (with advanced Program parameter conversion); SoundFont 2.0, AIFF, and WAVE formats\u003c\/dd\u003e\n\u003c\/dl\u003e\n\u003cdl\u003e\n\u003cdt class=\"header3\"\u003eEditing\u003c\/dt\u003e\n\u003cdd\u003eTime Stretch, Time Slice, Crossfade Loop, and other standard editing features.\u003c\/dd\u003e\n\u003c\/dl\u003e\n\u003c\/div\u003e\n\u003c\/div\u003e\n\u003c\/section\u003e\n\u003csection class=\"block type-u cv_black pad_b80\"\u003e\n\u003cdiv class=\"side-margin\"\u003e\n\u003ch2 class=\"header2\"\u003eEffects\u003c\/h2\u003e\n\u003cdiv class=\"box_type_u\"\u003e\n\u003cdl\u003e\n\u003cdt class=\"header3\"\u003eInsert Effects\u003c\/dt\u003e\n\u003cdd\u003e12\u003cbr\u003eStereo in \/ stereo out\u003c\/dd\u003e\n\u003c\/dl\u003e\n\u003cdl\u003e\n\u003cdt class=\"header3\"\u003eMaster Effects\u003c\/dt\u003e\n\u003cdd\u003e2\u003cbr\u003eStereo in \/ stereo out\u003c\/dd\u003e\n\u003c\/dl\u003e\n\u003cdl\u003e\n\u003cdt class=\"header3\"\u003eTotal Effects\u003c\/dt\u003e\n\u003cdd\u003e2\u003cbr\u003eStereo in \/ stereo out\u003c\/dd\u003e\n\u003c\/dl\u003e\n\u003cdl\u003e\n\u003cdt class=\"header3\"\u003eTimbre EQ\u003c\/dt\u003e\n\u003cdd\u003eOne 3-band EQ for each timbre\/track\u003c\/dd\u003e\n\u003c\/dl\u003e\n\u003cdl\u003e\n\u003cdt class=\"header3\"\u003eEffect Types\u003c\/dt\u003e\n\u003cdd\u003e197\u003c\/dd\u003e\n\u003c\/dl\u003e\n\u003cdl\u003e\n\u003cdt class=\"header3\"\u003eModulation\u003c\/dt\u003e\n\u003cdd\u003eDynamic Modulation and Common LFO\u003c\/dd\u003e\n\u003c\/dl\u003e\n\u003cdl\u003e\n\u003cdt class=\"header3\"\u003eEffects Control Busses\u003c\/dt\u003e\n\u003cdd\u003eStereo side-chaining for compressors, gates, vocoders, etc.\u003c\/dd\u003e\n\u003c\/dl\u003e\n\u003cdl\u003e\n\u003cdt class=\"header3\"\u003eEffect Presets\u003c\/dt\u003e\n\u003cdd\u003eTotal 783 preset, Maximum 32 per 1 effect (Preset User)\u003c\/dd\u003e\n\u003c\/dl\u003e\n\u003c\/div\u003e\n\u003c\/div\u003e\n\u003c\/section\u003e\n\u003csection class=\"block type-u cv_black pad_b80\"\u003e\n\u003cdiv class=\"side-margin\"\u003e\n\u003ch2 class=\"header2\"\u003eKARMA\u003c\/h2\u003e\n\u003cdiv class=\"box_type_u\"\u003e\n\u003cdl\u003e\n\u003cdt class=\"header3\"\u003eKARMA Modules\u003c\/dt\u003e\n\u003cdd\u003eOne module in Program mode, four modules in Combination and Sequencer modes\u003c\/dd\u003e\n\u003c\/dl\u003e\n\u003cdl\u003e\n\u003cdt class=\"header3\"\u003eGenerated Effects (GE)\u003c\/dt\u003e\n\u003cdd\u003e2,048 presets, 1,536 Users (96 come Preload)\u003c\/dd\u003e\n\u003c\/dl\u003e\n\u003cdl\u003e\n\u003cdt class=\"header3\"\u003eControllers\u003c\/dt\u003e\n\u003cdd\u003eOn\/Off, Latch, Chord, Assign, Module, Control, KARMA Realtime Control Sliders [1] – [8], KARMA Scene [1] – [8], KARMA Switches [1] – [8], KARMA Wave-Sequencing, GE Sub Category, Freeze Randomize, Time Signature Control, Tempo Synchronize, Auto RTC (Real Time Control) setup\u003c\/dd\u003e\n\u003c\/dl\u003e\n\u003cdl\u003e\n\u003cdt class=\"header3\"\u003eDrum Track Patterns\u003c\/dt\u003e\n\u003cdd\u003e718 preset (common with the preset patterns of the MIDI sequencer)\u003cbr\u003e1,000 user patterns\u003cbr\u003ePatterns created in Sequencer mode can be converted to drum track user patterns.\u003cbr\u003eTrigger Mode\/Sync\/Zone settings can be specified.\u003c\/dd\u003e\n\u003c\/dl\u003e\n\u003c\/div\u003e\n\u003c\/div\u003e\n\u003c\/section\u003e\n\u003csection class=\"block type-u cv_black pad_b80\"\u003e\n\u003cdiv class=\"side-margin\"\u003e\n\u003ch2 class=\"header2\"\u003eSequencer\/HDR\u003c\/h2\u003e\n\u003cdiv class=\"box_type_u\"\u003e\n\u003cdl\u003e\n\u003cdt class=\"header3\"\u003eTracks\u003c\/dt\u003e\n\u003cdd\u003e16-track MIDI sequencer + 16-track hard disk recorder + 1 master track.\u003c\/dd\u003e\n\u003c\/dl\u003e\n\u003cdl\u003e\n\u003cdt class=\"header3\"\u003eNumber of Songs\u003c\/dt\u003e\n\u003cdd\u003e200 songs\u003c\/dd\u003e\n\u003c\/dl\u003e\n\u003cdl\u003e\n\u003cdt class=\"header3\"\u003eResolution\u003c\/dt\u003e\n\u003cdd\u003e1\/480\u003c\/dd\u003e\n\u003c\/dl\u003e\n\u003cdl\u003e\n\u003cdt class=\"header3\"\u003eTempo\u003c\/dt\u003e\n\u003cdd\u003e40.00 – 300.00 (1\/100 BPM resolution)\u003c\/dd\u003e\n\u003c\/dl\u003e\n\u003cdl\u003e\n\u003cdt class=\"header3\"\u003eMaximum Memory\u003c\/dt\u003e\n\u003cdd\u003e400,000 MIDI events or 300,000 audio events\u003c\/dd\u003e\n\u003c\/dl\u003e\n\u003cdl\u003e\n\u003cdt class=\"header3\"\u003eMIDI Tracks\u003c\/dt\u003e\n\u003cdd\u003e16 tracks plus the master track\u003cbr\u003e718 preset\/100 user patterns (per song)\u003cbr\u003e18 preset\/16 user template songs,\u003c\/dd\u003e\n\u003c\/dl\u003e\n\u003cdl\u003e\n\u003cdt class=\"header3\"\u003eAudio Tracks\u003c\/dt\u003e\n\u003cdd\u003e16-track playback, 4-track simultaneous recording, WAV file format 16bit\/24bit.\u003c\/dd\u003e\n\u003c\/dl\u003e\n\u003cdl\u003e\n\u003cdt class=\"header3\"\u003eOther Functions\u003c\/dt\u003e\n\u003cdd\u003eRPPR (Realtime Pattern Play and Record) (1 Pattern set per song), Auto Song Setup function\u003c\/dd\u003e\n\u003c\/dl\u003e\n\u003c\/div\u003e\n\u003c\/div\u003e\n\u003c\/section\u003e\n\u003csection class=\"block type-u cv_black pad_b80\"\u003e\n\u003cdiv class=\"side-margin\"\u003e\n\u003ch2 class=\"header2\"\u003eGeneral\u003c\/h2\u003e\n\u003cdiv class=\"box_type_u\"\u003e\n\u003cdl\u003e\n\u003cdt class=\"header3\"\u003eDisk Mode\u003c\/dt\u003e\n\u003cdd\u003eLoad, save, utility, audio CD burning, audio CD playback, data filer function (save\/load MIDI System Exclusive data), CD-R\/RW (UDF format read\/write), ISO9660 Level 1.\u003c\/dd\u003e\n\u003c\/dl\u003e\n\u003cdl\u003e\n\u003cdt class=\"header3\"\u003eControllers\u003c\/dt\u003e\n\u003cdd\u003eVector joystick, joystick, ribbon controller, switches 1 \u0026amp; 2\u003cbr\u003e\u003cstrong\u003eControl Surface: \u003c\/strong\u003e\u003cbr\u003e\u003cstrong\u003eControl Assign Switches: \u003c\/strong\u003e\u003cbr\u003eAssigns the Control Surface to Timber\/Track, Audio, External, Realtime Knobs\/KARMA,\u003cbr\u003eTone Adjust\/EQ\u003cbr\u003e\u003cstrong\u003eMixer Knobs Switch: \u003c\/strong\u003e\u003cbr\u003eAssigns the Mixer Knobs to either Channel Strip or Individual Pan, Reset Control Switch, Solo Switch, Knobs 1-8, Switches 1-8(Upper Row), Switches 1-8 (Lower Row), Sliders 1-8, Master Slider\u003cbr\u003e\u003cstrong\u003eKARMA Control: \u003c\/strong\u003e\u003cbr\u003eOn\/Off, Latch, Module Control\u003cbr\u003e\u003cstrong\u003eRUM TRACK: \u003c\/strong\u003e\u003cbr\u003eOn\/Off\u003c\/dd\u003e\n\u003c\/dl\u003e\n\u003cdl\u003e\n\u003cdt class=\"header3\"\u003eDisplay\u003c\/dt\u003e\n\u003cdd\u003eTouchView graphical user interface, 8 inch color TFT, SVGA (800x600 dots), adjustable brightness\u003c\/dd\u003e\n\u003c\/dl\u003e\n\u003cdl\u003e\n\u003cdt class=\"header3\"\u003eOutputs\u003c\/dt\u003e\n\u003cdd\u003e\n\u003cstrong\u003e== Analog == \u003c\/strong\u003e\u003cbr\u003e\u003cstrong\u003e(MAIN) L\/MONO, R: \u003c\/strong\u003e\u003cbr\u003e1\/4" TRS Balanced\u003cbr\u003eOutput Impedance: 350 Ω Stereo; 175 Ω Mono (L\/MONO Only),\u003cbr\u003eNominal Level: +4.0 dBu,\u003cbr\u003eMaximum Level: +16.0 dBu (when load impedance is 600 Ω or greater)\u003cbr\u003eMAIN VOLUME knob controls only AUDIO OUTPUT (MAIN) L\/MONO and R\u003cbr\u003e\u003cstrong\u003eIndividual 1-4: \u003c\/strong\u003e\u003cbr\u003e1\/4" TRS Balanced\u003cbr\u003eOutput Impedance: 350 Ω Stereo; 175 Ω Mono,\u003cbr\u003eNominal Level: +4.0 dBu,\u003cbr\u003eMaximum Level: +16.0 dBu (when load impedance is 600 Ω or greater)\u003cbr\u003e\u003cstrong\u003eHeadphones: \u003c\/strong\u003e\u003cbr\u003e1\/4" stereo phone jack, Output impedance: 33 Ω, Maximum Level: 60+60 mW (when load impedance is 33 Ω),\u003cbr\u003eMAIN VOLUME knob (link with AUDIO OUTPUT (MAIN))\u003cbr\u003e\u003cstrong\u003e== Digital == \u003c\/strong\u003e\u003cbr\u003e\u003cstrong\u003eS\/P DIF: \u003c\/strong\u003e\u003cbr\u003eOptical, 24-bit, IEC60958, EIAJCP-1201, Sample Rate: 48 kHz, (the same signals as L\/MONO, R)\u003cbr\u003eDigital output of the same signals as AUDIO OUTPUT (MAIN) L\/MONO and R\u003cbr\u003e\u003cstrong\u003eUSB-B: \u003c\/strong\u003e\u003cbr\u003e24-bit, Sample Rate: 48 kHz, 2 channels\u003cbr\u003e(Digital output of the same signals as AUDIO OUTPUT (MAIN) L\/MONO and R)\u003c\/dd\u003e\n\u003c\/dl\u003e\n\u003cdl\u003e\n\u003cdt class=\"header3\"\u003eInputs\u003c\/dt\u003e\n\u003cdd\u003e\n\u003cstrong\u003e== Analog == \u003c\/strong\u003e\u003cbr\u003e\u003cstrong\u003eAudio Inputs 1 and 2: \u003c\/strong\u003e\u003cbr\u003e1\/4" TRS Balanced\u003cbr\u003eMIC\/LINE input level switches, LEVEL knobs\u003cbr\u003eInput Impedance: 10 kΩ\u003cbr\u003eNominal Level: LINE\u003cbr\u003e+4 dBu (LEVEL knob = min), –36 dBu (LEVEL knob = max)\u003cbr\u003eNominal Level: MIC\u003cbr\u003e–22 dBu (LEVEL knob = min), –62 dBu (LEVEL knob = max)\u003cbr\u003eMaximum Level: LINE\u003cbr\u003e+16 dBu (LEVEL knob = min), –24 dBu (LEVEL knob = max)\u003cbr\u003eMaximum Level: MIC\u003cbr\u003e-10 dBu (LEVEL knob = min), –50 dBu (LEVEL knob = max)\u003cbr\u003eSource Impedance: 600 Ω\u003cbr\u003eSignal to noise ratio: 95 dB (typical)\u003cbr\u003eDynamic range: 95 dB (typical)\u003cbr\u003eCrosstalk: 95 dB, at 1 kHz (typical)\u003cbr\u003e\u003cstrong\u003e== Digital == \u003c\/strong\u003e\u003cbr\u003e\u003cstrong\u003eS\/P DIF: \u003c\/strong\u003e\u003cbr\u003eOptical, 24-bit, IEC60958, EIAJCP-1201, Sample Rate: 48 kHz\u003cbr\u003e\u003cstrong\u003eUSB-B: \u003c\/strong\u003e\u003cbr\u003e24-bit, Sample Rate: 48 kHz, 2 channels\u003c\/dd\u003e\n\u003c\/dl\u003e\n\u003cdl\u003e\n\u003cdt class=\"header3\"\u003eControl Inputs\u003c\/dt\u003e\n\u003cdd\u003eDamper pedal (half damper supported), assignable switch, assignable pedal\u003c\/dd\u003e\n\u003c\/dl\u003e\n\u003cdl\u003e\n\u003cdt class=\"header3\"\u003eMIDI\u003c\/dt\u003e\n\u003cdd\u003eIn, Out, Thru\u003c\/dd\u003e\n\u003c\/dl\u003e\n\u003cdl\u003e\n\u003cdt class=\"header3\"\u003eUSB*5\u003c\/dt\u003e\n\u003cdd\u003eUSB A (TYPE A) x 2, For connection to external USB devices (QWERTY keyboards, MIDI controllers, ethernet adaptors, and storage)\u003cbr\u003eUSB B (TYPE B) x 1, MIDI\/audio interface\u003cbr\u003eMIDI: 1 (16 channel) input \/ 1 (16 channel) output\u003cbr\u003eAudio: 2 channel input \/ 2 channel output\u003cbr\u003e*5 USB high-speed ports (supports 480Mbps)\u003c\/dd\u003e\n\u003c\/dl\u003e\n\u003cdl\u003e\n\u003cdt class=\"header3\"\u003eDisk Drives\u003c\/dt\u003e\n\u003cdd\u003e60 GB SSD (2.5")\u003cbr\u003eOptional installation of second internal SSD\u003c\/dd\u003e\n\u003c\/dl\u003e\n\u003cdl\u003e\n\u003cdt class=\"header3\"\u003ePower Consumption\u003c\/dt\u003e\n\u003cdd\u003e60W\u003c\/dd\u003e\n\u003c\/dl\u003e\n\u003cdl\u003e\n\u003cdt class=\"header3\"\u003eDimensions\u003cbr\u003e(W x D x H)\u003c\/dt\u003e\n\u003cdd\u003e61 key: 1,040 x 364 x 134 mm \/ 40.94" x 14.33" x 5.28"\u003cbr\u003e73 key: 1,221 x 371 x 148 mm \/ 48.07" x 14.61" x 5.83"\u003cbr\u003e88 key: 1,443 x 371 x 148 mm \/ 56.42" x 14.61" x 5.83"\u003c\/dd\u003e\n\u003c\/dl\u003e\n\u003cdl\u003e\n\u003cdt class=\"header3\"\u003eWeight\u003c\/dt\u003e\n\u003cdd\u003e61 key: 14.3 kg \/ 31.53 lbs.\u003cbr\u003e73 key: 21.1 kg \/ 46.52 lbs.\u003cbr\u003e88 key: 24.1 kg \/ 53.13 lbs.\u003c\/dd\u003e\n\u003c\/dl\u003e\n\u003cdl\u003e\n\u003cdt class=\"header3\"\u003eAccessories\u003c\/dt\u003e\n\u003cdd\u003eAC cord, Quick Start Guide, Accessory DVD Discs 1-3 (DVDs include KRONOS Operation Guide, Parameter Guide, and Voice Name List PDF files; Video Manual; KORG USB-MIDI Driver; System Restore Data, etc.)\u003c\/dd\u003e\n\u003c\/dl\u003e\n\u003c\/div\u003e\n\u003c\/div\u003e\n\u003c\/section\u003e\n\u003csection class=\"block type-u cv_black pad_b80\"\u003e\n\u003cdiv class=\"side-margin\"\u003e\n\u003ch2 class=\"header2\"\u003ePrincipal Specifications\u003c\/h2\u003e\n\u003cdiv class=\"box_type_u\"\u003e\n\u003cdl\u003e\n\u003cdt class=\"header3\"\u003eFrequency Response\u003c\/dt\u003e\n\u003cdd\u003e20Hz-22kHz, +\/-1.0dB, 10k Ω load\u003c\/dd\u003e\n\u003c\/dl\u003e\n\u003cdl\u003e\n\u003cdt class=\"header3\"\u003eTHD+N\u003c\/dt\u003e\n\u003cdd\u003e20Hz-22kHz, 0.01%, 10k Ω load (typical)\u003c\/dd\u003e\n\u003c\/dl\u003e\n\u003cdl\u003e\n\u003cdt class=\"header3\"\u003eS\/N\u003c\/dt\u003e\n\u003cdd\u003e95dB (typical)\u003c\/dd\u003e\n\u003c\/dl\u003e\n\u003cdl\u003e\n\u003cdt class=\"header3\"\u003eDynamic Range\u003c\/dt\u003e\n\u003cdd\u003e95dB (typical)\u003c\/dd\u003e\n\u003c\/dl\u003e\n\u003cdl\u003e\n\u003cdt class=\"header3\"\u003eCrosstalk\u003c\/dt\u003e\n\u003cdd\u003e95dB, at 1kHz (typical)\u003c\/dd\u003e\n\u003c\/dl\u003e\n\u003c\/div\u003e\n\u003cdiv class=\"box_kome_type_u\"\u003e\n\u003ctable\u003e\n\u003ctbody\u003e\n\u003ctr\u003e\n\u003ctd colspan=\"2\"\u003e* All product, company, and standard names are trademarks or registered trademarks of their respective holders.\u003c\/td\u003e\n\u003c\/tr\u003e\n\u003ctr\u003e\n\u003ctd colspan=\"2\"\u003e* Appearance and specifications of products are subject to change without notice.\u003c\/td\u003e\n\u003c\/tr\u003e\n\u003ctr\u003e\n\u003ctd colspan=\"2\"\u003e* The color of the actual instrument may differ slightly from the image shown here.\u003c\/td\u003e\n\u003c\/tr\u003e\n\u003ctr\u003e\n\u003ctd colspan=\"2\"\u003e* Since natural wood is used in the side panels of this instrument, there will be individual differences in the grain and figuration of the wood.\u003c\/td\u003e\n\u003c\/tr\u003e\n\u003c\/tbody\u003e\n\u003c\/table\u003e\n\u003c\/div\u003e\n\u003cdiv class=\"box_kome_type_u\"\u003eBuy the Korg Kronos from Audiosaurus today! - Your online pro audio experts in South Africa.\u003c\/div\u003e\n\u003c\/div\u003e\n\u003c\/section\u003e\n\u003c\/div\u003e\n\u003c\/div\u003e\n\u003c\/div\u003e\n\u003c\/section\u003e\n\u003c\/div\u003e\n\u003c\/div\u003e"}
{"id":4901248132,"title":"Korg KRONOS 2 73","handle":"ka-205","description":"\u003cp\u003eMusic Workstation\u003c\/p\u003e\n\u003ch1 class=\"header1\"\u003eEvolve.\u003c\/h1\u003e\n\u003cp\u003eWhen ambition, imagination, and technology converge—the results are spectacular. Witness KRONOS. Created by KORG to satisfy today's most demanding, accomplished performers and producers—as well as tomorrow's visionary leaders—KRONOS embodies over 50 years of artistic vision and production expertise. With nine distinct synthesis engines and a complete suite of performance and productions tools, KRONOS is simply the most versatile synthesizer ever made.\u003c\/p\u003e\n\u003cdiv align=\"left\"\u003e\n\u003cbr\u003eKRONOS restores the magic, the thrill, and the promise that only a visionary new instrument can provide. And KRONOS delivers on that promise. Every resources and technology of service to the modern musician has been refined, perfected, and integrated into a single instrument, and is available on demand. Multiple state-of-the-art sound generation techniques represent the pinnacle of software realization. Onboard effects open the door to processing any internal or external audio source with dazzling results. Multitrack audio and MIDI recording deliver efficient studio operations in a mobile platform. Hands-on hardware includes an assignable control surface, dual joysticks, ribbon controller, top-of-the line keyboard action, and KORG's revolutionary tap-and-drag color TouchView™ display. Best of all, KRONOS integrates all of these music-making resources into a single instrument in ways that no software setup or hardware platform can rival.\u003cbr\u003e\u003cbr\u003eKRONOS easily delivers everything you'd expect, plus many things you've only dreamed of. Set List mode keeps all of your custom settings and performance notes organized in the display for on-the-fly selection. Smooth Sound Transitions eliminate note and effect dropouts when switching sounds or modes. Connect virtual patch cables, select sounds, plus edit envelopes and sequences—all using the eight-inch color TouchView display. Add to that advanced sequencing, KARMA, and Drum Track composition tools. Enjoy exclusive KORG wavesequencing, MS-20 filtering and the impossibly-rich Polysix chorus. And only KORG boasts the finest sound-design team on the planet, so you can always sound your very best.\u003cbr\u003e\u003cbr\u003e\n\u003c\/div\u003e\n\u003cdiv align=\"left\"\u003e\u003ciframe width=\"897\" height=\"502\" src=\"https:\/\/www.youtube.com\/embed\/jshQWP0gQ-k\" frameborder=\"0\" allowfullscreen=\"\"\u003e\u003c\/iframe\u003e\u003c\/div\u003e\n\u003cdiv align=\"left\"\u003e\n\u003cbr\u003e\n\u003cdiv class=\"text_type_p\"\u003e\n\u003ch3 class=\"header3\"\u003e\u003cb\u003eNine Distinct Sound Engines\u003c\/b\u003e\u003c\/h3\u003e\n\u003cp\u003eEach of the individual KRONOS sound engines is eminently qualified to operate as a stand-alone synthesizer. And each one represents the cutting-edge technology available for that type of sound creation. Exacting programming parameters, real-time controllers, integrated effects, and assignable modulation routings provide incredible control for the creating custom edits or for the ambitious sound designer\u003c\/p\u003e\n\u003c\/div\u003e\n\u003cdiv class=\"text_type_p\"\u003e\n\u003ch3 class=\"header3\"\u003e\u003cb\u003eEnhanced SGX-2 Grand Piano Sound Engine\u003c\/b\u003e\u003c\/h3\u003e\n\u003cp\u003eThe KRONOS piano engine has always offered huge collections of non-looped\/natural decay stereo samples, recorded for every key, with additional unique tools to customize the piano to your needs. Inheriting all of this SGX-1 functionality, the new enhanced SGX-2 Grand Piano engine introduces the new Berlin Grand piano to the existing deep German Grand and lively Japanese Grand. The Berlin Grand offers resonant piano sound with a striking sense of depth.\u003cbr\u003e\u003cbr\u003eOther enhancements to the SGX-2 engine included Sympathetic String Resonance and newly-recorded Una Corda (soft pedal – literally "one-string") samples. \u003c\/p\u003e\n\u003c\/div\u003e\n\u003cdiv class=\"text_type_p\"\u003e\n\u003ch3 class=\"header3\"\u003e\u003cb\u003eMassive Sound Selection\u003c\/b\u003e\u003c\/h3\u003e\n\u003cp\u003eKRONOS comes equipped with thousands of sounds, created using various synthesis modes and calling upon over approximately 21 GB of preset waveform data covering a variety of genres. Each one has been carefully crafted by the KORG Sound Design team. The internal SSD offers a generous 62*GB capacity, providing enormous space for user sampling or downloading KRONOS Sound Libraries. These optional expansion KRONOS Sound Libraries add new professionally programmed sounds—without the need to add any new hardware.\u003cbr\u003e\u003cbr\u003eArtist Signature Programs provide the priceless sounds actually used by top-ranking musicians. Additional Song Programs are named for the classic rock and pop songs whose signature keyboard sounds these programs recreate. Use these universally well-known sounds to pay homage to the originals, or as the basis for personal sonic explorations.\u003cbr\u003e\u003cbr\u003e* SSD capacity is subject to change without notice.\u003cbr\u003e\u003cbr\u003e\u003c\/p\u003e\n\u003csection class=\"block type-h cv_charcoal pad_t80\"\u003e\n\u003cdiv class=\"side-margin\"\u003e\n\u003cdiv class=\"content_box_type_h\"\u003e\n\u003cdiv class=\"box_type_h\"\u003e\n\u003ch3 class=\"header3\"\u003eInnovative Set List Mode\u003c\/h3\u003e\n\u003cp\u003eKRONOS can organize all of the resources you need to get through a song—or a set—using the Set List mode. Using the Set List mode, the TouchView display can host 16 color-coded touch-screen buttons; each one can instantly call up the appropriate Preset, Combination, or Sequence—regardless of mode!\u003cbr\u003e\u003cbr\u003eYou can even add handy performance notes ("Sing on Chorus;" "Transpose Down;" "Wait for Sax Solo;" etc.) to each one.\u003cbr\u003e\u003cbr\u003eThe Set List mode even adds a nine-band graphic EQ, allowing the overall tone to be tweaked to match the venue. New in OS version 3.0, Set List mode now allows for deeper customization with many slot color options, text size variations, and a full-screen text editor. Connecting a USB computer keyboard makes it simple to enter text and numeric values.\u003c\/p\u003e\n\u003cp\u003e\u003cimg src=\"http:\/\/cdn.korg.com\/za\/products\/upload\/00d24c3e76d730daa31507aa4a4d2710_pc.jpg?Expires=1470477537\u0026amp;Signature=IUMORFFAvejWg1KpmAmDEViV3t9B5GMT08~FlbZuWee16phpblb2Iqr7~2~3eJU0YYkIYptP4B--jeN8rleuKndo-qmBezeR6emCYDXGCI46xhBgxmMmVf1cE~ZrBgSogZJrU9QmuIpOqVJqxWHeYa534CBQCzOasBHGf1Z5kQW2lXsScfYABMlscLhHUxFBrW3-QPcOJAGy-EPeUiobNEWH7b4F4LqJAM5B3OLJInugz50GQJxvnl13wCejzb4uJnPLMM1D78i~u4pV8CqgWr0N816RNxyR8Wg-VSJcagCF3QPB378lpMv0Hx5NQl2pyrmz1FKMQITad0Xl-jOp8Q__\u0026amp;Key-Pair-Id=APKAIQGL3XAA7HGZGU6Q\" alt=\"\"\u003e\u003c\/p\u003e\n\u003c\/div\u003e\n\u003cdiv class=\"box_type_h\"\u003e\n\u003ch3 class=\"header3\"\u003eColor TouchView Display—Now with Touch-Drag Capability\u003c\/h3\u003e\n\u003cp\u003eThe nerve center of the KRONOS is KORG's enormous eight-inch (800 x 600 pixel) SVGA color TouchView display.\u003cbr\u003e\u003cbr\u003eIn addition to simply selecting a sound or choosing a parameter with the touch of a finger, the enhanced Touch-Drag ability allows more detailed control of parameter values. Interactive instruments and panel graphics provide the ability to do everything from adjusting the lid of a grand piano to connecting patch cable on a semi-modular synthesizer model.\u003cbr\u003e\u003cbr\u003eThe TouchView display also hosts a convenient new Search Function, allowing you to search for (and preview) sounds based on their titles.\u003c\/p\u003e\n\u003c\/div\u003e\n\u003c\/div\u003e\n\u003c\/div\u003e\n\u003c\/section\u003e\n\u003csection class=\"block type-j cv_charcoal\"\u003e\n\u003cdiv class=\"side-margin\"\u003e\n\u003cdiv class=\"images_type_j\"\u003e\n\u003cul class=\"list_images_type_j\"\u003e\n\u003cli\u003e\u003ca href=\"http:\/\/www.korg.com\/za\/products\/synthesizers\/kronos2\/index.php#\" class=\"image_type_j\" onclick=\"javascript:popupImgView('http%3A%2F%2Fcdn.korg.com%2Fza%2Fproducts%2Fupload%2Fff0a9f8f3cbbed331ced3654ff3f65f6.jpg%3FExpires%3D1470477537%26Signature%3DcMYJ53%7Ef02-lUUSAQ7z9o%7ExbhOvdZgDHH0jHL1CrYlxD2PJO7Y3XvKJdEKpcM26uabwDzwYtyoVPcKH6LLOkn5RQ04J3B9-soumKJcARHiidAdCK9Sq4hPZrDSU86CgAjIJq8d1z6i66UpgTcRGwfB6ofdQkG7tTvrZbFFdV5hinGQr6jruiywJVoZ38egLL64QAg7cMa0mf-C8occLyn6G03zsT2-9FOxseMA0%7E6-UV4S3q4avVTX2bzSGByak4J4lSTZbqtYcv7PITwYyjHf6o%7EZFlKrZi-P8rqdawQebrvuoDoGKv2mn6EfxZ42B48EdAMleDwFH8Gri2Z-l6zw__%26Key-Pair-Id%3DAPKAIQGL3XAA7HGZGU6Q'); return false;\"\u003e\u003cimg src=\"http:\/\/cdn.korg.com\/za\/products\/upload\/ff0a9f8f3cbbed331ced3654ff3f65f6_pc.jpg?Expires=1470477537\u0026amp;Signature=rw~eIXykDLH1pKphI5VHR6AKoKrk8WXnKjiECX9puHEVuS018LwLBRco5RAgLNPLv1Yhu~n8JdPgVUL2PPBmz4IwDyQEIGm1Qzbp4MCkhZMWj~WnLIzXEOAkaTiMVRV-372MICEUuzvzqnXTeeLjkvO7c6CsRLR0eCXGSybrGkWVka9NVAemZr1DmLV7rwaOv1V77VgItbHJzYGmuxeNhuxrr6qD6ks2AIxjBK8xYyoRd7ryZXION1wamdJE1kOhGTnETj13vfHIcas-3jwz6-hglxJZ7fpmxX-RtlbhFPIqri0rsLFO7AZ0sp6J5IH33RYYwIcV1hbruPYNknZ7tw__\u0026amp;Key-Pair-Id=APKAIQGL3XAA7HGZGU6Q\" alt=\"\"\u003e\u003cbr\u003e\u003cbr\u003e\u003c\/a\u003e\u003c\/li\u003e\n\u003c\/ul\u003e\n\u003ch2 class=\"header2\"\u003eNine Synthesizer Engines, United in One Instrument\u003c\/h2\u003e\n\u003cp\u003e \u003c\/p\u003e\n\u003cdiv align=\"left\"\u003eKRONOS harnesses nine distinct synthesizer\/sound engines into a single, integrated musical instrument. Dynamic voice allocation and new technologies allow all sound engines to smoothly share a stable, enhanced hardware platform. The results are nothing less than spectacular.\u003cbr\u003e\u003cbr\u003e\n\u003c\/div\u003e\n\u003cdiv align=\"left\"\u003e\n\u003csection class=\"block type-u cv_black pad_t80 pad_b80\"\u003e\n\u003cdiv class=\"side-margin\"\u003e\n\u003ch2 class=\"header2\"\u003eSystem\u003c\/h2\u003e\n\u003cdiv class=\"box_type_u\"\u003e\n\u003cdl\u003e\n\u003cdt class=\"header3\"\u003eSystem\u003c\/dt\u003e\n\u003cdd\u003eKRONOS System Version 3.0\u003c\/dd\u003e\n\u003c\/dl\u003e\n\u003cdl\u003e\n\u003cdt class=\"header3\"\u003eKeyboard\u003c\/dt\u003e\n\u003cdd\u003e88 key: RH3 (Real Weighted Hammer Action 3)\u003cbr\u003e73 key: RH3 (Real Weighted Hammer Action 3)\u003cbr\u003e61 key: Natural Touch Semi Weighted\u003c\/dd\u003e\n\u003c\/dl\u003e\n\u003c\/div\u003e\n\u003c\/div\u003e\n\u003c\/section\u003e\n\u003csection class=\"block type-u cv_black pad_b80\"\u003e\n\u003cdiv class=\"side-margin\"\u003e\n\u003ch2 class=\"header2\"\u003eTone Generator\u003c\/h2\u003e\n\u003cdiv class=\"box_type_u\"\u003e\n\u003cdl\u003e\n\u003cdt class=\"header3\"\u003eSynthesis Types\u003c\/dt\u003e\n\u003cdd\u003e9\u003cbr\u003eSGX-2: Premium Piano (Acoustic Piano)\u003cbr\u003eEP-1: MDS Electric Piano (Electric Piano)\u003cbr\u003eHD-1: High Definition Synthesizer (PCM)\u003cbr\u003eAL-1: Analog Synthesizer (Analog Modeling)\u003cbr\u003eCX-3: Tonewheel Organ (Tonewheel Organ Modeling)\u003cbr\u003eSTR-1: Plucked Strings (Physical Modeling)\u003cbr\u003eMOD-7: Waveshaping VPM Synthesizer (VPM Synthesis)\u003cbr\u003eMS-20EX: Component Modeling Technology (Analog Modeling)\u003cbr\u003ePolysixEX: Component Modeling Technology (CMT Analog Modeling)\u003c\/dd\u003e\n\u003c\/dl\u003e\n\u003cdl\u003e\n\u003cdt class=\"header3\"\u003eMaximum Polyphony*1*2\u003c\/dt\u003e\n\u003cdd\u003eSGX-2: 100 voices*3\u003cbr\u003eEP-1: 104 voices\u003cbr\u003eHD-1: 140 voices\u003cbr\u003eAL-1: 80 voices\u003cbr\u003eCX-3: 200 voices\u003cbr\u003eSTR-1: 40 voices\u003cbr\u003eMOD-7: 52 voices\u003cbr\u003eMS-20EX: 40 voices\u003cbr\u003ePolysixEX: 180 voices\u003cbr\u003e\u003cbr\u003e*1: In rare cases, when a large number of processor-intensive effects are active simultaneously (for instance, more than 14 O-Verbs), polyphony may be slightly reduced.\u003cbr\u003e*2: A portion of the multicore processor in KRONOS is devoted to generating voices, and a separate portion is devoted to generating effects. KRONOS dynamically allocates the voice processing power between the engines as necessary. The quoted maximum numbers of voices apply when 100% of the voice processing power is devoted to a single engine.\u003cbr\u003e*3: 100 dual-stereo notes (equivalent to 400 mono voices)\u003c\/dd\u003e\n\u003c\/dl\u003e\n\u003cdl\u003e\n\u003cdt class=\"header3\"\u003ePreset PCM\u003c\/dt\u003e\n\u003cdd\u003e314 MB (ROM 1,505 Multisamples, 1,388 Drumsamples)\u003c\/dd\u003e\n\u003c\/dl\u003e\n\u003cdl\u003e\n\u003cdt class=\"header3\"\u003eBuild-in Expansion PCM Libraries\u003c\/dt\u003e\n\u003cdd\u003eEXs1 - ROM Expansion\u003cbr\u003eEXs2 - Concert Grand Piano\u003cbr\u003eEXs3 - Brass \u0026amp; Woodwinds\u003cbr\u003eEXs4 - Vintage Keyboards\u003cbr\u003eEXs5 - ROM Expansion 2\u003cbr\u003eEXs6 - SGX-1 German D Piano\u003cbr\u003eEXs7 - SGX-1 Japanese C Piano\u003cbr\u003eEXs8 - Rock Ambience Drums\u003cbr\u003eEXs9 - Jazz Ambience Drums\u003cbr\u003eEXs17 – SGX-2 Berlin D Piano\u003cbr\u003eEXs18 – KORG EXs Collections\u003c\/dd\u003e\n\u003c\/dl\u003e\n\u003cdl\u003e\n\u003cdt class=\"header3\"\u003ePCM RAM Capacity\u003c\/dt\u003e\n\u003cdd\u003eApprox. 2GB *4\u003cbr\u003e*4: The memory available for Sampling Mode will change based on the use of Expansion PCM libraries and User Sample Banks. Approx. 760 MB is available when shipped from the factory (When loading the file named "PRELOAD.KSC").\u003c\/dd\u003e\n\u003c\/dl\u003e\n\u003cdl\u003e\n\u003cdt class=\"header3\"\u003eWave Sequences\u003c\/dt\u003e\n\u003cdd\u003e598 User memory, 187 Preload\u003cbr\u003eSupport for stereo multisamples, synchronization of individual notes, and tempo-based settings.\u003c\/dd\u003e\n\u003c\/dl\u003e\n\u003c\/div\u003e\n\u003c\/div\u003e\n\u003c\/section\u003e\n\u003csection class=\"block type-u cv_black pad_b80\"\u003e\n\u003cdiv class=\"side-margin\"\u003e\n\u003ch2 class=\"header2\"\u003eSGX-2 Program\u003c\/h2\u003e\n\u003cdiv class=\"box_type_u\"\u003e\n\u003cdl\u003e\n\u003cdt class=\"header3\"\u003ePremium Piano\u003c\/dt\u003e\n\u003cdd\u003eVirtual Memory Technology (VMT) plays large samples directly from the internal SSD\u003cbr\u003eFull key stereo sampling, Chromatically sampled at up to 12 velocity levels, no looping.\u003cbr\u003eDamper resonance and mechanical noise are reproduced.\u003cbr\u003eModeled String Resonance.\u003cbr\u003eUna Corda sample support\u003c\/dd\u003e\n\u003c\/dl\u003e\n\u003cdl\u003e\n\u003cdt class=\"header3\"\u003ePCM\u003c\/dt\u003e\n\u003cdd\u003eEXs6:SGX-1 German D Piano\u003cbr\u003eEXs7:SGX-1 Japanese C Piano\u003cbr\u003eEXs12:SGX-1 Austrian D Piano (Option Sound libraries)\u003cbr\u003e8 velocity levels, no Una Corda samples\u003cbr\u003eEXs17:Berlin D Piano\u003cbr\u003e12 velocity levels, includes Una Corda samples\u003c\/dd\u003e\n\u003c\/dl\u003e\n\u003cdl\u003e\n\u003cdt class=\"header3\"\u003ePiano Type\u003c\/dt\u003e\n\u003cdd\u003e64 (With the factory settings, the 16 varieties of EXs12 SGX-1 Austrian D Piano do not produce sound. The EXs12 option must be downloaded.)\u003c\/dd\u003e\n\u003c\/dl\u003e\n\u003cdl\u003e\n\u003cdt class=\"header3\"\u003eOscillator Control\u003c\/dt\u003e\n\u003cdd\u003eDamper Resonance\u003cbr\u003eDamper Noise\u003cbr\u003eMechanical Noise\u003cbr\u003eNote Release\u003cbr\u003eString Resonance\u003cbr\u003eUna Corda\u003c\/dd\u003e\n\u003c\/dl\u003e\n\u003c\/div\u003e\n\u003c\/div\u003e\n\u003c\/section\u003e\n\u003csection class=\"block type-u cv_black pad_b80\"\u003e\n\u003cdiv class=\"side-margin\"\u003e\n\u003ch2 class=\"header2\"\u003eEP-1 Program\u003c\/h2\u003e\n\u003cdiv class=\"box_type_u\"\u003e\n\u003cdl\u003e\n\u003cdt class=\"header3\"\u003eMDS Electric Piano\u003c\/dt\u003e\n\u003cdd\u003eTine and reed-type electric pianos powered by Multi-Dimensional Synthesis (MDS), and vintage effects.\u003c\/dd\u003e\n\u003c\/dl\u003e\n\u003cdl\u003e\n\u003cdt class=\"header3\"\u003eElectric Piano Model Types\u003c\/dt\u003e\n\u003cdd\u003e6\u003cbr\u003eTine EP I, Tine EP II, Tine EP V, Tine EP DMP, Reed EP200, Reed EP200A\u003c\/dd\u003e\n\u003c\/dl\u003e\n\u003cdl\u003e\n\u003cdt class=\"header3\"\u003eOscillator Control\u003c\/dt\u003e\n\u003cdd\u003eHarmonic Sound Level, Attack Noise, Level, Release Noise Level, Attack Brightness, Hammer Width\u003c\/dd\u003e\n\u003c\/dl\u003e\n\u003cdl\u003e\n\u003cdt class=\"header3\"\u003ePanel Control\u003c\/dt\u003e\n\u003cdd\u003eTine Type\u003cbr\u003ePreamp Volume, Tone (Treble, Bass), Vibrate (On\/Off, Intensity, Speed), Amp\/Cabinet (On\/Off, Drive)*5\u003cbr\u003eReed Type\u003cbr\u003ePreamp Volume, Tone (Treble, Bass), Vibrate (Intensity, Speed), Amp\/Cabinet (On\/Off, Drive)*5\u003c\/dd\u003e\n\u003c\/dl\u003e\n\u003cdl\u003e\n\u003cdt class=\"header3\"\u003eEffect Types\u003c\/dt\u003e\n\u003cdd\u003e9\u003cbr\u003eSmall Phase, Orange Phase, Black Phase, Vintage Chorus, Black Chorus, EP Chorus, Vintage Flanger, Red Comp, VOX Wah\u003c\/dd\u003e\n\u003c\/dl\u003e\n\u003c\/div\u003e\n\u003c\/div\u003e\n\u003c\/section\u003e\n\u003csection class=\"block type-u cv_black pad_b80\"\u003e\n\u003cdiv class=\"side-margin\"\u003e\n\u003ch2 class=\"header2\"\u003eHD-1 Program\u003c\/h2\u003e\n\u003cdiv class=\"box_type_u\"\u003e\n\u003cdl\u003e\n\u003cdt class=\"header3\"\u003eAdvanced Vector Synthesis\u003c\/dt\u003e\n\u003cdd\u003eControl oscillator volumes and synthesis \u0026amp; effects parameters via the Vector Joystick and the tempo-synchronized Vector Envelope.\u003c\/dd\u003e\n\u003c\/dl\u003e\n\u003cdl\u003e\n\u003cdt class=\"header3\"\u003eStructure\u003c\/dt\u003e\n\u003cdd\u003eSingle: only OSC1, Double: OSC1 and OSC2.\u003cbr\u003eDouble mode lets you layer two completely separate synth voices, each with their own velocity-switched oscillator, dual filter, EGs, LFOs, etc.\u003cbr\u003eDrums: One drum kit, Double Drums: Two drum kits.\u003c\/dd\u003e\n\u003c\/dl\u003e\n\u003cdl\u003e\n\u003cdt class=\"header3\"\u003eOscillators\u003c\/dt\u003e\n\u003cdd\u003eVirtual Memory Technology (VMT) plays large samples directly from the internal SSD.\u003cbr\u003e8 velocity zones per oscillator, with switching, crossfades and layering \u003cbr\u003eEach zone can play mono or stereo Multisamples or Wave Sequences\u003c\/dd\u003e\n\u003c\/dl\u003e\n\u003cdl\u003e\n\u003cdt class=\"header3\"\u003eFilters\u003c\/dt\u003e\n\u003cdd\u003eTwo multi-mode filters per voices (low-pass, high-pass, band-pass and band-reject),\u003cbr\u003eFour-mode filter routings (single, serial, parallel and 24dB mode)\u003c\/dd\u003e\n\u003c\/dl\u003e\n\u003cdl\u003e\n\u003cdt class=\"header3\"\u003eDriver\u003c\/dt\u003e\n\u003cdd\u003ePer voice non-linear driver and low boost circuit\u003c\/dd\u003e\n\u003c\/dl\u003e\n\u003cdl\u003e\n\u003cdt class=\"header3\"\u003eEQ\u003c\/dt\u003e\n\u003cdd\u003eThree bands, with sweep-able mid\u003c\/dd\u003e\n\u003c\/dl\u003e\n\u003cdl\u003e\n\u003cdt class=\"header3\"\u003eModulation\u003c\/dt\u003e\n\u003cdd\u003eThree envelope generators, two LFOs per voice, common LFO, four key tracking generators, AMS (Alternate Modulation Source), two AMS mixers\u003c\/dd\u003e\n\u003c\/dl\u003e\n\u003c\/div\u003e\n\u003c\/div\u003e\n\u003c\/section\u003e\n\u003csection class=\"block type-u cv_black pad_b80\"\u003e\n\u003cdiv class=\"side-margin\"\u003e\n\u003ch2 class=\"header2\"\u003eEXi Program Common\u003c\/h2\u003e\n\u003cdiv class=\"box_type_u\"\u003e\n\u003cdl\u003e\n\u003cdt class=\"header3\"\u003eAdvanced Vector Synthesis\u003c\/dt\u003e\n\u003cdd\u003eControl oscillator volumes and synthesis \u0026amp; effects parameters via the Vector Joystick and the tempo-synchronized Vector Envelope.\u003c\/dd\u003e\n\u003c\/dl\u003e\n\u003cdl\u003e\n\u003cdt class=\"header3\"\u003eModulation\u003c\/dt\u003e\n\u003cdd\u003eCommon Step Sequencer, AMS (Alternate Modulation Source), Common LFO, 2 Key Tracking Generators\u003c\/dd\u003e\n\u003c\/dl\u003e\n\u003cdl\u003e\n\u003cdt class=\"header3\"\u003eEQ\u003c\/dt\u003e\n\u003cdd\u003eThree bands, with sweep-able mid\u003c\/dd\u003e\n\u003c\/dl\u003e\n\u003c\/div\u003e\n\u003c\/div\u003e\n\u003c\/section\u003e\n\u003csection class=\"block type-u cv_black pad_b80\"\u003e\n\u003cdiv class=\"side-margin\"\u003e\n\u003ch2 class=\"header2\"\u003eAL-1 Program\u003c\/h2\u003e\n\u003cdiv class=\"box_type_u\"\u003e\n\u003cdl\u003e\n\u003cdt class=\"header3\"\u003eOscillators\u003c\/dt\u003e\n\u003cdd\u003eUltra-low-aliasing oscillators\u003cbr\u003eOSC1, OSC2, Sub-oscillator and noise generator; ring modulation, FM and Sync\u003c\/dd\u003e\n\u003c\/dl\u003e\n\u003cdl\u003e\n\u003cdt class=\"header3\"\u003eAudio Input\u003c\/dt\u003e\n\u003cdd\u003eExternal audio can be processed through the ring modulator, filter, driver, amp, and EQ\u003c\/dd\u003e\n\u003c\/dl\u003e\n\u003cdl\u003e\n\u003cdt class=\"header3\"\u003eFilters\u003c\/dt\u003e\n\u003cdd\u003eTwo multi-mode filters (low-pass, high-pass, band-pass and band-reject) with four types of filter routings (single, serial, parallel and 24dB mode),\u003cbr\u003eMulti Filter mode (only Filter-A; modulatable mix of Low Pass, High Pass, Band Pass, and dry input, for creating a wide variety of unique filter types and effects)\u003c\/dd\u003e\n\u003c\/dl\u003e\n\u003cdl\u003e\n\u003cdt class=\"header3\"\u003eDriver\u003c\/dt\u003e\n\u003cdd\u003ePer-voice non-linear driver and low boost circuit\u003c\/dd\u003e\n\u003c\/dl\u003e\n\u003cdl\u003e\n\u003cdt class=\"header3\"\u003eModulation\u003c\/dt\u003e\n\u003cdd\u003eFive Envelope generators, four per-voice LFOs, two AMS Mixers; Per-voice Step Sequencer.\u003c\/dd\u003e\n\u003c\/dl\u003e\n\u003c\/div\u003e\n\u003c\/div\u003e\n\u003c\/section\u003e\n\u003csection class=\"block type-u cv_black pad_b80\"\u003e\n\u003cdiv class=\"side-margin\"\u003e\n\u003ch2 class=\"header2\"\u003eCX-3 Program\u003c\/h2\u003e\n\u003cdiv class=\"box_type_u\"\u003e\n\u003cdl\u003e\n\u003cdt class=\"header3\"\u003eTonewheel Organ Modeling\u003c\/dt\u003e\n\u003cdd\u003ePhase-synchronous tonewheels (clean and vintage modes), percussion, key click, wheel brake\u003c\/dd\u003e\n\u003c\/dl\u003e\n\u003cdl\u003e\n\u003cdt class=\"header3\"\u003eEX Mode\u003c\/dt\u003e\n\u003cdd\u003eFour additional, user-specified drawbars, and expanded percussion.\u003c\/dd\u003e\n\u003c\/dl\u003e\n\u003cdl\u003e\n\u003cdt class=\"header3\"\u003eInternal Effects\u003c\/dt\u003e\n\u003cdd\u003eRotary speaker, vibrato\/chorus, amp modeling with overdrive, 3-band EQ\u003c\/dd\u003e\n\u003c\/dl\u003e\n\u003cdl\u003e\n\u003cdt class=\"header3\"\u003eDrawbar Control\u003c\/dt\u003e\n\u003cdd\u003eControlled via nine front-panel sliders (via Tone Adjust)\u003c\/dd\u003e\n\u003c\/dl\u003e\n\u003cdl\u003e\n\u003cdt class=\"header3\"\u003eSplit\u003c\/dt\u003e\n\u003cdd\u003eUpper, Lower (even in EX mode)\u003c\/dd\u003e\n\u003c\/dl\u003e\n\u003cdl\u003e\n\u003cdt class=\"header3\"\u003eModulation\u003c\/dt\u003e\n\u003cdd\u003eTwo AMS mixers\u003c\/dd\u003e\n\u003c\/dl\u003e\n\u003c\/div\u003e\n\u003c\/div\u003e\n\u003c\/section\u003e\n\u003csection class=\"block type-u cv_black pad_b80\"\u003e\n\u003cdiv class=\"side-margin\"\u003e\n\u003ch2 class=\"header2\"\u003eSTR-1 Program\u003c\/h2\u003e\n\u003cdiv class=\"box_type_u\"\u003e\n\u003cdl\u003e\n\u003cdt class=\"header3\"\u003ePhysically Modeled String\u003c\/dt\u003e\n\u003cdd\u003eIncludes physically modeled damping, decay, dispersion, nonlinearity, harmonics, dual pickups, and more.\u003cbr\u003eMost string parameters can be controlled in realtime.\u003c\/dd\u003e\n\u003c\/dl\u003e\n\u003cdl\u003e\n\u003cdt class=\"header3\"\u003eString Excitation\u003c\/dt\u003e\n\u003cdd\u003eThree independent excitation sources can be used simultaneously: Pluck, Noise, and PCM.\u003cbr\u003e16 preset "pluck" types, with modulatable width and randomization. Noise generator with saturation and dedicated low pass filter\u003cbr\u003e\u003cstrong\u003ePCM Oscillator: \u003c\/strong\u003e\u003cbr\u003eKORG's ultra-low-aliasing technology, as introduced in the HD-1;\u003cbr\u003e4 velocity zones per oscillator;\u003cbr\u003eUses any mono Multisamples, including ROM, EXs, User Sample Bank, or Sampling Mode.\u003cbr\u003eSupports Virtual Memory.\u003cbr\u003e\u003cstrong\u003eExcitation Filter: \u003c\/strong\u003e\u003cbr\u003eDedicated 2-pole multimode filter for shaping the string excitation.\u003cbr\u003eFilter can be enabled\/disabled separately for each excitation source.\u003cbr\u003eLow Pass, High Pass, Band Pass, and Band Reject modes\u003c\/dd\u003e\n\u003c\/dl\u003e\n\u003cdl\u003e\n\u003cdt class=\"header3\"\u003eAudio Input and Feedback\u003c\/dt\u003e\n\u003cdd\u003eRun real-time audio through the string, including feedback through effects.\u003cbr\u003eModeled feedback includes modulate-able instrument-to-amp distance and orientation.\u003c\/dd\u003e\n\u003c\/dl\u003e\n\u003cdl\u003e\n\u003cdt class=\"header3\"\u003eFilters\u003c\/dt\u003e\n\u003cdd\u003eDual multi-mode filters per voice; Single, Serial, Parallel (with split stereo output), and 24dB (4-pole) configurations. Low Pass, High Pass, Band Pass, and Band Reject modes\u003cbr\u003e\u003cstrong\u003eMulti Filter Mode (Filter A only).\u003c\/strong\u003e\u003cbr\u003eModulatable mix of Low Pass, High Pass, Band Pass, and dry input, for creating a wide variety of unique filter types and effects\u003c\/dd\u003e\n\u003c\/dl\u003e\n\u003cdl\u003e\n\u003cdt class=\"header3\"\u003eModulation\u003c\/dt\u003e\n\u003cdd\u003e5 Envelopes, 4 per-voice LFOs, 2 Key Track generators, String Tracking generators, 4 AMS Mixers.\u003c\/dd\u003e\n\u003c\/dl\u003e\n\u003c\/div\u003e\n\u003c\/div\u003e\n\u003c\/section\u003e\n\u003csection class=\"block type-u cv_black pad_b80\"\u003e\n\u003cdiv class=\"side-margin\"\u003e\n\u003ch2 class=\"header2\"\u003eMOD-7 Program\u003c\/h2\u003e\n\u003cdiv class=\"box_type_u\"\u003e\n\u003cdl\u003e\n\u003cdt class=\"header3\"\u003eWaveshaping VPM Synthesizer\u003c\/dt\u003e\n\u003cdd\u003eCombines Variable Phase Modulation (VPM), Waveshaping ring modulation, PCM sample playback, and subtractive synthesis; Able to convert-load SYX files.\u003c\/dd\u003e\n\u003c\/dl\u003e\n\u003cdl\u003e\n\u003cdt class=\"header3\"\u003eOscillators\u003c\/dt\u003e\n\u003cdd\u003e\n\u003cstrong\u003e6 VPM\/Waveshaper\/Ring Modulation Oscillators: \u003c\/strong\u003e\u003cbr\u003ePhase and modulatable pitch per oscillator.\u003cbr\u003e101 Waveshaper tables plus modulatable Drive and Offset.\u003cbr\u003eUse as oscillators, or as Waveshapers or Ring Modulators for other signals.\u003cbr\u003e\u003cstrong\u003ePCM Oscillator: \u003c\/strong\u003e\u003cbr\u003eKORG's ultra-low-aliasing technology, as introduced in the HD-1.\u003cbr\u003e4 velocity zones per oscillator.\u003cbr\u003eUses any mono Multisamples, including ROM, EXs, User Sample Bank, or Sampling Mode. Supports Virtual Memory.\u003c\/dd\u003e\n\u003c\/dl\u003e\n\u003cdl\u003e\n\u003cdt class=\"header3\"\u003eAudio input\u003c\/dt\u003e\n\u003cdd\u003eRun real-time audio through the VPM Oscillators and filters.\u003c\/dd\u003e\n\u003c\/dl\u003e\n\u003cdl\u003e\n\u003cdt class=\"header3\"\u003eFilters\u003c\/dt\u003e\n\u003cdd\u003eDual multi-mode filters per voice. (Low Pass, High Pass, Band Pass, and Band Reject modes)\u003cbr\u003eTwo types of filter looping (Parallel and 24 dB "4-Pole")\u003cbr\u003e\u003cstrong\u003eMulti Filter mode (Filter A only): \u003c\/strong\u003e\u003cbr\u003eModulatable mix of Low Pass, High Pass, Band Pass, and dry input, for creating a wide variety of unique filter types and effects\u003c\/dd\u003e\n\u003c\/dl\u003e\n\u003cdl\u003e\n\u003cdt class=\"header3\"\u003ePatch Panel\u003c\/dt\u003e\n\u003cdd\u003eSupports both preset algorithm (78 types) selection and free patching.\u003cbr\u003eThree 2-in, 1-out mixers for scaling and merging audio, fully modulatable, with phase inversion.\u003cbr\u003eMain 6-input stereo mixer, with modulatable pan and volume, plus phase inversion\u003c\/dd\u003e\n\u003c\/dl\u003e\n\u003cdl\u003e\n\u003cdt class=\"header3\"\u003eModulation\u003c\/dt\u003e\n\u003cdd\u003e10 Envelopes, 4 per-voice LFOs, 9 Key Tracking generators, Per-voice Step Sequencer, 4 standard AMS Mixers plus 4 simple AMS Mixers.\u003c\/dd\u003e\n\u003c\/dl\u003e\n\u003c\/div\u003e\n\u003c\/div\u003e\n\u003c\/section\u003e\n\u003csection class=\"block type-u cv_black pad_b80\"\u003e\n\u003cdiv class=\"side-margin\"\u003e\n\u003ch2 class=\"header2\"\u003eMS-20EX Program\u003c\/h2\u003e\n\u003cdiv class=\"box_type_u\"\u003e\n\u003cdl\u003e\n\u003cdt class=\"header3\"\u003eOscillators\u003c\/dt\u003e\n\u003cdd\u003eUltra-low-aliasing oscillators; VCO1, VCO2, Ring Mod, Pink and White Noise Generator\u003c\/dd\u003e\n\u003c\/dl\u003e\n\u003cdl\u003e\n\u003cdt class=\"header3\"\u003eAudio Input\u003c\/dt\u003e\n\u003cdd\u003eRun real-time audio through the synthesis engine and ESP (External Signal Processor)\u003c\/dd\u003e\n\u003c\/dl\u003e\n\u003cdl\u003e\n\u003cdt class=\"header3\"\u003eFilters\u003c\/dt\u003e\n\u003cdd\u003e12dB\/octave High Pass and Low Pass self-resonant filters\u003cbr\u003e\u003cstrong\u003eESP section: \u003c\/strong\u003e\u003cbr\u003e24dB\/octave Low Cut and High Cut filters, available per voice.\u003c\/dd\u003e\n\u003c\/dl\u003e\n\u003cdl\u003e\n\u003cdt class=\"header3\"\u003ePatch Panel\u003c\/dt\u003e\n\u003cdd\u003ePatchable audio and modulation, at audio rates\u003c\/dd\u003e\n\u003c\/dl\u003e\n\u003cdl\u003e\n\u003cdt class=\"header3\"\u003ePatch Points\u003c\/dt\u003e\n\u003cdd\u003e\n\u003cstrong\u003eKeyboard: \u003c\/strong\u003e\u003cbr\u003eKeyboard CV Out, Keyboard Trigger Out, VCO1+VCO2 CV In, VCO2 CV In\u003cbr\u003e\u003cstrong\u003eVCO: \u003c\/strong\u003e\u003cbr\u003eVCO1+VCO2 External Frequency Control In, VCO1 Out, VCO2 Out\u003cbr\u003e\u003cstrong\u003eVCF: \u003c\/strong\u003e\u003cbr\u003eExternal Signal In, External HP Filter Cutoff Frequency Control In, External LP Filter Cutoff Frequency Control In, HPF Out, LPF In, LPF Out\u003cbr\u003e\u003cstrong\u003eVCO+VCF: \u003c\/strong\u003e\u003cbr\u003eTotal External Modulation In\u003cbr\u003e\u003cstrong\u003eVCA: \u003c\/strong\u003e\u003cbr\u003eExternal Initial Gain Control In, VCA In\u003cbr\u003e\u003cstrong\u003eEG: \u003c\/strong\u003e\u003cbr\u003eEG1 Envelope Signal Normal Out, EG1 Envelope Signal Reverse Out, EG1+EG2 Trigger In, EG1 Trigger In, EG2 Envelope Signal Reverse Out\u003cbr\u003e\u003cstrong\u003eMG: \u003c\/strong\u003e\u003cbr\u003eTriangle Out, Rectangle Out\u003cbr\u003e\u003cstrong\u003eNoise Generator: \u003c\/strong\u003e\u003cbr\u003ePink Noise Out, White Noise Out\u003cbr\u003e\u003cstrong\u003eSample and Hold: \u003c\/strong\u003e\u003cbr\u003eClock Trigger In, Sample Signal In, S\/H Out\u003cbr\u003e\u003cstrong\u003eModulation VCA: \u003c\/strong\u003e\u003cbr\u003eControl Voltage In, Signal In, Signal Out\u003cbr\u003e\u003cstrong\u003eManual Controller: \u003c\/strong\u003e\u003cbr\u003eControl Wheel Out, Momentary Switch\u003cbr\u003e\u003cstrong\u003eESP: \u003c\/strong\u003e\u003cbr\u003eSignal In, AMP Out, BPF In, BPF Out, F-V CV Out, Envelope Out, Trigger Out\u003cbr\u003e\u003cstrong\u003eOthers: \u003c\/strong\u003e\u003cbr\u003eEXi Audio In, Mixer 1 In, Mixer 1 Out, Mixer 2 In, Mixer 2 Out\u003c\/dd\u003e\n\u003c\/dl\u003e\n\u003cdl\u003e\n\u003cdt class=\"header3\"\u003eESP (External Signal Processor)\u003c\/dt\u003e\n\u003cdd\u003eUse incoming audio as a trigger and\/or CV source.\u003c\/dd\u003e\n\u003c\/dl\u003e\n\u003cdl\u003e\n\u003cdt class=\"header3\"\u003eModulation\u003c\/dt\u003e\n\u003cdd\u003eOriginal DAR (Delay, Attack, Release) and HADSR (Hold, Attack, Decay, Sustain, Release) EGs 1 \u0026amp;2,\u003cbr\u003eOriginal MG (with MIDI sync), Sample-and- Hold, MVCA,\u003cbr\u003eKRONOS: 4 additional multi-stage Envelopes, 4 additional per-voice LFOs, and 4 AMS Mixers.\u003c\/dd\u003e\n\u003c\/dl\u003e\n\u003c\/div\u003e\n\u003c\/div\u003e\n\u003c\/section\u003e\n\u003csection class=\"block type-u cv_black pad_b80\"\u003e\n\u003cdiv class=\"side-margin\"\u003e\n\u003ch2 class=\"header2\"\u003ePolysixEX Program\u003c\/h2\u003e\n\u003cdiv class=\"box_type_u\"\u003e\n\u003cdl\u003e\n\u003cdt class=\"header3\"\u003eOscillators\u003c\/dt\u003e\n\u003cdd\u003e\n\u003cstrong\u003eVCO: \u003c\/strong\u003e\u003cbr\u003eSaw, Pulse, PWM\u003cbr\u003e\u003cstrong\u003eSub Oscillator: \u003c\/strong\u003e\u003cbr\u003eOff, 1 octave below, 2 octaves below\u003c\/dd\u003e\n\u003c\/dl\u003e\n\u003cdl\u003e\n\u003cdt class=\"header3\"\u003eFilter\u003c\/dt\u003e\n\u003cdd\u003e24dB (4-Pole) Octave Low Pass self-resonant filter\u003c\/dd\u003e\n\u003c\/dl\u003e\n\u003cdl\u003e\n\u003cdt class=\"header3\"\u003eEffects\u003c\/dt\u003e\n\u003cdd\u003eIntegrated Polysix Chorus, Phaser, and Ensemble\u003c\/dd\u003e\n\u003c\/dl\u003e\n\u003cdl\u003e\n\u003cdt class=\"header3\"\u003eArpeggiator\u003c\/dt\u003e\n\u003cdd\u003eIntegrated MIDI-synced arpeggiator, with adjustable Range, Mode, and Latch\u003c\/dd\u003e\n\u003c\/dl\u003e\n\u003cdl\u003e\n\u003cdt class=\"header3\"\u003eModulation\u003c\/dt\u003e\n\u003cdd\u003ePolysix: Original ADSR EG and MG (with MIDI sync).\u003cbr\u003eKRONOS: 2 additional multi-stage Envelopes, 2 additional per-voice LFOs, and 4 AMS Mixers.\u003c\/dd\u003e\n\u003c\/dl\u003e\n\u003c\/div\u003e\n\u003c\/div\u003e\n\u003c\/section\u003e\n\u003csection class=\"block type-u cv_black pad_b80\"\u003e\n\u003cdiv class=\"side-margin\"\u003e\n\u003ch2 class=\"header2\"\u003eCombination\u003c\/h2\u003e\n\u003cdiv class=\"box_type_u\"\u003e\n\u003cdl\u003e\n\u003cdt class=\"header3\"\u003eNumber of Timbres, Master Keyboard Functionality\u003c\/dt\u003e\n\u003cdd\u003e16 Maximum\u003cbr\u003eKeyboard and velocity splits, layers, and crossfades of up to 16 Programs and\/or external MIDI Devices\u003cbr\u003eThe tone adjust parameter function lets you modify program settings, and the master keyboard function lets you control external MIDI devices\u003c\/dd\u003e\n\u003c\/dl\u003e\n\u003cdl\u003e\n\u003cdt class=\"header3\"\u003eAdvanced Vector Synthesis\u003c\/dt\u003e\n\u003cdd\u003eControl oscillator volumes and synthesis \u0026amp; effects parameters via the Vector Joystick and the tempo-synchronized Vector Envelope.\u003c\/dd\u003e\n\u003c\/dl\u003e\n\u003c\/div\u003e\n\u003c\/div\u003e\n\u003c\/section\u003e\n\u003csection class=\"block type-u cv_black pad_b80\"\u003e\n\u003cdiv class=\"side-margin\"\u003e\n\u003ch2 class=\"header2\"\u003eDrumkit\u003c\/h2\u003e\n\u003cdiv class=\"box_type_u\"\u003e\n\u003cdl\u003e\n\u003cdt class=\"header3\"\u003eSystem\u003c\/dt\u003e\n\u003cdd\u003eAssignable stereo\/mono samples with 8 velocity zones per oscillator (with crossfade functions)\u003c\/dd\u003e\n\u003c\/dl\u003e\n\u003c\/div\u003e\n\u003c\/div\u003e\n\u003c\/section\u003e\n\u003csection class=\"block type-u cv_black pad_b80\"\u003e\n\u003cdiv class=\"side-margin\"\u003e\n\u003ch2 class=\"header2\"\u003eNumber of Programs\/Combinations\/Drum kits\u003c\/h2\u003e\n\u003cdiv class=\"box_type_u\"\u003e\n\u003cdl\u003e\n\u003cdt class=\"header3\"\u003eUser Memory Programs\u003c\/dt\u003e\n\u003cdd\u003e2,560 (1,792 [896 HD-1+896 EXi] come preloaded)\u003c\/dd\u003e\n\u003c\/dl\u003e\n\u003cdl\u003e\n\u003cdt class=\"header3\"\u003eUser Memory Combinations\u003c\/dt\u003e\n\u003cdd\u003e1,792 (512 come preloaded)\u003c\/dd\u003e\n\u003c\/dl\u003e\n\u003cdl\u003e\n\u003cdt class=\"header3\"\u003eUser Memory Drum Kits\u003c\/dt\u003e\n\u003cdd\u003e264 (78 come preloaded)\u003c\/dd\u003e\n\u003c\/dl\u003e\n\u003cdl\u003e\n\u003cdd\u003e256 GM Level2 preset programs + 9 GM Level 2 drum preset programs\u003c\/dd\u003e\n\u003c\/dl\u003e\n\u003c\/div\u003e\n\u003c\/div\u003e\n\u003c\/section\u003e\n\u003csection class=\"block type-u cv_black pad_b80\"\u003e\n\u003cdiv class=\"side-margin\"\u003e\n\u003ch2 class=\"header2\"\u003eSet List\u003c\/h2\u003e\n\u003cdiv class=\"box_type_u\"\u003e\n\u003cdl\u003e\n\u003cdt class=\"header3\"\u003eNumber of Set Lists\/Slots\u003c\/dt\u003e\n\u003cdd\u003e128 set lists, 128 slots per set list\u003cbr\u003eEach set list provides a 9-band graphic EQ, and a Tone Adjust function that allows program settings to be adjusted.\u003cbr\u003eTranspose setting.\u003cbr\u003eHold Time setting of Smooth Sound Transition (SST) supported for each slot.\u003c\/dd\u003e\n\u003c\/dl\u003e\n\u003c\/div\u003e\n\u003c\/div\u003e\n\u003c\/section\u003e\n\u003csection class=\"block type-u cv_black pad_b80\"\u003e\n\u003cdiv class=\"side-margin\"\u003e\n\u003ch2 class=\"header2\"\u003eSampling\u003c\/h2\u003e\n\u003cdiv class=\"box_type_u\"\u003e\n\u003cdl\u003e\n\u003cdt class=\"header3\"\u003eSystem\u003c\/dt\u003e\n\u003cdd\u003eOpen Sampling System (resampling, In-Track sampling)\u003c\/dd\u003e\n\u003c\/dl\u003e\n\u003cdl\u003e\n\u003cdt class=\"header3\"\u003eBit Depth\/Sampling Frequency\u003c\/dt\u003e\n\u003cdd\u003eRAM: 16-bit\/48 kHz stereo\/mono sampling\u003cbr\u003eDISK: 16 or 24-bit\/48 kHz\u003c\/dd\u003e\n\u003c\/dl\u003e\n\u003cdl\u003e\n\u003cdt class=\"header3\"\u003eSampling Time\u003c\/dt\u003e\n\u003cdd\u003eRAM: Depends on the amount of available PCM RAM\u003cbr\u003eDISK: Maximum 80 minutes stereo (879MB: 16bit)\u003c\/dd\u003e\n\u003c\/dl\u003e\n\u003cdl\u003e\n\u003cdt class=\"header3\"\u003eSample Locations\u003c\/dt\u003e\n\u003cdd\u003e16,000 samples\/4,000 multisamples (128 indexes per multisample)\u003c\/dd\u003e\n\u003c\/dl\u003e\n\u003cdl\u003e\n\u003cdt class=\"header3\"\u003eRipping\u003c\/dt\u003e\n\u003cdd\u003eDirect sampling (ripping) from audio CD (CD-DA)\u003c\/dd\u003e\n\u003c\/dl\u003e\n\u003cdl\u003e\n\u003cdt class=\"header3\"\u003eFormats\u003c\/dt\u003e\n\u003cdd\u003eKORG format, AKAI S1000\/S3000 data (with advanced Program parameter conversion); SoundFont 2.0, AIFF, and WAVE formats\u003c\/dd\u003e\n\u003c\/dl\u003e\n\u003cdl\u003e\n\u003cdt class=\"header3\"\u003eEditing\u003c\/dt\u003e\n\u003cdd\u003eTime Stretch, Time Slice, Crossfade Loop, and other standard editing features.\u003c\/dd\u003e\n\u003c\/dl\u003e\n\u003c\/div\u003e\n\u003c\/div\u003e\n\u003c\/section\u003e\n\u003csection class=\"block type-u cv_black pad_b80\"\u003e\n\u003cdiv class=\"side-margin\"\u003e\n\u003ch2 class=\"header2\"\u003eEffects\u003c\/h2\u003e\n\u003cdiv class=\"box_type_u\"\u003e\n\u003cdl\u003e\n\u003cdt class=\"header3\"\u003eInsert Effects\u003c\/dt\u003e\n\u003cdd\u003e12\u003cbr\u003eStereo in \/ stereo out\u003c\/dd\u003e\n\u003c\/dl\u003e\n\u003cdl\u003e\n\u003cdt class=\"header3\"\u003eMaster Effects\u003c\/dt\u003e\n\u003cdd\u003e2\u003cbr\u003eStereo in \/ stereo out\u003c\/dd\u003e\n\u003c\/dl\u003e\n\u003cdl\u003e\n\u003cdt class=\"header3\"\u003eTotal Effects\u003c\/dt\u003e\n\u003cdd\u003e2\u003cbr\u003eStereo in \/ stereo out\u003c\/dd\u003e\n\u003c\/dl\u003e\n\u003cdl\u003e\n\u003cdt class=\"header3\"\u003eTimbre EQ\u003c\/dt\u003e\n\u003cdd\u003eOne 3-band EQ for each timbre\/track\u003c\/dd\u003e\n\u003c\/dl\u003e\n\u003cdl\u003e\n\u003cdt class=\"header3\"\u003eEffect Types\u003c\/dt\u003e\n\u003cdd\u003e197\u003c\/dd\u003e\n\u003c\/dl\u003e\n\u003cdl\u003e\n\u003cdt class=\"header3\"\u003eModulation\u003c\/dt\u003e\n\u003cdd\u003eDynamic Modulation and Common LFO\u003c\/dd\u003e\n\u003c\/dl\u003e\n\u003cdl\u003e\n\u003cdt class=\"header3\"\u003eEffects Control Busses\u003c\/dt\u003e\n\u003cdd\u003eStereo side-chaining for compressors, gates, vocoders, etc.\u003c\/dd\u003e\n\u003c\/dl\u003e\n\u003cdl\u003e\n\u003cdt class=\"header3\"\u003eEffect Presets\u003c\/dt\u003e\n\u003cdd\u003eTotal 783 preset, Maximum 32 per 1 effect (Preset User)\u003c\/dd\u003e\n\u003c\/dl\u003e\n\u003c\/div\u003e\n\u003c\/div\u003e\n\u003c\/section\u003e\n\u003csection class=\"block type-u cv_black pad_b80\"\u003e\n\u003cdiv class=\"side-margin\"\u003e\n\u003ch2 class=\"header2\"\u003eKARMA\u003c\/h2\u003e\n\u003cdiv class=\"box_type_u\"\u003e\n\u003cdl\u003e\n\u003cdt class=\"header3\"\u003eKARMA Modules\u003c\/dt\u003e\n\u003cdd\u003eOne module in Program mode, four modules in Combination and Sequencer modes\u003c\/dd\u003e\n\u003c\/dl\u003e\n\u003cdl\u003e\n\u003cdt class=\"header3\"\u003eGenerated Effects (GE)\u003c\/dt\u003e\n\u003cdd\u003e2,048 presets, 1,536 Users (96 come Preload)\u003c\/dd\u003e\n\u003c\/dl\u003e\n\u003cdl\u003e\n\u003cdt class=\"header3\"\u003eControllers\u003c\/dt\u003e\n\u003cdd\u003eOn\/Off, Latch, Chord, Assign, Module, Control, KARMA Realtime Control Sliders [1] – [8], KARMA Scene [1] – [8], KARMA Switches [1] – [8], KARMA Wave-Sequencing, GE Sub Category, Freeze Randomize, Time Signature Control, Tempo Synchronize, Auto RTC (Real Time Control) setup\u003c\/dd\u003e\n\u003c\/dl\u003e\n\u003cdl\u003e\n\u003cdt class=\"header3\"\u003eDrum Track Patterns\u003c\/dt\u003e\n\u003cdd\u003e718 preset (common with the preset patterns of the MIDI sequencer)\u003cbr\u003e1,000 user patterns\u003cbr\u003ePatterns created in Sequencer mode can be converted to drum track user patterns.\u003cbr\u003eTrigger Mode\/Sync\/Zone settings can be specified.\u003c\/dd\u003e\n\u003c\/dl\u003e\n\u003c\/div\u003e\n\u003c\/div\u003e\n\u003c\/section\u003e\n\u003csection class=\"block type-u cv_black pad_b80\"\u003e\n\u003cdiv class=\"side-margin\"\u003e\n\u003ch2 class=\"header2\"\u003eSequencer\/HDR\u003c\/h2\u003e\n\u003cdiv class=\"box_type_u\"\u003e\n\u003cdl\u003e\n\u003cdt class=\"header3\"\u003eTracks\u003c\/dt\u003e\n\u003cdd\u003e16-track MIDI sequencer + 16-track hard disk recorder + 1 master track.\u003c\/dd\u003e\n\u003c\/dl\u003e\n\u003cdl\u003e\n\u003cdt class=\"header3\"\u003eNumber of Songs\u003c\/dt\u003e\n\u003cdd\u003e200 songs\u003c\/dd\u003e\n\u003c\/dl\u003e\n\u003cdl\u003e\n\u003cdt class=\"header3\"\u003eResolution\u003c\/dt\u003e\n\u003cdd\u003e1\/480\u003c\/dd\u003e\n\u003c\/dl\u003e\n\u003cdl\u003e\n\u003cdt class=\"header3\"\u003eTempo\u003c\/dt\u003e\n\u003cdd\u003e40.00 – 300.00 (1\/100 BPM resolution)\u003c\/dd\u003e\n\u003c\/dl\u003e\n\u003cdl\u003e\n\u003cdt class=\"header3\"\u003eMaximum Memory\u003c\/dt\u003e\n\u003cdd\u003e400,000 MIDI events or 300,000 audio events\u003c\/dd\u003e\n\u003c\/dl\u003e\n\u003cdl\u003e\n\u003cdt class=\"header3\"\u003eMIDI Tracks\u003c\/dt\u003e\n\u003cdd\u003e16 tracks plus the master track\u003cbr\u003e718 preset\/100 user patterns (per song)\u003cbr\u003e18 preset\/16 user template songs,\u003c\/dd\u003e\n\u003c\/dl\u003e\n\u003cdl\u003e\n\u003cdt class=\"header3\"\u003eAudio Tracks\u003c\/dt\u003e\n\u003cdd\u003e16-track playback, 4-track simultaneous recording, WAV file format 16bit\/24bit.\u003c\/dd\u003e\n\u003c\/dl\u003e\n\u003cdl\u003e\n\u003cdt class=\"header3\"\u003eOther Functions\u003c\/dt\u003e\n\u003cdd\u003eRPPR (Realtime Pattern Play and Record) (1 Pattern set per song), Auto Song Setup function\u003c\/dd\u003e\n\u003c\/dl\u003e\n\u003c\/div\u003e\n\u003c\/div\u003e\n\u003c\/section\u003e\n\u003csection class=\"block type-u cv_black pad_b80\"\u003e\n\u003cdiv class=\"side-margin\"\u003e\n\u003ch2 class=\"header2\"\u003eGeneral\u003c\/h2\u003e\n\u003cdiv class=\"box_type_u\"\u003e\n\u003cdl\u003e\n\u003cdt class=\"header3\"\u003eDisk Mode\u003c\/dt\u003e\n\u003cdd\u003eLoad, save, utility, audio CD burning, audio CD playback, data filer function (save\/load MIDI System Exclusive data), CD-R\/RW (UDF format read\/write), ISO9660 Level 1.\u003c\/dd\u003e\n\u003c\/dl\u003e\n\u003cdl\u003e\n\u003cdt class=\"header3\"\u003eControllers\u003c\/dt\u003e\n\u003cdd\u003eVector joystick, joystick, ribbon controller, switches 1 \u0026amp; 2\u003cbr\u003e\u003cstrong\u003eControl Surface: \u003c\/strong\u003e\u003cbr\u003e\u003cstrong\u003eControl Assign Switches: \u003c\/strong\u003e\u003cbr\u003eAssigns the Control Surface to Timber\/Track, Audio, External, Realtime Knobs\/KARMA,\u003cbr\u003eTone Adjust\/EQ\u003cbr\u003e\u003cstrong\u003eMixer Knobs Switch: \u003c\/strong\u003e\u003cbr\u003eAssigns the Mixer Knobs to either Channel Strip or Individual Pan, Reset Control Switch, Solo Switch, Knobs 1-8, Switches 1-8(Upper Row), Switches 1-8 (Lower Row), Sliders 1-8, Master Slider\u003cbr\u003e\u003cstrong\u003eKARMA Control: \u003c\/strong\u003e\u003cbr\u003eOn\/Off, Latch, Module Control\u003cbr\u003e\u003cstrong\u003eRUM TRACK: \u003c\/strong\u003e\u003cbr\u003eOn\/Off\u003c\/dd\u003e\n\u003c\/dl\u003e\n\u003cdl\u003e\n\u003cdt class=\"header3\"\u003eDisplay\u003c\/dt\u003e\n\u003cdd\u003eTouchView graphical user interface, 8 inch color TFT, SVGA (800x600 dots), adjustable brightness\u003c\/dd\u003e\n\u003c\/dl\u003e\n\u003cdl\u003e\n\u003cdt class=\"header3\"\u003eOutputs\u003c\/dt\u003e\n\u003cdd\u003e\n\u003cstrong\u003e== Analog == \u003c\/strong\u003e\u003cbr\u003e\u003cstrong\u003e(MAIN) L\/MONO, R: \u003c\/strong\u003e\u003cbr\u003e1\/4" TRS Balanced\u003cbr\u003eOutput Impedance: 350 Ω Stereo; 175 Ω Mono (L\/MONO Only),\u003cbr\u003eNominal Level: +4.0 dBu,\u003cbr\u003eMaximum Level: +16.0 dBu (when load impedance is 600 Ω or greater)\u003cbr\u003eMAIN VOLUME knob controls only AUDIO OUTPUT (MAIN) L\/MONO and R\u003cbr\u003e\u003cstrong\u003eIndividual 1-4: \u003c\/strong\u003e\u003cbr\u003e1\/4" TRS Balanced\u003cbr\u003eOutput Impedance: 350 Ω Stereo; 175 Ω Mono,\u003cbr\u003eNominal Level: +4.0 dBu,\u003cbr\u003eMaximum Level: +16.0 dBu (when load impedance is 600 Ω or greater)\u003cbr\u003e\u003cstrong\u003eHeadphones: \u003c\/strong\u003e\u003cbr\u003e1\/4" stereo phone jack, Output impedance: 33 Ω, Maximum Level: 60+60 mW (when load impedance is 33 Ω),\u003cbr\u003eMAIN VOLUME knob (link with AUDIO OUTPUT (MAIN))\u003cbr\u003e\u003cstrong\u003e== Digital == \u003c\/strong\u003e\u003cbr\u003e\u003cstrong\u003eS\/P DIF: \u003c\/strong\u003e\u003cbr\u003eOptical, 24-bit, IEC60958, EIAJCP-1201, Sample Rate: 48 kHz, (the same signals as L\/MONO, R)\u003cbr\u003eDigital output of the same signals as AUDIO OUTPUT (MAIN) L\/MONO and R\u003cbr\u003e\u003cstrong\u003eUSB-B: \u003c\/strong\u003e\u003cbr\u003e24-bit, Sample Rate: 48 kHz, 2 channels\u003cbr\u003e(Digital output of the same signals as AUDIO OUTPUT (MAIN) L\/MONO and R)\u003c\/dd\u003e\n\u003c\/dl\u003e\n\u003cdl\u003e\n\u003cdt class=\"header3\"\u003eInputs\u003c\/dt\u003e\n\u003cdd\u003e\n\u003cstrong\u003e== Analog == \u003c\/strong\u003e\u003cbr\u003e\u003cstrong\u003eAudio Inputs 1 and 2: \u003c\/strong\u003e\u003cbr\u003e1\/4" TRS Balanced\u003cbr\u003eMIC\/LINE input level switches, LEVEL knobs\u003cbr\u003eInput Impedance: 10 kΩ\u003cbr\u003eNominal Level: LINE\u003cbr\u003e+4 dBu (LEVEL knob = min), –36 dBu (LEVEL knob = max)\u003cbr\u003eNominal Level: MIC\u003cbr\u003e–22 dBu (LEVEL knob = min), –62 dBu (LEVEL knob = max)\u003cbr\u003eMaximum Level: LINE\u003cbr\u003e+16 dBu (LEVEL knob = min), –24 dBu (LEVEL knob = max)\u003cbr\u003eMaximum Level: MIC\u003cbr\u003e-10 dBu (LEVEL knob = min), –50 dBu (LEVEL knob = max)\u003cbr\u003eSource Impedance: 600 Ω\u003cbr\u003eSignal to noise ratio: 95 dB (typical)\u003cbr\u003eDynamic range: 95 dB (typical)\u003cbr\u003eCrosstalk: 95 dB, at 1 kHz (typical)\u003cbr\u003e\u003cstrong\u003e== Digital == \u003c\/strong\u003e\u003cbr\u003e\u003cstrong\u003eS\/P DIF: \u003c\/strong\u003e\u003cbr\u003eOptical, 24-bit, IEC60958, EIAJCP-1201, Sample Rate: 48 kHz\u003cbr\u003e\u003cstrong\u003eUSB-B: \u003c\/strong\u003e\u003cbr\u003e24-bit, Sample Rate: 48 kHz, 2 channels\u003c\/dd\u003e\n\u003c\/dl\u003e\n\u003cdl\u003e\n\u003cdt class=\"header3\"\u003eControl Inputs\u003c\/dt\u003e\n\u003cdd\u003eDamper pedal (half damper supported), assignable switch, assignable pedal\u003c\/dd\u003e\n\u003c\/dl\u003e\n\u003cdl\u003e\n\u003cdt class=\"header3\"\u003eMIDI\u003c\/dt\u003e\n\u003cdd\u003eIn, Out, Thru\u003c\/dd\u003e\n\u003c\/dl\u003e\n\u003cdl\u003e\n\u003cdt class=\"header3\"\u003eUSB*5\u003c\/dt\u003e\n\u003cdd\u003eUSB A (TYPE A) x 2, For connection to external USB devices (QWERTY keyboards, MIDI controllers, ethernet adaptors, and storage)\u003cbr\u003eUSB B (TYPE B) x 1, MIDI\/audio interface\u003cbr\u003eMIDI: 1 (16 channel) input \/ 1 (16 channel) output\u003cbr\u003eAudio: 2 channel input \/ 2 channel output\u003cbr\u003e*5 USB high-speed ports (supports 480Mbps)\u003c\/dd\u003e\n\u003c\/dl\u003e\n\u003cdl\u003e\n\u003cdt class=\"header3\"\u003eDisk Drives\u003c\/dt\u003e\n\u003cdd\u003e60 GB SSD (2.5")\u003cbr\u003eOptional installation of second internal SSD\u003c\/dd\u003e\n\u003c\/dl\u003e\n\u003cdl\u003e\n\u003cdt class=\"header3\"\u003ePower Consumption\u003c\/dt\u003e\n\u003cdd\u003e60W\u003c\/dd\u003e\n\u003c\/dl\u003e\n\u003cdl\u003e\n\u003cdt class=\"header3\"\u003eDimensions\u003cbr\u003e(W x D x H)\u003c\/dt\u003e\n\u003cdd\u003e61 key: 1,040 x 364 x 134 mm \/ 40.94" x 14.33" x 5.28"\u003cbr\u003e73 key: 1,221 x 371 x 148 mm \/ 48.07" x 14.61" x 5.83"\u003cbr\u003e88 key: 1,443 x 371 x 148 mm \/ 56.42" x 14.61" x 5.83"\u003c\/dd\u003e\n\u003c\/dl\u003e\n\u003cdl\u003e\n\u003cdt class=\"header3\"\u003eWeight\u003c\/dt\u003e\n\u003cdd\u003e61 key: 14.3 kg \/ 31.53 lbs.\u003cbr\u003e73 key: 21.1 kg \/ 46.52 lbs.\u003cbr\u003e88 key: 24.1 kg \/ 53.13 lbs.\u003c\/dd\u003e\n\u003c\/dl\u003e\n\u003cdl\u003e\n\u003cdt class=\"header3\"\u003eAccessories\u003c\/dt\u003e\n\u003cdd\u003eAC cord, Quick Start Guide, Accessory DVD Discs 1-3 (DVDs include KRONOS Operation Guide, Parameter Guide, and Voice Name List PDF files; Video Manual; KORG USB-MIDI Driver; System Restore Data, etc.)\u003c\/dd\u003e\n\u003c\/dl\u003e\n\u003c\/div\u003e\n\u003c\/div\u003e\n\u003c\/section\u003e\n\u003csection class=\"block type-u cv_black pad_b80\"\u003e\n\u003cdiv class=\"side-margin\"\u003e\n\u003ch2 class=\"header2\"\u003ePrincipal Specifications\u003c\/h2\u003e\n\u003cdiv class=\"box_type_u\"\u003e\n\u003cdl\u003e\n\u003cdt class=\"header3\"\u003eFrequency Response\u003c\/dt\u003e\n\u003cdd\u003e20Hz-22kHz, +\/-1.0dB, 10k Ω load\u003c\/dd\u003e\n\u003c\/dl\u003e\n\u003cdl\u003e\n\u003cdt class=\"header3\"\u003eTHD+N\u003c\/dt\u003e\n\u003cdd\u003e20Hz-22kHz, 0.01%, 10k Ω load (typical)\u003c\/dd\u003e\n\u003c\/dl\u003e\n\u003cdl\u003e\n\u003cdt class=\"header3\"\u003eS\/N\u003c\/dt\u003e\n\u003cdd\u003e95dB (typical)\u003c\/dd\u003e\n\u003c\/dl\u003e\n\u003cdl\u003e\n\u003cdt class=\"header3\"\u003eDynamic Range\u003c\/dt\u003e\n\u003cdd\u003e95dB (typical)\u003c\/dd\u003e\n\u003c\/dl\u003e\n\u003cdl\u003e\n\u003cdt class=\"header3\"\u003eCrosstalk\u003c\/dt\u003e\n\u003cdd\u003e95dB, at 1kHz (typical)\u003c\/dd\u003e\n\u003c\/dl\u003e\n\u003c\/div\u003e\n\u003cdiv class=\"box_kome_type_u\"\u003e\n\u003ctable\u003e\n\u003ctbody\u003e\n\u003ctr\u003e\n\u003ctd colspan=\"2\"\u003e* All product, company, and standard names are trademarks or registered trademarks of their respective holders.\u003c\/td\u003e\n\u003c\/tr\u003e\n\u003ctr\u003e\n\u003ctd colspan=\"2\"\u003e* Appearance and specifications of products are subject to change without notice.\u003c\/td\u003e\n\u003c\/tr\u003e\n\u003ctr\u003e\n\u003ctd colspan=\"2\"\u003e* The color of the actual instrument may differ slightly from the image shown here.\u003c\/td\u003e\n\u003c\/tr\u003e\n\u003ctr\u003e\n\u003ctd colspan=\"2\"\u003e* Since natural wood is used in the side panels of this instrument, there will be individual differences in the grain and figuration of the wood.\u003c\/td\u003e\n\u003c\/tr\u003e\n\u003c\/tbody\u003e\n\u003c\/table\u003e\n\u003c\/div\u003e\n\u003cdiv class=\"box_kome_type_u\"\u003eBuy the Korg Kronos from Audiosaurus today! - Your online pro audio experts in South Africa.\u003c\/div\u003e\n\u003c\/div\u003e\n\u003c\/section\u003e\n\u003c\/div\u003e\n\u003c\/div\u003e\n\u003c\/div\u003e\n\u003c\/section\u003e\n\u003c\/div\u003e\n\u003c\/div\u003e","published_at":"2016-07-07T12:14:00+02:00","created_at":"2016-05-09T16:22:16+02:00","vendor":"Korg","type":"Keys","tags":["Brand_Korg","DistTuerk","dropdown"],"price":4759900,"price_min":4759900,"price_max":4759900,"available":true,"price_varies":false,"compare_at_price":null,"compare_at_price_min":0,"compare_at_price_max":0,"compare_at_price_varies":false,"variants":[{"id":18709218564,"title":"Default Title","option1":"Default Title","option2":null,"option3":null,"sku":"KA 205","requires_shipping":true,"taxable":true,"featured_image":null,"available":true,"name":"Korg KRONOS 2 73","public_title":null,"options":["Default Title"],"price":4759900,"weight":0,"compare_at_price":null,"inventory_quantity":1,"inventory_management":null,"inventory_policy":"deny","barcode":""}],"images":["\/\/cdn.shopify.com\/s\/files\/1\/0984\/8294\/products\/xl_60479-Kronos2_88_slant_rgb.jpg?v=1467886382"],"featured_image":"\/\/cdn.shopify.com\/s\/files\/1\/0984\/8294\/products\/xl_60479-Kronos2_88_slant_rgb.jpg?v=1467886382","options":["Title"],"content":"\u003cp\u003eMusic Workstation\u003c\/p\u003e\n\u003ch1 class=\"header1\"\u003eEvolve.\u003c\/h1\u003e\n\u003cp\u003eWhen ambition, imagination, and technology converge—the results are spectacular. Witness KRONOS. Created by KORG to satisfy today's most demanding, accomplished performers and producers—as well as tomorrow's visionary leaders—KRONOS embodies over 50 years of artistic vision and production expertise. With nine distinct synthesis engines and a complete suite of performance and productions tools, KRONOS is simply the most versatile synthesizer ever made.\u003c\/p\u003e\n\u003cdiv align=\"left\"\u003e\n\u003cbr\u003eKRONOS restores the magic, the thrill, and the promise that only a visionary new instrument can provide. And KRONOS delivers on that promise. Every resources and technology of service to the modern musician has been refined, perfected, and integrated into a single instrument, and is available on demand. Multiple state-of-the-art sound generation techniques represent the pinnacle of software realization. Onboard effects open the door to processing any internal or external audio source with dazzling results. Multitrack audio and MIDI recording deliver efficient studio operations in a mobile platform. Hands-on hardware includes an assignable control surface, dual joysticks, ribbon controller, top-of-the line keyboard action, and KORG's revolutionary tap-and-drag color TouchView™ display. Best of all, KRONOS integrates all of these music-making resources into a single instrument in ways that no software setup or hardware platform can rival.\u003cbr\u003e\u003cbr\u003eKRONOS easily delivers everything you'd expect, plus many things you've only dreamed of. Set List mode keeps all of your custom settings and performance notes organized in the display for on-the-fly selection. Smooth Sound Transitions eliminate note and effect dropouts when switching sounds or modes. Connect virtual patch cables, select sounds, plus edit envelopes and sequences—all using the eight-inch color TouchView display. Add to that advanced sequencing, KARMA, and Drum Track composition tools. Enjoy exclusive KORG wavesequencing, MS-20 filtering and the impossibly-rich Polysix chorus. And only KORG boasts the finest sound-design team on the planet, so you can always sound your very best.\u003cbr\u003e\u003cbr\u003e\n\u003c\/div\u003e\n\u003cdiv align=\"left\"\u003e\u003ciframe width=\"897\" height=\"502\" src=\"https:\/\/www.youtube.com\/embed\/jshQWP0gQ-k\" frameborder=\"0\" allowfullscreen=\"\"\u003e\u003c\/iframe\u003e\u003c\/div\u003e\n\u003cdiv align=\"left\"\u003e\n\u003cbr\u003e\n\u003cdiv class=\"text_type_p\"\u003e\n\u003ch3 class=\"header3\"\u003e\u003cb\u003eNine Distinct Sound Engines\u003c\/b\u003e\u003c\/h3\u003e\n\u003cp\u003eEach of the individual KRONOS sound engines is eminently qualified to operate as a stand-alone synthesizer. And each one represents the cutting-edge technology available for that type of sound creation. Exacting programming parameters, real-time controllers, integrated effects, and assignable modulation routings provide incredible control for the creating custom edits or for the ambitious sound designer\u003c\/p\u003e\n\u003c\/div\u003e\n\u003cdiv class=\"text_type_p\"\u003e\n\u003ch3 class=\"header3\"\u003e\u003cb\u003eEnhanced SGX-2 Grand Piano Sound Engine\u003c\/b\u003e\u003c\/h3\u003e\n\u003cp\u003eThe KRONOS piano engine has always offered huge collections of non-looped\/natural decay stereo samples, recorded for every key, with additional unique tools to customize the piano to your needs. Inheriting all of this SGX-1 functionality, the new enhanced SGX-2 Grand Piano engine introduces the new Berlin Grand piano to the existing deep German Grand and lively Japanese Grand. The Berlin Grand offers resonant piano sound with a striking sense of depth.\u003cbr\u003e\u003cbr\u003eOther enhancements to the SGX-2 engine included Sympathetic String Resonance and newly-recorded Una Corda (soft pedal – literally "one-string") samples. \u003c\/p\u003e\n\u003c\/div\u003e\n\u003cdiv class=\"text_type_p\"\u003e\n\u003ch3 class=\"header3\"\u003e\u003cb\u003eMassive Sound Selection\u003c\/b\u003e\u003c\/h3\u003e\n\u003cp\u003eKRONOS comes equipped with thousands of sounds, created using various synthesis modes and calling upon over approximately 21 GB of preset waveform data covering a variety of genres. Each one has been carefully crafted by the KORG Sound Design team. The internal SSD offers a generous 62*GB capacity, providing enormous space for user sampling or downloading KRONOS Sound Libraries. These optional expansion KRONOS Sound Libraries add new professionally programmed sounds—without the need to add any new hardware.\u003cbr\u003e\u003cbr\u003eArtist Signature Programs provide the priceless sounds actually used by top-ranking musicians. Additional Song Programs are named for the classic rock and pop songs whose signature keyboard sounds these programs recreate. Use these universally well-known sounds to pay homage to the originals, or as the basis for personal sonic explorations.\u003cbr\u003e\u003cbr\u003e* SSD capacity is subject to change without notice.\u003cbr\u003e\u003cbr\u003e\u003c\/p\u003e\n\u003csection class=\"block type-h cv_charcoal pad_t80\"\u003e\n\u003cdiv class=\"side-margin\"\u003e\n\u003cdiv class=\"content_box_type_h\"\u003e\n\u003cdiv class=\"box_type_h\"\u003e\n\u003ch3 class=\"header3\"\u003eInnovative Set List Mode\u003c\/h3\u003e\n\u003cp\u003eKRONOS can organize all of the resources you need to get through a song—or a set—using the Set List mode. Using the Set List mode, the TouchView display can host 16 color-coded touch-screen buttons; each one can instantly call up the appropriate Preset, Combination, or Sequence—regardless of mode!\u003cbr\u003e\u003cbr\u003eYou can even add handy performance notes ("Sing on Chorus;" "Transpose Down;" "Wait for Sax Solo;" etc.) to each one.\u003cbr\u003e\u003cbr\u003eThe Set List mode even adds a nine-band graphic EQ, allowing the overall tone to be tweaked to match the venue. New in OS version 3.0, Set List mode now allows for deeper customization with many slot color options, text size variations, and a full-screen text editor. Connecting a USB computer keyboard makes it simple to enter text and numeric values.\u003c\/p\u003e\n\u003cp\u003e\u003cimg src=\"http:\/\/cdn.korg.com\/za\/products\/upload\/00d24c3e76d730daa31507aa4a4d2710_pc.jpg?Expires=1470477537\u0026amp;Signature=IUMORFFAvejWg1KpmAmDEViV3t9B5GMT08~FlbZuWee16phpblb2Iqr7~2~3eJU0YYkIYptP4B--jeN8rleuKndo-qmBezeR6emCYDXGCI46xhBgxmMmVf1cE~ZrBgSogZJrU9QmuIpOqVJqxWHeYa534CBQCzOasBHGf1Z5kQW2lXsScfYABMlscLhHUxFBrW3-QPcOJAGy-EPeUiobNEWH7b4F4LqJAM5B3OLJInugz50GQJxvnl13wCejzb4uJnPLMM1D78i~u4pV8CqgWr0N816RNxyR8Wg-VSJcagCF3QPB378lpMv0Hx5NQl2pyrmz1FKMQITad0Xl-jOp8Q__\u0026amp;Key-Pair-Id=APKAIQGL3XAA7HGZGU6Q\" alt=\"\"\u003e\u003c\/p\u003e\n\u003c\/div\u003e\n\u003cdiv class=\"box_type_h\"\u003e\n\u003ch3 class=\"header3\"\u003eColor TouchView Display—Now with Touch-Drag Capability\u003c\/h3\u003e\n\u003cp\u003eThe nerve center of the KRONOS is KORG's enormous eight-inch (800 x 600 pixel) SVGA color TouchView display.\u003cbr\u003e\u003cbr\u003eIn addition to simply selecting a sound or choosing a parameter with the touch of a finger, the enhanced Touch-Drag ability allows more detailed control of parameter values. Interactive instruments and panel graphics provide the ability to do everything from adjusting the lid of a grand piano to connecting patch cable on a semi-modular synthesizer model.\u003cbr\u003e\u003cbr\u003eThe TouchView display also hosts a convenient new Search Function, allowing you to search for (and preview) sounds based on their titles.\u003c\/p\u003e\n\u003c\/div\u003e\n\u003c\/div\u003e\n\u003c\/div\u003e\n\u003c\/section\u003e\n\u003csection class=\"block type-j cv_charcoal\"\u003e\n\u003cdiv class=\"side-margin\"\u003e\n\u003cdiv class=\"images_type_j\"\u003e\n\u003cul class=\"list_images_type_j\"\u003e\n\u003cli\u003e\u003ca href=\"http:\/\/www.korg.com\/za\/products\/synthesizers\/kronos2\/index.php#\" class=\"image_type_j\" onclick=\"javascript:popupImgView('http%3A%2F%2Fcdn.korg.com%2Fza%2Fproducts%2Fupload%2Fff0a9f8f3cbbed331ced3654ff3f65f6.jpg%3FExpires%3D1470477537%26Signature%3DcMYJ53%7Ef02-lUUSAQ7z9o%7ExbhOvdZgDHH0jHL1CrYlxD2PJO7Y3XvKJdEKpcM26uabwDzwYtyoVPcKH6LLOkn5RQ04J3B9-soumKJcARHiidAdCK9Sq4hPZrDSU86CgAjIJq8d1z6i66UpgTcRGwfB6ofdQkG7tTvrZbFFdV5hinGQr6jruiywJVoZ38egLL64QAg7cMa0mf-C8occLyn6G03zsT2-9FOxseMA0%7E6-UV4S3q4avVTX2bzSGByak4J4lSTZbqtYcv7PITwYyjHf6o%7EZFlKrZi-P8rqdawQebrvuoDoGKv2mn6EfxZ42B48EdAMleDwFH8Gri2Z-l6zw__%26Key-Pair-Id%3DAPKAIQGL3XAA7HGZGU6Q'); return false;\"\u003e\u003cimg src=\"http:\/\/cdn.korg.com\/za\/products\/upload\/ff0a9f8f3cbbed331ced3654ff3f65f6_pc.jpg?Expires=1470477537\u0026amp;Signature=rw~eIXykDLH1pKphI5VHR6AKoKrk8WXnKjiECX9puHEVuS018LwLBRco5RAgLNPLv1Yhu~n8JdPgVUL2PPBmz4IwDyQEIGm1Qzbp4MCkhZMWj~WnLIzXEOAkaTiMVRV-372MICEUuzvzqnXTeeLjkvO7c6CsRLR0eCXGSybrGkWVka9NVAemZr1DmLV7rwaOv1V77VgItbHJzYGmuxeNhuxrr6qD6ks2AIxjBK8xYyoRd7ryZXION1wamdJE1kOhGTnETj13vfHIcas-3jwz6-hglxJZ7fpmxX-RtlbhFPIqri0rsLFO7AZ0sp6J5IH33RYYwIcV1hbruPYNknZ7tw__\u0026amp;Key-Pair-Id=APKAIQGL3XAA7HGZGU6Q\" alt=\"\"\u003e\u003cbr\u003e\u003cbr\u003e\u003c\/a\u003e\u003c\/li\u003e\n\u003c\/ul\u003e\n\u003ch2 class=\"header2\"\u003eNine Synthesizer Engines, United in One Instrument\u003c\/h2\u003e\n\u003cp\u003e \u003c\/p\u003e\n\u003cdiv align=\"left\"\u003eKRONOS harnesses nine distinct synthesizer\/sound engines into a single, integrated musical instrument. Dynamic voice allocation and new technologies allow all sound engines to smoothly share a stable, enhanced hardware platform. The results are nothing less than spectacular.\u003cbr\u003e\u003cbr\u003e\n\u003c\/div\u003e\n\u003cdiv align=\"left\"\u003e\n\u003csection class=\"block type-u cv_black pad_t80 pad_b80\"\u003e\n\u003cdiv class=\"side-margin\"\u003e\n\u003ch2 class=\"header2\"\u003eSystem\u003c\/h2\u003e\n\u003cdiv class=\"box_type_u\"\u003e\n\u003cdl\u003e\n\u003cdt class=\"header3\"\u003eSystem\u003c\/dt\u003e\n\u003cdd\u003eKRONOS System Version 3.0\u003c\/dd\u003e\n\u003c\/dl\u003e\n\u003cdl\u003e\n\u003cdt class=\"header3\"\u003eKeyboard\u003c\/dt\u003e\n\u003cdd\u003e88 key: RH3 (Real Weighted Hammer Action 3)\u003cbr\u003e73 key: RH3 (Real Weighted Hammer Action 3)\u003cbr\u003e61 key: Natural Touch Semi Weighted\u003c\/dd\u003e\n\u003c\/dl\u003e\n\u003c\/div\u003e\n\u003c\/div\u003e\n\u003c\/section\u003e\n\u003csection class=\"block type-u cv_black pad_b80\"\u003e\n\u003cdiv class=\"side-margin\"\u003e\n\u003ch2 class=\"header2\"\u003eTone Generator\u003c\/h2\u003e\n\u003cdiv class=\"box_type_u\"\u003e\n\u003cdl\u003e\n\u003cdt class=\"header3\"\u003eSynthesis Types\u003c\/dt\u003e\n\u003cdd\u003e9\u003cbr\u003eSGX-2: Premium Piano (Acoustic Piano)\u003cbr\u003eEP-1: MDS Electric Piano (Electric Piano)\u003cbr\u003eHD-1: High Definition Synthesizer (PCM)\u003cbr\u003eAL-1: Analog Synthesizer (Analog Modeling)\u003cbr\u003eCX-3: Tonewheel Organ (Tonewheel Organ Modeling)\u003cbr\u003eSTR-1: Plucked Strings (Physical Modeling)\u003cbr\u003eMOD-7: Waveshaping VPM Synthesizer (VPM Synthesis)\u003cbr\u003eMS-20EX: Component Modeling Technology (Analog Modeling)\u003cbr\u003ePolysixEX: Component Modeling Technology (CMT Analog Modeling)\u003c\/dd\u003e\n\u003c\/dl\u003e\n\u003cdl\u003e\n\u003cdt class=\"header3\"\u003eMaximum Polyphony*1*2\u003c\/dt\u003e\n\u003cdd\u003eSGX-2: 100 voices*3\u003cbr\u003eEP-1: 104 voices\u003cbr\u003eHD-1: 140 voices\u003cbr\u003eAL-1: 80 voices\u003cbr\u003eCX-3: 200 voices\u003cbr\u003eSTR-1: 40 voices\u003cbr\u003eMOD-7: 52 voices\u003cbr\u003eMS-20EX: 40 voices\u003cbr\u003ePolysixEX: 180 voices\u003cbr\u003e\u003cbr\u003e*1: In rare cases, when a large number of processor-intensive effects are active simultaneously (for instance, more than 14 O-Verbs), polyphony may be slightly reduced.\u003cbr\u003e*2: A portion of the multicore processor in KRONOS is devoted to generating voices, and a separate portion is devoted to generating effects. KRONOS dynamically allocates the voice processing power between the engines as necessary. The quoted maximum numbers of voices apply when 100% of the voice processing power is devoted to a single engine.\u003cbr\u003e*3: 100 dual-stereo notes (equivalent to 400 mono voices)\u003c\/dd\u003e\n\u003c\/dl\u003e\n\u003cdl\u003e\n\u003cdt class=\"header3\"\u003ePreset PCM\u003c\/dt\u003e\n\u003cdd\u003e314 MB (ROM 1,505 Multisamples, 1,388 Drumsamples)\u003c\/dd\u003e\n\u003c\/dl\u003e\n\u003cdl\u003e\n\u003cdt class=\"header3\"\u003eBuild-in Expansion PCM Libraries\u003c\/dt\u003e\n\u003cdd\u003eEXs1 - ROM Expansion\u003cbr\u003eEXs2 - Concert Grand Piano\u003cbr\u003eEXs3 - Brass \u0026amp; Woodwinds\u003cbr\u003eEXs4 - Vintage Keyboards\u003cbr\u003eEXs5 - ROM Expansion 2\u003cbr\u003eEXs6 - SGX-1 German D Piano\u003cbr\u003eEXs7 - SGX-1 Japanese C Piano\u003cbr\u003eEXs8 - Rock Ambience Drums\u003cbr\u003eEXs9 - Jazz Ambience Drums\u003cbr\u003eEXs17 – SGX-2 Berlin D Piano\u003cbr\u003eEXs18 – KORG EXs Collections\u003c\/dd\u003e\n\u003c\/dl\u003e\n\u003cdl\u003e\n\u003cdt class=\"header3\"\u003ePCM RAM Capacity\u003c\/dt\u003e\n\u003cdd\u003eApprox. 2GB *4\u003cbr\u003e*4: The memory available for Sampling Mode will change based on the use of Expansion PCM libraries and User Sample Banks. Approx. 760 MB is available when shipped from the factory (When loading the file named "PRELOAD.KSC").\u003c\/dd\u003e\n\u003c\/dl\u003e\n\u003cdl\u003e\n\u003cdt class=\"header3\"\u003eWave Sequences\u003c\/dt\u003e\n\u003cdd\u003e598 User memory, 187 Preload\u003cbr\u003eSupport for stereo multisamples, synchronization of individual notes, and tempo-based settings.\u003c\/dd\u003e\n\u003c\/dl\u003e\n\u003c\/div\u003e\n\u003c\/div\u003e\n\u003c\/section\u003e\n\u003csection class=\"block type-u cv_black pad_b80\"\u003e\n\u003cdiv class=\"side-margin\"\u003e\n\u003ch2 class=\"header2\"\u003eSGX-2 Program\u003c\/h2\u003e\n\u003cdiv class=\"box_type_u\"\u003e\n\u003cdl\u003e\n\u003cdt class=\"header3\"\u003ePremium Piano\u003c\/dt\u003e\n\u003cdd\u003eVirtual Memory Technology (VMT) plays large samples directly from the internal SSD\u003cbr\u003eFull key stereo sampling, Chromatically sampled at up to 12 velocity levels, no looping.\u003cbr\u003eDamper resonance and mechanical noise are reproduced.\u003cbr\u003eModeled String Resonance.\u003cbr\u003eUna Corda sample support\u003c\/dd\u003e\n\u003c\/dl\u003e\n\u003cdl\u003e\n\u003cdt class=\"header3\"\u003ePCM\u003c\/dt\u003e\n\u003cdd\u003eEXs6:SGX-1 German D Piano\u003cbr\u003eEXs7:SGX-1 Japanese C Piano\u003cbr\u003eEXs12:SGX-1 Austrian D Piano (Option Sound libraries)\u003cbr\u003e8 velocity levels, no Una Corda samples\u003cbr\u003eEXs17:Berlin D Piano\u003cbr\u003e12 velocity levels, includes Una Corda samples\u003c\/dd\u003e\n\u003c\/dl\u003e\n\u003cdl\u003e\n\u003cdt class=\"header3\"\u003ePiano Type\u003c\/dt\u003e\n\u003cdd\u003e64 (With the factory settings, the 16 varieties of EXs12 SGX-1 Austrian D Piano do not produce sound. The EXs12 option must be downloaded.)\u003c\/dd\u003e\n\u003c\/dl\u003e\n\u003cdl\u003e\n\u003cdt class=\"header3\"\u003eOscillator Control\u003c\/dt\u003e\n\u003cdd\u003eDamper Resonance\u003cbr\u003eDamper Noise\u003cbr\u003eMechanical Noise\u003cbr\u003eNote Release\u003cbr\u003eString Resonance\u003cbr\u003eUna Corda\u003c\/dd\u003e\n\u003c\/dl\u003e\n\u003c\/div\u003e\n\u003c\/div\u003e\n\u003c\/section\u003e\n\u003csection class=\"block type-u cv_black pad_b80\"\u003e\n\u003cdiv class=\"side-margin\"\u003e\n\u003ch2 class=\"header2\"\u003eEP-1 Program\u003c\/h2\u003e\n\u003cdiv class=\"box_type_u\"\u003e\n\u003cdl\u003e\n\u003cdt class=\"header3\"\u003eMDS Electric Piano\u003c\/dt\u003e\n\u003cdd\u003eTine and reed-type electric pianos powered by Multi-Dimensional Synthesis (MDS), and vintage effects.\u003c\/dd\u003e\n\u003c\/dl\u003e\n\u003cdl\u003e\n\u003cdt class=\"header3\"\u003eElectric Piano Model Types\u003c\/dt\u003e\n\u003cdd\u003e6\u003cbr\u003eTine EP I, Tine EP II, Tine EP V, Tine EP DMP, Reed EP200, Reed EP200A\u003c\/dd\u003e\n\u003c\/dl\u003e\n\u003cdl\u003e\n\u003cdt class=\"header3\"\u003eOscillator Control\u003c\/dt\u003e\n\u003cdd\u003eHarmonic Sound Level, Attack Noise, Level, Release Noise Level, Attack Brightness, Hammer Width\u003c\/dd\u003e\n\u003c\/dl\u003e\n\u003cdl\u003e\n\u003cdt class=\"header3\"\u003ePanel Control\u003c\/dt\u003e\n\u003cdd\u003eTine Type\u003cbr\u003ePreamp Volume, Tone (Treble, Bass), Vibrate (On\/Off, Intensity, Speed), Amp\/Cabinet (On\/Off, Drive)*5\u003cbr\u003eReed Type\u003cbr\u003ePreamp Volume, Tone (Treble, Bass), Vibrate (Intensity, Speed), Amp\/Cabinet (On\/Off, Drive)*5\u003c\/dd\u003e\n\u003c\/dl\u003e\n\u003cdl\u003e\n\u003cdt class=\"header3\"\u003eEffect Types\u003c\/dt\u003e\n\u003cdd\u003e9\u003cbr\u003eSmall Phase, Orange Phase, Black Phase, Vintage Chorus, Black Chorus, EP Chorus, Vintage Flanger, Red Comp, VOX Wah\u003c\/dd\u003e\n\u003c\/dl\u003e\n\u003c\/div\u003e\n\u003c\/div\u003e\n\u003c\/section\u003e\n\u003csection class=\"block type-u cv_black pad_b80\"\u003e\n\u003cdiv class=\"side-margin\"\u003e\n\u003ch2 class=\"header2\"\u003eHD-1 Program\u003c\/h2\u003e\n\u003cdiv class=\"box_type_u\"\u003e\n\u003cdl\u003e\n\u003cdt class=\"header3\"\u003eAdvanced Vector Synthesis\u003c\/dt\u003e\n\u003cdd\u003eControl oscillator volumes and synthesis \u0026amp; effects parameters via the Vector Joystick and the tempo-synchronized Vector Envelope.\u003c\/dd\u003e\n\u003c\/dl\u003e\n\u003cdl\u003e\n\u003cdt class=\"header3\"\u003eStructure\u003c\/dt\u003e\n\u003cdd\u003eSingle: only OSC1, Double: OSC1 and OSC2.\u003cbr\u003eDouble mode lets you layer two completely separate synth voices, each with their own velocity-switched oscillator, dual filter, EGs, LFOs, etc.\u003cbr\u003eDrums: One drum kit, Double Drums: Two drum kits.\u003c\/dd\u003e\n\u003c\/dl\u003e\n\u003cdl\u003e\n\u003cdt class=\"header3\"\u003eOscillators\u003c\/dt\u003e\n\u003cdd\u003eVirtual Memory Technology (VMT) plays large samples directly from the internal SSD.\u003cbr\u003e8 velocity zones per oscillator, with switching, crossfades and layering \u003cbr\u003eEach zone can play mono or stereo Multisamples or Wave Sequences\u003c\/dd\u003e\n\u003c\/dl\u003e\n\u003cdl\u003e\n\u003cdt class=\"header3\"\u003eFilters\u003c\/dt\u003e\n\u003cdd\u003eTwo multi-mode filters per voices (low-pass, high-pass, band-pass and band-reject),\u003cbr\u003eFour-mode filter routings (single, serial, parallel and 24dB mode)\u003c\/dd\u003e\n\u003c\/dl\u003e\n\u003cdl\u003e\n\u003cdt class=\"header3\"\u003eDriver\u003c\/dt\u003e\n\u003cdd\u003ePer voice non-linear driver and low boost circuit\u003c\/dd\u003e\n\u003c\/dl\u003e\n\u003cdl\u003e\n\u003cdt class=\"header3\"\u003eEQ\u003c\/dt\u003e\n\u003cdd\u003eThree bands, with sweep-able mid\u003c\/dd\u003e\n\u003c\/dl\u003e\n\u003cdl\u003e\n\u003cdt class=\"header3\"\u003eModulation\u003c\/dt\u003e\n\u003cdd\u003eThree envelope generators, two LFOs per voice, common LFO, four key tracking generators, AMS (Alternate Modulation Source), two AMS mixers\u003c\/dd\u003e\n\u003c\/dl\u003e\n\u003c\/div\u003e\n\u003c\/div\u003e\n\u003c\/section\u003e\n\u003csection class=\"block type-u cv_black pad_b80\"\u003e\n\u003cdiv class=\"side-margin\"\u003e\n\u003ch2 class=\"header2\"\u003eEXi Program Common\u003c\/h2\u003e\n\u003cdiv class=\"box_type_u\"\u003e\n\u003cdl\u003e\n\u003cdt class=\"header3\"\u003eAdvanced Vector Synthesis\u003c\/dt\u003e\n\u003cdd\u003eControl oscillator volumes and synthesis \u0026amp; effects parameters via the Vector Joystick and the tempo-synchronized Vector Envelope.\u003c\/dd\u003e\n\u003c\/dl\u003e\n\u003cdl\u003e\n\u003cdt class=\"header3\"\u003eModulation\u003c\/dt\u003e\n\u003cdd\u003eCommon Step Sequencer, AMS (Alternate Modulation Source), Common LFO, 2 Key Tracking Generators\u003c\/dd\u003e\n\u003c\/dl\u003e\n\u003cdl\u003e\n\u003cdt class=\"header3\"\u003eEQ\u003c\/dt\u003e\n\u003cdd\u003eThree bands, with sweep-able mid\u003c\/dd\u003e\n\u003c\/dl\u003e\n\u003c\/div\u003e\n\u003c\/div\u003e\n\u003c\/section\u003e\n\u003csection class=\"block type-u cv_black pad_b80\"\u003e\n\u003cdiv class=\"side-margin\"\u003e\n\u003ch2 class=\"header2\"\u003eAL-1 Program\u003c\/h2\u003e\n\u003cdiv class=\"box_type_u\"\u003e\n\u003cdl\u003e\n\u003cdt class=\"header3\"\u003eOscillators\u003c\/dt\u003e\n\u003cdd\u003eUltra-low-aliasing oscillators\u003cbr\u003eOSC1, OSC2, Sub-oscillator and noise generator; ring modulation, FM and Sync\u003c\/dd\u003e\n\u003c\/dl\u003e\n\u003cdl\u003e\n\u003cdt class=\"header3\"\u003eAudio Input\u003c\/dt\u003e\n\u003cdd\u003eExternal audio can be processed through the ring modulator, filter, driver, amp, and EQ\u003c\/dd\u003e\n\u003c\/dl\u003e\n\u003cdl\u003e\n\u003cdt class=\"header3\"\u003eFilters\u003c\/dt\u003e\n\u003cdd\u003eTwo multi-mode filters (low-pass, high-pass, band-pass and band-reject) with four types of filter routings (single, serial, parallel and 24dB mode),\u003cbr\u003eMulti Filter mode (only Filter-A; modulatable mix of Low Pass, High Pass, Band Pass, and dry input, for creating a wide variety of unique filter types and effects)\u003c\/dd\u003e\n\u003c\/dl\u003e\n\u003cdl\u003e\n\u003cdt class=\"header3\"\u003eDriver\u003c\/dt\u003e\n\u003cdd\u003ePer-voice non-linear driver and low boost circuit\u003c\/dd\u003e\n\u003c\/dl\u003e\n\u003cdl\u003e\n\u003cdt class=\"header3\"\u003eModulation\u003c\/dt\u003e\n\u003cdd\u003eFive Envelope generators, four per-voice LFOs, two AMS Mixers; Per-voice Step Sequencer.\u003c\/dd\u003e\n\u003c\/dl\u003e\n\u003c\/div\u003e\n\u003c\/div\u003e\n\u003c\/section\u003e\n\u003csection class=\"block type-u cv_black pad_b80\"\u003e\n\u003cdiv class=\"side-margin\"\u003e\n\u003ch2 class=\"header2\"\u003eCX-3 Program\u003c\/h2\u003e\n\u003cdiv class=\"box_type_u\"\u003e\n\u003cdl\u003e\n\u003cdt class=\"header3\"\u003eTonewheel Organ Modeling\u003c\/dt\u003e\n\u003cdd\u003ePhase-synchronous tonewheels (clean and vintage modes), percussion, key click, wheel brake\u003c\/dd\u003e\n\u003c\/dl\u003e\n\u003cdl\u003e\n\u003cdt class=\"header3\"\u003eEX Mode\u003c\/dt\u003e\n\u003cdd\u003eFour additional, user-specified drawbars, and expanded percussion.\u003c\/dd\u003e\n\u003c\/dl\u003e\n\u003cdl\u003e\n\u003cdt class=\"header3\"\u003eInternal Effects\u003c\/dt\u003e\n\u003cdd\u003eRotary speaker, vibrato\/chorus, amp modeling with overdrive, 3-band EQ\u003c\/dd\u003e\n\u003c\/dl\u003e\n\u003cdl\u003e\n\u003cdt class=\"header3\"\u003eDrawbar Control\u003c\/dt\u003e\n\u003cdd\u003eControlled via nine front-panel sliders (via Tone Adjust)\u003c\/dd\u003e\n\u003c\/dl\u003e\n\u003cdl\u003e\n\u003cdt class=\"header3\"\u003eSplit\u003c\/dt\u003e\n\u003cdd\u003eUpper, Lower (even in EX mode)\u003c\/dd\u003e\n\u003c\/dl\u003e\n\u003cdl\u003e\n\u003cdt class=\"header3\"\u003eModulation\u003c\/dt\u003e\n\u003cdd\u003eTwo AMS mixers\u003c\/dd\u003e\n\u003c\/dl\u003e\n\u003c\/div\u003e\n\u003c\/div\u003e\n\u003c\/section\u003e\n\u003csection class=\"block type-u cv_black pad_b80\"\u003e\n\u003cdiv class=\"side-margin\"\u003e\n\u003ch2 class=\"header2\"\u003eSTR-1 Program\u003c\/h2\u003e\n\u003cdiv class=\"box_type_u\"\u003e\n\u003cdl\u003e\n\u003cdt class=\"header3\"\u003ePhysically Modeled String\u003c\/dt\u003e\n\u003cdd\u003eIncludes physically modeled damping, decay, dispersion, nonlinearity, harmonics, dual pickups, and more.\u003cbr\u003eMost string parameters can be controlled in realtime.\u003c\/dd\u003e\n\u003c\/dl\u003e\n\u003cdl\u003e\n\u003cdt class=\"header3\"\u003eString Excitation\u003c\/dt\u003e\n\u003cdd\u003eThree independent excitation sources can be used simultaneously: Pluck, Noise, and PCM.\u003cbr\u003e16 preset "pluck" types, with modulatable width and randomization. Noise generator with saturation and dedicated low pass filter\u003cbr\u003e\u003cstrong\u003ePCM Oscillator: \u003c\/strong\u003e\u003cbr\u003eKORG's ultra-low-aliasing technology, as introduced in the HD-1;\u003cbr\u003e4 velocity zones per oscillator;\u003cbr\u003eUses any mono Multisamples, including ROM, EXs, User Sample Bank, or Sampling Mode.\u003cbr\u003eSupports Virtual Memory.\u003cbr\u003e\u003cstrong\u003eExcitation Filter: \u003c\/strong\u003e\u003cbr\u003eDedicated 2-pole multimode filter for shaping the string excitation.\u003cbr\u003eFilter can be enabled\/disabled separately for each excitation source.\u003cbr\u003eLow Pass, High Pass, Band Pass, and Band Reject modes\u003c\/dd\u003e\n\u003c\/dl\u003e\n\u003cdl\u003e\n\u003cdt class=\"header3\"\u003eAudio Input and Feedback\u003c\/dt\u003e\n\u003cdd\u003eRun real-time audio through the string, including feedback through effects.\u003cbr\u003eModeled feedback includes modulate-able instrument-to-amp distance and orientation.\u003c\/dd\u003e\n\u003c\/dl\u003e\n\u003cdl\u003e\n\u003cdt class=\"header3\"\u003eFilters\u003c\/dt\u003e\n\u003cdd\u003eDual multi-mode filters per voice; Single, Serial, Parallel (with split stereo output), and 24dB (4-pole) configurations. Low Pass, High Pass, Band Pass, and Band Reject modes\u003cbr\u003e\u003cstrong\u003eMulti Filter Mode (Filter A only).\u003c\/strong\u003e\u003cbr\u003eModulatable mix of Low Pass, High Pass, Band Pass, and dry input, for creating a wide variety of unique filter types and effects\u003c\/dd\u003e\n\u003c\/dl\u003e\n\u003cdl\u003e\n\u003cdt class=\"header3\"\u003eModulation\u003c\/dt\u003e\n\u003cdd\u003e5 Envelopes, 4 per-voice LFOs, 2 Key Track generators, String Tracking generators, 4 AMS Mixers.\u003c\/dd\u003e\n\u003c\/dl\u003e\n\u003c\/div\u003e\n\u003c\/div\u003e\n\u003c\/section\u003e\n\u003csection class=\"block type-u cv_black pad_b80\"\u003e\n\u003cdiv class=\"side-margin\"\u003e\n\u003ch2 class=\"header2\"\u003eMOD-7 Program\u003c\/h2\u003e\n\u003cdiv class=\"box_type_u\"\u003e\n\u003cdl\u003e\n\u003cdt class=\"header3\"\u003eWaveshaping VPM Synthesizer\u003c\/dt\u003e\n\u003cdd\u003eCombines Variable Phase Modulation (VPM), Waveshaping ring modulation, PCM sample playback, and subtractive synthesis; Able to convert-load SYX files.\u003c\/dd\u003e\n\u003c\/dl\u003e\n\u003cdl\u003e\n\u003cdt class=\"header3\"\u003eOscillators\u003c\/dt\u003e\n\u003cdd\u003e\n\u003cstrong\u003e6 VPM\/Waveshaper\/Ring Modulation Oscillators: \u003c\/strong\u003e\u003cbr\u003ePhase and modulatable pitch per oscillator.\u003cbr\u003e101 Waveshaper tables plus modulatable Drive and Offset.\u003cbr\u003eUse as oscillators, or as Waveshapers or Ring Modulators for other signals.\u003cbr\u003e\u003cstrong\u003ePCM Oscillator: \u003c\/strong\u003e\u003cbr\u003eKORG's ultra-low-aliasing technology, as introduced in the HD-1.\u003cbr\u003e4 velocity zones per oscillator.\u003cbr\u003eUses any mono Multisamples, including ROM, EXs, User Sample Bank, or Sampling Mode. Supports Virtual Memory.\u003c\/dd\u003e\n\u003c\/dl\u003e\n\u003cdl\u003e\n\u003cdt class=\"header3\"\u003eAudio input\u003c\/dt\u003e\n\u003cdd\u003eRun real-time audio through the VPM Oscillators and filters.\u003c\/dd\u003e\n\u003c\/dl\u003e\n\u003cdl\u003e\n\u003cdt class=\"header3\"\u003eFilters\u003c\/dt\u003e\n\u003cdd\u003eDual multi-mode filters per voice. (Low Pass, High Pass, Band Pass, and Band Reject modes)\u003cbr\u003eTwo types of filter looping (Parallel and 24 dB "4-Pole")\u003cbr\u003e\u003cstrong\u003eMulti Filter mode (Filter A only): \u003c\/strong\u003e\u003cbr\u003eModulatable mix of Low Pass, High Pass, Band Pass, and dry input, for creating a wide variety of unique filter types and effects\u003c\/dd\u003e\n\u003c\/dl\u003e\n\u003cdl\u003e\n\u003cdt class=\"header3\"\u003ePatch Panel\u003c\/dt\u003e\n\u003cdd\u003eSupports both preset algorithm (78 types) selection and free patching.\u003cbr\u003eThree 2-in, 1-out mixers for scaling and merging audio, fully modulatable, with phase inversion.\u003cbr\u003eMain 6-input stereo mixer, with modulatable pan and volume, plus phase inversion\u003c\/dd\u003e\n\u003c\/dl\u003e\n\u003cdl\u003e\n\u003cdt class=\"header3\"\u003eModulation\u003c\/dt\u003e\n\u003cdd\u003e10 Envelopes, 4 per-voice LFOs, 9 Key Tracking generators, Per-voice Step Sequencer, 4 standard AMS Mixers plus 4 simple AMS Mixers.\u003c\/dd\u003e\n\u003c\/dl\u003e\n\u003c\/div\u003e\n\u003c\/div\u003e\n\u003c\/section\u003e\n\u003csection class=\"block type-u cv_black pad_b80\"\u003e\n\u003cdiv class=\"side-margin\"\u003e\n\u003ch2 class=\"header2\"\u003eMS-20EX Program\u003c\/h2\u003e\n\u003cdiv class=\"box_type_u\"\u003e\n\u003cdl\u003e\n\u003cdt class=\"header3\"\u003eOscillators\u003c\/dt\u003e\n\u003cdd\u003eUltra-low-aliasing oscillators; VCO1, VCO2, Ring Mod, Pink and White Noise Generator\u003c\/dd\u003e\n\u003c\/dl\u003e\n\u003cdl\u003e\n\u003cdt class=\"header3\"\u003eAudio Input\u003c\/dt\u003e\n\u003cdd\u003eRun real-time audio through the synthesis engine and ESP (External Signal Processor)\u003c\/dd\u003e\n\u003c\/dl\u003e\n\u003cdl\u003e\n\u003cdt class=\"header3\"\u003eFilters\u003c\/dt\u003e\n\u003cdd\u003e12dB\/octave High Pass and Low Pass self-resonant filters\u003cbr\u003e\u003cstrong\u003eESP section: \u003c\/strong\u003e\u003cbr\u003e24dB\/octave Low Cut and High Cut filters, available per voice.\u003c\/dd\u003e\n\u003c\/dl\u003e\n\u003cdl\u003e\n\u003cdt class=\"header3\"\u003ePatch Panel\u003c\/dt\u003e\n\u003cdd\u003ePatchable audio and modulation, at audio rates\u003c\/dd\u003e\n\u003c\/dl\u003e\n\u003cdl\u003e\n\u003cdt class=\"header3\"\u003ePatch Points\u003c\/dt\u003e\n\u003cdd\u003e\n\u003cstrong\u003eKeyboard: \u003c\/strong\u003e\u003cbr\u003eKeyboard CV Out, Keyboard Trigger Out, VCO1+VCO2 CV In, VCO2 CV In\u003cbr\u003e\u003cstrong\u003eVCO: \u003c\/strong\u003e\u003cbr\u003eVCO1+VCO2 External Frequency Control In, VCO1 Out, VCO2 Out\u003cbr\u003e\u003cstrong\u003eVCF: \u003c\/strong\u003e\u003cbr\u003eExternal Signal In, External HP Filter Cutoff Frequency Control In, External LP Filter Cutoff Frequency Control In, HPF Out, LPF In, LPF Out\u003cbr\u003e\u003cstrong\u003eVCO+VCF: \u003c\/strong\u003e\u003cbr\u003eTotal External Modulation In\u003cbr\u003e\u003cstrong\u003eVCA: \u003c\/strong\u003e\u003cbr\u003eExternal Initial Gain Control In, VCA In\u003cbr\u003e\u003cstrong\u003eEG: \u003c\/strong\u003e\u003cbr\u003eEG1 Envelope Signal Normal Out, EG1 Envelope Signal Reverse Out, EG1+EG2 Trigger In, EG1 Trigger In, EG2 Envelope Signal Reverse Out\u003cbr\u003e\u003cstrong\u003eMG: \u003c\/strong\u003e\u003cbr\u003eTriangle Out, Rectangle Out\u003cbr\u003e\u003cstrong\u003eNoise Generator: \u003c\/strong\u003e\u003cbr\u003ePink Noise Out, White Noise Out\u003cbr\u003e\u003cstrong\u003eSample and Hold: \u003c\/strong\u003e\u003cbr\u003eClock Trigger In, Sample Signal In, S\/H Out\u003cbr\u003e\u003cstrong\u003eModulation VCA: \u003c\/strong\u003e\u003cbr\u003eControl Voltage In, Signal In, Signal Out\u003cbr\u003e\u003cstrong\u003eManual Controller: \u003c\/strong\u003e\u003cbr\u003eControl Wheel Out, Momentary Switch\u003cbr\u003e\u003cstrong\u003eESP: \u003c\/strong\u003e\u003cbr\u003eSignal In, AMP Out, BPF In, BPF Out, F-V CV Out, Envelope Out, Trigger Out\u003cbr\u003e\u003cstrong\u003eOthers: \u003c\/strong\u003e\u003cbr\u003eEXi Audio In, Mixer 1 In, Mixer 1 Out, Mixer 2 In, Mixer 2 Out\u003c\/dd\u003e\n\u003c\/dl\u003e\n\u003cdl\u003e\n\u003cdt class=\"header3\"\u003eESP (External Signal Processor)\u003c\/dt\u003e\n\u003cdd\u003eUse incoming audio as a trigger and\/or CV source.\u003c\/dd\u003e\n\u003c\/dl\u003e\n\u003cdl\u003e\n\u003cdt class=\"header3\"\u003eModulation\u003c\/dt\u003e\n\u003cdd\u003eOriginal DAR (Delay, Attack, Release) and HADSR (Hold, Attack, Decay, Sustain, Release) EGs 1 \u0026amp;2,\u003cbr\u003eOriginal MG (with MIDI sync), Sample-and- Hold, MVCA,\u003cbr\u003eKRONOS: 4 additional multi-stage Envelopes, 4 additional per-voice LFOs, and 4 AMS Mixers.\u003c\/dd\u003e\n\u003c\/dl\u003e\n\u003c\/div\u003e\n\u003c\/div\u003e\n\u003c\/section\u003e\n\u003csection class=\"block type-u cv_black pad_b80\"\u003e\n\u003cdiv class=\"side-margin\"\u003e\n\u003ch2 class=\"header2\"\u003ePolysixEX Program\u003c\/h2\u003e\n\u003cdiv class=\"box_type_u\"\u003e\n\u003cdl\u003e\n\u003cdt class=\"header3\"\u003eOscillators\u003c\/dt\u003e\n\u003cdd\u003e\n\u003cstrong\u003eVCO: \u003c\/strong\u003e\u003cbr\u003eSaw, Pulse, PWM\u003cbr\u003e\u003cstrong\u003eSub Oscillator: \u003c\/strong\u003e\u003cbr\u003eOff, 1 octave below, 2 octaves below\u003c\/dd\u003e\n\u003c\/dl\u003e\n\u003cdl\u003e\n\u003cdt class=\"header3\"\u003eFilter\u003c\/dt\u003e\n\u003cdd\u003e24dB (4-Pole) Octave Low Pass self-resonant filter\u003c\/dd\u003e\n\u003c\/dl\u003e\n\u003cdl\u003e\n\u003cdt class=\"header3\"\u003eEffects\u003c\/dt\u003e\n\u003cdd\u003eIntegrated Polysix Chorus, Phaser, and Ensemble\u003c\/dd\u003e\n\u003c\/dl\u003e\n\u003cdl\u003e\n\u003cdt class=\"header3\"\u003eArpeggiator\u003c\/dt\u003e\n\u003cdd\u003eIntegrated MIDI-synced arpeggiator, with adjustable Range, Mode, and Latch\u003c\/dd\u003e\n\u003c\/dl\u003e\n\u003cdl\u003e\n\u003cdt class=\"header3\"\u003eModulation\u003c\/dt\u003e\n\u003cdd\u003ePolysix: Original ADSR EG and MG (with MIDI sync).\u003cbr\u003eKRONOS: 2 additional multi-stage Envelopes, 2 additional per-voice LFOs, and 4 AMS Mixers.\u003c\/dd\u003e\n\u003c\/dl\u003e\n\u003c\/div\u003e\n\u003c\/div\u003e\n\u003c\/section\u003e\n\u003csection class=\"block type-u cv_black pad_b80\"\u003e\n\u003cdiv class=\"side-margin\"\u003e\n\u003ch2 class=\"header2\"\u003eCombination\u003c\/h2\u003e\n\u003cdiv class=\"box_type_u\"\u003e\n\u003cdl\u003e\n\u003cdt class=\"header3\"\u003eNumber of Timbres, Master Keyboard Functionality\u003c\/dt\u003e\n\u003cdd\u003e16 Maximum\u003cbr\u003eKeyboard and velocity splits, layers, and crossfades of up to 16 Programs and\/or external MIDI Devices\u003cbr\u003eThe tone adjust parameter function lets you modify program settings, and the master keyboard function lets you control external MIDI devices\u003c\/dd\u003e\n\u003c\/dl\u003e\n\u003cdl\u003e\n\u003cdt class=\"header3\"\u003eAdvanced Vector Synthesis\u003c\/dt\u003e\n\u003cdd\u003eControl oscillator volumes and synthesis \u0026amp; effects parameters via the Vector Joystick and the tempo-synchronized Vector Envelope.\u003c\/dd\u003e\n\u003c\/dl\u003e\n\u003c\/div\u003e\n\u003c\/div\u003e\n\u003c\/section\u003e\n\u003csection class=\"block type-u cv_black pad_b80\"\u003e\n\u003cdiv class=\"side-margin\"\u003e\n\u003ch2 class=\"header2\"\u003eDrumkit\u003c\/h2\u003e\n\u003cdiv class=\"box_type_u\"\u003e\n\u003cdl\u003e\n\u003cdt class=\"header3\"\u003eSystem\u003c\/dt\u003e\n\u003cdd\u003eAssignable stereo\/mono samples with 8 velocity zones per oscillator (with crossfade functions)\u003c\/dd\u003e\n\u003c\/dl\u003e\n\u003c\/div\u003e\n\u003c\/div\u003e\n\u003c\/section\u003e\n\u003csection class=\"block type-u cv_black pad_b80\"\u003e\n\u003cdiv class=\"side-margin\"\u003e\n\u003ch2 class=\"header2\"\u003eNumber of Programs\/Combinations\/Drum kits\u003c\/h2\u003e\n\u003cdiv class=\"box_type_u\"\u003e\n\u003cdl\u003e\n\u003cdt class=\"header3\"\u003eUser Memory Programs\u003c\/dt\u003e\n\u003cdd\u003e2,560 (1,792 [896 HD-1+896 EXi] come preloaded)\u003c\/dd\u003e\n\u003c\/dl\u003e\n\u003cdl\u003e\n\u003cdt class=\"header3\"\u003eUser Memory Combinations\u003c\/dt\u003e\n\u003cdd\u003e1,792 (512 come preloaded)\u003c\/dd\u003e\n\u003c\/dl\u003e\n\u003cdl\u003e\n\u003cdt class=\"header3\"\u003eUser Memory Drum Kits\u003c\/dt\u003e\n\u003cdd\u003e264 (78 come preloaded)\u003c\/dd\u003e\n\u003c\/dl\u003e\n\u003cdl\u003e\n\u003cdd\u003e256 GM Level2 preset programs + 9 GM Level 2 drum preset programs\u003c\/dd\u003e\n\u003c\/dl\u003e\n\u003c\/div\u003e\n\u003c\/div\u003e\n\u003c\/section\u003e\n\u003csection class=\"block type-u cv_black pad_b80\"\u003e\n\u003cdiv class=\"side-margin\"\u003e\n\u003ch2 class=\"header2\"\u003eSet List\u003c\/h2\u003e\n\u003cdiv class=\"box_type_u\"\u003e\n\u003cdl\u003e\n\u003cdt class=\"header3\"\u003eNumber of Set Lists\/Slots\u003c\/dt\u003e\n\u003cdd\u003e128 set lists, 128 slots per set list\u003cbr\u003eEach set list provides a 9-band graphic EQ, and a Tone Adjust function that allows program settings to be adjusted.\u003cbr\u003eTranspose setting.\u003cbr\u003eHold Time setting of Smooth Sound Transition (SST) supported for each slot.\u003c\/dd\u003e\n\u003c\/dl\u003e\n\u003c\/div\u003e\n\u003c\/div\u003e\n\u003c\/section\u003e\n\u003csection class=\"block type-u cv_black pad_b80\"\u003e\n\u003cdiv class=\"side-margin\"\u003e\n\u003ch2 class=\"header2\"\u003eSampling\u003c\/h2\u003e\n\u003cdiv class=\"box_type_u\"\u003e\n\u003cdl\u003e\n\u003cdt class=\"header3\"\u003eSystem\u003c\/dt\u003e\n\u003cdd\u003eOpen Sampling System (resampling, In-Track sampling)\u003c\/dd\u003e\n\u003c\/dl\u003e\n\u003cdl\u003e\n\u003cdt class=\"header3\"\u003eBit Depth\/Sampling Frequency\u003c\/dt\u003e\n\u003cdd\u003eRAM: 16-bit\/48 kHz stereo\/mono sampling\u003cbr\u003eDISK: 16 or 24-bit\/48 kHz\u003c\/dd\u003e\n\u003c\/dl\u003e\n\u003cdl\u003e\n\u003cdt class=\"header3\"\u003eSampling Time\u003c\/dt\u003e\n\u003cdd\u003eRAM: Depends on the amount of available PCM RAM\u003cbr\u003eDISK: Maximum 80 minutes stereo (879MB: 16bit)\u003c\/dd\u003e\n\u003c\/dl\u003e\n\u003cdl\u003e\n\u003cdt class=\"header3\"\u003eSample Locations\u003c\/dt\u003e\n\u003cdd\u003e16,000 samples\/4,000 multisamples (128 indexes per multisample)\u003c\/dd\u003e\n\u003c\/dl\u003e\n\u003cdl\u003e\n\u003cdt class=\"header3\"\u003eRipping\u003c\/dt\u003e\n\u003cdd\u003eDirect sampling (ripping) from audio CD (CD-DA)\u003c\/dd\u003e\n\u003c\/dl\u003e\n\u003cdl\u003e\n\u003cdt class=\"header3\"\u003eFormats\u003c\/dt\u003e\n\u003cdd\u003eKORG format, AKAI S1000\/S3000 data (with advanced Program parameter conversion); SoundFont 2.0, AIFF, and WAVE formats\u003c\/dd\u003e\n\u003c\/dl\u003e\n\u003cdl\u003e\n\u003cdt class=\"header3\"\u003eEditing\u003c\/dt\u003e\n\u003cdd\u003eTime Stretch, Time Slice, Crossfade Loop, and other standard editing features.\u003c\/dd\u003e\n\u003c\/dl\u003e\n\u003c\/div\u003e\n\u003c\/div\u003e\n\u003c\/section\u003e\n\u003csection class=\"block type-u cv_black pad_b80\"\u003e\n\u003cdiv class=\"side-margin\"\u003e\n\u003ch2 class=\"header2\"\u003eEffects\u003c\/h2\u003e\n\u003cdiv class=\"box_type_u\"\u003e\n\u003cdl\u003e\n\u003cdt class=\"header3\"\u003eInsert Effects\u003c\/dt\u003e\n\u003cdd\u003e12\u003cbr\u003eStereo in \/ stereo out\u003c\/dd\u003e\n\u003c\/dl\u003e\n\u003cdl\u003e\n\u003cdt class=\"header3\"\u003eMaster Effects\u003c\/dt\u003e\n\u003cdd\u003e2\u003cbr\u003eStereo in \/ stereo out\u003c\/dd\u003e\n\u003c\/dl\u003e\n\u003cdl\u003e\n\u003cdt class=\"header3\"\u003eTotal Effects\u003c\/dt\u003e\n\u003cdd\u003e2\u003cbr\u003eStereo in \/ stereo out\u003c\/dd\u003e\n\u003c\/dl\u003e\n\u003cdl\u003e\n\u003cdt class=\"header3\"\u003eTimbre EQ\u003c\/dt\u003e\n\u003cdd\u003eOne 3-band EQ for each timbre\/track\u003c\/dd\u003e\n\u003c\/dl\u003e\n\u003cdl\u003e\n\u003cdt class=\"header3\"\u003eEffect Types\u003c\/dt\u003e\n\u003cdd\u003e197\u003c\/dd\u003e\n\u003c\/dl\u003e\n\u003cdl\u003e\n\u003cdt class=\"header3\"\u003eModulation\u003c\/dt\u003e\n\u003cdd\u003eDynamic Modulation and Common LFO\u003c\/dd\u003e\n\u003c\/dl\u003e\n\u003cdl\u003e\n\u003cdt class=\"header3\"\u003eEffects Control Busses\u003c\/dt\u003e\n\u003cdd\u003eStereo side-chaining for compressors, gates, vocoders, etc.\u003c\/dd\u003e\n\u003c\/dl\u003e\n\u003cdl\u003e\n\u003cdt class=\"header3\"\u003eEffect Presets\u003c\/dt\u003e\n\u003cdd\u003eTotal 783 preset, Maximum 32 per 1 effect (Preset User)\u003c\/dd\u003e\n\u003c\/dl\u003e\n\u003c\/div\u003e\n\u003c\/div\u003e\n\u003c\/section\u003e\n\u003csection class=\"block type-u cv_black pad_b80\"\u003e\n\u003cdiv class=\"side-margin\"\u003e\n\u003ch2 class=\"header2\"\u003eKARMA\u003c\/h2\u003e\n\u003cdiv class=\"box_type_u\"\u003e\n\u003cdl\u003e\n\u003cdt class=\"header3\"\u003eKARMA Modules\u003c\/dt\u003e\n\u003cdd\u003eOne module in Program mode, four modules in Combination and Sequencer modes\u003c\/dd\u003e\n\u003c\/dl\u003e\n\u003cdl\u003e\n\u003cdt class=\"header3\"\u003eGenerated Effects (GE)\u003c\/dt\u003e\n\u003cdd\u003e2,048 presets, 1,536 Users (96 come Preload)\u003c\/dd\u003e\n\u003c\/dl\u003e\n\u003cdl\u003e\n\u003cdt class=\"header3\"\u003eControllers\u003c\/dt\u003e\n\u003cdd\u003eOn\/Off, Latch, Chord, Assign, Module, Control, KARMA Realtime Control Sliders [1] – [8], KARMA Scene [1] – [8], KARMA Switches [1] – [8], KARMA Wave-Sequencing, GE Sub Category, Freeze Randomize, Time Signature Control, Tempo Synchronize, Auto RTC (Real Time Control) setup\u003c\/dd\u003e\n\u003c\/dl\u003e\n\u003cdl\u003e\n\u003cdt class=\"header3\"\u003eDrum Track Patterns\u003c\/dt\u003e\n\u003cdd\u003e718 preset (common with the preset patterns of the MIDI sequencer)\u003cbr\u003e1,000 user patterns\u003cbr\u003ePatterns created in Sequencer mode can be converted to drum track user patterns.\u003cbr\u003eTrigger Mode\/Sync\/Zone settings can be specified.\u003c\/dd\u003e\n\u003c\/dl\u003e\n\u003c\/div\u003e\n\u003c\/div\u003e\n\u003c\/section\u003e\n\u003csection class=\"block type-u cv_black pad_b80\"\u003e\n\u003cdiv class=\"side-margin\"\u003e\n\u003ch2 class=\"header2\"\u003eSequencer\/HDR\u003c\/h2\u003e\n\u003cdiv class=\"box_type_u\"\u003e\n\u003cdl\u003e\n\u003cdt class=\"header3\"\u003eTracks\u003c\/dt\u003e\n\u003cdd\u003e16-track MIDI sequencer + 16-track hard disk recorder + 1 master track.\u003c\/dd\u003e\n\u003c\/dl\u003e\n\u003cdl\u003e\n\u003cdt class=\"header3\"\u003eNumber of Songs\u003c\/dt\u003e\n\u003cdd\u003e200 songs\u003c\/dd\u003e\n\u003c\/dl\u003e\n\u003cdl\u003e\n\u003cdt class=\"header3\"\u003eResolution\u003c\/dt\u003e\n\u003cdd\u003e1\/480\u003c\/dd\u003e\n\u003c\/dl\u003e\n\u003cdl\u003e\n\u003cdt class=\"header3\"\u003eTempo\u003c\/dt\u003e\n\u003cdd\u003e40.00 – 300.00 (1\/100 BPM resolution)\u003c\/dd\u003e\n\u003c\/dl\u003e\n\u003cdl\u003e\n\u003cdt class=\"header3\"\u003eMaximum Memory\u003c\/dt\u003e\n\u003cdd\u003e400,000 MIDI events or 300,000 audio events\u003c\/dd\u003e\n\u003c\/dl\u003e\n\u003cdl\u003e\n\u003cdt class=\"header3\"\u003eMIDI Tracks\u003c\/dt\u003e\n\u003cdd\u003e16 tracks plus the master track\u003cbr\u003e718 preset\/100 user patterns (per song)\u003cbr\u003e18 preset\/16 user template songs,\u003c\/dd\u003e\n\u003c\/dl\u003e\n\u003cdl\u003e\n\u003cdt class=\"header3\"\u003eAudio Tracks\u003c\/dt\u003e\n\u003cdd\u003e16-track playback, 4-track simultaneous recording, WAV file format 16bit\/24bit.\u003c\/dd\u003e\n\u003c\/dl\u003e\n\u003cdl\u003e\n\u003cdt class=\"header3\"\u003eOther Functions\u003c\/dt\u003e\n\u003cdd\u003eRPPR (Realtime Pattern Play and Record) (1 Pattern set per song), Auto Song Setup function\u003c\/dd\u003e\n\u003c\/dl\u003e\n\u003c\/div\u003e\n\u003c\/div\u003e\n\u003c\/section\u003e\n\u003csection class=\"block type-u cv_black pad_b80\"\u003e\n\u003cdiv class=\"side-margin\"\u003e\n\u003ch2 class=\"header2\"\u003eGeneral\u003c\/h2\u003e\n\u003cdiv class=\"box_type_u\"\u003e\n\u003cdl\u003e\n\u003cdt class=\"header3\"\u003eDisk Mode\u003c\/dt\u003e\n\u003cdd\u003eLoad, save, utility, audio CD burning, audio CD playback, data filer function (save\/load MIDI System Exclusive data), CD-R\/RW (UDF format read\/write), ISO9660 Level 1.\u003c\/dd\u003e\n\u003c\/dl\u003e\n\u003cdl\u003e\n\u003cdt class=\"header3\"\u003eControllers\u003c\/dt\u003e\n\u003cdd\u003eVector joystick, joystick, ribbon controller, switches 1 \u0026amp; 2\u003cbr\u003e\u003cstrong\u003eControl Surface: \u003c\/strong\u003e\u003cbr\u003e\u003cstrong\u003eControl Assign Switches: \u003c\/strong\u003e\u003cbr\u003eAssigns the Control Surface to Timber\/Track, Audio, External, Realtime Knobs\/KARMA,\u003cbr\u003eTone Adjust\/EQ\u003cbr\u003e\u003cstrong\u003eMixer Knobs Switch: \u003c\/strong\u003e\u003cbr\u003eAssigns the Mixer Knobs to either Channel Strip or Individual Pan, Reset Control Switch, Solo Switch, Knobs 1-8, Switches 1-8(Upper Row), Switches 1-8 (Lower Row), Sliders 1-8, Master Slider\u003cbr\u003e\u003cstrong\u003eKARMA Control: \u003c\/strong\u003e\u003cbr\u003eOn\/Off, Latch, Module Control\u003cbr\u003e\u003cstrong\u003eRUM TRACK: \u003c\/strong\u003e\u003cbr\u003eOn\/Off\u003c\/dd\u003e\n\u003c\/dl\u003e\n\u003cdl\u003e\n\u003cdt class=\"header3\"\u003eDisplay\u003c\/dt\u003e\n\u003cdd\u003eTouchView graphical user interface, 8 inch color TFT, SVGA (800x600 dots), adjustable brightness\u003c\/dd\u003e\n\u003c\/dl\u003e\n\u003cdl\u003e\n\u003cdt class=\"header3\"\u003eOutputs\u003c\/dt\u003e\n\u003cdd\u003e\n\u003cstrong\u003e== Analog == \u003c\/strong\u003e\u003cbr\u003e\u003cstrong\u003e(MAIN) L\/MONO, R: \u003c\/strong\u003e\u003cbr\u003e1\/4" TRS Balanced\u003cbr\u003eOutput Impedance: 350 Ω Stereo; 175 Ω Mono (L\/MONO Only),\u003cbr\u003eNominal Level: +4.0 dBu,\u003cbr\u003eMaximum Level: +16.0 dBu (when load impedance is 600 Ω or greater)\u003cbr\u003eMAIN VOLUME knob controls only AUDIO OUTPUT (MAIN) L\/MONO and R\u003cbr\u003e\u003cstrong\u003eIndividual 1-4: \u003c\/strong\u003e\u003cbr\u003e1\/4" TRS Balanced\u003cbr\u003eOutput Impedance: 350 Ω Stereo; 175 Ω Mono,\u003cbr\u003eNominal Level: +4.0 dBu,\u003cbr\u003eMaximum Level: +16.0 dBu (when load impedance is 600 Ω or greater)\u003cbr\u003e\u003cstrong\u003eHeadphones: \u003c\/strong\u003e\u003cbr\u003e1\/4" stereo phone jack, Output impedance: 33 Ω, Maximum Level: 60+60 mW (when load impedance is 33 Ω),\u003cbr\u003eMAIN VOLUME knob (link with AUDIO OUTPUT (MAIN))\u003cbr\u003e\u003cstrong\u003e== Digital == \u003c\/strong\u003e\u003cbr\u003e\u003cstrong\u003eS\/P DIF: \u003c\/strong\u003e\u003cbr\u003eOptical, 24-bit, IEC60958, EIAJCP-1201, Sample Rate: 48 kHz, (the same signals as L\/MONO, R)\u003cbr\u003eDigital output of the same signals as AUDIO OUTPUT (MAIN) L\/MONO and R\u003cbr\u003e\u003cstrong\u003eUSB-B: \u003c\/strong\u003e\u003cbr\u003e24-bit, Sample Rate: 48 kHz, 2 channels\u003cbr\u003e(Digital output of the same signals as AUDIO OUTPUT (MAIN) L\/MONO and R)\u003c\/dd\u003e\n\u003c\/dl\u003e\n\u003cdl\u003e\n\u003cdt class=\"header3\"\u003eInputs\u003c\/dt\u003e\n\u003cdd\u003e\n\u003cstrong\u003e== Analog == \u003c\/strong\u003e\u003cbr\u003e\u003cstrong\u003eAudio Inputs 1 and 2: \u003c\/strong\u003e\u003cbr\u003e1\/4" TRS Balanced\u003cbr\u003eMIC\/LINE input level switches, LEVEL knobs\u003cbr\u003eInput Impedance: 10 kΩ\u003cbr\u003eNominal Level: LINE\u003cbr\u003e+4 dBu (LEVEL knob = min), –36 dBu (LEVEL knob = max)\u003cbr\u003eNominal Level: MIC\u003cbr\u003e–22 dBu (LEVEL knob = min), –62 dBu (LEVEL knob = max)\u003cbr\u003eMaximum Level: LINE\u003cbr\u003e+16 dBu (LEVEL knob = min), –24 dBu (LEVEL knob = max)\u003cbr\u003eMaximum Level: MIC\u003cbr\u003e-10 dBu (LEVEL knob = min), –50 dBu (LEVEL knob = max)\u003cbr\u003eSource Impedance: 600 Ω\u003cbr\u003eSignal to noise ratio: 95 dB (typical)\u003cbr\u003eDynamic range: 95 dB (typical)\u003cbr\u003eCrosstalk: 95 dB, at 1 kHz (typical)\u003cbr\u003e\u003cstrong\u003e== Digital == \u003c\/strong\u003e\u003cbr\u003e\u003cstrong\u003eS\/P DIF: \u003c\/strong\u003e\u003cbr\u003eOptical, 24-bit, IEC60958, EIAJCP-1201, Sample Rate: 48 kHz\u003cbr\u003e\u003cstrong\u003eUSB-B: \u003c\/strong\u003e\u003cbr\u003e24-bit, Sample Rate: 48 kHz, 2 channels\u003c\/dd\u003e\n\u003c\/dl\u003e\n\u003cdl\u003e\n\u003cdt class=\"header3\"\u003eControl Inputs\u003c\/dt\u003e\n\u003cdd\u003eDamper pedal (half damper supported), assignable switch, assignable pedal\u003c\/dd\u003e\n\u003c\/dl\u003e\n\u003cdl\u003e\n\u003cdt class=\"header3\"\u003eMIDI\u003c\/dt\u003e\n\u003cdd\u003eIn, Out, Thru\u003c\/dd\u003e\n\u003c\/dl\u003e\n\u003cdl\u003e\n\u003cdt class=\"header3\"\u003eUSB*5\u003c\/dt\u003e\n\u003cdd\u003eUSB A (TYPE A) x 2, For connection to external USB devices (QWERTY keyboards, MIDI controllers, ethernet adaptors, and storage)\u003cbr\u003eUSB B (TYPE B) x 1, MIDI\/audio interface\u003cbr\u003eMIDI: 1 (16 channel) input \/ 1 (16 channel) output\u003cbr\u003eAudio: 2 channel input \/ 2 channel output\u003cbr\u003e*5 USB high-speed ports (supports 480Mbps)\u003c\/dd\u003e\n\u003c\/dl\u003e\n\u003cdl\u003e\n\u003cdt class=\"header3\"\u003eDisk Drives\u003c\/dt\u003e\n\u003cdd\u003e60 GB SSD (2.5")\u003cbr\u003eOptional installation of second internal SSD\u003c\/dd\u003e\n\u003c\/dl\u003e\n\u003cdl\u003e\n\u003cdt class=\"header3\"\u003ePower Consumption\u003c\/dt\u003e\n\u003cdd\u003e60W\u003c\/dd\u003e\n\u003c\/dl\u003e\n\u003cdl\u003e\n\u003cdt class=\"header3\"\u003eDimensions\u003cbr\u003e(W x D x H)\u003c\/dt\u003e\n\u003cdd\u003e61 key: 1,040 x 364 x 134 mm \/ 40.94" x 14.33" x 5.28"\u003cbr\u003e73 key: 1,221 x 371 x 148 mm \/ 48.07" x 14.61" x 5.83"\u003cbr\u003e88 key: 1,443 x 371 x 148 mm \/ 56.42" x 14.61" x 5.83"\u003c\/dd\u003e\n\u003c\/dl\u003e\n\u003cdl\u003e\n\u003cdt class=\"header3\"\u003eWeight\u003c\/dt\u003e\n\u003cdd\u003e61 key: 14.3 kg \/ 31.53 lbs.\u003cbr\u003e73 key: 21.1 kg \/ 46.52 lbs.\u003cbr\u003e88 key: 24.1 kg \/ 53.13 lbs.\u003c\/dd\u003e\n\u003c\/dl\u003e\n\u003cdl\u003e\n\u003cdt class=\"header3\"\u003eAccessories\u003c\/dt\u003e\n\u003cdd\u003eAC cord, Quick Start Guide, Accessory DVD Discs 1-3 (DVDs include KRONOS Operation Guide, Parameter Guide, and Voice Name List PDF files; Video Manual; KORG USB-MIDI Driver; System Restore Data, etc.)\u003c\/dd\u003e\n\u003c\/dl\u003e\n\u003c\/div\u003e\n\u003c\/div\u003e\n\u003c\/section\u003e\n\u003csection class=\"block type-u cv_black pad_b80\"\u003e\n\u003cdiv class=\"side-margin\"\u003e\n\u003ch2 class=\"header2\"\u003ePrincipal Specifications\u003c\/h2\u003e\n\u003cdiv class=\"box_type_u\"\u003e\n\u003cdl\u003e\n\u003cdt class=\"header3\"\u003eFrequency Response\u003c\/dt\u003e\n\u003cdd\u003e20Hz-22kHz, +\/-1.0dB, 10k Ω load\u003c\/dd\u003e\n\u003c\/dl\u003e\n\u003cdl\u003e\n\u003cdt class=\"header3\"\u003eTHD+N\u003c\/dt\u003e\n\u003cdd\u003e20Hz-22kHz, 0.01%, 10k Ω load (typical)\u003c\/dd\u003e\n\u003c\/dl\u003e\n\u003cdl\u003e\n\u003cdt class=\"header3\"\u003eS\/N\u003c\/dt\u003e\n\u003cdd\u003e95dB (typical)\u003c\/dd\u003e\n\u003c\/dl\u003e\n\u003cdl\u003e\n\u003cdt class=\"header3\"\u003eDynamic Range\u003c\/dt\u003e\n\u003cdd\u003e95dB (typical)\u003c\/dd\u003e\n\u003c\/dl\u003e\n\u003cdl\u003e\n\u003cdt class=\"header3\"\u003eCrosstalk\u003c\/dt\u003e\n\u003cdd\u003e95dB, at 1kHz (typical)\u003c\/dd\u003e\n\u003c\/dl\u003e\n\u003c\/div\u003e\n\u003cdiv class=\"box_kome_type_u\"\u003e\n\u003ctable\u003e\n\u003ctbody\u003e\n\u003ctr\u003e\n\u003ctd colspan=\"2\"\u003e* All product, company, and standard names are trademarks or registered trademarks of their respective holders.\u003c\/td\u003e\n\u003c\/tr\u003e\n\u003ctr\u003e\n\u003ctd colspan=\"2\"\u003e* Appearance and specifications of products are subject to change without notice.\u003c\/td\u003e\n\u003c\/tr\u003e\n\u003ctr\u003e\n\u003ctd colspan=\"2\"\u003e* The color of the actual instrument may differ slightly from the image shown here.\u003c\/td\u003e\n\u003c\/tr\u003e\n\u003ctr\u003e\n\u003ctd colspan=\"2\"\u003e* Since natural wood is used in the side panels of this instrument, there will be individual differences in the grain and figuration of the wood.\u003c\/td\u003e\n\u003c\/tr\u003e\n\u003c\/tbody\u003e\n\u003c\/table\u003e\n\u003c\/div\u003e\n\u003cdiv class=\"box_kome_type_u\"\u003eBuy the Korg Kronos from Audiosaurus today! - Your online pro audio experts in South Africa.\u003c\/div\u003e\n\u003c\/div\u003e\n\u003c\/section\u003e\n\u003c\/div\u003e\n\u003c\/div\u003e\n\u003c\/div\u003e\n\u003c\/section\u003e\n\u003c\/div\u003e\n\u003c\/div\u003e"}